Central Music Festival Kicks Off Saturday with Nice Horse, Bill Bourne and Kaylee Rose
Nice Horse photo by Fawna Sidoryk
Central Music Festival is launching its fall season with an extra helping for the Red Deer Food Bank. In fact, all of the proceeds from the September 23 concert will help restock the local charity's shelves.
"In this past year, we've raised $3,000. Guests at our concerts gave $1500 and we matched that dollar for dollar," says CMF president Mike Bradford. Music lovers will be able to attend the evening, which will feature four excellent acts, for a $20 food bank donation. "This time we decided to do a great big party and give the whole gate to the food bank so they can bulk up in advance of their thanksgiving rush. If we can get 150 people at $20 per donation, I think we can double our contribution to the food bank this year," Bradford adds. "There's also potential for people to drop off food if they choose to do that."
The Red Deer Food Bank Barbicrue will be on hand in the Elks Lodge parking lot, offering guests hamburgers and hot dogs, giving them a chance to recharge before local singer/songwriter Ross Stafford opens the show at 7:30. Stafford, Red Deer born and raised, has been a staple of the local folk scene for several years. He'll give up the stage to another local talent, Kaylee Rose, who will perform a set of her excellent original material. "Kaylee Rose is a young songwriter who has a lot of talent," he adds.
The evening will also be a welcome home for Bill Bourne, another central Albertan who has built a huge following world-wide over the past four decades, and will enjoy an evening with his home town fans. "Bill's agreed to come down and do the show because he thinks it's a great idea," Bradford explains. The festival society has always been about its contribution to the local community and the food bank is a nice fit, both for the society and the people who attend its events.
The final act of the evening will be the return of Nice Horse, who played the Elks last year and then thrilled audiences at this year's Westerner Exposition. "They're an all Albertan band gaining traction in country radio, really entertaining, very real songs a lot of energy on stage. Their career trajectory is rising at a rapid rate right now, so we're lucky we could get them. They also wanted to support this endeavour, Bradford says. "It will be like a mini-festival, with quick changes and a great sound."
Bradford was reluctant to talk about rumours the society has an ambitious plan for the future. He wouldn't deny that he's had discussions about the possibility of seeing the Michener Centre lands turned into an outdoor culture campus for live events across a full spectrum of music and culture. "I can tell you its a great idea, but practically, in the transition of that property from the provincial government and the city, it would take a lot of time and doing. I've talked to both and they thought it was a great idea, but who knows what will happen. I don't get into politics, but it would be something worth pursuing with city and county politicians once the elections are over," he said.
For now, the focus is the Food Bank, where demand, Bradford says, shows no sign of levelling off, let alone dropping off.
Bull Skit, Red Deer's beloved improv group is back for season 15!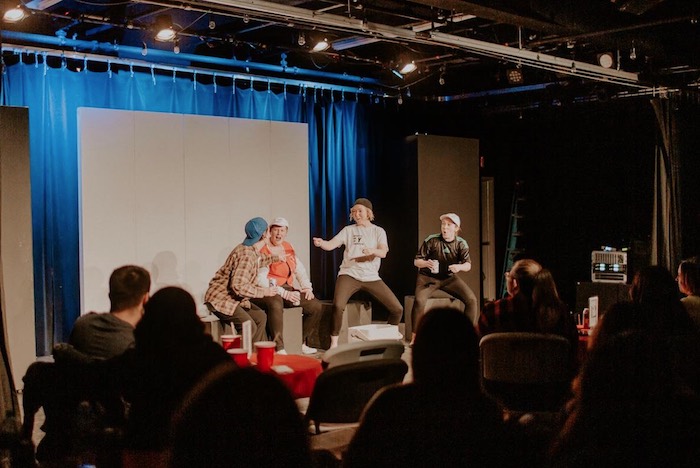 From Bull Skit Comedy
Bull Skit Comedy – Celebrating Season Fifteen!

"We're as surprised as you we've survived this long!"-Anonymous Cast Member
Bull Skit Comedy is proud to announce our fifteenth anniversary! Join us as we kick off Season 15 with the Lab: Featuring Lindsay Thurber, and Hunting Hills Improv teams January 20th at 8 PM. As we move into 15th we are here to celebrate community, and create a community at PLAY! Proceeds from the Lab will go directly to these High School teams to support them going to the Canadian Improv Games, and Wildfire in Edmonton. It's important to us to support initiatives close to us, give back to this art form, and support individuals wishing to develop themselves through play.
2023 has a full slate of shows, January features The Lab, and Maestro. February the month of Love will have An Improvised Love Actually, Gays of our Lives (Show featuring only LGBTQ2+ Performers), and Maestro. March we are back with Sketch & Music with Big Lip Energy, and Maestro. April we welcome spring with an Improvised Musical, Gays of our Lives, and Maestro. Then May we are back again with the OG Sketch Show that started it all, and Maestro. June is
for the families with Improvised Fairy Tales in the park with Calf Skit, and wrapping up our season 15 will be our Dark Carnival in July at Bo's Bar and Stage.
Each month you will see the show Maestro, this show is a way to open our stage up to improvisers across Central Alberta, and bring us all together. We will have anywhere from 8-13 performers hitting the stage to battle for the coveted $5 bill, the audience votes on their favourite scenes and performers throughout the evening. This show has been performed in more than 20 countries, and was created by Keith Johnstone (Loose Moose, Godfather of Improv.)
We can't wait to see people back at our shows. The Season will also offer workshops that will get you PLAYING, connecting, and learning something new about yourself. All information, to purchase tickets, or to read up about our awesome-ness please visit www.bullskitcomedy.com.
Top 5 reasons to celebrate the New Year together at the Alberta Sports Hall of Fame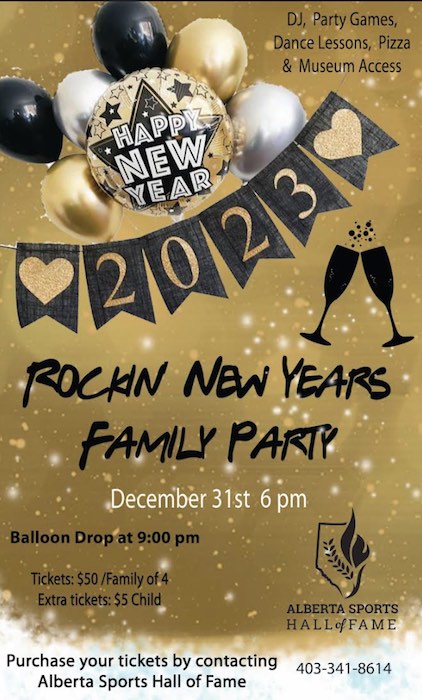 The Rockin' New Year's Family Party is on once again at the Alberta Sports Hall of Fame and Museum.
If you've been to the Hall of Fame you'll know why this is such a great idea for some beautiful quality family time. If you've never been, don't miss this chance to show a really great time to your children while you enjoy yourself thoroughly as well. You'll be floored by all the activities for the kids. In fact, we can guarantee you're going to be joining them on the downhill ski game, throwing hoops, shooting pucks and throwing balls.. because it's too much fun to resist!
You will want to step away for a few minutes of quiet though, while you enjoy the Hall of Fame Gallery. It's a treat to discover and rediscover the best athletes in the history of this sports crazy province!
OK. Here are the top 5 reasons to bring your family to the Alberta Sports Hall of Fame and Museum on New Year's Eve!
1) We're bringing in loads of pizza!
2) We've got organized party games to keep the kids busy!
3) We've got a DJ! That's right. This is a real party with dancing and everything.. The kids are going to love groovin' to Rock and Roll with you!
4) There's unlimited access to all the interactive games and exhibits in the Alberta Sports Hall of Fame.
5) We're dropping the balloons at 9 PM! That means there's time to get the young ones home and safe in bed while mom and dad bring in 2023 with the adults.
and a bonus!!!
6) Did we mention the cost? It's just $50 per family of four, plus $5 for each additional child.
Don't miss this chance to experience the Alberta Sports Hall of Fame and Museum. Make a ton of fantastic, fun, affordable family memories!
Join us at the Hall from 6 pm – 10 pm on December 31st.
$50/family (up to 2 adults & 2 kids. $5 per additional child).
Please call us at 403-341-8614 to book your spot before it's too late.