New W.H.O. Proposed COVID-19 Mitigation: Euthanize Every Non-Essential Person Over The Age Of 65 and/or Anyone Who Tests Positive For COVID19
"Desperate times call for desperate measures, and now is the time to consider all options, no matter how Machiavellian." says Dr. Killemall, said the head Epidemiologist for the W.H.O.
In response to this eyebrow-raising official statement, Canadian Prime Minister Justin Trudeau assured all Canadians that the W.H.O. is both infallible, and omniscient, therefore whatever they say, we will obey without question. To further bring home the point, PM Trudeau said yesterday,
"Our Government is now bringing forth new emergency legislation to immediately imprison anyone who makes any statements, either online, or otherwise which contradict, criticize, or question the recommendations of the W.H.O.
This is the type of serious response to the Pandemic that Canadians want, and it's the response they deserve. We're listening, and what's more, we are taking the appropriate actions necessary for the betterment of all Canadians. We have heard the concerns of many Canadians who are facing financial hardship due to the economic impact of the Covid19 pandemic, and we are required to find a solution so we can get people back to work. Also, we must consider the mental health of Canadians. Many Canadians have already watched everything worth watching on Netflix, and now are cruelly forced to interact with family members through conversation, board games, and other interactive activities. No Canadian should have to suffer such hardships, so as a response, we have decided to follow the W.H.O. recommendations, and starting next week, we will be Euthanizing all Canadians over the age of 55, who are non-essential. Further, to save on medical costs, and eliminate the further spread of COVID19 we will also Euthanize everyone who tests positive for the virus, and is also deemed to be non-essential. Difficult times call for difficult choices, and I'm confident that Canadians will understand and support their Government. As fair warning, any protests, complaints, or obstruction of any kind will result in a minimum five-year prison sentence."
If the parody above doesn't make you at least a little bit uncomfortable…it should. Actions far worse than the unthinkable measures in this piece have been done before, with far less provocation. Six months ago, if someone told you that all Canadians would be confined to their homes for up to eighteen months, would you have believed it? Or, would you have responded by scoffing, "That's ridiculous, it could never happen here! Where's your tinfoil hat?" This is an important question to ask yourself right now. How far will the Government go? You've already been surprised by the current state of affairs, so be prepared for the Government to continue to expand its power by taking away your rights, with or without reasonable cause.
It starts with a well-meaning Police officer issuing an improper ticket to a family for rollerblading together. The family will likely win in court, but that's not the point. The point is, a family who is simply spending health time together received an $800.00 fine for an action that did not actually contravene the currently imposed rules of social isolation. If you don't respond with outrage at this, because it's not happening to you, then let me remind you of a famous, and sadly relevant quote by the German Lutheran pastor Martin Niemöller.
First, they came for the socialists, and I did not speak out—
Because I was not a socialist.
Then they came for the trade unionists, and I did not speak out—
Because I was not a trade unionist.
Then they came for the Jews, and I did not speak out—
Because I was not a Jew.
Then they came for me—and there was no one left to speak for me.
Many people will be unable to accept that the above sentiment is either appropriate, or relevant to our current situation, and that would be an understandable response. It's a bit much for most people to consider that we are now in a perilous position. Nearly every single time for all of recorded human history, when National Governments expand their power, they keep at least some of their new power. Often, the expansion of power continues until the only solution is a violent revolution to topple the tyrannical Government. You may not be interested in History, but I can assure you, history is directly relevant to your life right now.
Be vigilant, and be brave enough to speak out when the Government goes too far. If you don't speak out early, you won't have the ability to speak out at all when it's too late. Remember, the Government is here to serve you, not subjugate you.
Yes, we all need to do our part during the Pandemic, and yes we need to be socially responsible for the good of all. We must be equally committed to fully regaining our freedoms once this is over, or we will face the very real possibility of living under a dictatorship.
for more stories, visit Todayville Calgary
Dr. Hinshaw defends decision to cancel large outdoor events for the summer – Alberta COVID-19 Update
Graffiti artist completes world's tallest mural in downtown Calgary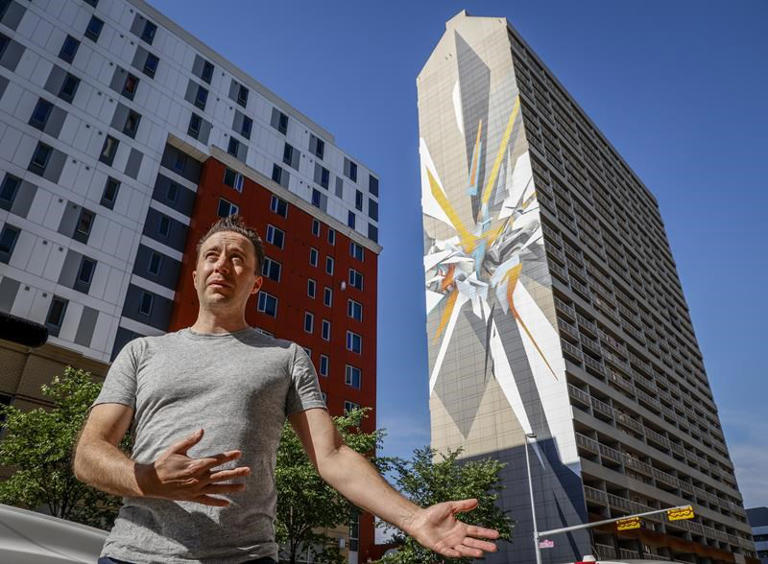 CALGARY — It looms on the edge of downtown a stone's throw from the Calgary Tower, a splash of colour amid aging buildings, railway tracks, parkades and a steady stream of traffic.
It's billed as the world's tallest mural, painted by one of the globe's top graffiti artists, and is part of a project to turn an austere area of downtown into an expansive open-air urban art gallery.
"The brutalism and dystopian look of this area with the giant parkades and the spiral ramps and stuff — it feels like Gotham. So turning this wall from concrete nothing to this is really fun," said Peter Oliver, president of the Beltline Urban Murals Project, or BUMP.
The mural is an abstract painting in various shades of orange, black, grey, blue, white and yellow and is the creation of DAIM, an internationally renowned German artist. DAIM, whose real name is Mirko Reisser, has been creating public artworks for more than 30 years.
"DAIM's work is rooted in graffiti art. It's abstract and he was actually the very first graffiti artist to start exploring three-dimensional works. So his work kind of obeys the laws of light and shadow but defies the laws of gravity," Oliver said.
"I think his work really marries well with the brutalism of this building and it's just a massive flat wall of concrete. It's the very first prefabricated concrete building in Calgary, built in 1980."
The mural is 95 metres high, making it the tallest mural in the world "by a long shot," said Oliver.
He said most cities don't have giant concrete walls available, with the majority being glass, steel or aluminum. So this was a perfect marriage.
DAIM, who was assisted by three local artists, spent over three weeks painting and went through more than 500 cans of spray paint after a base coat was added to the bare concrete. It is to be a permanent addition to the area and, as of last week, was awaiting a coat of UV sealant to make it complete.
Facing toward the east, it can be seen from a long way away.
"If you've got the window seat on the airplane, you can see it on the approach into the airport," Oliver said.
"I think what we're really doing with BUMP is re-architecting the identity of this city."
The project will be unveiling about 60 new murals during its annual festival, which runs from Aug. 1 to 28. Before that, the new art work can be viewed by visitors at the annual Calgary Stampede, which begins this week.
"If you're coming down, I'd check this out over the parade any day," Oliver said with a chuckle.
This report by The Canadian Press was first published July 4, 2022.
Bill Graveland, The Canadian Press
Calgary Stampede receives $10M from federal government to aid recovery from pandemic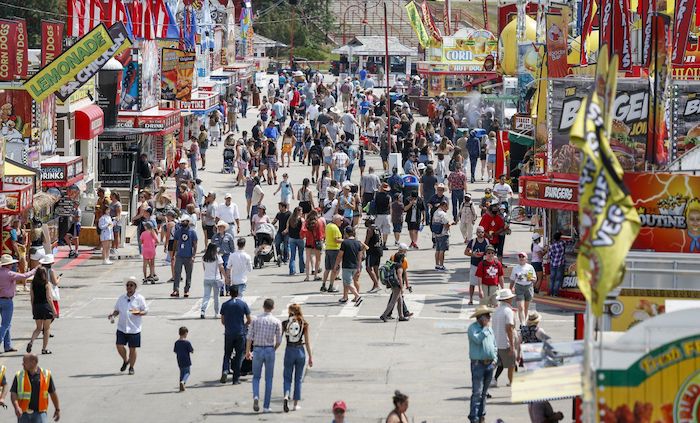 Calgary – The Calgary Stampede has received more than $10 million from the federal government to help it bounce back after last year's event was scaled down due to the COVID-19 pandemic.
A report to the city this week showed the Stampede had an operating loss of $8.3 million in 2021.
Last year's Stampede ran at half capacity because of COVID-19 public health measures and was cancelled all-together the year before.
Daniel Vandal, the federal minister for Prairies Economic Development Canada, says the money aims to support a full-scale Stampede to deliver the "authentic western experience" this year.
He says it would also help to reignite Alberta's visitor economy.
The 2022 Stampede is set to run from July 8 to 17.
"Festivals large and small were hard hit during the pandemic," Vandal said in a news release. "They are events where families and friends come together and take in the exciting atmosphere.
"The tourism industry is facing a strong comeback providing quality jobs across the country, showcasing stunning landscapes and offering exciting experiences right here in Alberta."
The federal government also provided about $1.8 million for four other tourism projects in southern Alberta: Charmed Resorts, Cochrane Tourism Association, Heritage Park and Tourism Calgary.
This report by The Canadian Press was first published June 30, 2022.