More Important Now Than Ever: Remembrance and a few thoughts on this World Suicide Prevention Day
More Important Now Than Ever: Remembrance and a few thoughts on this World Suicide Prevention Day
On August 31, 2019 my sister Kelly and I lost our bright, kind, and beautiful mother Tracey to suicide. In the weeks preceding her death, a major depression Mum had dealt with and overcome several times before in her life came back with a suddenness and intensity that staggered us. It was terrifying to see this episode's impact and how debilitating it was; the helplessness you feel when a loved one is being tormented by their own mind is it's own kind of torture. Still, even through her long and grinding bouts of depression in years past, suicide somehow never felt like a possibility. The very notion was abstract, dark, and seemed impossible- so it was the most shocking and devastating thing we could have imagined that it happened. It's now just over a year later and there are many days we still can't believe she's gone.
Our Mom was our best friend, our biggest cheerleader and just exuded light and kindness. She always wanted to help, whether it was my sister and I, her friends and family or complete strangers- if there was a need for volunteers, she'd be one of the first to sign up. She had so much love for us, for her dogs, for travelling, for golfing, for gardening, for relaxing with drinks on the patio and talking for hours. She was so compassionate and could truly see the good in everyone. When we were growing up, she worked as a registered nurse and often brought home little gifts from patients and their families that she had cared for. She left such an impression on the people she met and this was especially obvious at her memorial, where we were just blown away by the amount of people who attended that had worked with her years, even decades ago. The stories people were generous enough to share with us about our mom were so beautiful- they were such a gift and helped to propel us through that surreal day.
Last year at this time, as we moved through the chaos and fog immediately following Mum's death, I began to see bright yellow billboards all over town stating that '11 Edmontonians attempt or die by suicide per day'. As it turns out, each year, over 50 countries recognize September 10th as World Suicide Prevention Day. So soon after losing my mother this way, the subject of suicide was the only thing on my mind apart from the endless 'Why?'s. This campaign's timing was bananas.
I quickly learned the ads were promoting 11 of Us, a resource portal developed as part of Living Hope: A Community Plan to Prevent Suicide in Edmonton. The Living Hope initiative was developed by a committee of individuals and organizations dedicated to preventing suicides in Edmonton. The plan's objectives include raising awareness and making education on mental health and suicide prevention available to Edmontonians, in most cases free of charge.
Over the past year, I've taken advantage of this initiative and attended excellent courses provided by Living Hope stakeholders including Mental Health First Aid (Basic Course), Safe Talk, Question, Persuade, Refer (QPR), Applied Suicide Intervention Skills Training (ASIST), and Trauma Informed Care. Through these courses I have been lucky enough to meet and share my story with so many kind, compassionate and interesting people, whether they were the ones delivering the course or learning alongside me.
Of course COVID-19 has changed everything. Most of these courses are now offered online, including one I have yet to take called LivingWorks Start which teaches trainees to recognize when someone is thinking about suicide and to connect them with help and support. While many of us are dealing with screen-fatigue, please don't let the idea of one more online session deter you. Most courses don't require more than an hour, but the information you'll learn really could help keep someone with us.
This past year has been the hardest of my life, yet I've been encouraged and inspired by the work and efforts of so many as I try to gain peace and a better understanding of my family's experience. It goes without saying that suicide is a difficult topic- I've come to learn that nothing sucks the air out a room quite like the mention of it. It's much easier to look away, but for World Suicide Prevention Day this year, if your own mental health allows for it, take a moment to read about the experiences of suicide attempt survivors, caregivers, suicide loss survivors, and those at risk of suicide.
We live in a new world now and we're going to need each other more than ever. Like another one of those big yellow 11 of Us billboards I saw recently said, 'There's rarely been a more important time to check in with one another.'
WHERE TO GET HELP
Call 911 if someone is in immediate danger of becoming injured or dying.
In Edmonton: Call The Canadian Mental Health Association's (CMHA) Edmonton Distress Line 24/7 at (780)-482-4357 (HELP)
In Red Deer & across Alberta: Call the Mental Health Help Line at 1-(877)-303-2642
In Calgary: Call the Distress Centre Calgary's Crisis Line 24/7 at (403)-266-4357 (HELP)
THE HALFTIME REPORT News from the Alberta Sports Hall of Fame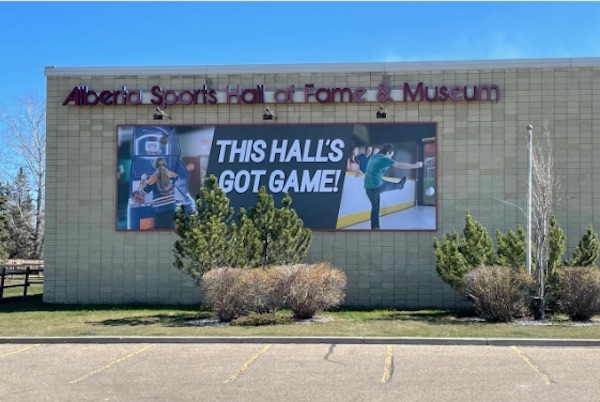 ASHFM Staff Supporting Their Favourite Alberta Teams
The Battle of Alberta was fantastic. Let's do this again soon! This is the first time the Edmonton Oilers and the Calgary Flames have met during the NHL Playoffs since 1991. The Alberta Sports Hall of Fame had a ton of fun creating a number of different ways for Albertans to learn about and participate in the rivalry.
We created a poll where visitors to the museum placed a sticker on our board to indicate which Albertan NHL team they cheer for. Those unable to stop in were encouraged to comment on our social media posts, telling us their team, so we could place the sticker for them. Both teams had over 200 votes, with the total climbing higher each day.
We also highlighted some of our honoured members who have played for, or been associated with either of these teams, such as Wayne Gretzky, Michael Vernon, Glen Sather, and Peter Maher.
Other initiatives include Jersey Day, where visitors who come in on a Battle of Alberta game day wearing a Flames or Oilers jersey get 50% off of their admission into the museum, highlighting iconic BoA moments through Youtube, and more!
This newsletter is sponsored by the RBC Foundation.
Honoured Member in Focus: Wayne Bowes and Bob Daku
Wayne Bowes and Bob Daku began playing racquetball together in 1969, after meeting at the Lethbridge YMCA. They dominated the Canadian Open Men's Doubles in racquetball from 1974 to 1982. Together, they won nine consecutive national titles.
Besides their national titles, this team won numerous Alberta crowns and competed at the 1974 World Amateur Racquetball Championships. They won two more titles, in 1984 and 1985, and then retired from competitive racquetball with eleven of thirteen national titles.
For more information about this team, please see their Honoured Member Profile, linked below.
Provincial Sport Organization: Alberta Racquetball Association
The Alberta Racquetball Association's vision is to make racquetball accessible to all Albertans and to be a national leader in programming, athlete development, and good governance.Its mission is to facilitate the participation and enjoyment of racquetball through the delivery of programs, access to resources, the development of coaches and officials, and support to clubs and affiliates.
They strive to build a strong future and legacy for racquetball by supporting competitive athletes, fostering lifelong participants and aim to increase involvement and accessibility at all levels through promotion, advocacy, and funding.
Artifact in Focus!

The artifact that we are highlighting is a racquetball racquet. The cover is made of faux, brown, leather.
Next time you're driving down the QEII you will notice the new billboard on our building! Our new billboard reads "This Hall's Got Game," and is visible from Highway 2.
Honoured Member Theo Fleury Visits ASHFM
Honoured Member Theo Fleury stopped by the Alberta Sports Hall of Fame recently to film a promotional video.
To learn more about Theo Fleury, please click on the link to his profile below.
Leave a legacy​
The Alberta Sports Hall of Fame needs your support to continue the ongoing preservation of Alberta's sports history and the development of museum exhibits. We are grateful and appreciative of the generosity of our supporters and friends. We would be happy to assist you in choosing how your personal legacy will be fulfilled and the many options available. Here is some information on donating shares to ASHFM and the benefits to you as a donor.
Copyright © 2021 The Alberta Sports Hall of Fame, All rights reserved.
Our mailing address is:
Alberta Sports Hall of Fame
#102 – 4200 Highway 2
Red Deer, AB T4N 1E3
(403) 341- 8614
[email protected]
Aurora Cannabis shares fall 40% after share sale amendment
EDMONTON — Aurora Cannabis Inc.'s share price fell by about 40 per cent, after the company announced it sold US$150 million worth of shares.
The Edmonton marijuana company's share price was $3.47 when trading ended Thursday, but by mid-morning Friday, had fallen to $2.07 and closed at $2.14.
The sale of shares was part of an amendment Aurora made to a previously announced bought deal financing.
The amendment made it possible for a syndicate of underwriters led by Canaccord Genuity and BMO Capital Markets to purchase 61.2 million Aurora units for US$2.45 each.
Each unit is comprised of one common share in Aurora and one common share purchase warrant, which can be used to acquire one common share for US$3.20 each in the next 36 months.
Aurora has yet to record a profit and in recent years has been trying to drive revenues by better aligning supply with demand, laying off staff and closing facilities.
This report by The Canadian Press was first published May 27, 2022.
The Canadian Press