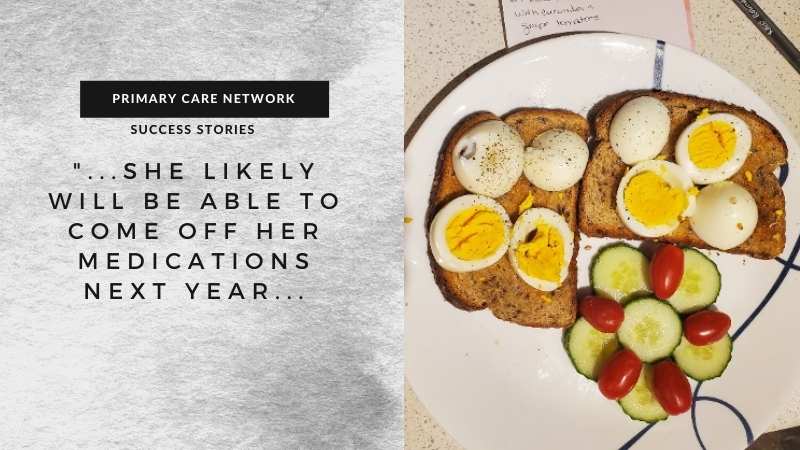 Sue Ann went to the doctor. While the doctor addressed the issue at hand, he also did a bunch of tests. Sue Ann was in the 225-pound weight range and not surprisingly when the test results came back her blood sugar value was very high. The doctor started her on metformin right away and went through some trial and error to get the right dose and combination of mediation for her condition. She started out losing about 10 pounds every 6 weeks.
Before she knew it, she was down 30 pounds. She met with a dietitian to learn the best healthy eating strategies. She now journals her food intake and plans her meals. She met with the RDPCN family nurse to learn more about her blood sugar and how her lifestyle choices affect it, to plan her exercise activities and for overall support and motivation. Sue Ann states she often loses motivation at about 3 months into any lifestyle intervention but this time she has the drive and support to keep going.
Sue Ann has made great progress. Sue Ann has a deteriorating spine syndrome so losing weight has really decreased her back issues. She feels so much better, more energetic and more confident. She has gone from a size 18 to a size 10 and lost 3 inches off her top, her waist and her hips. Her blood sugar is now in the normal range. She has a plan and is willing to put in the hard work to accomplish her plan. Her doctor says she likely will be able to come off her medications next year- another motivating factor. Sue Ann is very thankful to all the team members that have helped her make these positive changes!
To learn more about the RDPCN programs, visit www.reddeerpcn.com
Getting My Blood Glucose Back in the Normal Range Gave Me Tears of Joy
Today is the day! Someone supporting the Child Advocacy Centre is going to win a huge jackpot!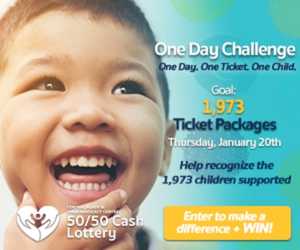 Or Call 587-272-2233
Phone lines will be open from 9:00AM – 7:30PM MTN
#CACACOneDayChallenge UPDATE
We are currently at
603
ticket packages
Goal: 1,973
We're almost half way there! Will you help us reach our goal!? Let's make a big push this afternoon to meet the challenge for these kiddos!
Thank you to those who took the Challenge and have already purchased!
Phone lines have been busy, so feel free to leave a voicemail with your details and we'll get back to you as soon as we can!
Visit our lottery website for more information, an updated list of winning numbers, and the full list of lottery rules! Or call 587-272-2233.
*Please Note: Phone lines are operated by CAC Staff. Open from 9AM – 4PM Monday – Friday. Please leave a voicemail with a detailed message & we will return your call as soon as possible.
Lottery License #578482
Skills that maintain healthy relationships
Learn ways to improve your relationship skills using the acronym DEARMAN and GIVE, from the DBT therapy perspective, presented by a PCN Mental Health Counselor, Lana.
Interpersonal Effectiveness Skills
Learning to get along with others while also asserting your own needs is essential to healthy relationships. It can be difficult to balance your own needs and the needs of others. How can you get what you need without being aggressive or neglecting of the needs of others? There are three sets of skills you will learn to help achieve this goal: objective effectiveness, relationship effectiveness, and self-respect effectiveness.