Getting My Blood Glucose Back in the Normal Range Gave Me Tears of Joy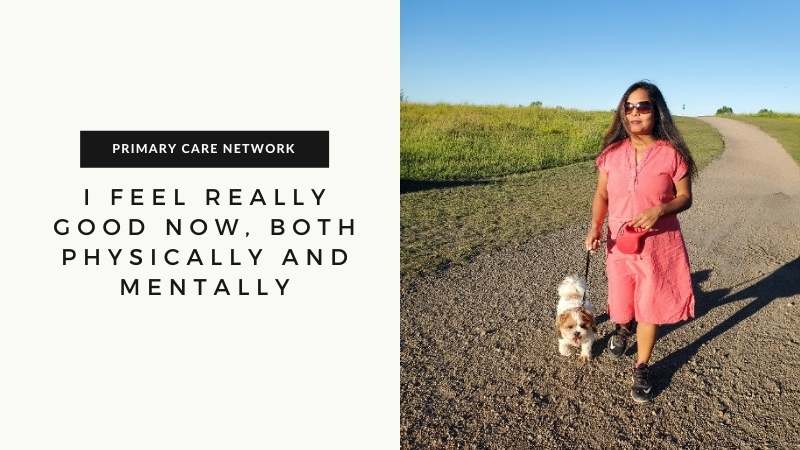 Diabetes runs in my family; my mom has it and my grandma did too. Well before Christmas 2019, at a routine physical my doctor told me that I have diabetes. I tried to bring it down for the next 3 months, but I was not successful, in fact it got worse. At this time, the doctor referred me to the PCN Family Nurse. I started seeing her and we made plans for how I could get through the Christmas season. However, I did very poorly as I love sweets. Getting poor readings, feeling exhausted and worrying who would look after my daughter if something were to happen to me left me very lethargic and depressed.
The nurse was patient and very encouraging. She helped me to change my mindset. I decided to take up the challenge to improve my blood glucose. The nurse and I talked about the rice in my diet and portion sizes of rice. I am from an island nation and rice is our staple. I did some testing of my blood glucose after consuming some of my favorite foods and I notice that amount of rice I was consuming did increase my blood glucose significantly. I thought I could never have a meal without it being mostly rice but I have learned now that I can do this quite easily. Even though I have a puppy, I would only walk her for 5 to 10 minutes at a time.
Since my mindset change, I worked to build up my activity. I started with 5-minute stints and pushed myself forward until now I am at one-hour stints. I take the dog for nice long walks and we both enjoy it. People comment on how good I look and how much more energetic I am. I feel really good now, both physically and mentally. The nurse helped to give me the confidence to tackle diabetes. I had tears of joy when I learned my blood glucose is back to the normal range.
To learn more about the RDPCN programs, visit www.reddeerpcn.com
Click to experience 2021 Festival of Trees online!
Red Deer Festival of Trees 2021 is dedicated to providing funding for critical operating room equipment. Having access to new and replacement equipment for the OR will improve the patient experience and reduce wait times for life-saving surgeries, allowing our friends and family to remain close to home during their procedures.
REBELS ANNOUNCE 'FESTIVAL WEEKEND' IN SUPPORT OF 2021 FESTIVAL OF TREES
News Release from The Red Deer Rebels
The Red Deer Rebels are proud to announce "Festival Weekend" on November 26 and 27, in support of the 2021 Festival of Trees!
Festival of Trees, hosted by the Red Deer Regional Health Foundation, will support critically needed equipment in the operating room at Red Deer Regional Hospital to help provide a higher level of service to Central Albertans.
Beginning Wednesday November 24 at 9 a.m., a five-day progressive 50/50 inclusive of both weekend Rebels home games, will support the 2021 Festival of Trees and RDRHF, Rebels Foundation for Education and Wellness, and the Rotary Club of Red Deer. Sales close at 9:30 p.m. on Sunday, November 28. Tickets can be purchased at Rebels5050.com.
Help support the 2021 Festival of Trees by using promo code "TREES21" to purchase your tickets via Tickets Alberta, for either the November 26 or 27 Rebels games. The Rebels will donate $7 from every adult ticket and $4 from every youth ticket back to the Festival of Trees. The promo code is available for online purchases only.
Fans can visit the Festival of Trees during the intermission of both weekend games and view all trees available for auction. Fans can also show their ticket for free entry to the Festival all weekend.