LISTEN: Bryn and Robin talk Heritage Classic, Hockey and Baseball – guest Mitchell Blair

This episode: Heritage Classic / Mitchell Blair / Hockey & Baseball Talk
Because 'some' of you have asked, there's more of the banter between the boys today. However, we also have a great interview with CKRM Radio's Mitchell Blair in Regina, talking about the Heritage classic this past weekend. Plus we veered into a discussion about how much Saskatchewan has contributed to the NHL, why they won't ever get an NHL team, and the sensational season for the Green Riders. Plus the usual BS.
Hot Topics of the week
Who are The OUTSIDERS?
The Outsiders are Edmonton media veterans Bryn Griffiths and Robin Brownlee. Together, they intend to bring us a different perspective on sports gained from decades inside the business. They've been around for a while, and both have rolodexes literally overflowing with the contacts of some amazing sports figures.
This is a new weekly sports podcast with a keen eye on the hottest topics of the week in Canada. Expect them to serve up some outstanding conversations with a sports luminaries new and old.
Above all, expect lots of opinions!
"NOT always right but willing to listen." – Bryn Griffiths
Bryn Griffiths and Robin Brownlee take a weekly look at the World of Sports from their unique perspective. Great guests. Outstanding conversation. Lots of opinion. NOT always right but willing to listen.
Jordan Peterson and Rex Murphy on "Woke Culture Wars"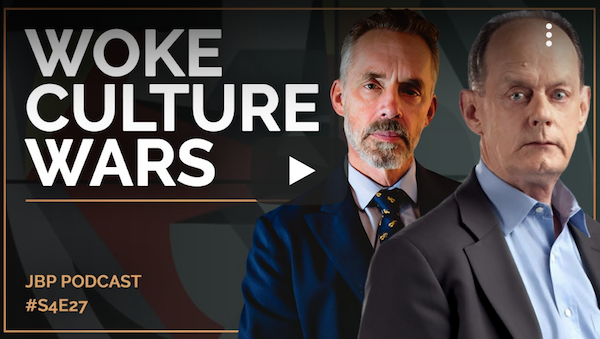 It's fair to say the collective pool of fans of these two Canadian thinkers / speakers / communicators would add up into the millions. Here's an opportunity to get to know Rex Murphy like never before as Jordan Peterson sits down with Rex for a lengthy conversation
Posted from Jordan Peterson's Youtube channel.
The Jordan B. Peterson Podcast
On this episode of the Jordan Peterson Podcast, Jordan is joined by Rex Murphy. Rex is a Canadian commentator and author who deals primarily with Canadian political and social matters. He is best known for working on and for CBC Here and Now, CBC Radio 1's Cross Country Checkup, writing for The Globe and Mail and writing for The National Post. He is a well-recognised and loved figure. Rex Murphy and I sit down to discuss a variety of topics including his impressive career, Canadian politics, western culture, the woke culture wars, changes in universities, the crumbling study of the humanities, New Finland, Toronto, and more. Find more Rex Murphy by searching his name for articles and in his book The Jordan B. Peterson Podcast can be found at https://www.jordanbpeterson.com/podcast/
Why some Infectious Disease experts say COVID-19 will soon be behind us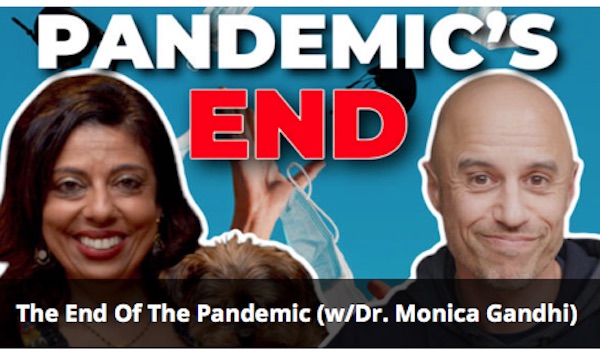 The common belief seems to be the COVID19 pandemic is going to be with us at least until the end of this year and possibly well into 2022. But some infectious disease experts are making much more aggressive predictions. In fact Dr. Monica Gandhi (bio below) is already beaming with joy over the data pouring in showing the vaccines spreading throughout the world are working incredibly well. Enjoy this interview. It will absolutely help you feel better about the state of our battle against COVID-19.
A UCSF (University of California, San Francisco) infectious disease doctor is convinced this pandemic is ending, and sooner than you think…here's why.
Dr. Monica Gandhi is a professor of medicine at UCSF and here are our other episodes together.
And here's her latest study in the Lancet.
An excerpt from the following video: "So we have tons of PhD epidemiologists who are painting gloom and doom pictures everywhere. Well, you know, first it was this. And then, you know, okay, now we have a vaccine but you know what, the variants are coming. So we're probably gonna have to wear seven masks and stay shut down. And by the way, don't even think about opening schools. Why are you thinking about opening schools? Oh, by the way it's your bad behavior that caused all this death, and so we're gonna shame you. And on top of that, it's never gonna get better. So expect 2023, before we get back to a semblance of what will be a new normal, which will be we'll all be in bubbles. So get those guys out of the picture and go with actual physicians who touch patients. What's your thinking right now? Where are we in this mess?
Dr. Gandhi: We are just facing like complete dawn of hope and light and love. Like it's gonna be so great. It is getting so great. So what happened, right? Like March 11th was the day that the WHO declared this a worldwide pandemic. November 9th, we got the first press release from the first vaccine. Phase three clinical trial, that fast. And then we've had seven phase three clinical trials. So we have seven vaccines in circulation around the globe that work. And they work exactly using the same protein in different ways using that protein, and they work beautifully, and they all work beautifully against preventing what even made us notice on January 31st, 2019 or December 31st, 2019 that something terrible was happening, which is severe disease. They all work almost 100% to prevent… 100% for hospitalizations. And then like in the 90s to prevent you not even feeling well at home. So they're amazing."
The interviewer is Dr. Zubin Damania. Trained at Stanford and the University of California, San Francisco, Dr. Damania is the founder of Turntable Health, an innovative primary care clinic and model for Health 3.0. He produces videos and live shows under the pseudonym "ZDoggMD" which have collected nearly a billion views.
Click play to watch.