Take Me Out To The Ball Game in Sylvan Lake
Baseball fans in Sylvan Lake and the surrounding area will soon be able to buy peanuts and cracker jack while cheering on the home team.
The Western Canadian Baseball League approved the expansion team, that will hit the field in 2021 at their annual league meetings last weekend.
Edmonton Prospects Head Coach and AGM Jordan Blundell announced the news on the Prospects Baseball Show Friday. "2021 Sylvan Lake will be operational in the WCBL, really good group man. They're going to look to put a facility up there."
Hear the full episode of the Prospects Baseball Show.
Sylvan Lake's population is almost 15,000 but when you add in Red Deer (103,558 according to the 2016 census) some say the area is more than 250,000 people.
"It is that area that is important" Blundell continued. "That area commerce wise has a couple of hundred thousand people within shooting distance of a ball park in Sylvan and if you're around here you know what Sylvan Lake is like in the summer."
The new owners, Hard 4 Sports will have Aqil Samuel as it's General Manager and President of Baseball Operations and are planning a 2,200 state of the art facility which will be located in the west end of Sylvan Lake at Pogadl Park.
The WCBL is a summer collegiate league made up mostly of Canadian and American players, but there have been players from Japan and Mexico to name a few other countries. The league is for players who are in college or have just completed their senior season and are 25 and under.
The WCBL (then the Western Major Baseball League) has been in the area before as the Red Deer Generals competed in 2005.
Judy's story: I'm on the healthy road!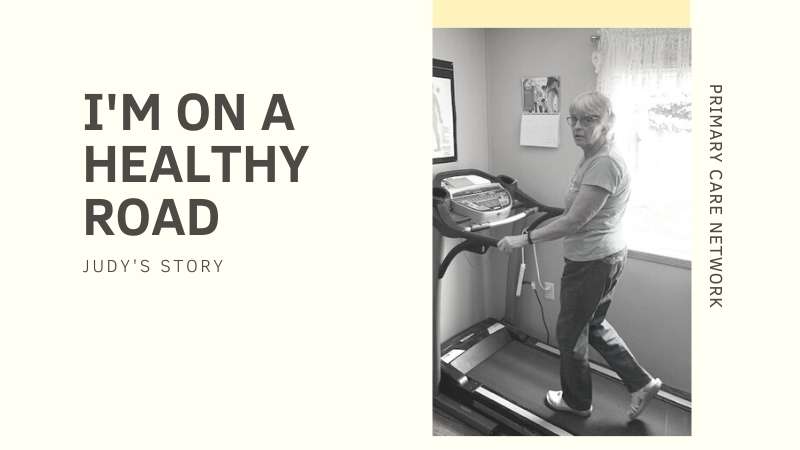 On the Healthy Road!
My journey to better health starting when my doctor told me my blood sugar was at pre-diabetes levels, my blood pressure continued to require medication and I had weight to lose. He sent me to see the RDPCN nurse. After some appointments there, the nurse referred me to the Health Basics program.
Exercise was my downfall. Working from home, I always found something else to do rather than exercise. Health Basics increased my awareness. I tracked what I was eating and became more aware of what I ate, when I ate and why I ate. I also realized things that would make me healthier that I wasn't doing. I realized being healthy is a process and I took one healthy step at a time. I also became aware of the wider variety of options for healthy lifestyle.
My husband and I visited friends over the summer and noted they had lost weight. This stimulated us to pay even more attention to our food intake. As a result of our overall efforts, I have lost about 32 pounds and my husband has lost 37. My blood sugar is now in the normal range. I have had significant decrease in my blood pressure medication. I have more energy. I enjoy exercising more as it is easier to move around and I have less arthritis pain. Health Basics is an excellent class- it started me on the healthy road. I also have much more confidence in my future health.
Click to learn more about the Red Deer Primary Care Network.
Read more success stories from the Primary Care Network.
Larry Reese and Judy Sutter among five Central Alberta artists featured in OUR West Country exhibition at MAG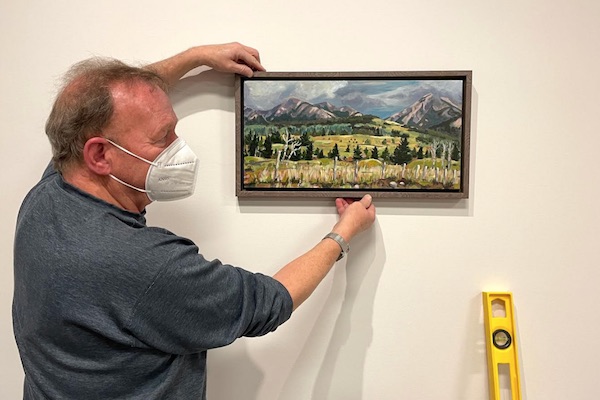 News Release from Red Deer Museum & Art Gallery (MAG)
Five Central Alberta artists worked en plein air, painting the incredible landscape that is the West Country.
The Eastern Slopes of Alberta and prospective coal mining in that area have been the focus of much controversy in the last year. These mountains are more than the resources they hold. They provide the people of Alberta with much of the province's fresh water supply as well as mental and physical connections to nature. In the summer of 2021, central Alberta artists Lynn LeCorre, Kate More, Larry Reese, Judy Sutter, and Susan Woolgar worked en plein air, painting and sketching onsite in the open air. Through their eyes, we experience the incredible landscape that is the West Country along the eastern slopes of Alberta's Rockies. See the exhibit OUR West Country: Plein Air Painting in Alberta's Eastern Slopes on display at the Red Deer Museum + Art Gallery (MAG) December 11, 2021 to March 12, 2022, with an opening reception on Sunday, December 12th from 2-4pm.
Words from Pat Matheson, Curator of Art:
"The MAG is looking forward to seeing this exhibition installed as it touches on a topic near and dear to many Albertans, including myself. With the new awareness most Albertans have with the landscape so close to us to the west, we invited a group of en Plein Air artists to capture the atmosphere, the beauty and the spirit of Alberta's eastern slopes through their eyes."
Opening Reception: Sunday, December 12, 2-4pm
Join us at 2 pm for the opening of the new exhibits OUR West Country: Plein Air Painting in Alberta's Eastern Slopes and Ya Ha Tinda – The Ranch: Photography by Arto Djerdjerian. Artists in attendance.
Talks & Tours:
Open for First Fridays! Guide in the Gallery – January 7, 5-8pm
2 O'CLOCK TOURS – Staff-led informal tours. February 12, 2pm