It's starting to feel like a real old-fashioned NHL playoff
Hard to believe, but this is starting to feel like a real, old-fashioned NHL playoff. The Stanley Cup will not be awarded for months.
Yet, here we are, two weeks away from the official lid-lifters in the opening round of what will become a five-series marathon for two teams and the internet universe is full of hopes and doubts, fears and prayers — almost as if this was April, not mid-July.
The shocking news that a $600-million edifice like Rogers Place is as susceptible to flooding as a mere million-dollar structure did nothing to delay this outbreak of opinions. No further proof is needed that hockey, for large groups of us, stands at least equal to COVID-19 in daily interest.
In Edmonton, for example, there is growing hope that the Oilers will cruise through their first series with Chicago, largely because proven goaltender Corey Crawford has been declared "unfit to play" and any available backup for the Blackhawks is far less competent.
Having Leon Draisaitl and Connor McDavid available will also help, and there were signs late last season that the depth pieces at forward and on the blue line are more than just place-holders until the superstars take control.
In Calgary, optimism is quieter, maybe because the Flames have won only a single playoff round in six years. And maybe because talented Johnny Gaudreau was separated from familiar linemates in early workouts while other holdovers have been — like Crawford — handed the unique "unfit to play" designation.
General manager Brad Treliving went online quickly to defend Gaudreau against suggestions that he is not in game shape and has struggled in the early going. Gaudreau himself labeled the criticism "just one of those things."
Other potential issues have not been widely discussed. Coronavirus infection for Derek Ryan and others who have stayed off the ice? Chances are fans will never know.
At least one presumed expert on Friday went so far as to say in print that the Oilers "have a real chance to win the Stanley Cup." Pre-playoff season is the time to dream big in any sport.
In a normal NHL season — if there is ever such a thing as normalcy in sports — the focus for most fans goes to player signings, free-agent talk and the like, including inevitable calls by so-called supporters for one or several coaches and general managers to be dismissed.
A big difference now is fan interest in winners of individual honours: Ted Lindsay Award for best player, Lady Byng for most gentlemanly, Masterton Trophy for dedication to the sport and others for top rookie, top defenceman and the like.
Automatically, Calgary fans insist, for example, that Mike Giordano is the league's top defender. Oilers fans and several media types, always convinced their opinions lack bias, have gone on record with demands that Daisaitl must win the Lindsay award and that McDavid, who used the entire 2020 pre-season to battle a career-threatening knee injury, should have no challengers for the Masterton Trophy, which this old reporter believes should go to Bobby Ryan of the Ottawa Senators.
So far, it seems, the biggest difference between Edmonton's observers and the similar group in Calgary is positive versus negative. Some Oilers-watchers honestly hint that their two superstars might portend the beginning of a magical run like Edmonton's domination in the 1980s.
In Calgary, there are fresh complaints about Treliving's performance and the sad recent finishes by a team that figures to be seriously challenged by the Winnipeg Jets in their first-round match.
Is it too soon to be talking about a Flames rebuild. Several voices in Calgary insist it is not.
Alberta top court downgrades murder convictions in quadruple homicide case
Calgary – Alberta's top court has downgraded two convictions in a high-profile case involving the torture and killing of a man and the deaths of three others from first-degree to second-degree murder.
The Alberta Court of Appeal released the decision Friday in the cases of Tewodros Kebede and Yu Chieh Liao over the killing of Hanock Afowerk.
Afowerk's body was found in a ditch outside Calgary in July 2017. He had been bound, beaten, strangled and shot.
Three other bodies were found in Afowerk's burnt-out car at a suburban construction site. No murder charges have been laid in those deaths.
Court heard that Afowerk's death was the culmination of a plot to kidnap him and extort him for money. The jury agreed with the Crown that Afowerk's killing had been part of the plan from the start.
But the Appeal Court said the trial judge failed to explain that while the kidnapping and beating had clearly been planned, Afowerk's killing may not have been. It suggested the defendants may have not have been recruited to kill him.
The Crown relied heavily on a text message sent by Kebede before the killing, which read: "U up for the job tonight?", as evidence of planning. But because the recipient of that message didn't testify to it, the Appeal Court concluded its meaning was unclear.
The court gave the Crown the choice of retrying the case or substituting second-degree verdicts. It chose the latter.
The court dismissed the defendants' application for a new trial
"Following the trial judge's instructions, the jury must have found by their verdict that both appellants actively participated in the murder of Mr. Afrowerk," the Appeal Court said in its written judgment.
"Both would therefore be properly convicted of second-degree murder. Accordingly, there will be no prejudice to the appellants if we substitute the verdicts to reflect that fact."
Kebede and Liao must now reappear before the trial judge for sentencing.
The change does not affect Kebede's and Liao's convictions involving the deaths of the other three victims.
Liao was found guilty of being an accessory in the murders of Cody Pfeiffer, Glynnis Fox and Tiffany Ear, whose remains were found in Afowerk's charred car.
Kebede was convicted of being an accessory in Pfeiffer's murder.
This report by The Canadian Press was first published Dec. 23, 2022.
— By Bob Weber in Edmonton
WestJet announces new flights to Tokyo, Barcelona, and Edinburgh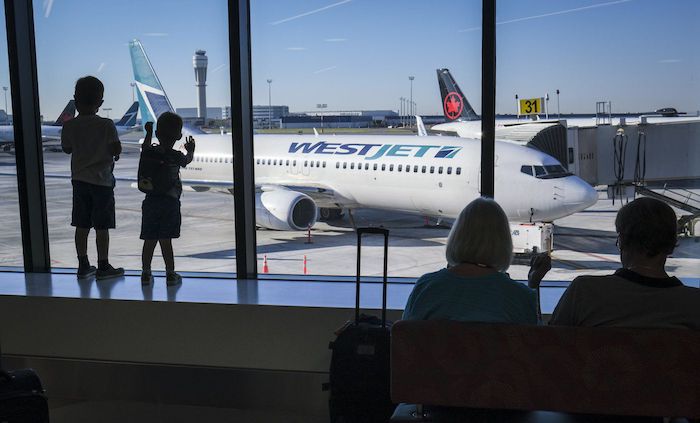 Calgary – WestJet plans to offer flights to Japan starting this spring, marking the airline's first non-stop flights to Asia from Calgary.
The Calgary-based airline said Monday that it will fly to Tokyo's Narita International Airport from Calgary this spring.
The non-stop flights will operate three times weekly beginning April 30.
The airline also announced new routes from Calgary to Barcelona and Edinburgh and increased frequency to Dublin, London, Paris and Rome, also starting in the spring.
WestJet chief executive Alexis von Hoensbroech says the new flights are part of the airline's plan to expand capacity from Calgary by more than 25 per cent by next year, beginning with intercontinental routes.
WestJet also says it is preparing for broader expansion within Canada and North America over the coming months.
This report by The Canadian Press was first published Dec. 5, 2022.