It's starting to feel like a real old-fashioned NHL playoff
Hard to believe, but this is starting to feel like a real, old-fashioned NHL playoff. The Stanley Cup will not be awarded for months.
Yet, here we are, two weeks away from the official lid-lifters in the opening round of what will become a five-series marathon for two teams and the internet universe is full of hopes and doubts, fears and prayers — almost as if this was April, not mid-July.
The shocking news that a $600-million edifice like Rogers Place is as susceptible to flooding as a mere million-dollar structure did nothing to delay this outbreak of opinions. No further proof is needed that hockey, for large groups of us, stands at least equal to COVID-19 in daily interest.
In Edmonton, for example, there is growing hope that the Oilers will cruise through their first series with Chicago, largely because proven goaltender Corey Crawford has been declared "unfit to play" and any available backup for the Blackhawks is far less competent.
Having Leon Draisaitl and Connor McDavid available will also help, and there were signs late last season that the depth pieces at forward and on the blue line are more than just place-holders until the superstars take control.
In Calgary, optimism is quieter, maybe because the Flames have won only a single playoff round in six years. And maybe because talented Johnny Gaudreau was separated from familiar linemates in early workouts while other holdovers have been — like Crawford — handed the unique "unfit to play" designation.
General manager Brad Treliving went online quickly to defend Gaudreau against suggestions that he is not in game shape and has struggled in the early going. Gaudreau himself labeled the criticism "just one of those things."
Other potential issues have not been widely discussed. Coronavirus infection for Derek Ryan and others who have stayed off the ice? Chances are fans will never know.
At least one presumed expert on Friday went so far as to say in print that the Oilers "have a real chance to win the Stanley Cup." Pre-playoff season is the time to dream big in any sport.
In a normal NHL season — if there is ever such a thing as normalcy in sports — the focus for most fans goes to player signings, free-agent talk and the like, including inevitable calls by so-called supporters for one or several coaches and general managers to be dismissed.
A big difference now is fan interest in winners of individual honours: Ted Lindsay Award for best player, Lady Byng for most gentlemanly, Masterton Trophy for dedication to the sport and others for top rookie, top defenceman and the like.
Automatically, Calgary fans insist, for example, that Mike Giordano is the league's top defender. Oilers fans and several media types, always convinced their opinions lack bias, have gone on record with demands that Daisaitl must win the Lindsay award and that McDavid, who used the entire 2020 pre-season to battle a career-threatening knee injury, should have no challengers for the Masterton Trophy, which this old reporter believes should go to Bobby Ryan of the Ottawa Senators.
So far, it seems, the biggest difference between Edmonton's observers and the similar group in Calgary is positive versus negative. Some Oilers-watchers honestly hint that their two superstars might portend the beginning of a magical run like Edmonton's domination in the 1980s.
In Calgary, there are fresh complaints about Treliving's performance and the sad recent finishes by a team that figures to be seriously challenged by the Winnipeg Jets in their first-round match.
Is it too soon to be talking about a Flames rebuild. Several voices in Calgary insist it is not.
Graffiti artist completes world's tallest mural in downtown Calgary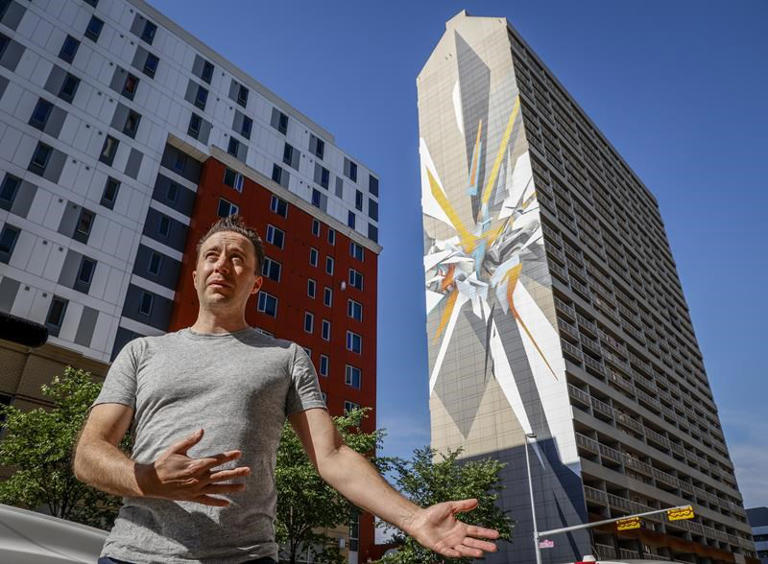 CALGARY — It looms on the edge of downtown a stone's throw from the Calgary Tower, a splash of colour amid aging buildings, railway tracks, parkades and a steady stream of traffic.
It's billed as the world's tallest mural, painted by one of the globe's top graffiti artists, and is part of a project to turn an austere area of downtown into an expansive open-air urban art gallery.
"The brutalism and dystopian look of this area with the giant parkades and the spiral ramps and stuff — it feels like Gotham. So turning this wall from concrete nothing to this is really fun," said Peter Oliver, president of the Beltline Urban Murals Project, or BUMP.
The mural is an abstract painting in various shades of orange, black, grey, blue, white and yellow and is the creation of DAIM, an internationally renowned German artist. DAIM, whose real name is Mirko Reisser, has been creating public artworks for more than 30 years.
"DAIM's work is rooted in graffiti art. It's abstract and he was actually the very first graffiti artist to start exploring three-dimensional works. So his work kind of obeys the laws of light and shadow but defies the laws of gravity," Oliver said.
"I think his work really marries well with the brutalism of this building and it's just a massive flat wall of concrete. It's the very first prefabricated concrete building in Calgary, built in 1980."
The mural is 95 metres high, making it the tallest mural in the world "by a long shot," said Oliver.
He said most cities don't have giant concrete walls available, with the majority being glass, steel or aluminum. So this was a perfect marriage.
DAIM, who was assisted by three local artists, spent over three weeks painting and went through more than 500 cans of spray paint after a base coat was added to the bare concrete. It is to be a permanent addition to the area and, as of last week, was awaiting a coat of UV sealant to make it complete.
Facing toward the east, it can be seen from a long way away.
"If you've got the window seat on the airplane, you can see it on the approach into the airport," Oliver said.
"I think what we're really doing with BUMP is re-architecting the identity of this city."
The project will be unveiling about 60 new murals during its annual festival, which runs from Aug. 1 to 28. Before that, the new art work can be viewed by visitors at the annual Calgary Stampede, which begins this week.
"If you're coming down, I'd check this out over the parade any day," Oliver said with a chuckle.
This report by The Canadian Press was first published July 4, 2022.
Bill Graveland, The Canadian Press
Calgary Stampede receives $10M from federal government to aid recovery from pandemic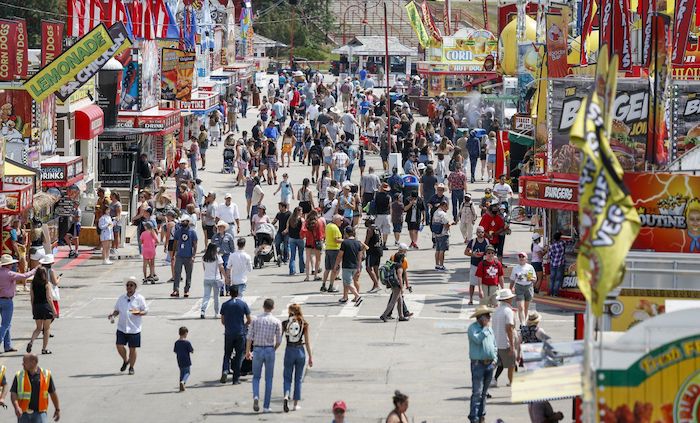 Calgary – The Calgary Stampede has received more than $10 million from the federal government to help it bounce back after last year's event was scaled down due to the COVID-19 pandemic.
A report to the city this week showed the Stampede had an operating loss of $8.3 million in 2021.
Last year's Stampede ran at half capacity because of COVID-19 public health measures and was cancelled all-together the year before.
Daniel Vandal, the federal minister for Prairies Economic Development Canada, says the money aims to support a full-scale Stampede to deliver the "authentic western experience" this year.
He says it would also help to reignite Alberta's visitor economy.
The 2022 Stampede is set to run from July 8 to 17.
"Festivals large and small were hard hit during the pandemic," Vandal said in a news release. "They are events where families and friends come together and take in the exciting atmosphere.
"The tourism industry is facing a strong comeback providing quality jobs across the country, showcasing stunning landscapes and offering exciting experiences right here in Alberta."
The federal government also provided about $1.8 million for four other tourism projects in southern Alberta: Charmed Resorts, Cochrane Tourism Association, Heritage Park and Tourism Calgary.
This report by The Canadian Press was first published June 30, 2022.