Honouring Canada's Military History – Veteran's Week
"November 5-11 is Veteran's Week, honoring those who have served Canada, past and present, in times of war, military conflict, and peace."
Veteran's Week is dedicated to promoting the education and understanding of Canadian military history, and preserving and honoring the memory of those men and women who dedicated themselves to protecting and fostering freedom and peace. This year, Veteran's Week recognizes the 75th anniversary of the end of the Second World War, where more than one million Canadians served in the military and countless more on the home front, supplementing industry and agricultural efforts for the war.
"Veterans Affairs Canada encourages all Canadians to learn more about the sacrifices and achievements made by those who served our country, and to help preserve their legacy by passing the torch of Remembrance to future generations of Canadians."
Veteran's Week is a reminder to those of us who have experienced the violence and devastation of war only through textbooks or television to never take for granted the rights, freedoms and institutions we access on a daily basis in Canada. The men and women who selflessly stepped up to serve their country were mothers, fathers, sons, daughters, friends and loved ones whose lives would be forever changed by their service. Those who survived face lifelong battles of physical and mental trauma, and those who were lost, many of them young soldiers, would never return to enjoy the peace and liberty they had sacrificed everything to defend.
Every year, Veterans Affairs Canada encourages public engagement and participation in Veteran's Week by sharing the stories of those who served, hosting public events and remembrance ceremonies, and commissioning commemorative Veteran's Week posters.
"Veterans want Canadians to understand the price of freedom." (1)
One of this year's Veteran's Week posters features the story of retired Sergeant Norman Harold Kirby, who enlisted to serve in the Second World War in 1943 at just 17 years old. During his time as a soldier, he stormed Juno Beach on June 6, 1944 as a part of the D-Day assault, served in the Battle of Normandy, and fought in France, Belgium, Germany and the Netherlands. He was discharged in September of 1945 having led a distinguished military career, and was eventually awarded the Field-Marshal Montgomery Award for Gallantry and the Ordre National de la Légion d'honneur and a knighthood from the French Republic.
After his discharge in 1945 he returned to his home in North Vancouver, still very much a young man. "I was only 19 years old when I got home," he says, "not even old enough to vote or have a beer with my father" (2).
The second 2020 Veteran's Week poster features the retired, married veterans Corporal Anne McNamara and Flying Officer Howard McNamara.
Howard enlisted in December 1941 and graduated senior flying training in Windsor Mills, Quebec, with his younger brother. He flew in the North African Campaign in 1942, after which he transferred from Egypt to serve in the Italian Campaign. He retired in March of 1945 at the plea of his remaining family, after learning of the death of his younger brother, who had been shot down while flying over Europe.
Anne joined the Royal Canadian Air Force in 1943 as a member of the Entertainment Unit, a traveling show of 30 or so people who performed on the Allied bases almost every night to keep spirits and morale among soldiers high. Anne traveled across North America and to Great Britain with the Entertainment Unit, where she witnessed the severe damage done by German bombing raids and experienced the fear of the air raid sirens herself. She retired in March of 1946 following the end of the war, after which she met her future husband Howard. The two were married in May of 1948, and currently reside in St. Laurent, Quebec (3).

"Remembering and reflecting on the significance of the contribution they made, and continue to make, strengthens the commitment to preserve the values that they fought and died for – truth, justice, peace, freedom and knowledge." (4)
These stories offer just a glance into the lived experiences of thousands of Canadian veterans who aided military and industry efforts during some of the darkest times in our national and global history. This Veteran's Week, explore opportunities to engage with Canadian military history at the local and national levels, and pay respect to our Canadian veterans and active service members as we approach Remembrance Day on November 11.
For more information on Veteran's Week, visit https://www.veterans.gc.ca/eng/remembrance/get-involved/veterans-week.
Alberta extends electricity rebate program until December at a cost of about $600M
Edmonton – The Alberta government says it will extend its electricity rebates until the end of the year as the cost of living continues to rise.
Dale Nally, who's the associate minister of natural gas and electricity, says the United Conservative government is doubling the rebate to help reduce the financial burden on Albertans.
The government says the electricity rebate program will now offer about $600 million in relief through 2022.
It says the program will provide nearly two million homes, farms and small businesses with a monthly $50 bill credit each month from July until December.
The government says it will also provide a natural gas rebate to millions of Albertans starting in October, which will continue until March 2023 if prices remain high.
Last week, Finance Minister Jason Nixon announced a $3.9-billion surplus for the 2021-22 fiscal year ending March 31.
This report by The Canadian Press was first published July 6, 2022.
Telus Corp. marks opening of Telus Sky in downtown Calgary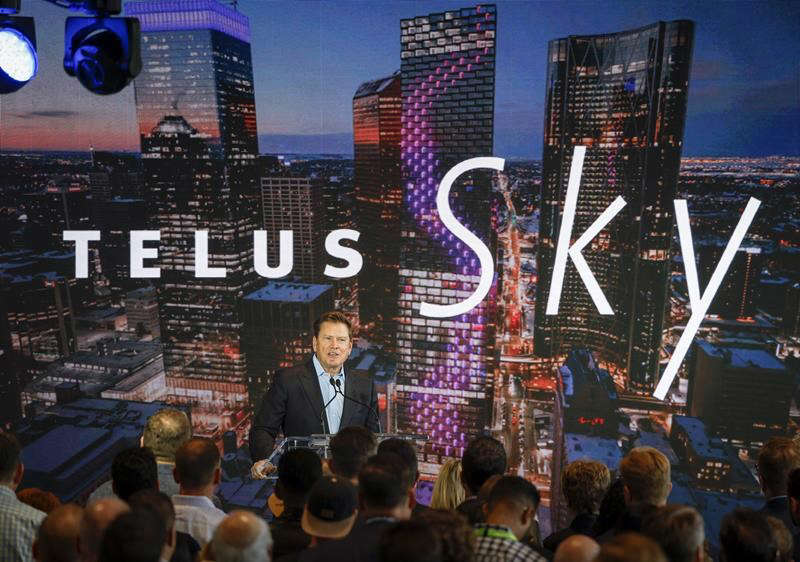 CALGARY — Telus Corp. marked the opening of its new 60-storey Calgary headquarters on Wednesday.
The new $400-million skyscraper, Telus Sky, has been in development for nine years and is now the third-tallest building in downtown Calgary. It features 750,000 square feet of office and retail space as well as 326 rental homes.
The building's eye-catching design, by architects Bjarke Ingels Group (BIG) and Dialog, along with developer partner Westbank and Allied, starts with a rectangular floorplate and then gradually twists as it rises.
Integrated into the facade of Telus Sky is Canada's largest public art display. "Northern Lights" by Canadian author and artist, Douglas Coupland, creates a light show across the building's exterior.
Telus Sky will be home to more than 1,600 Telus employees. It joins TELUS Garden in Vancouver, TELUS Harbour Toronto, TELUS House Ottawa, and Place TELUS Québec as one of the company's LEED (Leadership in Energy and Environmental Design) Platinum-certified buildings.
Among the building's environmental features is a storm water management system that recycles rainwater for use in washroom toilets, reducing the building's municipal water demand by 70 per cent.
This report by The Canadian Press was first published July 6, 2022.
Companies in this story: (TSX:T)
Amanda Stephenson, The Canadian Press