Forget the Horizon, Downtown Calgary is in Big Trouble Right Now
Do you travel through or live in downtown Calgary?
Do you glare at our skyscrapers and see only a few lights on?
This is a tale of a cowtown that stopped producing milk, even our ranch has closed. If there was a light at the end of this tunnel, not even our top economic spokespeople can offer any of us a realistic answer for where we are at now, or when we will even see the light. The economic destruction from COVID-19 continues to ravage the health of local businesses and almost every other industry that calls our city home. With that, there is a lot more to the story that reaches beyond March of this year. The question is, what does a pillar city in Canada do when their downtown is empty and graduates continue to emigrate?
Recent data from the CBRE from Q3 of 2020 show the office vacancy in downtown Calgary has hit 28.7%. That number may seem irrelevant without comparison to other metropolitan places in the country. The chart below shows the office vacancy percentages based on data collected of unused office space by square footage in the downtown core in each identified city.
The clarification we are lacking is that there is a very real problem with attracting commercial activity. The challenge lies within the lack of large firms that have more than 1,000 employees to fill these empty sky-high office buildings.
We cannot simply just ask companies to move their workforce, an example being Suncor's recent decision to uproot 700 employees from Ontario to relocate to Calgary. Better described as 700 humans with families, friends and communities in Ontario. No figures have been released to state how many jobs will be coming to Calgary.
Almost within the same week, we see the consolidation of Husky Energy by Cenovus. This does make "fiscal" sense for the financial health and future of the company, becoming the third-largest oil and natural gas producer in the country. Citing a piece in the Financial Post by Diane Francis, Cenovus will close the Husky head office in Calgary, which is not reflected in the Q3 data released by the CBRE.
If we keep in mind that the headquarters for Husky Energy Inc was Western Canada Place, where we saw the Apache Corporation "strategically exit" Canada back in 2017. It will become clear in the near future that we could see another tenant evacuation of a huge building in downtown Calgary.
One piece of that 28.7% of our current office vacancy is due to Nexen leaving their building on 8th street completely vacant, setting up shop in the same building as the newly purchased Husky Energy Inc. In this case, bottom level retail such as cafe's are not included as occupied office space.
If there are corporate tax incentives in almost every major city in the efforts of attracting big business, therein lies the question. What else can Calgary offer to sway large firms to come here? Take a look at the chart below stating the 2020 Corporate Income Tax Rates in Canada.
At some point in the recent history of Alberta, competitiveness turned into desperation. There is some benefit to local entrepreneurs looking to set up a business by lowering the barrier to entry, however, have we really seen that as a result of the lowest corporate tax rates in the country?
Looking at the fact sheet prepared by Calgary Economic Development in May of this year. As shown in the chart below, take a look at the new and renewed business licenses. It is crucial to note that COVID-19 has created a mountain of economic problems for almost every city, which we can assume had a major impact on the 2020 numbers seen below. We may see this continuing to decline as the pandemic continues to ravage our economy.
In addition, It is important to note the lack of new business licenses issued since 2017. This is not a new problem but has been exacerbated by COVID-19.
When faced with a challenge, Calgarians do not quit. The piece of the puzzle that has yet to be found is to restore incentive to local and foreign investment. The ideology that big tech would eventually be "sold" on Calgary's infrastructure has not gained traction.
Recent history teaches us that big tech follows big tech, an example being TikTok opening a new headquarters in Dublin back in August of this year, where companies such as Alphabet, Amazon, eBay, Paypal and Facebook also have European headquarters. While these names are well-known globally, the economic and sociological effect it could have on our city would offer Calgarians some indication that we are actually progressing in some way.
Consider being a graduate enrolled in an extensive and expensive program this year. The lack of economic progress is tied with the lack of jobs in a psychologically destructive way. If we cannot incentivize foreign investment and create new job opportunities, more importantly, how do we hold on to waves of eager graduates that are well aware of the benefits of moving to other cities or countries?
The narrative that new graduates carrying thousands of dollars in debt are given any chance to achieve anything close to previous generations in Calgary back in the high oil and gas days is now an irrelevant argument. Understandable that they may pack up and leave for greener pastures.
The evidence is in the 2019 Calgary Civic Census. The age demographic of 20-24 is our second lowest age demographic sitting at 5.94%, the lowest being the 15-19 year olds sitting at only 5.28%. The chart below shows the breakdown of our Calgary's age segmentation.
Cities such as Vancouver and Toronto last conducted their population census in 2016. The comparison data ranked Calgary 29th out of 35 cities in Canada for the age demographic of 20-24. Thinking about the cities you are aware of in Canada, to not even rank in the top 10 for young adults adds to the enormous problem we will be attempting to remedy for an unknown amount of time. This data can be seen clearly in a CBC post relating to this issue.
The information above may offer some real data that has very real implications. However, the narrative less documented is what sentiment do young people feel in Calgary and what is left to be proud of. It cannot just be the Stampede or nothing at all. Even after emigrating to another city or country, what is it that they tell their newfound community about their home city? The vibrant, creative and hard-working young people in this city have a fighting chance, but only if there is some benefit to their future staying here. Without awareness of foundational values, celebration of culture and real opportunity to rely upon in your city, understandably, young people will continue to leave and seldomly will ever return.
________________________________________________________________________________________________________________________
References:
Calgary.ca, "Calgary Civic Census 2019." 2019 Civic Census Results, 2019, p. 18, Calgary.ca.
CBRE, "Canada's Office and Industrial Quarterly Statistics Q3 2020", CBRE.ca.
Calgary Economic Development, "Fact Sheet: Calgary Small Business", 2020 Edition Published: June 24, 2020, p 6., Calgaryeconomicdevelopment.ca
________________________________________________________________________________________________________________________
For more stories, please visit Todayville Calgary
Police say toddler's death in southeast Calgary being treated as suspicious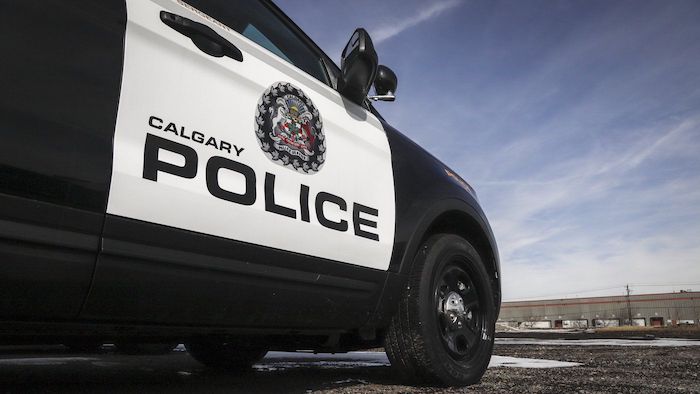 Police say they are investigating the death of a toddler in southeast Calgary.
Emergency crews were called to a home in the community of Midnapore around 2:15 a.m. Thursday and found a two-year-old girl in medical distress.
Police say the child was taken to hospital by ambulance but later died.
They say the toddler's death is being treated as suspicious.
Detectives are interviewing people to try to determine what happened before the child's death.
An autopsy is to be done Friday morning.
This report by The Canadian Press was first published Sept. 29, 2022.
'Ludicrous': Prosecutor questions testimony of teen in Calgary hit-and-run cop death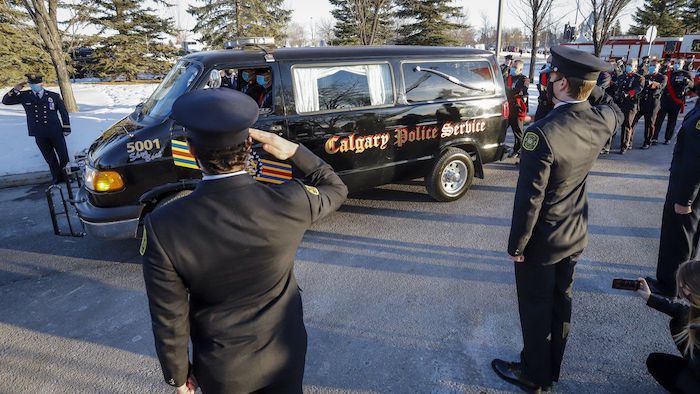 By Bill Graveland in Calgary
A prosecutor suggested Wednesday a teen charged with first-degree murder in the hit-and-run death of a Calgary Police Service officer had no reason to believe he was in danger.
Sgt. Andrew Harnett died in hospital on Dec. 31, 2020, after being dragged by a fleeing SUV and falling into the path of an oncoming car.
The alleged driver, who cannot be identified because he was 17 at the time, has testified he was scared when Harnett and another officer approached the vehicle during a traffic stop and he saw Harnett put his hand on his gun.
But during cross-examination, Crown prosecutor Mike Ewenson played the body-camera footage of the stop. He asked the accused, who is now 19, if there was any proof Harnett was being threatening or insulting during the routine traffic stop.
"You brought up George Floyd in your direct examination. Do you remember what happened to George Floyd?" Ewenson asked.
The accused replied: "He got pulled out of the vehicle and I think they stepped on his neck … and he said he couldn't breathe."
Floyd was a Black man who was killed during an arrest by Minnesota police on May 25, 2020.
During testimony Tuesday, the teen testified he and his friends had discussed the Floyd case on social media.
"Let's talk about what we just saw with Sgt. Harnett if we could, because you're bringing this up at a trial that involves his death," said Ewenson. "Any abusive language from him?"
"No," the teen replied.
"Anything that was insulting to your age, your race, your ethnic background or religion," Ewenson asked.
"Not necessarily, no. Actually, I felt like I was being racialized, right? Just the fact that the door opened and the fact that he asked for my phone number. I've never been asked for my phone number."
Ewenson said any talk of the traffic stop being racist was just something the teen wanted the court to "take his word for" and there's nothing that would be considered racist from Harnett's behaviour.
"That's how I felt," the accused replied.
The teen repeatedly told Ewenson that he wasn't sure how he ended up in the neighbourhood. He said he was following his GPS to get to a party. He also said he didn't know who the third person in the back seat of the vehicle was, who had come with a friend.
Ewenson said it's unlikely there would be memory lapses after an event that was the "most traumatic, powerful" and "consequential" night of the teen's life.
"So looking back on it, you realize the story is ludicrous? The story doesn't make sense, does it?" Ewenson asked. "Everything for you is a mindless reaction."
The suspect said at the time he panicked and just decided to take off because he was afraid. The teen said looking back, he wishes his decision had been different.
"Look, to be frank to you, I've sat for two years in jail and I've thought about this over and over and over again," he said. "It's different when I think about it now and what I was going through at the moment."
Ewenson suggested it was more likely something illegal was inside the suspect vehicle that made fleeing a simple traffic stop worth the risk.
Closing arguments in the trial are scheduled for Thursday.
This report by The Canadian Press was first published Sept. 28, 2022.