"The Planet is not an Ashtray" – It's Time to Stop Throwing Cigarette Butts on the Ground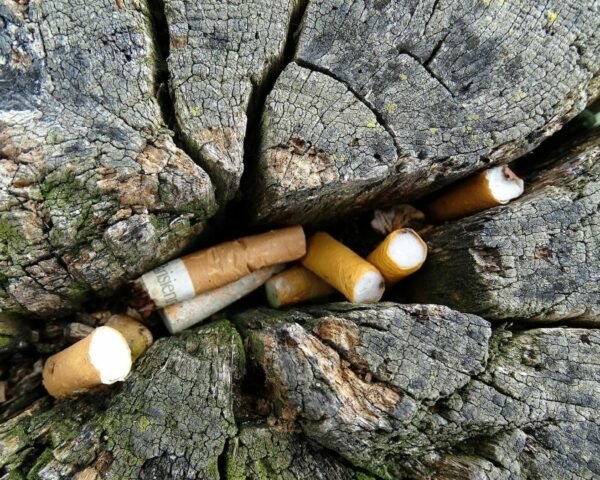 Raise your hand if you've ever witnessed someone flick their burnt out cigarette butt onto the ground while they're standing outside the pub, or walking down the sidewalk. Or, if you've ever driven over a still-lit cigarette on the road after the driver in front of you chucked it out the window of their moving car.
In a public setting, throwing a soda can or an empty coffee cup onto the ground is a hard no, often met with swift social backlash by surrounding witnesses. So why, then, is it considered socially acceptable to throw cigarette butts – literal chemical trash on fire – onto the ground?
While the act of discarding a cigarette butt onto the ground may seem insignificant in the moment, statistics show the staggering and destructive impact this decision has on the environment when made by millions of people every day.
According to a National Geographic article released in August 2019, cigarettes are the top plastic polluters around the world. Globally, approximately 6.5 trillion cigarettes are purchased each year, and of those, "an estimated two-thirds of the trillions of filters used each year are tossed into the environment."
Cigarettes are not biodegradable. The breakdown that results from weathering and time spent in the elements leads to further environmental degradation, as thousands of microscopic plastic fibers and chemicals are released. The chemicals found in cigarette ash and filters, which include arsenic, lead and benzene, among others, are poisonous to the environment and its inhabitants.
In 2019, a study led by Anglia Ruskin University (ARU) was published in the journal of Ecotoxicology and Environmental Safety highlighting how cigarette butts significantly reduce plant growth. "We believe it is the chemical composition of the filter that is causing damage to the plants," says co-author Dr. Bas Boots, "Most are made from cellulose acetate fibers, and added chemicals which make the plastic more flexible … may also be leaching out and adversely affecting the early stages of plant development."
In addition to inhibiting early plant growth, cigarette litter consistently ends up in waterways that lead to surrounding rivers, lakes, and the ocean. This contaminates the water with dangerous chemicals and plastics that poison marine life and other animals, who often mistake cigarette butts for food.
Not to mention, in regions experiencing hotter, dryer climates, cigarette butts can lead to wildfires when discarded before being properly extinguished. In June 2019, the Vancouver Island Fire Department responded to 7 fires in 7 days, all of which were caused by improperly discarded cigarette butts.
The social norm that permits cigarette butts as an acceptable form of litter is far outdated. Cigarette litter should be held to the same standard as all other forms of chemical and plastic waste that negatively impact the environment, meaning the onus is on the user to ensure proper, safe disposal.
Brain Garden is a family run business based in Vernon, British Columbia, on an international mission to eliminate cigarette litter and its detrimental environmental effects.
Founded by 'Head Gardener" Jack Elliman in 2012, Brain Garden manufactures eco-friendly, airtight Pocket Ashtrays for safe, on-the-go disposal of cigarette butts. When users drop their lit cigarettes into the Pocket Ashtray and snap it shut, the airtight seal extinguishes the butt and traps the smoke, successfully tackling 2 of the main reasons individuals litter in the first place – convenience and lingering smell.
The inspiration for the Pocket Ashtray originated in the transformational festival industry, where individuals are encouraged, if not required, to leave no trace. Though not as commonly as on a city sidewalk, even there, Elliman noticed, cigarette butts were ending up on the ground. It was there Elliman identified the need for a convenient, eco-conscious solution to keep cigarette butts from ending up in the environment.
From there, the environmentally friendly invention has expanded into the global market as a convenient, educational product that leads to less cigarette waste littering our towns, contaminating our waterways, harming our wildlife, and causing wildfires.
"It really comes down to education," says Elliman, inventor of the Pocket Ashtray, "people forget that cigarette waste is toxic waste, and now with COVID, it's a biohazard as well." Since the launch of Brain Garden 8 years ago, more than 100,000 Pocket Ashtrays have been distributed to cities, fire departments, music festivals, cleanup groups and more worldwide.
The story doesn't end there, however. The Pocket Ashtray goes one step beyond simply keeping cigarette litter off the ground. Once the Pocket Ashtray becomes full, the contents can be mailed to TerraCycle using free shipping labels provided by Brain Garden, compliments of TerraCycle. From there, TerraCycle composts the remaining paper and tobacco and recycles the cellulose acetate.
"We are about to hit 1000 total pounds of recycled cigarette litter with TerraCycle," says Elliman. This one-ton milestone is a result of global participation in various Brain Garden cigarette litter campaigns, including "butt barrels" and "butt buckets" which function alongside the Pocket Ashtrays.
The funds generated from the recycling process with TerraCycle are then put towards the Brain Garden Wildfire Prevention and Education Campaign. This campaign focuses on reducing wildfire risk by providing free Pocket Ashtrays to the smokers, promoting safe and responsible cigarette disposal, and educating the public about the dangers of improperly discarded cigarette butts.
It's 2021. Time to respect the environment, be a good human and use an ashtray.

For more information on the Pocket Ashtray and how to join Jack Elliman and Brain Garden on their ongoing mission to protect the environment from the largest global plastic pollutant, visit https://braingarden.ca
For more stories, visit Todayville Calgary.
Calgary man who admitted to participating in terrorism activity to be sentenced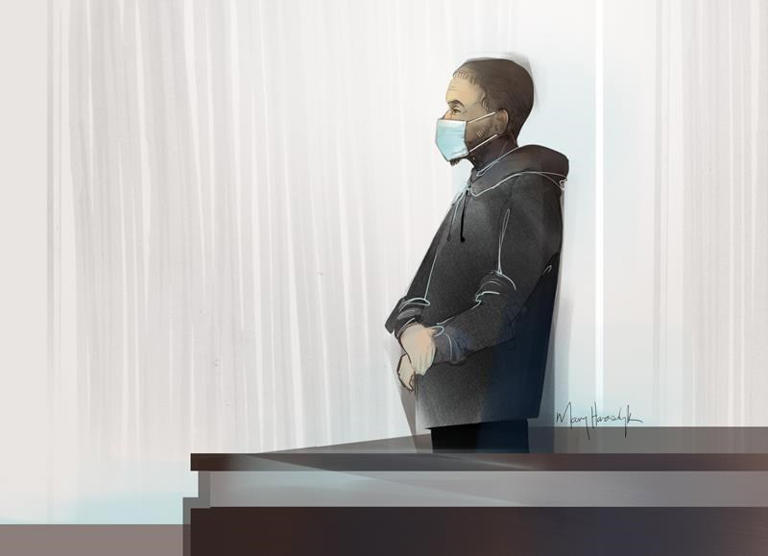 CALGARY — A man who admitted to terrorism-related acts with the militant group Islamic State is to be sentenced today in a Calgary courtroom.
Hussein Borhot, who is 36, has pleaded guilty to one count of participating in terrorism group activity between May 9, 2013, and June 7, 2014, as well as to kidnapping for a terrorist group while in Syria.
RCMP arrested him in July 2020 after a seven-year investigation.
An agreed statement of facts read in court last month said Borhot travelled to Syria through Turkey to join the Islamic State.
The statement said he signed up as a fighter, received substantial training and excelled as a sniper, but did not tell his wife or father before the trip.
Court heard that Borhot revealed much of the information to an undercover officer after he returned to Canada.
This report by The Canadian Press was first published May 26, 2022.
The Canadian Press
Cheese not on the table in Canada-U.K. trade talks as Britain seeks market access
OTTAWA — The British foreign secretary has often been mocked for her preoccupation with cheese. It started eight years ago when Liz Truss expressed outrage in a speech to her party's annual conference.
"We import two thirds of our cheese," she raged. "That is a disgrace."
Now Truss is facing another battle over cheese, this time with Canada.
Britain wants greater access to Canadian markets for more than 700 varieties of cheese including Stilton, Cheshire, and Wensleydale, a crumbly variety originating from Yorkshire.
But Ottawa has made it clear it does not want to see more British cheddar, let alone artisan varieties such as stinking bishop, renegade monk and Hereford hop, on Canadian fridge shelves.
During the first round of negotiations of the U.K.-Canada trade deal, Canada told Britain that a larger quota for British cheese is not on the negotiating table.
When it was a European Union member, Britain was part of the Comprehensive Economic and Trade Agreement with Canada, giving it some access to Canada's cheese market.
After the U.K. left the EU, a "continuity agreement" with Canada was swiftly put in place to maintain the CETA arrangement until a bilateral trade deal could be struck.
Ralph Goodale, Canada's high commissioner to the U.K., said if Britain wants more access to Canadian markets for its cheese as part of a bilateral free-trade agreement, it will have to knock on Brussels' door and get its part of the dairy quota back.
"The point is we have already provided that volume in the EU deal and the British left it there without taking it with them," he said in an interview. "That's an issue they need to resolve with the Europeans because the Europeans have their quota."
Goodale said the U.K.'s request for extra access for British cheese — on top of the access given to the EU — is "what the Canadian negotiators consider to be pretty much a dead end."
"You are talking about a double concession — one we have already made to the EU and the request is being made by the U.K. for yet another one on top of that," he said.
The high commissioner said Canada values its trading relationship with the U.K., adding that he is confident that a mutually-beneficial trade deal will be reached.
But if Canada allows the British to export more of their cheese it would involve "a major commitment of compensation to dairy producers" in Canada to make up for lost incomes.
In 2018, after the United States-Mexico-Canada Agreement gave the U.S. fresh access to the Canadian dairy market, Prime Minister Justin Trudeau said he would compensate Canadian dairy farmers.
Canada's dairy industry was worth over $7 billion in 2020, according to the Canadian Dairy Commission's annual report.
There are over 10,000 dairy farms in Canada — most of them in Quebec and Ontario — with an average of 92 cows per farm, it said.
Until at least the end of next year, Britain will be able to keep exporting its cheese to Canada under the trade continuity agreement, the U.K.'s trade department said.
This allows U.K. cheese exporters to access the Canadian market tariff-free under the EU portion of Canada's World Trade Organization cheese tariff rate quota.
As part of the 1995 WTO agreement on agriculture, Canada established tariff rate quotas for cheese and other dairy products. The quotas set out quantities of dairy that could enter Canada with little or no duty.
For Britain, a fully fledged free trade deal with Canada is crucial after Brexit left it looking for fresh tariff-free markets.
"We want to negotiate an ambitious and comprehensive new agreement with Canada that will strengthen our close and historic bilateral trade relationship," said a U.K. government trade spokesman in a statement, adding the relationship was worth about $34.5 billion in 2021.
In March, U.K. Trade Secretary Anne-Marie Trevelyan flew to Canada to announce with Canada's Trade Minister Mary Ng that bilateral negotiations had officially begun.
In a speech in the House of Lords in London earlier this month, Goodale reported on progress in the talks, saying that "both sides are optimistic that, as good as CETA and the continuity agreement were, we can do better still when Canada and the U.K. negotiate a deal face-to-face, directly with each other."
Like Goodale, Ng said Canada is confident a free-trade deal with Britain will be reached, enhancing co-operation in a number of areas, including on renewables, sustainability and the digital economy.
"Canada values the relationship with the United Kingdom. They are … an important trading partner and a trade agreement with the U.K. will be very good for Canadian businesses," she said in a phone interview from Thailand last weekend.
But she was also firm about the need to protect Canada's dairy producers, and that means keeping more British cheese out.
"I have been very clear, our government has been very clear, that we will not provide access to our supply-managed sector," she said. "We have been clear about that from the get-go."
The Canadian dairy sector now produces 1,450 varieties of cheese, including ewe, goat and buffalo varieties, as well as the cheese curds used in the Québécois dish poutine.
At least half of Canada's cheese is made in Quebec, which is home to a number of artisan varieties including bleu l'ermite, or blue hermit, and Oka, a popular semi-soft rind cheese.
Pierre Lampron, president of the Dairy Farmers of Canada, has made it clear he will fiercely protect Canadian cheese from British interlopers.
Lampron said he had "validated that the issue of access to the Canadian dairy market was not on the agenda of these trade talks."
Canada's protectionist stance toward its dairy industry may have pleased farmers. But it has caused some tension with close allies.
Earlier this month, New Zealand launched a formal trade dispute against Canada, accusing the federal government of breaking promises to give access for dairy imports under the Trans-Pacific Partnership agreement.
The Biden administration also recently said it was asking for a second dispute settlement panel under the U.S.-Mexico-Canada Agreement to review a trade dispute with Canada over dairy import quotas.
This report by The Canadian Press was first published May 26, 2022.
Marie Woolf, The Canadian Press