"The Planet is not an Ashtray" – It's Time to Stop Throwing Cigarette Butts on the Ground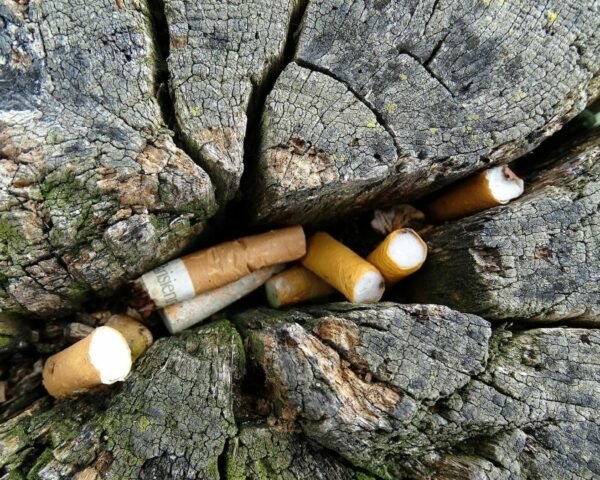 Raise your hand if you've ever witnessed someone flick their burnt out cigarette butt onto the ground while they're standing outside the pub, or walking down the sidewalk. Or, if you've ever driven over a still-lit cigarette on the road after the driver in front of you chucked it out the window of their moving car. 
In a public setting, throwing a soda can or an empty coffee cup onto the ground is a hard no, often met with swift social backlash by surrounding witnesses. So why, then, is it considered socially acceptable to throw cigarette butts – literal chemical trash on fire – onto the ground?
While the act of discarding a cigarette butt onto the ground may seem insignificant in the moment, statistics show the staggering and destructive impact this decision has on the environment when made by millions of people every day. 
According to a National Geographic article released in August 2019, cigarettes are the top plastic polluters around the world. Globally, approximately 6.5 trillion cigarettes are purchased each year, and of those, "an estimated two-thirds of the trillions of filters used each year are tossed into the environment." 
Cigarettes are not biodegradable. The breakdown that results from weathering and time spent in the elements leads to further environmental degradation, as thousands of microscopic plastic fibers and chemicals are released. The chemicals found in cigarette ash and filters, which include arsenic, lead and benzene, among others, are poisonous to the environment and its inhabitants.
In 2019, a study led by Anglia Ruskin University (ARU) was published in the journal of Ecotoxicology and Environmental Safety highlighting how cigarette butts significantly reduce plant growth. "We believe it is the chemical composition of the filter that is causing damage to the plants," says co-author Dr. Bas Boots, "Most are made from cellulose acetate fibers, and added chemicals which make the plastic more flexible … may also be leaching out and adversely affecting the early stages of plant development."  
In addition to inhibiting early plant growth, cigarette litter consistently ends up in waterways that lead to surrounding rivers, lakes, and the ocean. This contaminates the water with dangerous chemicals and plastics that poison marine life and other animals, who often mistake cigarette butts for food.
Not to mention, in regions experiencing hotter, dryer climates, cigarette butts can lead to wildfires when discarded before being properly extinguished. In June 2019, the Vancouver Island Fire Department responded to 7 fires in 7 days, all of which were caused by improperly discarded cigarette butts. 
The social norm that permits cigarette butts as an acceptable form of litter is far outdated. Cigarette litter should be held to the same standard as all other forms of chemical and plastic waste that negatively impact the environment, meaning the onus is on the user to ensure proper, safe disposal. 
Brain Garden is a family run business based in Vernon, British Columbia, on an international mission to eliminate cigarette litter and its detrimental environmental effects. 
Founded by 'Head Gardener" Jack Elliman in 2012, Brain Garden manufactures eco-friendly, airtight Pocket Ashtrays for safe, on-the-go disposal of cigarette butts. When users drop their lit cigarettes into the Pocket Ashtray and snap it shut, the airtight seal extinguishes the butt and traps the smoke, successfully tackling 2 of the main reasons individuals litter in the first place – convenience and lingering smell.
The inspiration for the Pocket Ashtray originated in the transformational festival industry, where individuals are encouraged, if not required, to leave no trace. Though not as commonly as on a city sidewalk, even there, Elliman noticed, cigarette butts were ending up on the ground. It was there Elliman identified the need for a convenient, eco-conscious solution to keep cigarette butts from ending up in the environment.
From there, the environmentally friendly invention has expanded into the global market as a convenient, educational product that leads to less cigarette waste littering our towns, contaminating our waterways, harming our wildlife, and causing wildfires.
"It really comes down to education," says Elliman, inventor of the Pocket Ashtray, "people forget that cigarette waste is toxic waste, and now with COVID, it's a biohazard as well." Since the launch of Brain Garden 8 years ago, more than 100,000 Pocket Ashtrays have been distributed to cities, fire departments, music festivals, cleanup groups and more worldwide. 
The story doesn't end there, however. The Pocket Ashtray goes one step beyond simply keeping cigarette litter off the ground. Once the Pocket Ashtray becomes full, the contents can be mailed to TerraCycle using free shipping labels provided by Brain Garden, compliments of TerraCycle. From there, TerraCycle composts the remaining paper and tobacco and recycles the cellulose acetate. 
"We are about to hit 1000 total pounds of recycled cigarette litter with TerraCycle," says Elliman. This one-ton milestone is a result of global participation in various Brain Garden cigarette litter campaigns, including "butt barrels" and "butt buckets" which function alongside the Pocket Ashtrays.
The funds generated from the recycling process with TerraCycle are then put towards the Brain Garden Wildfire Prevention and Education Campaign. This campaign focuses on reducing wildfire risk by providing free Pocket Ashtrays to the smokers, promoting safe and responsible cigarette disposal, and educating the public about the dangers of improperly discarded cigarette butts. 
It's 2021. Time to respect the environment, be a good human and use an ashtray.

For more information on the Pocket Ashtray and how to join Jack Elliman and Brain Garden on their ongoing mission to protect the environment from the largest global plastic pollutant, visit https://braingarden.ca
For more stories, visit Todayville Calgary.
Three Canadian teams to play in women's hockey Dream Gap Tour in Calgary
CALGARY — Canada's top players in women's hockey will finally get to play real games later this month in Calgary.
The Professional Women's Hockey Players' Association (PWHPA) is holding Canada's first Dream Gap Tour event in over a year May 24-30 at a Calgary venue yet to be announced.
Sixty players from the PWHPA's three Canadian hubs in Toronto, Montreal and Calgary will play to determine the Canadian Secret Cup champion.
Secret, which announced a $1-million sponsorship of the PWHPA earlier this year, and the NHL's Calgary Flames are the financial partners in the event.
Similar COVID-19 quarantine and testing protocols established by Hockey Canada for the world junior men's hockey championship and national women's and para hockey camps in Alberta will be incorporated.
Alberta tightened restrictions this week in the face of rising COVID cases, but Alberta Health has approved plans for the women's tournament, PWHPA operations consultant Jayna Hefford said. 
"They believe the protocols, the quote-unquote bubble that's been put in place, will secure the safety of our group and Albertans," the Hockey Hall of Famer told The Canadian Press. "There will be no interaction with the public."
While the PWHPA's Calgary plans were in the works before Nova Scotia's premier pulled the plug on this month's women's world championship, the Dream Gap Tour now offers an oasis in what's been a pandemic hockey desert for the majority of players in the national women's team pool.
The last real games many of them played came in a PWHPA tournament March 6-8, 2020 in Arizona. The last PWHPA event in Canada was Jan. 11-12, 2020 in Toronto.
The PWHPA's American chapter has played a handful of games in the United States in recent weeks, although a two-day tournament in St. Louis was postponed from early April to May 16-17.
Canada's mandatory 14-day quarantine upon return from outside the country kept Canadian players from participating in the U.S. games.
Stricter health regulations across Canada also made skating together in groups impossible at times and planning actual games in the country a non-starter.
"It's been so challenging," Hefford said. "We had to try to encourage our players to be patient early on in the season, and even in early 2021 we continued to reiterate we would only host events if we could feel really comfortable about the safety of everyone involved."
The PWHPA, which includes Canadian and U.S. national team players, rose from the ashes of the Canadian Women's Hockey League that folded in 2019. 
The goal of the roughly 150 players is a sustainable league that offers the competitive supports and training environments the male pros get, and wages that allow them to be professional athletes.
They've so far refused to join the six-team National Women's Hockey League, which recently announced a doubling of each team's salary cap to US$300,000 for next season. The Toronto Six is the lone Canadian club in that league.
The PWHPA held a series of Dream Gap Tour tournaments and events across North America in 2019-20 before the global pandemic brought the sporting world to its knees.
The pandemic continued to impede women's hockey internationally and domestically.
The women's world championship in Nova Scotia was cancelled a second straight year, although Hockey Canada is committed to hosting the tournament in August in a location yet to be named.
January's world under-18 women's championship in Sweden was called off, while a men's under-20 champion was crowned in Edmonton that month.
The men's world under-18 championship in Texas concludes Thursday. The men's world championship is scheduled to open in just over two weeks on May 21 in Riga, Latvia.
The NHL, men's minor pro leagues and major junior's Western Hockey League and Quebec Major Junior Hockey League all operated in some form this winter.
Calgary's Scotiabank, Toronto's Sonnet and Montreal's Bauer squaring off for a trophy and prize money can help revive the visibility of women's hockey in Canada, Hefford said.
"We represent the players and we want to see them out there," she stated.
"We have partners that have been so loyal and committed, so helpful in this process to move this forward, get the women back on the ice. 
"It seems like men's hockey has gone on and we continue to hit these hurdles. 
"I hope this is a great opportunity for the women to play, but also for people to see the best of women's hockey on the ice again."
This report by The Canadian Press was first published May 6, 2021.
Donna Spencer, The Canadian Press
Canadian Natural reports $1.38B Q1 profit, record quarterly production
CALGARY — Canadian Natural Resources Ltd. reported a first-quarter profit of nearly $1.38 billion compared with a loss a year ago.
The oilsands producer says the profit amounted to $1.16 per diluted share for the quarter ended March 31.
The result compared with a loss of $1.28 billion or $1.08 per diluted share a year ago.
Revenue totalled $6.6 billion, up from $4.5 billion in the first three months of 2020, helped by higher oil and natural gas prices.
Production in the quarter was a record 1,245,703 barrels of oil equivalent per day, up from 1,178,752 barrels of oil equivalent per day in the first quarter of 2020.
On an adjusted basis, Canadian Natural says it earned $1.03 per diluted share compared with an adjusted loss of 25 cents per share last year.
This report by The Canadian Press was first published May 6, 2021.
Companies in this story: (TSX:CNQ)
The Canadian Press