"The Planet is not an Ashtray" – It's Time to Stop Throwing Cigarette Butts on the Ground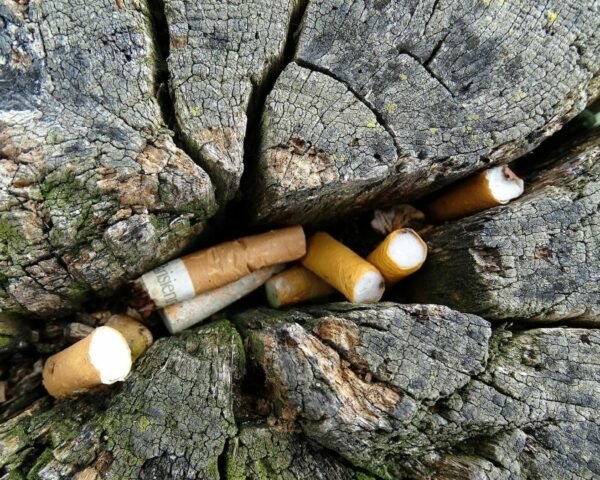 Raise your hand if you've ever witnessed someone flick their burnt out cigarette butt onto the ground while they're standing outside the pub, or walking down the sidewalk. Or, if you've ever driven over a still-lit cigarette on the road after the driver in front of you chucked it out the window of their moving car.
In a public setting, throwing a soda can or an empty coffee cup onto the ground is a hard no, often met with swift social backlash by surrounding witnesses. So why, then, is it considered socially acceptable to throw cigarette butts – literal chemical trash on fire – onto the ground?
While the act of discarding a cigarette butt onto the ground may seem insignificant in the moment, statistics show the staggering and destructive impact this decision has on the environment when made by millions of people every day.
According to a National Geographic article released in August 2019, cigarettes are the top plastic polluters around the world. Globally, approximately 6.5 trillion cigarettes are purchased each year, and of those, "an estimated two-thirds of the trillions of filters used each year are tossed into the environment."
Cigarettes are not biodegradable. The breakdown that results from weathering and time spent in the elements leads to further environmental degradation, as thousands of microscopic plastic fibers and chemicals are released. The chemicals found in cigarette ash and filters, which include arsenic, lead and benzene, among others, are poisonous to the environment and its inhabitants.
In 2019, a study led by Anglia Ruskin University (ARU) was published in the journal of Ecotoxicology and Environmental Safety highlighting how cigarette butts significantly reduce plant growth. "We believe it is the chemical composition of the filter that is causing damage to the plants," says co-author Dr. Bas Boots, "Most are made from cellulose acetate fibers, and added chemicals which make the plastic more flexible … may also be leaching out and adversely affecting the early stages of plant development."
In addition to inhibiting early plant growth, cigarette litter consistently ends up in waterways that lead to surrounding rivers, lakes, and the ocean. This contaminates the water with dangerous chemicals and plastics that poison marine life and other animals, who often mistake cigarette butts for food.
Not to mention, in regions experiencing hotter, dryer climates, cigarette butts can lead to wildfires when discarded before being properly extinguished. In June 2019, the Vancouver Island Fire Department responded to 7 fires in 7 days, all of which were caused by improperly discarded cigarette butts.
The social norm that permits cigarette butts as an acceptable form of litter is far outdated. Cigarette litter should be held to the same standard as all other forms of chemical and plastic waste that negatively impact the environment, meaning the onus is on the user to ensure proper, safe disposal.
Brain Garden is a family run business based in Vernon, British Columbia, on an international mission to eliminate cigarette litter and its detrimental environmental effects.
Founded by 'Head Gardener" Jack Elliman in 2012, Brain Garden manufactures eco-friendly, airtight Pocket Ashtrays for safe, on-the-go disposal of cigarette butts. When users drop their lit cigarettes into the Pocket Ashtray and snap it shut, the airtight seal extinguishes the butt and traps the smoke, successfully tackling 2 of the main reasons individuals litter in the first place – convenience and lingering smell.
The inspiration for the Pocket Ashtray originated in the transformational festival industry, where individuals are encouraged, if not required, to leave no trace. Though not as commonly as on a city sidewalk, even there, Elliman noticed, cigarette butts were ending up on the ground. It was there Elliman identified the need for a convenient, eco-conscious solution to keep cigarette butts from ending up in the environment.
From there, the environmentally friendly invention has expanded into the global market as a convenient, educational product that leads to less cigarette waste littering our towns, contaminating our waterways, harming our wildlife, and causing wildfires.
"It really comes down to education," says Elliman, inventor of the Pocket Ashtray, "people forget that cigarette waste is toxic waste, and now with COVID, it's a biohazard as well." Since the launch of Brain Garden 8 years ago, more than 100,000 Pocket Ashtrays have been distributed to cities, fire departments, music festivals, cleanup groups and more worldwide.
The story doesn't end there, however. The Pocket Ashtray goes one step beyond simply keeping cigarette litter off the ground. Once the Pocket Ashtray becomes full, the contents can be mailed to TerraCycle using free shipping labels provided by Brain Garden, compliments of TerraCycle. From there, TerraCycle composts the remaining paper and tobacco and recycles the cellulose acetate.
"We are about to hit 1000 total pounds of recycled cigarette litter with TerraCycle," says Elliman. This one-ton milestone is a result of global participation in various Brain Garden cigarette litter campaigns, including "butt barrels" and "butt buckets" which function alongside the Pocket Ashtrays.
The funds generated from the recycling process with TerraCycle are then put towards the Brain Garden Wildfire Prevention and Education Campaign. This campaign focuses on reducing wildfire risk by providing free Pocket Ashtrays to the smokers, promoting safe and responsible cigarette disposal, and educating the public about the dangers of improperly discarded cigarette butts.
It's 2021. Time to respect the environment, be a good human and use an ashtray.

For more information on the Pocket Ashtray and how to join Jack Elliman and Brain Garden on their ongoing mission to protect the environment from the largest global plastic pollutant, visit https://braingarden.ca
For more stories, visit Todayville Calgary.
Running Reins Ranch in Red Deer County picks up $250,000 grant from province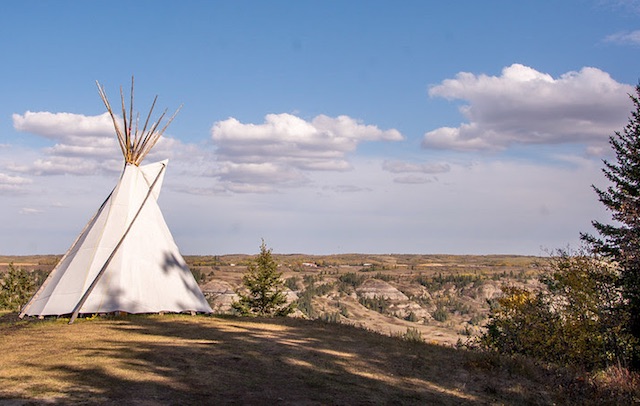 Running Reins Ranch partners with members of the local Indigenous community to set-up teepee accommodations and host regular cultural programming for guests.
Tourism investment fuels growth in rural Alberta
Alberta's government continues to support regional tourism opportunities across the province, generating jobs and new tourism destinations for locals and visitors alike.
Ahead of World Tourism Day 2023, Minister of Tourism and Sport Joseph Schow visited Running Reins Ranch to see first-hand how tourism investment grants are making a difference in the lives of Albertans.
"Alberta's government is proud to invest in growing visitor destinations like Running Reins Ranch that celebrate the richness and diversity of Alberta's rural destinations and provide a sustainable tourism experience for visitors to enjoy."
As part of the Tourism Investment Program, Running Reins Ranch received a $250,000 grant from Travel Alberta.
"Our investment will support the building of additional unique accommodations at the ranch that will triple their capacity, emphasize their year-round offerings and create five new full-time jobs. This investment in Running Reins Ranch is a perfect example of how Travel Alberta is driving tourism growth in rural communities across the province."
Running Reins is located east of Innisfail, offering cabin and teepee accommodations and a wide range of outdoor activities for visitors looking to combine the beauty of the Prairies with farm experiences for a one-of-a-kind getaway.
Right to Left: Minister of Tourism and Sport Joseph Schow, Owners of Running Reins Ranch Terry and Janice Scott, and team member Grace Finlan.
"This funding is a game-changer for us and our business. We are excited to bring our vision to life and provide visitors with unforgettable experiences while supporting the economic growth of the surrounding community."
Tourism is Alberta's No. 1 service export sector. In 2019, Alberta welcomed 34.6 million visitors, generating $10.1 billion in expenditures and supporting more than 80,000 full-time jobs. The Tourism Investment Program is Travel Alberta's commitment to investing $15 million annually with communities and operators to develop the province's tourism sector. Developing Alberta's rural and agri-tourism sector is an essential component of the government's efforts to grow Alberta's tourism economy to more than $20 billion by 2035.
Quick facts
In 2022-23, Travel Alberta funded 166 projects across 73 communities – about 75 per cent of the projects and 70 per cent of the funding were in smaller urban and rural areas of the province.
In December 2022, Alberta's government released its Economic Development in Rural Alberta Plan, with supporting initiatives that demonstrate the government's commitment to building healthy and prosperous communities across rural Alberta and Indigenous communities.
Company at centre of E. coli outbreak at Calgary daycares faces licensing charges
Alberta Health Minister Adriana LaGrange speaks to the media about an E. coli outbreak linked to multiple Calgary daycares in Calgary on Tuesday, Sept. 12, 2023. THE CANADIAN PRESS/Jeff McIntosh
By Colette Derworiz in Calgary
The company that runs a commercial kitchen at the centre of an E. coli outbreak that has infected hundreds at numerous Calgary daycares has been charged with operating without a business licence.
The City of Calgary announced Wednesday that Fueling Minds Inc. and its two directors face a total of 12 charges under municipal business bylaws and face a total fine of up to $120,000.
The company declined to comment on the charges in an emailed statement Wednesday afternoon.
Meanwhile, Alberta chief medical officer Dr. Mark Joffe said the number of cases has plateaued at 351, and tests and interviews indicate the cause of the outbreak was meat loaf and vegan loaf.
He said there are also 37 confirmed secondary cases and four children remain in hospital.
Fueling Minds provided meals to six of its own daycares that were affected by the outbreak, which was declared Sept. 4, and also to five separate daycares.
The city alleges Fueling Minds did not have the proper licence to serve those other five.
Joffe said the investigation into the cause of the outbreak included interviews with hundreds of parents and daycare staffers and the testing of 44 food samples.
"We believe that meat loaf and vegan loaf meals that were served for lunch on Aug. 29 most likely contained the E. coli bacteria that led to these infections," said Joffe.
"Unfortunately, neither of these items could be tested as they were either eaten or discarded before this outbreak was identified.
"While we now have a likely source, what we do not know exactly is what was contaminated or how."
The company's statement said the "exact source of the infections has not yet been identified" and it continues to work with Alberta Health Services on its ongoing investigation.
Joffe said the province is to hire a third party to verify its work and findings.
Premier Danielle Smith said former Calgary police chief Rick Hanson would lead a panel to investigate what went wrong and make recommendations on how to make commercially prepared food safer in daycares.
Smith said the panel does not have a set timeline, but she expects to hear from him monthly and would implement interim recommendations if necessary rather than wait for the final report.
"Mr. Hanson will be joined by Alberta parents, childcare operators, food service operators, and food safety and public health experts," said Smith.
"The panel will be examining all aspects of this tragic situation, large and small, as well as taking a full broader look at the legislation and regulations that govern food safety in our province."
Smith said she met with parents of affected children, and a policy change they suggested was posting kitchen health inspection reports in a daycare rather than just online.
Health Minister Adriana LaGrange and Searle Turton, minister for children and family services, are already reviewing food handling in commercial daycare kitchens.
The kitchen remains closed and in recent months has been flagged for numerous health violations, including food transportation concerns.
Diana Batten, the Opposition NDP critic for childcare and child and family services, said Wednesday's developments were a good start to getting answers.
"This will really help some of the families I'm speaking with," she told reporters.
"However, it brings up or illustrates there's a lot of problems inside the system. We heard Premier Smith talk about how we should trust now that the system is safe. Why? We continue to identify more concerns."
Batten said a panel isn't going to help solve those problems.
"It's just spending more money and, honestly, putting a Band-Aid on what is honestly a huge public health crisis."
The province has promised parents affected by the closures in the original 11 daycares a one-time payment of $2,000 per child to cover off financial hardship. Those facilities were closed Sept. 4 but have since reopened.
Eight more daycares faced closures or partial closures in the days that followed as secondary cases were identified.
Smith said last week that the compensation program would only be available to parents of the 11 daycares at the root of the outbreak.
Turton, however, confirmed parents affected by the later closures would also be eligible for the one-time payments, and that was the plan all along.
"The program hasn't expanded," said Turton.
"It's important to note that just more daycares since the original announcement have actually become eligible for those payments."
— With files from Dean Bennett in Edmonton
This report by The Canadian Press was first published on Sept. 27, 2023.