Financial boost will engage Red Deer Polytechnic with partners working on medical device innovations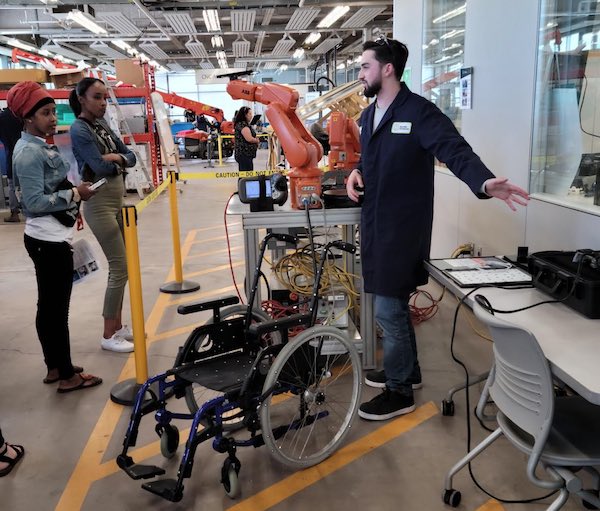 Red Deer Polytechnic's CIM-TAC receives national funding
Two years after being designated a Technology Access Centre through a grant from the Natural Sciences and Engineering Research Council (NSERC), Red Deer Polytechnic's Centre for Innovation in Manufacturing (CIM-TAC) is celebrating new funding. The national funding – and the equipment it supports – were highlighted at the CIM-TAC Open House, hosted yesterday at the industrial research facility.
"The Open House provided an opportunity for stakeholders and community members to come to CIM-TAC and gain a better understanding of the first-class innovation and opportunities that are available here," says Jim Brinkhurst, Interim President of Red Deer Polytechnic. "The prestigious grant funding that the CIM-TAC has received over recent years allows us to grow the knowledge, expertise and equipment available to support research and innovation – in central Alberta and beyond."
NSERC announced in April that the CIM-TAC would receive $300,000 over two years in an Applied Research and Technology Partnership (ARTP) grant to promote the growth of innovations in health care assistive devices in Alberta. CIM-TAC's business and industry clients will be able to accelerate commercialization of their devices through the addition of engineers and technologists with specialties in mechanics, mechatronics and robotics, as well as students in engineering, business, and health sciences to assist on projects.
"The TAC grant in 2020 allowed us to increase our capabilities to include design engineering and material experts," says Dr. Tonya Wolfe, CIM-TAC Manager. "The additional staff we'll be able to take on with the ARTP grant will give us an integrated team of specialists capable of accelerating new product development for our industry clients. Additionally, we will be able to provide a new focus area for central Alberta's existing manufacturing base, many of whom have already expressed a desire to find areas for new opportunities as the traditional economy of our region changes."
The majority of medical devices used in our healthcare system are imported. By encouraging the growth of innovations in health care assistive devices in the region, it will enable Alberta's manufacturers to diversify into this market through the adoption and integration of digital manufacturing, which is key to meeting the changing realities of Alberta's economy.
"With our enhanced capacity, CIM-TAC is able to provide Alberta's assistive health care companies an integrated one-stop applied research shop to accelerate the commercialization of their homegrown innovations," says Wolfe. "Our expertise includes design for manufacturing, validation, and manufacturing optimization – all intended to support SMEs at every stage of the innovation cycle as they focus on improving their manufactured products and processes."
Darryl Short of Karma Medical Products (KARMED) gave a keynote address at the Open House event about his collaboration with the CIM-TAC in the development of a system for hand and upper extremity therapy. The product assists patients in gaining flexibility, strength, and functional independence. CIM-TAC worked with KARMED on prototyping and in the scale up stage.
"Through our recent funding and the opportunities it provides, Red Deer Polytechnic's CIM-TAC is positioned to collaborate with innovators and industry to meet an important need across our province," says Brinkhurst. "We look forward to working with our partners and stakeholders to achieve positive short-term and long-term goals that will benefit Albertans.
About the Centre for Innovation in Manufacturing (CIM-TAC):
While its Technology Access Centre designation was awarded in 2020, the CIM opened in 2009 as one of the key facilities of RDP's Four Centres. Since then, they have collaborated with hundreds of small and medium sized businesses and entrepreneurs to create solutions to numerous real-world manufacturing challenges. In 2021, the CIM-TAC had more than 500 engagements with business and industry clients interested in applied research and advanced manufacturing. Out of these, 28 new products and processes were developed, and 41 existing products were improved.
Alberta Premier Danielle Smith says conservatives must learn to win in 'big cities'
Alberta Premier Danielle Smith speaks at the Canada Strong and Free Network in Ottawa on Thursday, March 23, 2023. THE CANADIAN PRESS/Sean Kilpatrick
Ottawa (CP) – Alberta Premier Danielle Smith says conservatives must learn how to win in "big cities."
Smith made the comment to a room of conservatives gathered in Ottawa for the annual conference of the Canada Strong and Free Network, formerly called the Manning Centre.
With Albertans set to go the polls in a provincial election this year, Smith says the United Conservative Party has more ground to gain in the province's two largest cities: Calgary and Edmonton.
Smith replaced Jason Kenney as party leader and premier last fall, after he resigned following a leadership review where he received only 51 per cent support.
Kenney faced considerable backlash leading up to that vote for his handling of the COVID-19 pandemic, and Smith told today's crowd that the party had lost "a lot" of its base.
Smith's belief that conservatives must make inroads in large cities is shared by the federal Conservatives, with Leader Pierre Poilievre spending many of his weekends in Metro Vancouver and the Greater Toronto Area — areas where his party has struggled to gain ground in the past several elections.
This report by The Canadian Press was first published March 23, 2023.
Roy scores OT winner as Golden Knights tip Oilers 4-3
Vegas Golden Knights celebrate the winning goal on Edmonton Oilers goalie Stuart Skinner (74) during overtime NHL action in Edmonton on Saturday March 25, 2023.THE CANADIAN PRESS/Jason Franson
By Shane Jones in Edmonton
The Vegas Golden Knights made sure to keep the Edmonton Oilers at arm's length in the Pacific Division race.
Nicolas Roy scored the overtime winner and Jack Eichel had a goal and two assists as the Golden Knights won their fourth consecutive game, knocking off the Oilers 4-3 on Saturday night to give themselves a seven-point cushion atop the Pacific Division standings over third-place Edmonton with nine games to play.
Roy was left alone in front of the Edmonton net and deposited his own rebound past Oilers goalie Stuart Skinner 2:26 into OT.
"It's a big win, big road trip," said Knights defenceman Brayden McNabb. "They were sneaking up on us and we were able to get an extra point out of this game.
"We have that next-man-up mentality, it's been that way all year. We've had injuries throughout the year, the guys are prepared, we have great depth, we have great goaltending and it showed tonight. It felt a little bit like a playoff game, for sure."
Pavel Dorofeyev and Jonathan Marchessault also scored for the Knights (46-21-6) who have won eight of their last nine and sport a league-best 17-3-2 record since the NHL All-Star break.
"Gutsy win for us, it's a divisional game and I thought we played well," Eichel said. "It's a really good team over there, they generate a lot of offence and I thought we did a really good job limiting them."
Zach Hyman, Leon Draisaitl and Warren Foegele replied for the Oilers (41-23-9) who had a five-game winning streak snapped.
"It was a tight game. It was what you expect in the playoffs," Draisaitl said. "It is obviously a team that we could face. I think we know how to handle these types of games. Obviously tonight didn't go our way, but we will take the point."
Vegas scored on the first shot of the game 61 seconds in as Eichel took a feed on a two-on-one from Ivan Barbashev and beat the Oilers' starter stick-side for his 27th goal of the season.
Not to be outdone, the Oilers also scored on their first shot on Knights goalie Laurent Brossoit 3:28 into the opening frame, as Draisaitl put it right on the tape of Zach Hyman's stick in front of the net and he redirected in his 31st. Draisaitl set a new career high for points on the play, hitting 111 after capping out at 110 points two previous seasons.
The Golden Knights regained the lead on the power play with 3:33 to play in the first period when the puck came to Dorofeyev on a broken play and he wired home his fifth of the campaign to the top right corner.
Edmonton's lethal power play allowed them to knot the game up midway through the middle period as Connor McDavid sent it to Draisaitl in the slot and he took it on the backhand before spinning around and scoring his 45th goal of the season. It was also Draisaitl's 28th power-play goal, the most by any player in a season since Mario Lemieux in 1995-1996.
Vegas found another gear to start the third and went ahead 3-2 almost seven minutes into the final frame as Eichel dropped a pass back in the lane to Marchessault, who beat Skinner with a one-timer.
Brossoit followed that up with a massive save on Mattias Ekholm.
Edmonton tied the game once again with 8:41 to play in the third as Foegele tied his career high by scoring his 13th on a long wrist shot to eventually send the game to extra time.
"It's disappointing we didn't get the two points," said Oilers head coach Jay Woodcroft. "Some of the goals we gave up were preventable. We're going to take the lessons from tonight and learn from it."
NOTES
Edmonton won both previous meetings between the two teams this season, both by 4-3 scores. … Vegas was missing a bunch of bodies in Mark Stone (back), William Carrier (lower body), Adin Hill (lower body), Logan Thompson (undisclosed), Reilly Smith (lower body) and Alec Martinez (personal). As a result, defenceman Ben Hutton returned to the lineup after being a healthy scratch the past 21 games. Forward Keegan Kolesar also returned after missing six games with an upper-body injury. In net, Brossoit made his first start since Feb. 25. … Edmonton was without the services of Ryan Murray (back) and Ryan McLeod (upper body). … The Golden Knights and Oilers both boast 11 skaters with 10-plus goals — tied for second in the NHL in that category. … Oilers defender Cody Ceci played in his 700th career NHL game.
UP NEXT
The Knights are off until Tuesday, when they will play the Oilers in a rematch in Vegas.
The Oilers make a quick trip to Arizona to face the Coyotes on Monday before playing the Knights on Tuesday in the final regular-season matchup between the two teams.
This report by The Canadian Press was first published March 25, 2023.