Fast Action, And Fair So Far
Fast Action, And Fair So Far
All over the world, one of the first political acts after coronavirus declared itself was to shut down all sports events. Now, with the same coronavirus persisting, and in some cases expanding, its dismal influence, many of the same elected individuals are rushing to open those events as widely and as often as possible.
It's obvious that presidents, commissioners and other leaders in the athletic world are doing their best to keep up with this mad charge to activity that features millionaires on local, national and international television. The majority agrees it is neither wise nor important to wait for fans to fill the seats before starting or replacing seasons in all major-league sports.
North America's four most-watched pro sports – soon to be recognized as five, including soccer — have already declared preferred, possible or potential starting dates: officials in every case are ensuring that large or small COVID-19 outbreaks could force further adjustments and, of course, ultimate elimination of their entire project.
At this moment, baseball is dealing with the sad fact that many teams are dealing with fierce emergencies. A lot of programs have been shut down and there have been stated suspicions that some facilities will not be suitable for the 30 home games designated in a stormy agreement finally set by players and owners last week.
Like everyone else, the Toronto Blue Jays have standard concerns about staff and players contracting the virus, but finding a place for home games may turn out to be more urgent. Permission has been granted to train in Toronto for the scheduled 60-game season but some cautious souls still suggest it is more likely that the young Jays will be required to nest this season in nearby Buffalo or distant Dunedin, Fla. American infection numbers indicate the problem of bringing players across the border into Canada could become politically and medically improbable by the scheduled July 22 season opener.
Here in Alberta, the saga of the Blue Jays, as well as the fascinating basketball Raptors who will be competing by the end of July, fades in a dull colour by comparison with the Calgary Flames and Edmonton Oilers who open their official training camps on Monday.
A Stanley Cup playoff run could extend to as many as 33 games for survivors in the best-of-seven final, which will be staged entirely at spectacular Rogers Place. Only because of Alberta's relative success in tamping down the coronavirus did the NHL finally designate Edmonton as a "hub city" after making it obvious from the beginning of all this talk that Las Vegas and Toronto (the other hub) were the favoured communities.
Almost from Day 1 after the NHL declared it would somehow present the 2020 Stanley Cup to a legitimate playoff champion, commissioner Gary Bettman insisted that safety was the "biggest issue and most serious concern" for all. Granting that some insiders were less than thrilled at the decision to involve so many teams in a one-series-loss-and-you're-out scenario, he still believes the proper move was to involve teams that had not been officially eliminated when the season wrapped up on March 16.
"The competitive balance in our league is so extraordinary," he said, "that we had to make sure it was for all to get a chance to win."
Admittedly, the plan took effect in a massive hurry. Now, there is league-wide concern that one of the eight outsiders admitted to the playoffs might somehow win the Cup and wind up with a high draft choice – perhaps Number One. If that case, weaker teams who lose out can be expected to yell: "Not fair.!"
Police looking for these 3 suspects after Super 8 Motel in Innisfail robbed early Monday morning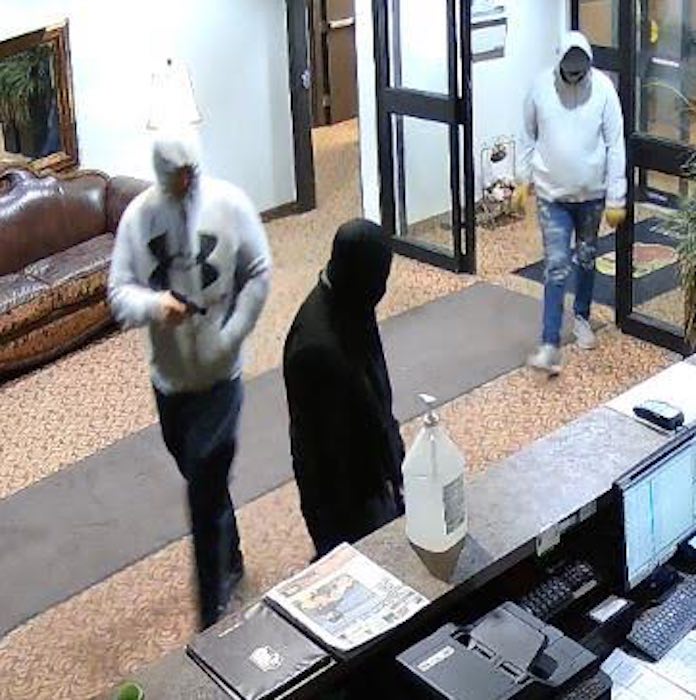 Innisfail RCMP investigate robbery
Innisfail Ala. – On May 29, 2023, at approximately 4:10 a.m., the Super 8 motel in Innisfail was the victim of an armed robbery. Three male suspects entered the hotel, two of which had firearms. Money was demanded from the manager. All three left the motel in a vehicle which is described as:
Chevrolet Dura Max truck
Sliver
Lifted
The suspects are described as:
Suspect #1: Caucasian male, tall and muscular. Wearing jeans and a grey Under Armour hoody. He was carrying a pistol.
Suspect #2: Caucasian male, short. Wearing all black. He was carrying a sawed off shotgun
Suspect #3: Caucasian male tall with a chubby belly. He was wearing a grey hoody, jeans and a black ball hat.
If you have information about this incident, please call the Innisfail RCMP at 403-227-3341 or call your local police. If you want to remain anonymous, you can contact Crime Stoppers by phone at 1-800-222-8477 (TIPS), by internet atwww.tipsubmit.com, or by SMS (check your local Crime Stoppers www.crimestoppers.ab.ca for instructions).
'Tragic accident' blamed for recent death of giraffe at Calgary Zoo
The Wilder Institute/Calgary Zoo says a "tragic accident" led to the recent death of an adult Masai giraffe. A statement from the zoo says the female giraffe named Emara died May 19 after tangling one of her horns on a cable surrounding her enclosure. THE CANADIAN PRESS/HO-Wilder Institute/Calgary Zoo-Sergei Belskey
Calgary
The Calgary Zoo says a "tragic accident" led to the recent death of one of its adult Masai giraffes.
A statement from the zoo says a female giraffe named Emara died May 19 after tangling one of her horns in a cable surrounding her enclosure.
The statement says a necropsy revealed Emara fell against the enclosure fence and died almost instantly of a broken neck.
Emara, who had just turned 12, came to Calgary from the San Diego Zoo in 2016.
The statement says she was a treasured member at the zoo and was known for her cautious yet curious personality and gentle nature.
The zoo says it is checking fencing within its African Savannah Yard enclosure to see if changes are needed to better protect the other giraffes and animals that share the space.
Doug Whiteside, interim associate director of animal care and welfare at the zoo, said Emara was in her prime and was in excellent health when she died.
"Major life changes such as this not only affect our people but can affect our animal residents as well," Whiteside said in the statement Monday.
He said the zoo's remaining giraffes, Nabo and Moshi, are doing well.
Grief counsellors are being made available to Emara's caregivers and other zoo staff.
This report by The Canadian Press was first published May 29, 2023.