A Small, Important Opening
A Small, Important Opening
Chances are pretty good that all major-league sports and some of the lower-profile ones will manage to complete partial 2020 seasons despite growing signs that COVID-19 will not give up without a long and continuing fight for dominance over sports and all else in today's world.
Experts and observers of all athletic and public disciplines agree, however, that nothing is certain: baseball players are opting to stay home; basketball players express discontent and confusion every day; the NHL waffles over naming so-called hub cities for a wacky playoff proposal that continues to raise more questions than answers.
In the midst of all this uncertainty comes one simple burst of optimism: the Alberta Sports Hall of Fame will welcome the public on Thursday, 98 days after the rampaging coronavirus pandemic forced closure of the building on the edge of Red Deer on March 16. It is fair to concede that reopening a small-city building warrants little public interest when compared with the billions involved in professional sports, but it's also reasonable to accept that every step of progress in this deadly world-wide struggle is worth recording.
Although none of the $302,000 committed to the Hall in the current provincial budget has been received – a $75,000 commitment has been made but no cash has appeared and a review is already promised for later this year – executive director Tracey Kinsella said some pleasant things have been achieved during the lockdown.
"We have been extremely busy giving our Hall of Fame an update," she smiled. "Our goal is to improve the entire experience for our visitors from the moment they walk in the door."
Cleanliness was, and is, essential in the reopening. Sanitizers, directional signs and plenty of obvious messaging are part of the opening, of course. There is no plan for an opening ceremony, Kinsells said. "We would like to do something of a celebration, maybe later in July."
At one time, fingers were crossed that induction of the 14 members selected several months ago but "we had to decide (last week) that there will be no induction banquet in 2020. We've had to tell all the inductees that we're having to wait until next year."
The list includes four athletes: skier Deirdra Dionne, hockey player Chris Phillips, chuck-wagon racer Kelly Sutherland and snowboard-cross star Michael Robertson. Five builders – Jan Ullmark, figure skating; Terry Morris, curling; Ken Babey, hockey; Derek Douglas, soccer – were selected along with five Hall of Fame Award winners Nancy Southern and Ian Allison (equestrian broadcasters, Bell Memorial Award), John Currie (Western Canada Summer Games 1983, Achievement Award); Stan Wakelyn (1922 Canadian soccer champions 1922, Pioneer Award); Dennis Kadatz (coach of Edmonton Huskies national junior football champions 1962-64).
Those awards show clearly how broad is the effect of the Alberta Sports Hall of Fame. Every winner spent years working and practicing toward the world's most elusive goal: perfection. There is no suggestion that it was reached, just as there can be no hint that they have inspired thousands to follow them.
Discussing the government's failure to live up to its contracted financial commitment, Kinsella was not especially critical: "We're sad, disappointed, maybe a little alarmed." During a lengthy discussion, she finally confirmed receipt of the government's letter providing the limited amount and mentioned "I've asked for meetings, have not had a direct, face-to-face conversation with anyone in the area of culture."
My unsolicited opinion: this is unreasonable. As the Hall opens its doors, perhaps a government department should also open up.
Learn more about the Alberta Sports Hall of Fame.
Nugent-Hopkins, Oilers roll past Golden Knights 7-4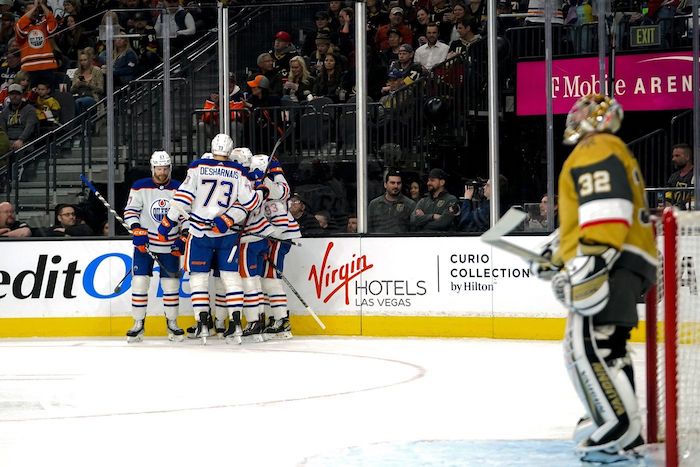 The Edmonton Oilers celebrate a goal against the Vegas Golden Knights during the first period of an NHL hockey game Tuesday, March 28, 2023, in Las Vegas. (AP Photo/Lucas Peltier)
By Mark Anderson in Las Vegas
LAS VEGAS (AP) — Ryan Nugent-Hopkins tied a career high with five points, and Edmonton's top-ranked power play scored three goals as the Oilers beat the Vegas Golden Knights 7-4 on Tuesday night to tighten the Pacific Division race.
The Oilers, who extended their point streak to eight games, have 95 points and are three behind first-place Vegas. Los Angeles lost 2-1 to Calgary and remains in second place with 96 points.
Edmonton cooled off a Golden Knights team that had won four games in a row and eight of nine. The Oilers also prevented Vegas from clinching a playoff spot.
Nugent-Hopkins helped make sure of it with a goal and four assists. His only other five-point game occurred Nov. 19, 2011, when he had five assists against Chicago.
He was one of three Oilers with multiple points. Connor McDavid had three assists and Leon Draisaitl a goal and an assist. McDavid leads the NHL with 143 points and 83 assists.
The Oilers also got goals from Evan Bouchard, Darnell Nurse, Evander Kane, Zach Hyman and Brett Kulak. Edmonton's power play went 3-for-3 in just 2:55 of total time, and Stuart Skinner made 19 saves.
Jonathan Marchessault had two goals for the Knights, and William Karlsson and Michael Amadio each scored once. Alex Pietrangelo added two assists.
In the first 10 minutes, the teams combined for five goals, Nugent-Hopkins had three points and a friendly fire puck to the face, the Oilers scored twice on both power-play opportunities and the Knights netted a short-handed goal.
Edmonton broke open a 3-all game in the second with three goals in the final 13:59, dominating the ice with 34 shots on goal through the first two periods compared to 12 for the Knights.
Laurent Brossoit replaced Jonathan Quick in the Knights' net to open the third period.
Golden Knights defenceman Shea Theodore did not play in the third period. The reason wasn't immediately provided.
GOING STREAKING
The Oilers built on a number of impressive streaks. Draisaitl and Hyman each extended their goal streaks to three games, and Draisaitl's point streak reached 10 games (six goals, 14 assists). McDavid (six goals, 13 assists) and Nugent-Hopkins (five goals, 13 assists) have ongoing nine-game streaks, and Nurse (three goals, three assists) is at six games.
Vegas also extended a couple of notable streaks. Marchessault scored for the third game in a row, and Phil Kessel has a five-game point streak (two goals, four assists).
UP NEXT
Oilers: Thursday against Los Angeles in a battle for playoff positioning in the Pacific Division.
Golden Knights: Thursday at San Jose, which is last in the Pacific.
Markstrom reigns over Kings as Flames win 2-1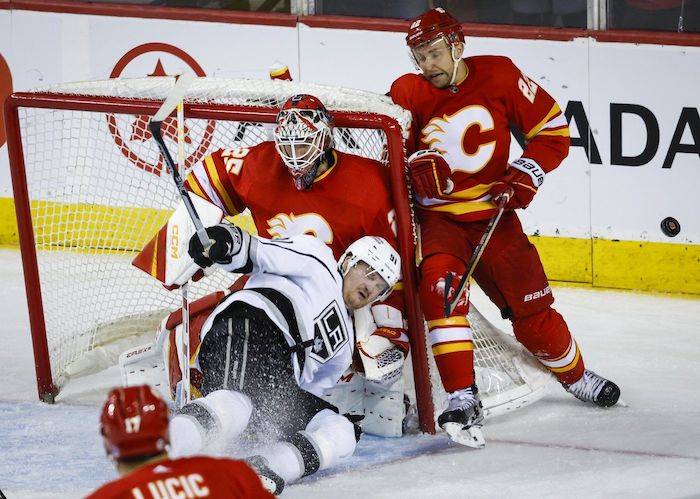 Los Angeles Kings forward Carl Grundstrom, centre, crashes into Calgary Flames goalie Jacob Markstrom, as forward Trevor Lewis hits the net during third period NHL hockey action in Calgary, Tuesday, March 28, 2023.THE CANADIAN PRESS/Jeff McIntosh
By Darren Haynes in Calgary
When the Calgary Flames needed it most, goaltender Jacob Markstrom stepped up and delivered his best performance of the season.
Markstrom was spectacular on Tuesday making 33 saves to backstop the Calgary Flames to a critical 2-1 victory over the red-hot Los Angeles Kings.
"He was sharp. Made some big stops. He probably stole us two points," said Flames centre Elias Lindholm.
After rookie Walker Duehr gave Calgary a 2-1 lead at 17:59 of the first period, it was left to Markstrom to make several key stops over the final 40-plus minutes to preserve the victory.
The Kings have been the NHL's hottest team, entering the night on a franchise-record 12-game points streak (10-0-2) in which they outscored the opponent 52-28. Nineteen of those goals came in the last three games, all wins, including an 8-2 thumping of Calgary eight days ago in Los Angeles.
"Obviously, we're not very happy about the last meeting against these guys and it's still fresh in the memory. Today I thought we played a better game," Markstrom said.
The veteran's biggest stop came in the final minute of the first period, right after the go-ahead goal.
After two Flames got tangled up with one King outside the Calgary blue line, Kevin Fiala had nothing but time and space as he moved in from the centre line on a breakaway. As he skated in, he paused at the top of the crease before shooting with Markstrom kicking out his left pad to deny him.
"It was almost like a penalty shot or shootout," said Lindholm. "I thought Marky stayed calm in there for a long time and read him pretty well."
Markstom, who was starting for the 15th time in the last 16 games, said the key is to not think too much.
"Just wait him out because he wasn't going very fast," Markstrom said. "Wait to see what he was going to do and not bite on anything before that."
He also had to be excellent in the second. Markstrom flashed out his glove to deny Adrian Kempe after he broke in alone. Two minutes later when the slot opened up for Matt Roy, Markstrom jabbed out his blocker to make another key stop.
Late in the third, again it was Fiala with a chance, this time set up by Mikey Anderson on a cross-ice feed, but Markstrom sprawled across with a highlight-reel save to again deny him.
"It gives a huge jump to the group, right?" said Duehr. "You see him bailing us out at times and he's giving his best effort so we can only go out there and do the same for him."
Andrew Mangiapane also scored for Calgary (34-26-15), which wins its second consecutive game and improves to 7-3-2 in their last dozen outings.
Combined with Winnipeg's 3-0 loss in San Jose, the Flames have moved to within two points of the Jets, who occupy the final wild-card berth in the NHL's Western Conference. Each team has seven games remaining including a head-to-head on April 5 at Canada Life Centre.
"It felt like a playoff game. We had our pushes, they had their pushes and I thought Marky stood on his head tonight and gave us a chance to win," said Duehr, who continues to provide a spark since getting called up from the minors. He's scored six goals in 21 games.
Sean Durzi had the lone goal for Los Angeles (43-21-10).
The Kings remain two points behind Vegas for first place in the Pacific Division. Edmonton is in third, just one point behind Los Angeles.
"I don't think it was a lack of effort, certainly today. It was a hard-fought game, a physical game. For the most part we did a good job. Just obviously unfortunately we didn't convert on a few of our chances," said Kings captain Anze Kopitar.
Markstrom improves to 21-20-10.
In his sixth start in goal since being acquired by the Kings in a trade with the Columbus Blue Jackets, Joonas Korpisalo, tested 32 times, lost for the first time. He falls to 15-12-4 on the season.
"Both goaltenders were first and second star in whatever order you want to pick," said Kings coach Todd McLellan. "They both played well. Korpi made some really good saves for us. He gave us a chance to have those good looks at the other end. It's unfortunate we couldn't reward him with at least one to get him a point."
Momentum swung in the Kings favour halfway through the first when Rasmus Andersson's goal, which would have made it 2-0, was waved off after an offside review. Less than two minutes later, Durzi picked the top corner to tie it.
Calgary also thought they scored in the second but upon video review, but upon video review, the call of no goal stood.
KINGS LINEUP SHUFFLE
Los Angeles made three lineup changes. Returning from a one-game suspension was Blake Lizotte. Not with the Kings to start this road trip after being injured last game was RW Gabe Vilardi (upper body). Arthur Kaliyev also drew in up front with Jaret Anderson-Dolan coming out. On the blue line, Alex Edler replaced Sean Walker.
PRIDE NIGHT AT SADDLEDOME
It was Pride Night at the Saddledome with all Flames wearing custom jerseys for warm-up that were designed by local artist Megan Parker. The Flaming C on the front and the numbers featured a pattern of flora and fauna from Alberta prairies arranged to reflect the rainbow-coloured pride flag.
UP NEXT
Kings: Road trip continues Thursday against the Oilers.
Flames: Head to Vancouver to take on the Canucks on Friday.
This report by The Canadian Press was first published March 28, 2023.