The three letter curse words.
Many are calling for the end of oil and gas while promoting the slogan "Build Back Better".
The slogan which originated from the 2015
Sendai Framework for Disaster Risk Reduction in response to Great East Japan Earthquake and Tsunami, has now morphed into the slogan for all things green and socially just.
The Liberal Party of Canada's website outlines their plan for "Protecting our Environment and Moving Our Economy Forward" as follows:
Fighting and Preparing for Climate Change

Making Communities Cleaner, More Efficient, and More Affordable

Protecting Canada's Natural Legacy
The document lays out a commitment to achieve net-zero emissions by 2050, plant two billion trees in ten years, provide interest-free loans for retrofits, build vehicle charging stations, set up a camping travel bursary and ban single-use plastics.
So what is the problem with the Liberals environmental plan? Simple. It lacks depth, neglects financial implications and worst of all, its not rooted in reality.
Net-Zero Emissions by 2050
Making a commitment to hit this target through "legally binding" targets ignores the reality that we live in.
The Parliamentary Budget Office has indicated that emissions-reductions cannot be met unless the carbon tax is drastically increased.
While it may be possible to tax the country into a state of zero emissions, this would significantly cripple the economy, destroy jobs and ruin lives. This is not acceptable.
What should the government do?
Up to the mid-late 1800s, wood was the primary source of energy for developed nations.
What changed from that point to now? Innovation.
Government needs to remove red tape, repeal poor policy, end harmful taxation and allow the free market to pursue new technologies.
How can we be sure that this will work?
The free market is driven to create returns for shareholders. If there is an opportunity to create profits through new technology, free markets will find a way to capitalize.
In order to truly implement policies that improve our environment, we need to look beyond our borders and bring leading Canadian technologies to foreign countries.
Canada is a significant coal exporter. Coal, when burned, is a much higher polluter than other non-renewable resources such as natural gas and hydrogen. The government should work with foreign countries to promote the use of natural gas as a substitute.
Plans to provide free energy audits, interest-free retrofit loans and grants for zero-emissions homes are the main talking points of the Liberal retrofit plan.
First off, nothing supplied by the government is free. All government expenses are bankrolled by taxpayers.
In the midst of reduced or eliminated incomes due to the pandemic, the likelihood of home-owners or landlords being willing to take on debt to retrofit homes or office buildings is going to be limited for the foreseeable future.
Similarly, the costs associated with building a zero-emission home will not be offset with a $5,000 grant as proposed in the Liberal plan.
What should the government do?
Canada is already home to stringent building regulations. Regulations that carry significant costs.
In order to encourage further "green" building, the market needs access to more affordable products.
The government could accomplish this through the reduction of red tape, and the promotion of trade deals that allow for foreign firms to bring their goods and technology to Canada.
Competition and innovation ultimately drive down consumer costs and will always be more effective and efficient than government subsidies.
Recently, the federal government announced that it will "invest" $295 million to help Ford Canada upgrade its Oakville assembly plant to begin making electric vehicles.
With the increased manufacturing of electric cars, comes a requirement for charging stations.
According to a 2015 US Department of Energy study, costs for single port Level 1 stations range from $300-$4,500. For DC fast charging stations, $14,000-$91,000.
Level 1 stations add 6 miles of range per hour @ 1.9kW. DC fast charging stations add 90 miles per 20 minutes @ 90kW.
Before taxpayer funds are thrown at green projects, a complete analysis of the life-cycle costs should be a requirement. This will ensure that emissions are truly lower and that taxpayers are receiving economic value for their tax dollars.
What should the government do?
Government subsidies that prop up an industry or product are inevitably harmful to consumers. These subsidies hide costs that the free market would ultimately choose not to absorb.
Instead, government should encourage vehicle manufacturers to produce more fuel efficient vehicles, regardless of the fuel system used to power the vehicle.
This could be done through the existing Scientific Research & Experimental Development Tax Incentive Program. The specific objective of the project should be to offset the costs of wages paid to research and development staff who are engaged in this direct work.
Beyond the direct goal of improving vehicle emissions, this program would create more opportunities for high-paying jobs within the tech sector which would further help to diversify the Canadian economy.
Trees and Camping Travel Bursary
The tree planting program involves two billion trees, ten years, 3,500 seasonal jobs and an overall $3 billion effort to deploy natural climate solutions.
If there is a job that meets pandemic guidelines, planting trees in the great outdoors qualifies.
The camping bursary was to provide a $2,000 grant to help families go camping in Canada's national parks. No grants have been provided to date.
Additionally, the Learn to Camp program was to be expanded so that every Canadian child could learn how to camp by the time they reached grade eight.
What should the government do?
The WE scandal resulted in a missed opportunity to create job opportunities for post-secondary students. This can be remedied by expanding the Canada Summer Jobs program in advance of the 2021 tree planting season.
If there is little or no interest in the tree planting program for 2021, it should be abandoned entirely. Instead, government should support private sector companies who are consistently engaging in tree planting projects and other environmental reclamation projects.
Boutique tax credits and other one-off government programs typically result in creating winners and losers. As such, the camping bursary program should be cancelled.
Instead, and in conjunction with a full tax code review, the government could find efficiencies within the tax system that would translate into real results for Canadians.
A recent announcement to ban single-use plastics, regulations to be finalized in late 2021, seeks to fulfill a long running Liberal election promise.
The ban will remove plastic grocery bags, straws, stir sticks, six pack rings, cutlery and takeout containers.
At a time where the hospitality industry is reeling from the impacts of the pandemic, this will be another difficult adjustment for this industry.
Smaller Alberta plastic manufactures have expressed concern with the new policy. Although single-use plastics account for a small portion of the plastics market, the costs associated with re-tooling a manufacturing facility can be quite high.
What should the government do?
Instead of virtue-signalling, the government should focus on addressing the issue of plastic recycling. The slogan of reduce, reuse and recycle can be traced back to the 1970s. Why hasn't it caught on as hoped? Simply put, there is no money in plastic recycling.
Government should focus resources instead to projects that find viable solutions for plastic recycling. One such project is the development of plastic-bitumen composite roads.
Adding carbon capture technology to the plastic processing and bitumen mixing process would allow for road materials to be produced in an environmentally conscious manner.
Plastic-bitumen composite roads could result in better quality roadways as they are less water absorbent. Due to the temperature swings in Canada, this could save significant amounts of money otherwise spent on maintenance.
Final Thoughts
Canadians across the country have a strong desire to protect and preserve our environment for our children and future generations.
Environmental policies need to be more than exercises in virtue-signalling.
Government needs to understand the climate that we live in, the size of our country and the economic implications of the decisions being made.
Government subsidies are unacceptable. Subsidies result in expensive infrastructure projects and bloated consumer costs. If we need a reminder of this we only have to look at the recent failing of the Ontario green energy initiative.
Government should focus on reducing red tape, encouraging competition and providing targeted tax credits. Policy that focus on tax credits require free market enterprises to undergo the leg work to get new technology to a state where it can be capitalized on. This allows the free market to determine what is viable and how to achieve capitalization in the most efficient manner.
Lastly, we need capitalize on revenues from our oil and gas sector in order to further technological advances. Passing legislation to end emissions, create a zero-plastic waste economy or any other lofty agenda neglects the real world implications of these decisions. These policies do not take into consideration the resources required to accomplish these goals. Additionally, many families are being left behind as a result of these policy decisions.
We can protect our environment through innovation. In making policy decisions, government must not take better care of the environment than the residents who call it home.
https://www.jaredpilon.com/
Provincial funds help build biofuel plant at Lethbridge reducing emissions equivalent to 41,000 homes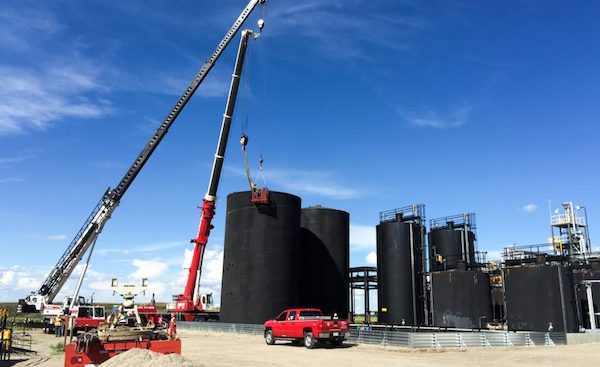 Diversifying the economy with cutting-edge tech
The Technology Innovation and Emissions Reduction (TIER) fund is supporting a new facility in southern Alberta that will create jobs and cut emissions by transforming agricultural waste.
Alberta's government is using $4.7 million from the TIER fund through Emissions Reduction Alberta to create a $28.6-million facility in Lethbridge that will produce an estimated 70 million litres of high-value renewable fuel. This facility will be the first of its kind in Canada, turning local agricultural waste, inedible animal fats and used cooking oil into biodiesel fuel and glycerin.
The facility will buy more than $375 million of local feedstock from farmers over the next five years, generating about $500 million in revenue and supporting up to 130 local jobs in fields like engineering, construction and transportation. It will also cut about 224,000 tonnes of emissions each year – the same as reducing emissions from the electricity used by 41,000 homes.
"Alberta is home to world-renowned expertise on cutting agricultural emissions, and the Canary Biofuels facility is another world-class project Alberta's government is supporting to diversify the economy and create jobs. I'm pleased to see the expansion of another groundbreaking Alberta-based technology that is cutting emissions and getting Albertans back to work."
The facility's biodiesel will have up to one-third the carbon intensity of petroleum diesel. The renewable fuel produced at the facility has also been pre-sold to a leading Canadian supplier of biodiesel whose customers include fuel retailers, wholesalers, distributors and fleet managers across Canada and the United States. This builds on Alberta's strong record of environmental, social and governance actions.
"As world leaders in agricultural emission reductions, Alberta farmers will be key beneficiaries of the renewable diesel produced at this facility. Projects like this showcase the steps Alberta is taking to diversify the economy with cutting-edge technology and to create local jobs and opportunities."
"Emissions Reduction Alberta continues to identify and invest in opportunities that accelerate the innovation required to strengthen Alberta's economy and reduce greenhouse gases. Canary's project will create new revenues for western Canadian agricultural producers and help meet the growing North American demand for biodiesel. This project is another example of what can happen when government, industry and entrepreneurs come together to deliver better economic and environmental outcomes."
This funding is part of the province's commitment of up to $750 million for emissions reduction and economic diversification programs and projects through the TIER fund and other funding that will directly support about 9,000 jobs and inject $1.9 billion into Alberta's economy.
"Canary Biofuels is Alberta's first Generation 2 biodiesel producer with its flagship facility in Lethbridge. Canary is excited to lead the path in Alberta in abating emissions through sustainable waste-based biodiesel production that supports the energy and agriculture industries in Alberta and the Prairies. Canary would like to thank all its investors and partners, including the Government of Alberta, for their tremendous support. Canary is proud to support Alberta in creating new jobs and helping Alberta industry on its journey to net zero."
"Canadian canola is used in biofuel production around the world because it's a low-carbon, sustainable and renewable resource. We are excited to see more investment in Lethbridge that will directly benefit canola farmers and Alberta's agriculture value chain."
"Canary Biofuels will provide long-term diversified business opportunity for R.K. Heggie Grain and Transmark. Local canola producers will have direct market access to the growing biofuel industry, and the livestock industry will get a much-needed supply of canola meal. Canary Biofuels is natural fit with R.K. Heggie Grain and Transmark to provide the company with feedstock for the plant and rail infrastructure to the get finished product to international markets."
TIER funding
The TIER system is funded by large industry that pay into the fund when they do not meet emissions targets. Alberta is using the TIER fund for a range of programs that are reducing emissions, boosting the economy and getting Albertans back to work.
Quick facts
The new Canary Biofuels facility is expected to be operational by fall 2021.
TIER helps industrial facilities, which account for more than 60 per cent of Alberta's total emissions, find innovative ways to reduce emissions and invest in clean technology to save money and stay competitive.
Emissions Reduction Alberta invests revenues from TIER to accelerate the development and deployment of innovative clean technology solutions.
Since 2009, Emissions Reduction Alberta has committed $649 million toward 204 projects worth $4.5 billion that are reducing emissions, creating competitive industries and leading to new business opportunities in Alberta. These projects are estimated to deliver cumulative reductions of almost 35 million tonnes of emissions by 2030.
Line 3 replacement helps Native American community curb poverty, says Indigenous business owner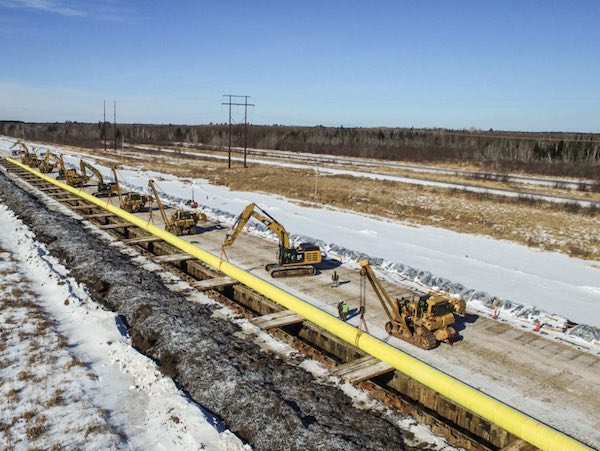 'We wanted to let other people know that all the Native Americans don't oppose the pipeline'
Article from the Canadian Energy Centre
On the White Earth Reservation in northwest Minnesota, Matt Gordon takes great pride that his family's Native American-owned construction company is able to help workers support their families in a region where 21 per cent of the population lives in poverty.
Gordon Construction is working on Enbridge's Line 3 Replacement Project, and that ongoing work is helping provide vital jobs and income for a region that has seen its share of struggles.
The company has over 150 employees, 60 of whom are recognized federally as Native Americans, Gordon says. Of the other 90 employees, many are married to a Native American member, supporting a Native American family, or living on the reservation.
"All that money stays on the reservation. One guy that works or one lady that works, they take care of not only their children or their significant other or spouse, they take care of their aunt or their grandma. It's a big web is what they take care of," he says.
"These are union jobs for a lot of these people. You get hours built up and good health insurance. You don't have to go to Indian Health anymore. You have a retirement after you're vested and you have a sustainable income."
Activist hypocrisy
After anti-pipeline activists wreaked havoc on a worksite earlier this month, Gordon and five fellow Native American business leaders working on Line 3 released a joint letter calling out activists in part for "intentionally creating a false narrative that there is no Native American support for this project and the economic impacts and opportunities it brings to our people."
The work of Native Americans employed by Gordon Construction and other companies were disrespected and put on hold when protestors descended on the work site, claiming to be defending the environment and Indigenous rights.
"They ended up not only damaging our equipment, they put gravel in our fuel tanks, in our hydraulic tanks, flattened all the tires. They essentially took that place over for almost 24 hours. They just left garbage everywhere," Gordon says.
"It's a touch of irony how these people are coming in to say they're there for the environment, but then it's just total chaos and anarchy and then they leave a mess. It took three days for that place to be cleaned up before we could go back to work."
Gordon says the letter was also a reminder that there's not universal opposition to Line 3 from Native Americans.
"We wanted to let other people know that all the Native Americans don't oppose the pipeline," Gordon says.
"It's a good thing all the way around up in the northwest Minnesota corridor."
Early advocate for Line 3
From his office window in the small town of Mahnomen, where his family has been for generations, Gordon often sees oil trains rolling by. It's an ongoing reminder of both the power of U.S. oil demand and the risks of transportation without pipelines.
"We see oil coming up and down every day. It's not going to stop just because one pipeline shuts down," he says. "Pipelines are indisputably safer."
Gordon was an early advocate of the Line 3 project, having previously worked with owner Enbridge including doing pipeline integrity digs for safety inspection on the existing pipeline.
"Essentially they have a structure set up on safety and environmental similar to that of working for the government, but I would say it's even more stringent," he says.
"My big thing of it is that they are a fair company. They work with you and they're not trying to bankrupt you or make you lose money. They want you to succeed because if you're a success, they're a success."
Benefits in Mahnomen
Mahnomen County, inside the White Earth Reservation, has the lowest per capita income in Minnesota. It's about $21,000 per year, according to the U.S. Census Bureau.
Gordon says that working pipelines, community members are able to make much more.
"You're looking at guys that are working 60 hours a week, anything after eight hours a day is overtime, and all these guys are bringing home $2,500, $3,000 a week, which is huge to a lot of people in the community. Pretty proud of that fact."
In addition to its contracts on the new Line 3, Gordon Construction is looking forward to supporting decommissioning and reclamation of the existing pipeline.
"Not only are we working now, but we'll be working in the future when they're doing the decommissioning of the line and shutting the old line down with final restoration. That'll be a two to three year project," Gordon says.
"We'll have 40 to 60 guys dedicated to the final restoration portion after the line is done. And then you have the decommissioning aspect, and we're trying to help support that process also."