ASIRT investigating incident which lead to a serious injury to a suspect in Red Deer
From the Alberta Serious Incident Response Team (ASIRT)
Investigation into injury during arrest in Red Deer
On Nov. 16, the Alberta Serious Incident Response Team (ASIRT) was directed to investigate the circumstances surrounding an arrest by the Red Deer RCMP, during which a 40-year-old man sustained a serious injury.
On Nov. 15, at about 11:35 p.m., Red Deer RCMP officers located a 1991 Chevrolet Silverado truck displaying a licence plate that had been reported stolen. The officers attempted to conduct a traffic stop on the vehicle, but after stopping, the occupant exited the vehicle and fled on foot.
Additional police officers were called to the area, and a police service dog was deployed. Following a track by the dog, the man was located under a travel trailer about 350 metres away from the truck. During the attempt to take the man into custody, the police service dog was deployed, and a confrontation occurred between the man and police officers. Once the man had been arrested, it was determined that he had been injured, and he was transported to a nearby hospital with facial injuries.
ASIRT investigators are asking anyone who was in the area of the Circle K store at 2 Jewel Street in Red Deer at around 11:35 p.m. on Nov. 15, and witnessed the confrontation between RCMP and the person or persons associated with the Chevrolet Silverado, or who has any information or video related to this incident, to please contact ASIRT at 403-592-4306.
The RCMP will maintain conduct of the investigation into the 40-year-old man and his actions, while ASIRT's investigation will examine the actions of police during this incident. With ASIRT's investigation underway, no further information will be released at this time.
ASIRT's mandate is to effectively, independently and objectively investigate incidents involving Alberta's police that have resulted in serious injury or death to any person, as well as serious or sensitive allegations of police misconduct.
Red Deer man arrested in one of Alberta's largest ever contraband tobacco seizures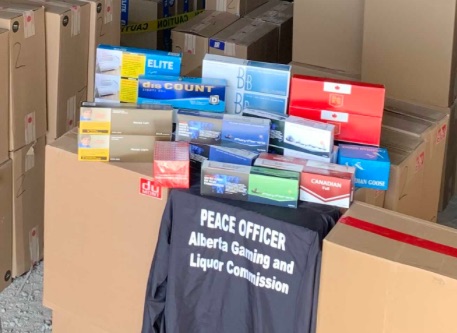 News Release from Alberta Gaming, Liquor & Cannabis
$4.5 million in contraband tobacco products seized by AGLC investigators
An investigation by Alberta Gaming, Liquor & Cannabis (AGLC) led to the seizure of an estimated $4.5 million dollars of contraband tobacco. The seizure represents one of the largest recorded in Alberta history. The total potential lost tax revenue is estimated to be more than $2.5 million dollars.
A search warrant was executed in partnership with Calgary Police Service and the RCMP at a storage facility in southeast Calgary. Ali Al-Hameedawi of Red Deer and Husham Hakeem of Calgary were each charged with trafficking in contraband tobacco, contrary to section 121.1 of the Criminal Code of Canada and fraud over $5,000. The accused are scheduled to appear in Calgary Provincial Court on August 26, 2021.
Contraband tobacco:
is any tobacco product that does not comply with federal and provincial laws related to importation, marking, manufacturing, stamping and payment of duties and taxes;
comes from four main sources: illegal manufacturers, counterfeits, tax-exempt diversions and resale of stolen legal tobacco; and
can be recognized by the absence of a red (Alberta) or peach/light tan (Canada) stamp bearing the "DUTY PAID CANADA DROIT ACQUITTÉ" on packages of cigarettes and cigars or pouches of tobacco.
In addition to lost revenues that may otherwise benefit Albertans, illegally manufactured products also pose public health and safety risks as they lack regulatory controls and inspections oversight.
All wholesalers and importers of tobacco into Alberta must be licensed to sell or import tobacco for resale. Furthermore, all tobacco products must be labelled according to federal and provincial regulations. Albertans who suspect illegal tobacco production, packaging and/or trafficking are encouraged to contact AGLC's Tobacco Enforcement Unit at 1-800-577-2522.
Under a Memorandum of Understanding with Alberta Treasury Board and Finance, AGLC enforces the Tobacco Tax Act and conducts criminal  investigations  related to the possession, distribution and trafficking of contraband tobacco products. In 2020-21, provincial revenue from tobacco taxes was $755 million.
RCMP looking for stolen boat and trailer worth over $100,000.00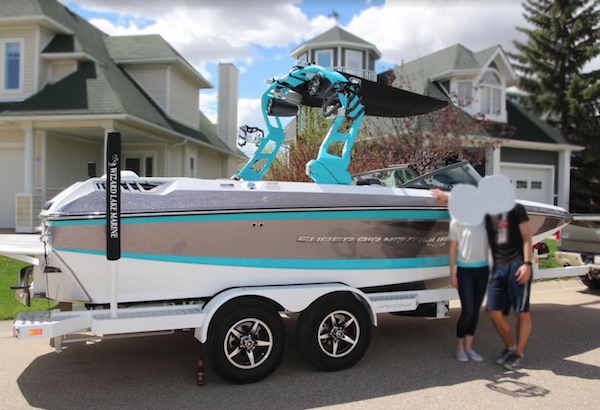 News Release from Sylvan Lake RCMP
Sylvan Lake RCMP request public's assistance in locating stolen boat
Sylvan Lake RCMP are investigating the theft of a boat and trailer that occurred between Sunday, May 30, 2021, and Tuesday June 1, 2021.  All attempts to locate the stolen property have been unsuccessful and the investigation is ongoing.
The boat is described as a 2017 Super Air Nautique 6522, teal and white in colour. The trailer is described as a 2017 white Boatmate. The value of the boat and trailer exceed $100,000.
If you have seen this boat and trailer or have any information in relation to this incident, please contact Sylvan Lake RCMP at 403-858-7200  or your local police. If you wish to remain anonymous, you can contact Crime Stoppers at 1-800-222-8477 (TIPS), online at www.P3Tips.com or by using the "P3 Tips" app available through the Apple App or Google Play Store.