Crisis Financial Management-From Where Should It Come?
The news has been filled with Covid 19 stories, and none have been particularly brighter than the aid packages and measures announced by both the provincial and federal governments.
The combination of enhanced EI benefits, GST payments, Child Tax increases and deferment of tax payments and deadlines is superb. Alberta's contribution of short term $ for workers affected by Covid 19, their announcement of renter assistance legislation (late fees, no evictions) is a good companion piece. Banks and utility companies (read communication, power, gas, water), have also graciously deferred payments for the foreseeable future in addition to releasing additional credit for both business and personal clients. Student loan payments are frozen for 6 months.
These are all great ideas and measures and the key word here is DEFERRAL, not forgiveness nor cancellation.
During the 2008 banking crisis, governments around the world bailed out big businesses from banking institutions to car companies. In Canada, Chrysler paid their aid package back, but banks, who allegedly received close to $114 Billion dollars according to a Canadian Centre for Policy Alternatives report, used public funds to shore up an already financially secure industry.
Now, amidst an international crisis, business entities are merely deferring payments for services and products assuming that the extra hardship that our Canadian work forces will not negatively impact their ability to 'catch up' on debt incurred despite bail out packages.
My father, a teacher was on strike for a month in the 1970s, and he told us that he never recovered from even a month without pay!
Imagine an average family with months of bills that may build up and the dollars that will have to be committed to repay balances on credit cards, mortgages, utilities and tax levies! Some may never recover.
Six months from now, will the companies who have promised to work with tenants and customers be so willing to cooperate with hardship?
I think not.
Utility companies charge exorbitant interest rates as do credit cards. Those with 'weak' credit, often pay more while those with good ratings are offered lower rates on loans.
Putting a moratorium on penalties is fine, but it will not have the impact that can truly make a difference in the lives of every day, working class individuals. The remedy is short term and does not involve every level of our society.
There is really only ONE solution to the present crisis to ensure that we, as a country can go back to work and pick up where we were before we hit the pause and panic button.
Biblically speaking, a year of jubilee occurred every 50 years and debt was forgiven. It provided a fresh start for everyone and reminded everyone that forgiveness was real and meant not just for a few.
This level of crisis involves participation and sacrifice by every level of our society from banks to government. Sadly, that would never happen today due to our incredibly interlinked international banking systems and ruling families (Rothschilds, Soros) who have built incredible wealth by NOT being compassionate.
However, in addition to the aid solutions already given, the following should occur:
Immediate cancellation of interest on loans, mortgages, credit cards and utility bills until the crisis is over.
Cancelation of foreclosures, evictions and already approved appropriations.
Forgiveness of loan/rent payments by tenants, mortgage holders and credit card holders. Any debt accrued in this time frame is due with NO interest ever. This way, those with rental property or companies will not be penalized and therefore do not need to revert to payees already in hardship.
For any student loan over 10 years old AND hardship by the student, total forgiveness. 100%
This is a partial list, but my point is that the very banks who were bailed out in 2008-10 should give back to the country, and not in the forms of extra debt but rather a real blessing Profits may actually dip, but their history of profits, even during the 2008 bailout (liquidity assistance), their profits were still $27 billion!
Given their proclivity for creating new ways to charge customers, there will be no long-term hardship to these architects of financial power.
We all have to give something for everyone to benefit otherwise, this is one more step on our way to economic dependency on government aid and a step towards socialism!
#RedDeerStrong – Adjusting to isolation? Now's the time for new habits. Studio Pilates will help make fitness part of your new routine.
Southside Dodge donates new van to Ronald McDonald House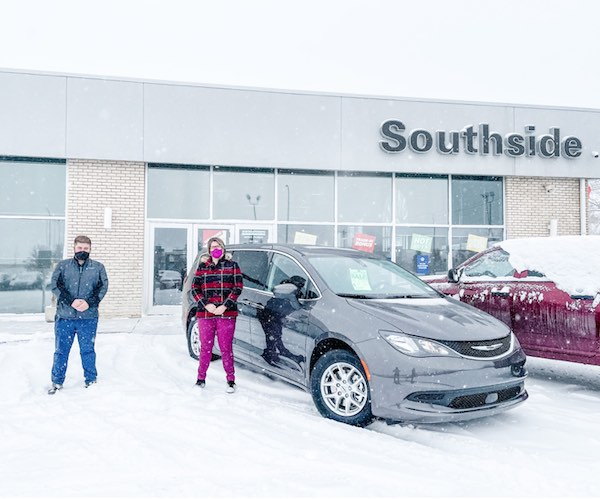 Matt Swainson (Vice President & General Manager, Southside Dodge Chrysler Jeep Ram) -left , Lori Rechlo (General Manager, Ronald McDonald House Charities Alberta – Red Deer House) – right
Submitted by

Sarah Heibein,

Stakeholder Relations Manager, Central Alberta Ronald McDonald House

We've received a donation of use of a Dodge Caravan from Southside Dodge- they've been an incredible support of us over the years. Attached is the photo we took at the dealership when we picked up the keys on Friday.
Ronald McDonald House Charities Alberta, Red Deer House is truly grateful to Matt Swainson and his entire team at Southside Dodge for their steadfast support of our work to keep families together during the unimaginable hardship of the need to travel for medical treatment for their sick or injured child. Our House is not a nice to have, but a need to have, and we are honoured to work with such an amazing community partner in Southside. The use of the 2021 Dodge Caravan will help us to keep our operating costs down so that we can focus on our work to keep families close.
We have operated in the city for over 8 years, ensuring there is a safe and comfortable place for families to rest while they focus on the recovery of their child(ren).
We are grateful to everyone in Red Deer who supports us! 😊
Smiles Thru Lindsey reaching out with a new video message and urging Albertans to look out for each other at this challenging time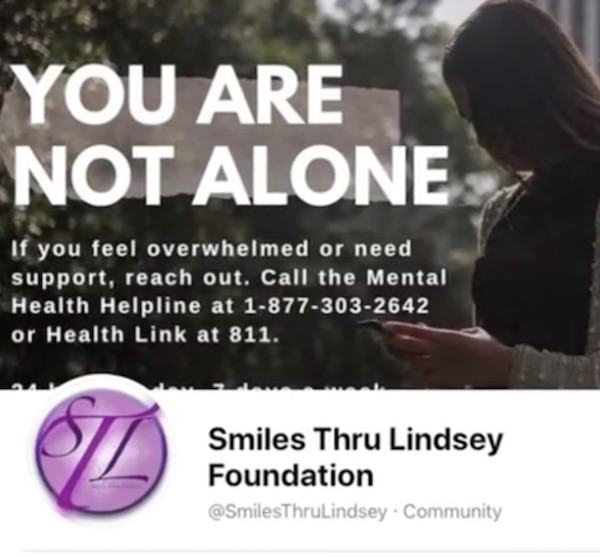 The holiday season is well behind us, we're heading into the coldest part of the winter, and although the days are starting to grow longer there's still a definite lack of daylight in our lives. The winter blues are a real thing and this year we have COVID, a whole new serious problem to add to our mental health issues.
COVID is also the reason the Smiles Thru Lindsey team has not been able do public events for many months. Unable to reach out physically through school visits and fund raisers, Smiles Thru Lindsey is reminding Central Albertans to check in on each other. Also, please follow the Smiles Thru Lindsey Facebook page . They'll lead you to the resources you or your loved ones need right away.
Meet Lindsey and the Smiles Thru Lindsey team in this powerful video. …And remember to check in on the people in your life.
If you'd like to help Smiles Thru Lindsey with a donation please click here.