Green Technology Is "Pie In The Sky" According To Premier Kenny
The economic benefits of oil and gas in Alberta are well known. The volatility of the boom and bust cycle is also a familiar song and dance in this province. When you take into consideration the environmental impact of the resource, the fossil fuel industry is a double-edged sword. It's also commonly understood that moving to a renewable future, with less environmental impact, is better for everyone in the long run. 
To me, the solution is pretty straight forward: the sooner we move to a renewable long-term energy mix, the better off we will be. 
The path forward that I've heard from the Alberta business community is that we need a strong fossil fuel industry to support a renewable industry – that we can have oil and gas companies working side by side with renewable energy companies, growing the Canadian energy industry together. Profits from a strong economy can be used to finance our diversification. 
During the April 24th press conference, Jason Kenny threw that narrative out the window. He wants Alberta to be a petrol state, full stop. 
When Tom Ross from 660 news asked the Premier about working with the US on the Green New Deal, he got quite upset. He made it absolutely clear that he is only interested in fossil fuel jobs. 
"Our focus is on getting people back to work in Alberta, not pie in the sky ideological schemes." 
For the UCP, the only good job is an oil job. 
The Premier went on to say "That kind of question in the middle of an economic crisis from a Calgary based media outlet, frankly, throws me for a loop".
What message does that send to the thousands of Albertans who are working in renewable energy? 
What about Iron and Earth, the non-profit that is training oil field workers with additional skills so they can work in both fields? What about the students at SAIT, NAIT, the University of Calgary, and the University of Alberta who are in alternative energy courses? 
What about the people who are currently working in renewable energy at companies like BluEarth, Eavor, and SkyFire? Do their jobs not count? Are the projects that they operate and profit from "pie in the sky"?
What about the former Prime Minister Stephen Harper and his new role at Terrestrial Energy? Does the work he's doing to develop nuclear power in Canada qualify as "pie in the sky"?
The main goal of the Green New Deal is "meeting 100 percent of the power demand in the United States through clean, renewable, and zero-emission energy sources" 
That's a completely reasonable goal in my opinion. There is no reason why Canada and Alberta shouldn't work with the US to help them develop their plan. Unless your goal is to create oil jobs instead of jobs. 
There are shovel-ready projects that will put Albertans to work in areas other than oil and gas. Not to mention the potential in this province in areas like software, technology, manufacturing, and engineering services. There are viable solutions being left cold because the UCP is so focused on fossil fuels, they can't see anything else.
Teck Resources exits energy industry group CAPP, citing cost-cutting
Downtown Business Spotlight : Barbershop on Gaetz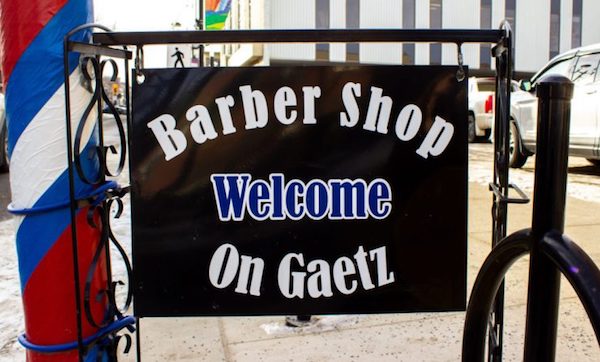 This week, we shine our 'Business Spotlight' on Barber Shop on Gaetz. Did you know Barber Shop on Gaetz holds the title of being the longest-running barbershop in Red Deer? Originally opening in 1947, this unique shop has been operating under Selene Fraser for the past 11 years and has a very loyal clientele who have supported the Shop even through a temporary relocation following a fire. You can find them in the basement of Evergreen Massage right next to the Club Café until they are able to return to their regular location. Selene would like her clients to know that she's happy to go mobile for any clients that are unable to access the basement. Read on to learn more!
What is your business?
We are Barber Shop on Gaetz.
When did your business open?
The business originally opened in 1947 and I am the 8th owner, operating for 11 years now.
What makes your business unique?
The customers! We have the best customers and I'm not kidding – I say that every time. I've worked in so many shops in my career, I've been doing hair for 35 + years and I've had the most fun here. Not because I own the place, it's the people that make it great.
What are some products/services that you offer?  
We offer full services for men including hot shaves, colors, and highlights although we don't do a lot of those. We do a lot of hot shaves. As for products, we offer the Maverick line, Crew line, Carina Organics line, beard oils, anything to do with shaving we supply. Ladies and children's cuts are also available.
Why did you choose Downtown Red Deer as the location for your business?
I knew a lady who worked here years before. It was a busy little shop with old-timers and farmers. The entire rural community knew about it because 50th Ave was the main road through town. This building has always been a barbershop. The history of it was one of the main reasons I chose the location. I like the downtown core, it's diverse.
What do you think makes Downtown vibrant?  
The people! The small businesses, the 'mom & pop' owned places and the cultural aspect. 
I love Downtown Red Deer because…  It's central and it's community. I like the little shops, businesses, and the friendly, non-judgemental, awesome community.
Barber Shop on Gaetz brings a definite charm to Downtown Red Deer. Its unique, friendly atmosphere is a real reason people keep returning! Selene and her team are leaders in their craft and care greatly for their Downtown community. Make sure to stop in for your next hair or beard service!
If you would like to see your Downtown business spotlighted, please contact us at 403-340-8696 or [email protected].
Downtown Business Spotlight: Ross Street Ice Cream Co.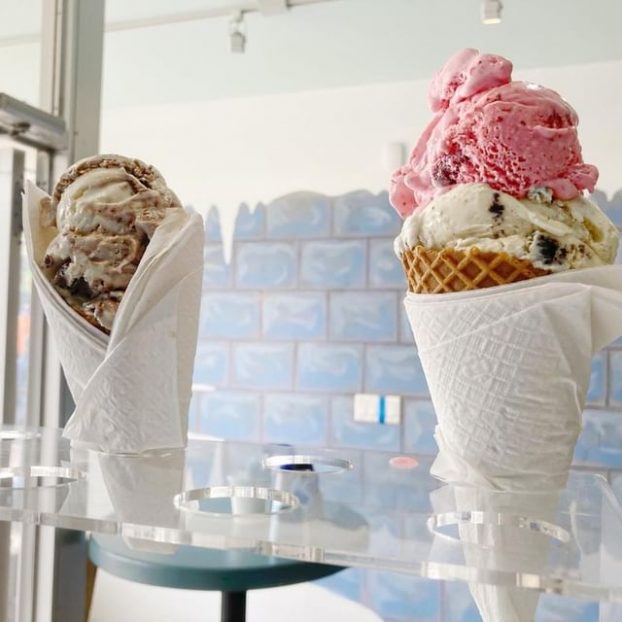 This week's Business Spotlight shines on Ross Street Ice Cream Co., located at 4924 50 St on the Ross Street Patio. We caught up with Michael Ubbing during the heat wave to learn more!
What is your business?
Ross Street Ice Cream Co.!
When did you open?
When it was a lot cooler than this! A week before May long.
What would you say makes your business unique?
We have lots of dietary options! Lots of dairy free, gluten free cones, we have no sugar added ice cream, we have a special cooler to prevent any cross contamination and then we make what we call "Super Allergy Ice Cream", which, if you are allergic to everything in the world, you're probably not allergic to that ice cream!
What are some products/services that you offer?
We offer ice cream and ice cream accessories. Some of those accessories keep expanding including gourmet cotton candy, Saskatoon lemonade, soda floats with Mexican Jarritos pop, and we do banana splits now!
Why did you choose Downtown Red Deer as the location for your business?
We chose Downtown Red Deer because its cheap! 
What do you think makes Downtown vibrant?
Me, of course! I think Taco Loft makes it vibrant. The music scene makes it vibrant.
 Finish this sentence: I love Downtown Red Deer because…
It's the center to everything and accessible to everyone.
Ross Street Ice Cream Co. is the place to check out if you're looking for a cool treat on a hot day! Follow them for updates:
Instagram: https://www.instagram.com/rossstreeticecream/
Facebook: https://www.facebook.com/RossStreeticecream