Green Technology Is "Pie In The Sky" According To Premier Kenny
The economic benefits of oil and gas in Alberta are well known. The volatility of the boom and bust cycle is also a familiar song and dance in this province. When you take into consideration the environmental impact of the resource, the fossil fuel industry is a double-edged sword. It's also commonly understood that moving to a renewable future, with less environmental impact, is better for everyone in the long run.
To me, the solution is pretty straight forward: the sooner we move to a renewable long-term energy mix, the better off we will be.
The path forward that I've heard from the Alberta business community is that we need a strong fossil fuel industry to support a renewable industry – that we can have oil and gas companies working side by side with renewable energy companies, growing the Canadian energy industry together. Profits from a strong economy can be used to finance our diversification.
During the April 24th press conference, Jason Kenny threw that narrative out the window. He wants Alberta to be a petrol state, full stop.
When Tom Ross from 660 news asked the Premier about working with the US on the Green New Deal, he got quite upset. He made it absolutely clear that he is only interested in fossil fuel jobs.
"Our focus is on getting people back to work in Alberta, not pie in the sky ideological schemes."
For the UCP, the only good job is an oil job.
The Premier went on to say "That kind of question in the middle of an economic crisis from a Calgary based media outlet, frankly, throws me for a loop".
What message does that send to the thousands of Albertans who are working in renewable energy?
What about Iron and Earth, the non-profit that is training oil field workers with additional skills so they can work in both fields? What about the students at SAIT, NAIT, the University of Calgary, and the University of Alberta who are in alternative energy courses?
What about the people who are currently working in renewable energy at companies like BluEarth, Eavor, and SkyFire? Do their jobs not count? Are the projects that they operate and profit from "pie in the sky"?
What about the former Prime Minister Stephen Harper and his new role at Terrestrial Energy? Does the work he's doing to develop nuclear power in Canada qualify as "pie in the sky"?
The main goal of the Green New Deal is "meeting 100 percent of the power demand in the United States through clean, renewable, and zero-emission energy sources"
That's a completely reasonable goal in my opinion. There is no reason why Canada and Alberta shouldn't work with the US to help them develop their plan. Unless your goal is to create oil jobs instead of jobs.
There are shovel-ready projects that will put Albertans to work in areas other than oil and gas. Not to mention the potential in this province in areas like software, technology, manufacturing, and engineering services. There are viable solutions being left cold because the UCP is so focused on fossil fuels, they can't see anything else.
Teck Resources exits energy industry group CAPP, citing cost-cutting
Downtown Red Deer: safe, fun and open for business!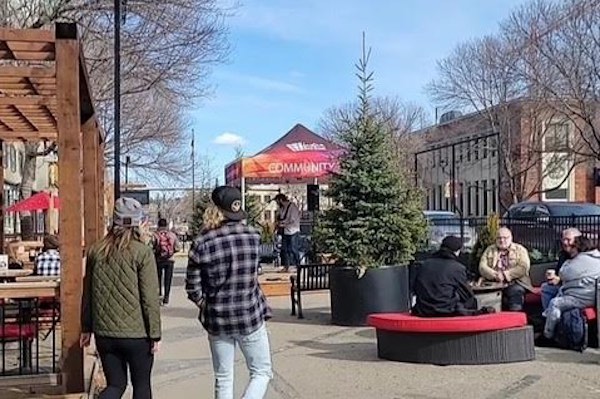 By Mark Weber
With summer just around the corner, downtown Red Deer is all the more bustling with fun events and even more local businesses to check out. But there are a few misconceptions about the area that persist, and that can even prevent some folks from visiting the city's increasingly vibrant core. "Downtown Red Deer has an always lot of good things going for it," explained Amanda Gould, executive director of the Downtown Business Association. "Sometimes, that is outweighed by the perception people have of downtown. "What we need to remember is all that has been happening downtown, what with the murals, the events, the alley upgrades – there are a lot of good things happening. And it's making it such a great destination to come and visit and to also set up your business," she added.
"We have seen, over the last year, an increase of 50 new businesses downtown. It's great news, and the downtown is a great place to go." As mentioned, however, certain misconceptions about the downtown area persist including that
there is a significant parking problem. "We absolutely do not have a parking issue," noted Gould. Visitors may not always be able to park directly in front of their destinations, particularly if they are in a facility with lots of other businesses and agencies, but there are typically plenty of places to park nearby if you are prepared for a short jaunt. "If you were to travel just a half a block down the street, or even a block down, you will find there are usually plenty of spaces. We are lucky that our downtown is walkable as well."
She also mentioned that some residents believe that downtown Red Deer is unsafe. "Again, this is a misperception – it's not the reality of it," she said. "We are so lucky as a neighbourhood downtown to have our own RCMP policing unit everyday – they chat with business owners and help them solve any safety issues they may come into contact with," she said. "There is a team of seven on that unit, and surely that makes downtown one of the safest places to be."
As to the surge in businesses, Gould noted that reasonable rents attract local entrepreneurs to launch ventures there as well – nicely adding to the growing variety of businesses in the area. It's yet another plus for Red Deer residents.
In the meantime, one of downtown's most prominent features – the Ross Street Patio – is really starting to liven up these days with the warmer weather and regularly scheduled musical performances. 'Music on the Ross Street Patio' is a free event and is open to all ages. Performances run from 4:30 –7:30 p.m. on show nights. Another annual favourite, the Downtown Market, kicks off on Wednesday, May 25. An accredited farmers' market, visitors are invited to come down and purchase all their fresh fruits and veggies between 3:30 and 6:30 p.m. each Wednesday. Live music on the Ross Street Patio is also a key feature on Wednesdays.
Gould added that Friday, May 27, is the official kick-off to summer on the Ross Street Patio. To celebrate, they have partnered with Sawback Brewing to introduce a limited-edition Ross Street Patio beer which is super exciting, she explained. "Free samples will be available at 5 p.m. that day (May 27). There will also be music and other activities. The special beer, featured at several downtown restaurants, will be available through the summer.
Looking into June, performances on the Patio will run on Wednesdays, Thursdays and Fridays. "Businesses are now opening up their patios – and we've got the music happening on the Patio, so we are really starting to see a lot more people coming down, spending some time outside and enjoying the live music that we are putting on," she said.
For more about the Downtown Business Association and all that is planned for the Ross Street Patio, find them on Facebook or visit www.downtownreddeer.com.
Red Deer RCMP and City of Red Deer introduce Integrated Downtown Policing Unit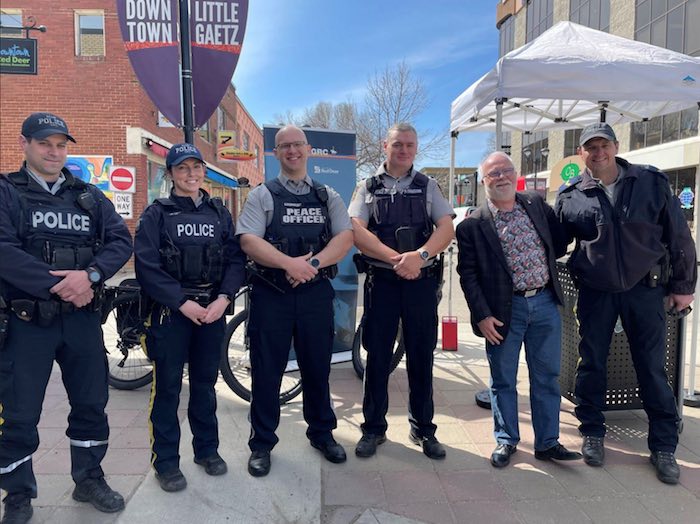 News release from Red Deer RCMP
Today the Red Deer RCMP's Downtown Patrol Unit officially welcomed their two newest policing partners to the unit; two Community Peace Officers (CPO) with enhanced duties.
"The addition of these two new CPO resources will enhance our policing presence, improve safety, and have a positive impact on the downtown overall," says Supt. Holly Glassford.
The pilot project is a joint initiative between the Red Deer RCMP, City of Red Deer Municipal Policing Services, and the Government of Alberta. The Province enhanced CPOs' authorities to allow them to investigate certain criminal code files including Theft under $5000 and Mischief under $5000.
"In some respects, they will have comparable duties to their RCMP counterparts. They will investigate incidents, collect evidence, and provide proactive and responsive enforcement of City bylaws, provincial statutes and some criminal codes," says Peter Puszka, Municipal Policing Superintendent. The two CPOs will also have access to policing tools and databases not typically available to Peace Officers.
Since 2018, Red Deer's downtown has had a dedicated Downtown Patrol Unit (DPU), focused on improving safety through increased police visibility, proactive enforcement, decreasing property crime and criminal activity, and developing relationships with the residents, businesses and social agencies downtown.
"Our downtown unit has been doing a tremendous job with such a substantial mandate, and they're really making an impact in our downtown core," says Supt. Holly Glassford.
In 2021, the DPU conducted 2,219 investigations of which 64% were self-generated files identified during proactive patrols, and the other 36% were in response to calls from the community. This led to 784 arrests, 493 Criminal Code charges, 470 weapon seizures, 37 ounces of illegal drugs seized and 1,061 tickets issued.
During the RCMP's latest community consultations and survey, participants indicated that there were still issues about the perception of safety in the downtown, and that safety was a barrier to visiting the downtown.
"Council and I are committed to working towards the enhancement and revitalization of our downtown," says Mayor Ken Johnston. "This innovative, one-of-a-kind initiative will increase feelings of safety and security amongst those working, living and enjoying our downtown."