SpaceX to write the next chapter in human space flight
This week American astronauts are scheduled to take off from US soil for the first time since 2011. The first SpaceX Crew Dragon launch carrying people into space is scheduled for May 27th.
This historic launch is a huge milestone for spaceflight. Not only is it the first time Americans have launched from the US since the shuttle retired, but it's the first time a private company has launched people to the International Space Station.
It takes a lot of work to design, build, and certify a human launch vehicle. The iconic Space Shuttle was proposed in 1969 and the design was approved in 1972. The five completed shuttle orbiters were in operation from 1981 to 2011 and completed over 1300 days in space. When it was retired, the United States lost its ability to send astronauts into space and have been relying on Russia to send crew members to the ISS. 
SpaceX has been developing rockets since 2002 and has had its shares of ups and downs. The company's first launches failed and they would have gone bankrupt in 2008 had they not succeeded on their fourth mission. Since then, they have been the first private company to launch a liquid propelled rocket into orbit (2008), recover a spacecraft (2010), send a spacecraft to the ISS (2012), and land a rocket back on Earth (2017). 
Now they aim to be the first private company to launch humans into orbit. 
The Crew Dragon capsule that will bring astronauts Bob Behnken and Doug Hurley into space to dock with the ISS is currently sitting on Pad 39A at the Kennedy Space Center. SpaceX has been developing the Dragon 2 capsule for several years under the NASA Commercial Space program. While the program has made tremendous progress, it has also had its setbacks. On April 20, 2019, the Crew Dragon demo capsule exploded while on the test stand. 
If successful, this mission will pave the way for the privatization of space activities. I've written previously about the opportunities for Alberta in space. As more people start to visit space, rockets will need more fuel to move around. This fuel can be made from ice deposits on the Moon – our Alberta Oil Sands projects possess the technology to extract, process, and store water to use in rocket fuel. 
We are about to enter a new era of spaceflight that will drive innovation. Alberta is fully capable to contribute to and participate in the opportunities that will arise from this new era. 
For more stories, visit Todayville Calgary.
'Boiling point': Alberta doctors warn of health system collapse as COVID cases climb
CALGARY — Alberta's health-care system is on the verge of collapse, warns a group of physicians who are pleading with the government to strengthen public health measures to fend off a relentless fourth wave of COVID-19.
Dr. Shazma Mithani, an emergency room physician in Edmonton, said a staffing crisis, overwhelmed intensive care units and mixed messaging from the province has created a "dire" situation.
Her biggest fear, she said, is that doctors will need to triage patients should hospitalizations continue to mount.
"We don't want to have to make these decisions where we're choosing who gets to have (intensive) care or not. And we're getting closer and closer to that every day," Mithani said in an interview.
Alberta Health Services, the province's health-care provider, said in a statement Wednesday there were 258 intensive care beds in the province, which includes 85 added spaces. It said intensive care unit capacity sat at 87 per cent — just slightly below a seven-day average of 91 per cent.
Mithani said the government needs to listen to frontline health-care workers and implement stronger public health restrictions to prevent the health system from crumbling.
"This is much, much worse than I think people understand," she said. "We, as health-care workers, are telling you that things are very dire, that ICU beds are running out, that we are stretched very thin in terms of our hospital capacity."
On Friday, the Government of Alberta reinstated an indoor mask mandate for public spaces and an alcohol sales curfew at 10 p.m. It also announced a $100 incentive for unvaccinated Albertans who get their shots in response to an intensifying crisis.
Dr. Ilan Schwartz, an infectious disease specialist at the University of Alberta, said those efforts are "all but meaningless."
"They are worse than doing nothing at all because now it is going to delay the government from taking more definitive action," Schwartz said during a panel discussion Wednesday with advocacy group Protect Our Province.
Dr. Darren Markland, an intensive care physician in Edmonton who was also on the panel, said the government should consider vaccine passports and a circuit-breaker lockdown, which is a tight set of restrictions for a limited amount of time to curb ongoing transmission of COVID-19.
Relying solely on vaccinations won't reign in a growing fourth wave driven by the highly contagious Delta variant, added Mithani.
It takes at least six weeks for people to build full immunity against COVID-19 because vaccine shots need to be separated by a month and then allow another two weeks to develop protection.
In the meantime, there are no signs COVID-19 cases and hospitalizations are slowing. There were 647 Albertans in hospital Wednesday due to COVID-19, with 147 of those patients in intensive care. Hospitalizations jumped by 7.5 per cent from Tuesday. Another 18 people died in a 24-hour period.
The doctors with Protect Our Province said there are risks related to government inaction. Those risks, they said, include reduced health-care access for Albertans and increased burnout among health-care professionals.
Alberta Health Services announced late Wednesday that all scheduled, elective surgeries and outpatient procedures in the Calgary Zone have been postponed for the rest of the week. It said on social media the move was necessary to deploy qualified staff to intensive and critical care units.
"The situation really has come to a boiling point," said Schwartz.
"It's going to be a while before the premier and the chief medical officer of health will be willing to step back and accept that these actions have failed to immediately curb transmission and by that point, we're going to be in dire, dire trouble."
This report by The Canadian Press was first published Sept. 9, 2021.
Alanna Smith, The Canadian Press
Calgary Beer is Back! Calgary Craft Brewer reimagines one of Alberta's most iconic brands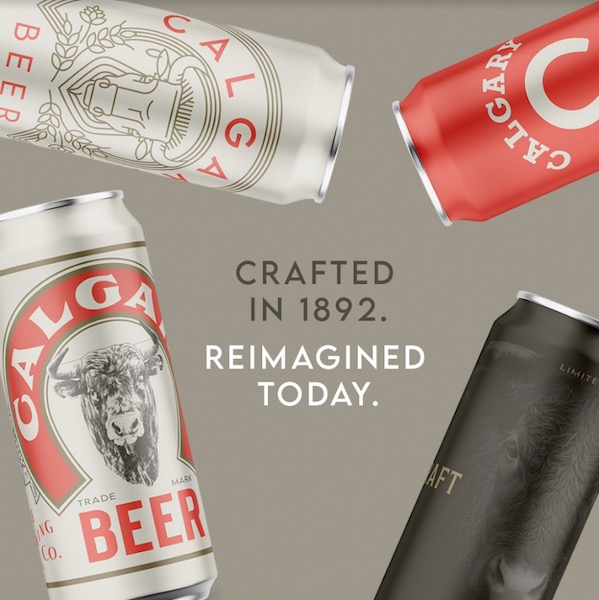 From technology, to communication, all the way to beer, our world is changing more rapidly every day.  Who could have imagined how the brewing industry would be turned upside down by craftsmen and entreupreneurs who risk it all for their passion to create a better product right in their community?
In a world that used to be very predictable, everyday another new craft beer hits the market.  It's hard to keep up, though many of us are doing our best.  Despite all the excitement around the new tastes and all the clever marketing needed to get those beers into our hands, we all know a few people who are 'holding out'.  Maybe they don't like change.  Maybe they don't know where to start.  Maybe they're perfectly fine with the same safe brew they've been tasting for their entire adult lives.  Maybe they should know one of Alberta's finest craft brewers is bringing back a familiar brand, offering a ton of comfort and enjoyment, one sip at a time.
The renowned brand "Calgary Beer" is back!  And of all the craft brewers in Southern Alberta, Village Brewery is the natural choice to have taken on this "reimagined" project.  Village Brewery was established by seven veterans of the brewing business, all with an equal passion for beer, and for their community.  It made perfect sense for this group to recognize their roots by recreating some local history in the town they love so much.  Just in case you didn't know, Village Brewery turns 10% of their profits, back to the Calgary community.
When Village Brewery Re-launched Calgary Beer they were nice enough to make their Head Brewer Jeremy McLaughlin available for a few questions.
Here's Jeremy McLaughlin.
1) Why are you bringing "Calgary" back?
The Calgary Beer brand is an important part of beer history in Calgary. It dates back to 1892 and the brand imagery is iconic and represents the origins of beer in Calgary. At Village Brewery, we have always been about supporting the community and bringing people together around beer. The idea of being able to produce something under this brand just fits so well with what we stand for at Village. It's special to us because we were given an awesome opportunity to modernize both the label and the recipe for today's craft beer fans.
2) Is this the exact same "Calgary" I drank many years ago?
Since the core ideology of this was to modernize the brand, we were not going to be using the same Export Lager style or name and decided to go with "Craft Lager". We felt this would reach the audience that Village reaches already. The main distinction, in terms of ingredients, is a significant hop character (from Ella, Sabro and Enigma), which make up the flavour profiles of a lot of craft beer.
3) Talk about the "craft" version. The can looks fantastic by the way. Curious about that and the beer itself.
The beer is really something that we as a brewery were looking to explore, a Craft Lager or dry-hopped lager is very much in the realm of beer profiles that can be interesting to new craft drinkers but something that experienced craft connoisseur would find interesting as well. A breakdown on ingredients and vital stats should get the conversation started here:
-ABV is 5.00%
-IBU: 15
-Colour: Light Gold
-Clarity: Light/Moderate Haze -Malt: Rahr 2-Row
-Yeast: Escarpment's Krispy Kveik
-Hops: Ella, Sabro and Enigma (all mainly used as a dry-hop). These are symbolic to the ideology of the project (modernization and reimagining, while paying respect). These hops are developed through breeding programs, which modernized historical varieties of hops.
The can design was by Jackson and includes 4 versions
-A vintage throw-back to the original design
-A modernized vintage design featuring design concepts that are popular in craft breweries today (line art)
-A more high design variation that is black with the bull image wrapping the can
-A minimalistic version featuring a red backdrop and a white horseshoe, focusing on clean and crisp presentation
All Alberta residents can purchase this limited edition lager by clicking this link.