Big Brothers Big Sisters hosting free BBQ and family fun for the community at KCB Cabinets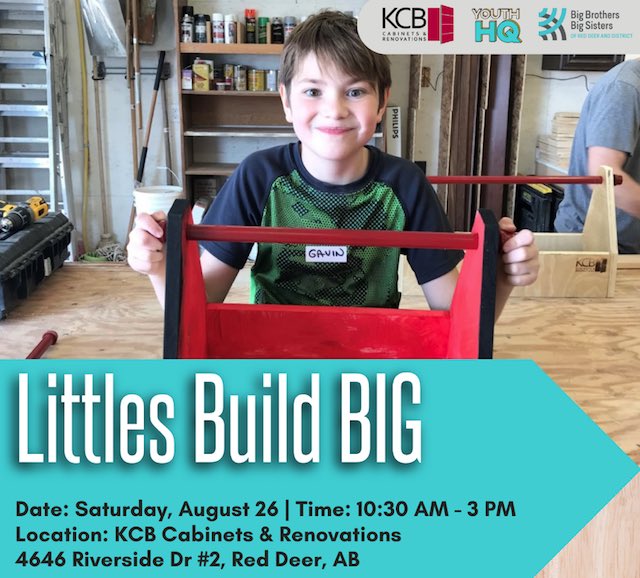 LITTLES BUILD BIG LOOKS TO BE EVEN BIGGER FOR YOUTH HQ
On Saturday, August 26, Big Brothers Big Sisters of Red Deer & District invites everyone to come down to KCB Cabinets & Renovations for the returning Littles Build BIG event. While Littles and waitlist youth from the Big Brothers Big Sisters program build toolboxes, staff and volunteers will be hosting a free barbecue and providing information about the BBBS program to help find potential mentors and provide matches for the many youths waiting on the waitlist. In addition, there will be a bouncy castle and a paid dunk tank with many local celebrities including council member Lawrence Lee, former UFC fighter Jason MacDonald, and Ben Pelletier, a teacher who recently cycled from Vancouver to Halifax while raising funds for the BBBS program.
The event will also serve as the kickoff for September as Big Brothers Big Sisters month in Red Deer, with Red Deer Mayor Ken Johnston in attendance to make the official proclamation.
"It has been an honor to work with Big Brothers and Big Sisters of Central Alberta. Our youth need guidance in this crazy world," said Carl Sauve, Owner of KCB Cabinets & Renovations and Big Brothers Big Sisters mentor. "Being a mentor, you understand firsthand the benefits you can bring to kids in need and the community you call home. It is easier than anyone would think, so give it a try!"
"We are so grateful to have people like Carl Sauve and businesses like KCB Cabinets and Renovations who understand the positive impacts mentoring has for youth and want to help spread that message," says Terri Blanchard, Big Brothers Big Sisters of Red Deer & District Manager. "With over 75 Littles waiting for a BIG in the Red Deer area, this event gives us the opportunity to connect with the community in a really fun way and find the amazing mentors we know are out there."
Anyone is welcome to attend the event. Anyone looking to be in the dunk tank may contact BBBS manager, Terri Blanchard, at [email protected] for more information.
About BBBS of Red Deer & District
Big Brothers Big Sisters has been active for over 100 years. The organization came to the Red Deer & District region in 1976 and has been at work in this community ever since. Several programs and services are available to young persons and their families, including in-school mentoring. BBBS also provides activities for waitlist children and youth (those who haven't been matched yet) as they wait to be matched with a caring mentor.
About Youth HQ
Youth HQ empowers youth by fostering a community of support. Our network seeks to instill young people with confidence in their unique identities and abilities, providing them with skills for life through knowledge, healthy relationships, and quality experiences while providing safe environments to learn and grow. Youth HQ coordinates programming for Big Brothers Big Sisters of Red Deer & District and BGC of Red Deer & District, offering numerous programs and services that support children, youth, and families.
Addiction Recovery: City hosting full day information session on "Recovery Oriented Systems of Care"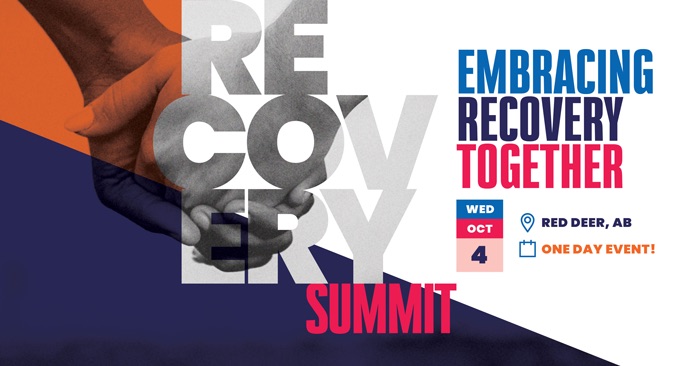 Embracing Recovery Together
Come together in Red Deer for a one-day conference focused on building an understanding of what a Recovery Oriented System of Care is, and what implementation can look like for Red Deer specifically.
Join industry, not-for-profits, government, and interested members of our public to learn, grow, build and start a journey towards recovery.
The word "recovery" can have various meanings in various contexts. For the purposes of an ideal coordinated response, it means helping individuals maintain forward momentum toward better wellness and fulfillment, across all dimensions of their life – physically, mentally, emotionally, spiritually and culturally.
When:
Wednesday, October 4 – 7:30 a.m. until 4 p.m.
Where:
Westerner Park (4847A 19th Street)
Event Details:
7:30 – 8:30 a.m. – Breakfast & Registration
8:30 – 9:15 a.m. – Welcome & Opening Prayer with Mayor Ken Johnston and Elder Lynn Jonasson
9:15 – 10:15 a.m. – Opening Plenary: Let's Get to Work with Alison Jones Webb
10:15 – 10:30 a.m. – Coffee break
10:30 – 11:15 a.m. – Breakout Option #1: What is Recovery, Recovery Capital and Recovery Oriented Systems of Care (ROSC) with Paul W. Sobey, MD
10:30 – 11:15 a.m. – Breakout Option #2: Understanding Trauma and Behaviour with Elicia Miller
11:15 – 11:30 a.m. – Break
11:30 a.m. – 12:15 p.m. – Breakout Option #3: Conversation with Elder Lynn Jonasson
11:30 a.m. – 12:15 p.m. – Breakout Option #4: Panel discussion with Kath Hoffman, Reed Charbonneau, Ben Borger, Samantha Shortneck and Sarah Fleck
12:15 – 1 p.m. – Lunch break
1 – 3:30 p.m. – Afternoon Keynote: "Whole of Society Approach" to Recovery with Dr. Alina Turner
3:30 – 4 p.m. – Closing remarks with the Honourable Dan Williams, Minister of Mental Health and Addiction
More information about the facility, including directions, can be found here: https://westernerpark.ca/
More information about Red Deer, hotels, what to do, and restaurants, please visit Tourism Red Deer
Thank you to the Government of Alberta for providing financial support for this event. For more information about the Provincial Government's approach, please read the report here: Toward an Alberta Model of Wellness
*Note: If the cost of the conference is a barrier to attending, please reach out to [email protected] and we would be happy to work with you to ensure everyone has the opportunity to attend.
Speaker Bios
THE JACKPOT IS OVER $14000 AND THE WINNER WILL TAKE HALF!!!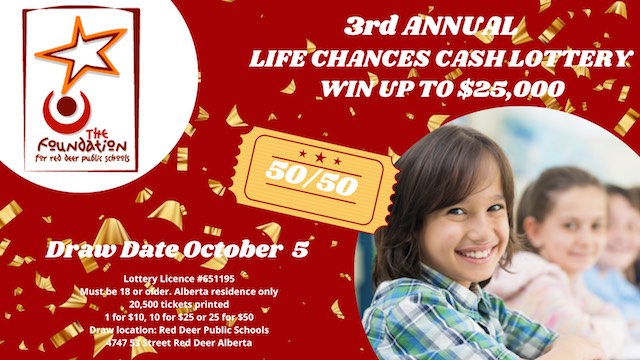 GET YOUR 50/50 TICKETSTODAY!!!! Winner could take home up to $25,000!!!
The Foundation for Red Deer Public Schools supports programs that have a significant impact on the LIFE CHANCES of students across the Division. By purchasing a ticket to support our 50/50 cash lottery you are giving students opportunities to have better life chances.
From giving kids a Bright Start to school to reconnecting with students so they graduate and cross the Finish Line, the Foundation helps students who face challenges in school and makes things better. We motivate struggling students and inspire them to read and write through Reading College. For students who come to school without basic needs, we give them that needed Step Up.
With the support from the Foundations 50/50 Life Chances Raffle, you are providing a student with opportunities that will improve their life. They can't always control the situations they're in but with your help students will continue to have these chances.
Don't miss your chance, CLICK HERE to buy your tickets today – Draw will be held on October 5! Good luck!
NOTE: This raffle is open to all community members in Alberta and over the age of 18.