Red Deer group cycling across Canada for Big Brothers, Big Sisters of Red Deer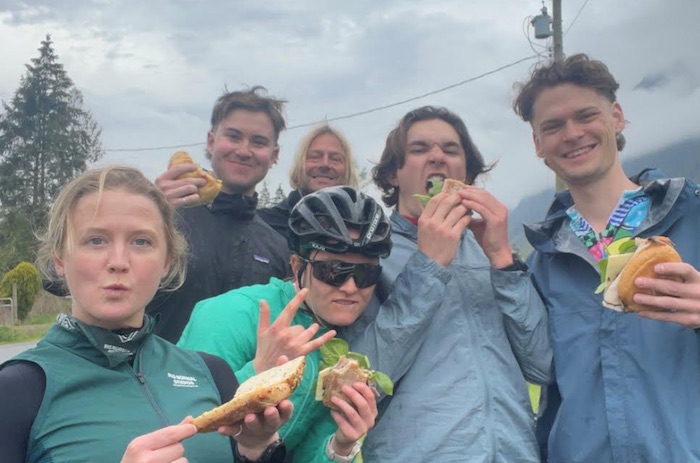 A Red Deer resident has gathered some friends and begun on a trek to cycle across Canada while raising funds for Big Brothers Big Sisters of Red Deer.
Ben Pelletier, a teacher in Red Deer, is a strong supporter and believer of BBBS and Youth HQ and decided that he wanted to use his cycling adventure from Vancouver to Halifax as a chance to give back.
In addition to Ben Pelletier other members of the group include Logan Davey, Keith Weber, Jade Weber, Tristan McDonald and Karina Bennett.
"As a teacher here in Red Deer, I have had the chance to visit Youth HQ, Big Brothers Big Sisters of Red Deer, and simply love what they do for the youth in this city. All donations will go directly to support this awesome organization" said Pelletier on his GoFundMe page for the event.
https://www.gofundme.com/f/the-great-cross-canada-biking-extravaganza?utm_campaign=p_cp+share-sheet&utm_content=undefined&utm_medium=social&utm_source=twitter&utm_term=undefined
The trek kicked off in Vancouver on May 1 and will see the group reach Halifax by the end of June. Youth HQ is excited to see the updates as this trek continues and will be sharing them on our social media channels throughout the coming weeks. Simply go to the "Gofundme" page and follow the group throughout their journey.
"We at Youth HQ applaud the efforts of this group of amazing individuals. What an adventure they are embarking upon, and what a great way to support the amazing work of Big Brothers and Big Sisters." States John Johnston, Community Engagement Manager, Youth HQ
---
From GoFundMe
Hello! I'm Ben Pelletier and alongside my pals Logan, Tristin, Jade, Karina and Keith, we will be cycling over 6000 km across Canada from Vancouver to Halifax, because why not!
This journey will take two months, from May 1st to the end of June, so why not try to raise a bit of money along the way!
As a teacher here in Red Deer, I have had the chance to visit Youth HQ, Big Brothers Big Sisters of Red Deer, and simply love what they do for the youth in this city. All donations will go directly to support this awesome organization!
So if you can, feel free to donate what you can while joining this motley crew on a cross Canada adventure that will be anything but dull!
Updates (5)
Yesterday
by Ben Pelletier,

Organizer
Day 4 is in the books! 127km's travelled today with 2,013m of elevation from Osoyoos to Grand Forks and it was full of ups and downs- our first flat tire, some more crazy heat, and a big climb up "Anarchy Hill", but the gang did amazing once again!
A little bbq burger dinner to end off the day put any sore muscles and achy bones in the rear view mirror, life is good!
Organizer
Ben Pelletier
Organizer
Red Deer, AB
BIG BROTHERS AND BIG SISTERS OF RED DEER AND DISTRICT
Registered nonprofit
Donations are typically tax deductible in Canada
Gateway Christian students experience life changing trip to Dominican
Students from Gateway Christian School recently returned from a life changing trip to the Dominican Republic as part of their Intercultural Studies program.
Gateway's 2023 Co-Impact Team, which included 13 students, two staff and an additional chaperone, spent 10 days on the ground over Spring Break connecting with other students and families to help to build a basketball court and physical education area at the Pena de Horeb school via Edudeo Ministries. Pena de Horeb is primarily a Haitian school, serving the students and families amidst a very poor Haitian neighbourhood. In the months leading up to the trip, Gateway students raised funds to help assist with the build. Gateway also spent a significant amount of time building relationships with and learning from students and staff at their partner school, El Colegio Cristiano Reformado Los Guandules.
"Service is an important part of the culture at Gateway, and this experience was the culmination of that. The Co-Impact Team fundraised not only for their trip, but also for funds to go towards the school we worked on in the Dominican Republic," said Geannette Lehman, Principal at Gateway Christian School. "The trip was part of their Intercultural Students class, which they receive credit for. We met weekly at 7:15 a.m. to complete aspects of the Intercultural Studies course, bond as a team, and prepare craft lessons and activities to teach students at the school in the Dominican. It was not only a great experience in the Dominican, but in preparing for the trip as a team as well."Alexa Huska, Gabe Gillies, and Kate Stober were three students who were part of the Co-Impact Team.
"It was really neat to connect with my fellow Grade 12 students," said Alexa. "We've gone to school together since we were kids, so to have an experience like this together was really special. We were able to connect on a deeper level."
Gabe added it was humbling to see how grateful those in the Dominican Republic were, even for the smallest things. "They have little compared to us, and they are just so happy," he said. "They are grateful for the things they have and they don't stress about the small stuff."
Kate agreed. "They have so much joy, and nothing mattered other than just being with one another," she said.
Ultimately, it was a great experience for all involved.
"The kids were greatly impacted by seeing the world through another lens. Our lens is so different from those around the world," said Geannette, adding she is proud of her students. "They gave up their Spring Break, immersed themselves in another culture, and represented Gateway and Red Deer Public so well."
To read Gateway's Co-Impact Team's blog of their experiences, click here.
Run/Hike for Red Deer Hospice Takes Place This Sunday at Bower Ponds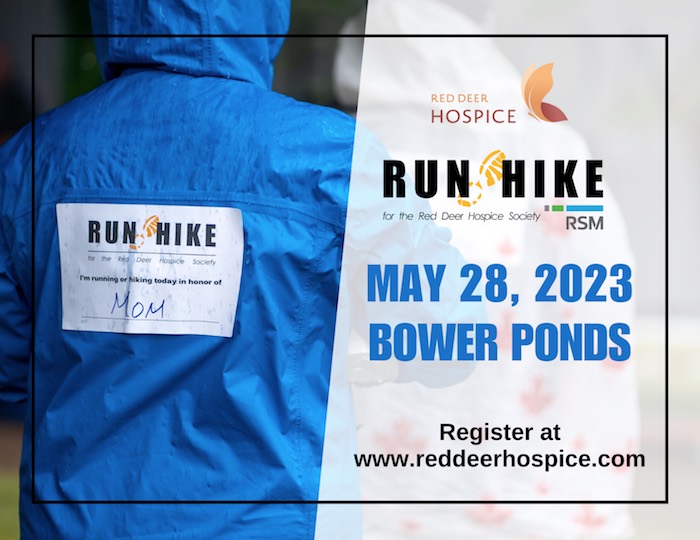 News release from Red Deer Hospice
Red Deer Hospice's 16th Annual Run/Hike event, presented by RSM Red Deer, will take place at Bower Ponds this Sunday.
Registration will open at 9:00am and those wishing to run, walk or stroll the 1km, 3kms or 5 kms will start at 10:00am. A light breakfast and hot, post-race lunch, provided by Mr. Mikes, will be available to participants and live entertainment will be provided by the band Fun House in the amphitheater.
"This will be a day to remember and reflect, while taking in the natural beauty of the trails in and around Bower Ponds," said Jerri Taylor, Executive Director of Red Deer Hospice. "As our main fundraiser for the year, our goal is to raise $38,000." Proceeds and donations will go towards Red Deer Hospice's mission of supporting a peaceful and compassionate end-of-life journey.
Online registration on the Red Deer Hospice website will close at 3:00pm on Friday, May 26, 2023. Those interested in participating in this year's Run/Hike event who have not registered can do so in person on Sunday morning at Bower Ponds.
For more information, visit www.reddeerhospice.com.