Better than winning the Lotto!
Better than winning the Lotto!
After being rescued and evacuated from the High River flood, I had PTSD. I was relocated to Lethbridge and while living there the stress and my overall mental unwellness played a role in diverticulitis attacks that landed me in emergency several times.
I have had diabetes for some time but at this time of my life looking after it was not a major focus. I couldn't make myself get off the couch to save my sole. I gained weight and had also had little interest socializing. This summer I moved to Red Deer to be closer to my daughter and son in law.
I read about Diabetes Discussions in the newspaper and decided to go, thinking it couldn't hurt. I am a very educated person and had taken some education on diabetes over the years. However, I found Diabetes Discussions to be phenomenal!! It gave the nitty gritty on all aspects of diabetes in a way that engaged me. I knew some of this info before but it never engaged me.
Whoever put this program together really knew what they were doing. They put the information together in a really amazing way. In these classes I noted that I had a lot of excuses but they always had an alternative for me to try. I know 2 people who had amputations this year due to poor diabetic control. I decided that I am way more afraid of amputations than I am of getting off the couch. I ended up connecting with the RDPCN Recreation Therapist to help me get off the couch and do some activity that would help my health.
Winning the lottery would not be as good as working with the Rec Therapist. He helped me realize that I needed some socialization to want to come out for activity. These things are linked. He introduced me to the Gary Harris Centre and OMG- amazing. He pushed and challenged me while remaining supportive. Now I can find inspiration in many places, for example, the 80 year old who walks the track every day with his cane. If he can do it, so can I.
I also get energy from the many young people working out at the Gary Harris gym. I want to go the gym; I plan to walk the track the rest of my life! It is all so much better than lying on the couch. Between these two programs and the family nurse that also gave me inspiration and direction, I feel like they have hit me over the head with a sledge hammer in such a beautiful way. Now I get it! And I am back in the driver's seat of my life. Thank you big time!!!
Read more success stories from the Primary Care Network.
RDC keeps tuition and fee increase for next academic year in line with post-secondary sector standards
College is committed to enhancing financial supports for its students
After considerable consultation with student representatives, RDC has made the difficult decision to increase tuition and fees to the allowable maximum for the 2021/2022 academic year. This will ensure that RDC can effectively continue our commitment to providing students with the educational experience that they have come to expect.
The College's tuition rates and the Facility, Service & Technology fee will increase for 2021/2022, while the Activity & Wellness Fee will remain unchanged. This means RDC students will pay up to $298 more per term for tuition, depending on an individual's course load. Regarding mandatory non- instructional fees, students will pay $135 total per course (based on a three-credit course).
From 2015-2019, RDC was subject to tuition and fee freezes. This has now come to an end under new provincial government regulations that allows for modest increases across Alberta. Because this situation affects most post-secondary institutions in Alberta, RDC learners will continue to access quality academic programs and services at comparable rates to other post-secondary institutions.
This decision was not made lightly, recognizing the challenges that students face in funding their education.
"We understand the challenges that increasing tuition and fees presents to our students and we are pleased to provide a range of supports, as well as a growing amount of scholarships and bursaries, to assist them as they invest in their post-secondary education," says Dr. Peter Nunoda, RDC President. "We are committed to ensuring that post-secondary education in central Alberta remainsaccessible."
RDC provides more than $1 million in scholarships and awards to students each year, through the support of generous donors. Additional community, government and other scholarships are also available for students. More than 1,300 students each year will receive funding support through the College's new Student Bursary Fund that was announced recently. RDC employees assist students in accessing student loans. The College also provides flexible payment options to provide students the opportunity to pay tuition and fees through installments.
It is important that RDC's tuition and fees reflect the value of the education its students receive. The College is pleased to offer greater flexibility in how students learn by providing more courses online or through hy-flex delivery (meaning students can choose to attend online or in-person for a particular course).
"As we continue to make decisions for RDC's next academic year, we will continue to seek efficiencies in our operations while ensuring that we continue to provide value for our
students with quality applied learning opportunities and access to a wide range of services as they pursue their educational goals," says Nunoda.
Red Deer College continues its planning process for the 2021/2022 academic year, including ongoing adaptations to help ensure the health and safety of the College community during the COVID-19 pandemic.
Whistle Stop Cafe owner challenging lockdown and authorities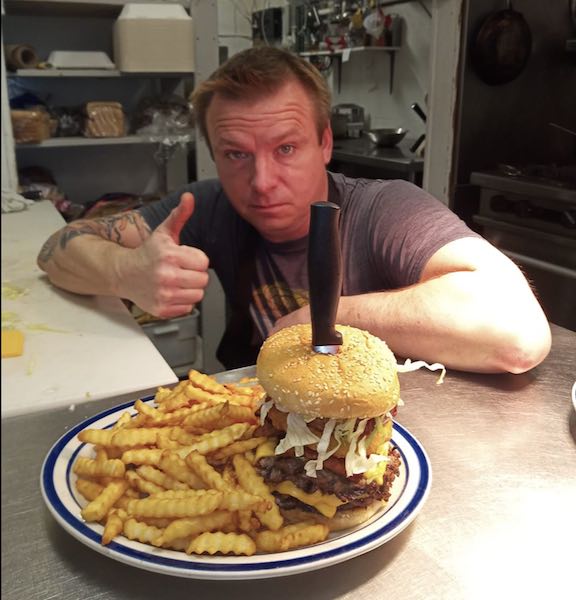 Just a few months ago Mirror, Alberta might have been referred to as UCP heartland.  But things seem to be changing quickly.  One of the hottest spots in the area is Chris Scott's Whistle Stop Cafe.  The owner, Chris Scott opened The Whistle Stop in the middle of Alberta's second lockdown back in January.  Still facing legal action from that lockdown, Chris didn't hesitate to announce he would also be defying Alberta's third lockdown of indoor dining as soon as that was announced.  Hundreds of supporters showed up on the weekend.  They were treated to music, a beer garden, as well as both outdoor patio, and indoor dining options.
As expected The Whistle Stop was visited by an AHS inspector and RCMP members who noted the violations and informed Mr. Scott of impending legal actions against The Whistle Stop Cafe.  All this hasn't slowed Scott down one bit.  As of Tuesday morning, the cafe is open and serving customers (who are warned by staff they could be charged for violating indoor dining restrictions) and Chris Scott is planning for another busy weekend.  Scott addresses his massive social media following daily.  His Tuesday morning address shows just how committed he remains despite the obvious impending showdown sure to take place in the coming days between Scott and AHS as well as the RCMP.
In his facebook post, the owner of The Whistle Stop Cafe almost seems to be daring Premier Jason Kenney to make a move:
Good morning everyone! It's been a busy, stressful couple days for us here. I'm not going into details as they're irrelevant to our vision of serving delicious food, to beautiful people
today could be a very big day for us here at the Whistle Stop Cafe in Mirror, Alberta. We've got a lot on the go including planning this coming weekends festivities here. Live music, karaoke, and wonderful food prepared with care and attention to detail. All of us here believe strongly in taking every precaution with the way we handle food. As a food "service," provider our number one priority is ensuring that what we serve its fresh and safe. We also believe in your choice to either venture out in this dangerous world or stay home and limit your exposure to the thousands of risks we encounter every day. Nobody here will ever judge you for making your own choice. As most of you know, Alberta Health Services suspended our food handling permit yesterday, via EMAIL. Now I could have ignored the email and said I didn't recieved it and made them come out here and deliver themselves, but I didn't. AHS inspectors are not well received these days. And I'm happy to consider them as human beings and keep them out of situations where they may be subject to abusive language and threats. So I accepted the email as it was written and acknowledge the suspension of my permit. However, as a man and a human being I have the right to engage in commerce. I have the right to Life, Liberty and security. These rights are not conditional on any agency "permitting," them. We continue to follow best practices in regards to purchase, storage, and preparation of our food. And we continue to maintain a clean environment in which to serve or consume said food. We will not continue to be bullied into submitting to garbage, harmful, baseless restrictions forced on the people of Alberta by those who will never suffer the consequences of their own actions. We are OPEN for business. And we have some great specials today!
Breakfast- Eggs Kenney served with a side of disobedience. 2 eggs poached one way, then changed to whatever we feel like making up at the time. We will give you ham, sausage, and bacon with your eggs Kenney but then we're going to take back half of it and tell you is for your own good. Comes with hashbrowns on the side, but only if you submit to our stupid rule of clapping three times and saying the word, "knee," (as in the Knights who say, knee. Because it's ridiculous and changes nothing.) $5.00 plus a fee of $7.95 for the permit to eat.
Lunch special today is a UCP burger. Our delicious classic burger! But like our government it will be served open and two-faced with an egg on its face. Comes with delicious freedom fries! $11.95
Soup today is Hinshaw chicken noodle. Chicken soup is good for you! And since Dr. Hinshaw seems to think she's the only person who knows what's good for us I figured it was an appropriate name.
Supper special is whatever you want. We will prepare you anything you like! Because what you put in your body, and where you choose to eat and do business is YOUR CHOICE!!! Keep in mind our kitchen is small so please don't go crazy
our supper special is FREE! And if you feel like donating to our cause we would be very happy to accept it. I heard something about "plague rats," so all donations will go towards cleaning supplies and a consultation with an exterminator because we want ALBERTA TO REMAIN RAT FREE!!!
We're looking forward to seeing you today!! We NEED YOU HERE. We need your support! We need to push back as hard as we can, knowing that we may get sick but doing OF OUR OWN ACCORD!!
Sending love and freedom from the Whistle Stop Cafe in Mirror