Best Places to Visit to Lose Yourself
Best Places to Visit to Lose Yourself
If you are struggling with personal anxiety, depression, or addiction, it is important to find a way to unwind and take a break from yourself. Getting the distance you need requires losing yourself in a new environment and concentrating on the meaning of your life. Doing so will provide you with the power you need to beat addiction.
Spending Time Outdoors is Healing
One of the most effective ways to lose yourself is to spend time outdoors. People have noted for generations that the natural world has healing powers. However, it goes beyond simply making a person feel better. Nature is, in many ways, our natural environment. When you go kayaking, take a hike, or camp in the woods, you are coming back to an instinctive home.
It might not be easy for you to manage this kind of outdoor living at first. Many people struggle to enjoy camping or will miss modern electronic technology. However, that's a big part of why the outdoors are so effective for losing yourself. If you find a comfortable, but not extravagant, cabin in the woods, you cut yourself off from the sometimes negative influence of the modern world.
Great Places to Camp
A few of the best places to camp in our province include Banff National Park, Jasper National Park, and Waterton Lakes National Park. Each has their advantages. For example, at Banff, you can hike to glacial lakes and can camp in one of the most natural and beautiful places on the planet, just a few hours away.
Vacations Can Be Helpful, Too
While spending time in nature is the most efficient way to lose yourself, it may not be right for everybody. Some people simply can't handle those kinds of mental or physical demands. That's when a nice vacation can be so effective. People who spend time in beautiful vacation areas often find their troubles disappear and their mind clears wonderfully.
Consider a Mexican Vacation
Mexico is a relatively short flight from Canada and there are plenty of great places where you can vacation. One particularly beautiful destination is Cancun, which has a variety of wonderful beaches to relax on while you lose yourself and your worries.
You could also check out Mexico City, where ancient Aztec ruins exist next to places like the Frida Kahlo Museum. And in Teotihuacan, you can visit the ancient Pyramid of the Sun and celebrate the Day of the Dead in style.
Why Finding Yourself Again Matters
Losing yourself on a road trip to a relaxing vacation spot is just part of the journey towards addiction recovery. Once you have lost yourself and experienced mental and spiritual awakenings, you need to find yourself again. After an experience like this, you are not going to be the same person. That's a good thing, as the person you were before was struggling with an addiction.
How do you find yourself? By spending time in your new area and thinking hard about who you are as a person. For example, you could try to figure out why you started using, why it became an addiction, and what you can do to stop it. You can also try to rediscover your life goals and brainstorm ways to achieve them.
Losing Yourself Can Help With Addiction
By losing yourself and your troubles in a new environment, you can open up new avenues of self-expression and personal understanding. Many people in similar situations turn to an addiction recovery center in times like these. They can be a powerful tool for those who can't seem to shake their substance abuse and who need help regaining a sober life.
So if you need help beating addiction, consider visiting one of these treatment centers. They are a healthy and healing way to get through withdrawal, identify the influences behind your addiction, and walk away as a clean and sober person. While it won't be easy, it will help you become the person you deserve to be and make success a real possibility.
Kevin Gardner
Maybe Kevin's article gave you the travel bug?  Check out some of Gerry's adventures and get out and see the world.
Todayville Travel: Turks and Caicos – The Road Less Travelled
Come to Capstone for a Father's Day riverwalk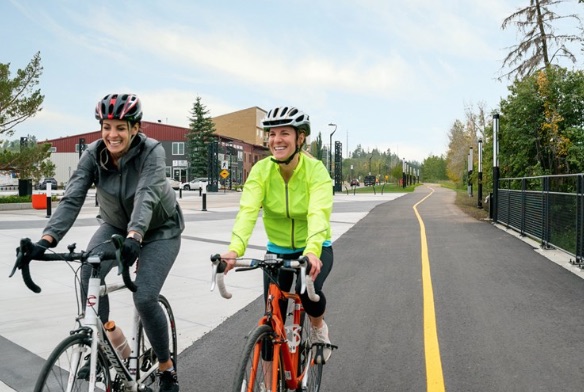 Capstone invites Red Deerians to enjoy new community spaces
Sunday June 20, Red Deerians can enjoy a fantastic Father's Day in Capstone – Red Deer's newest riverside community.

Stroll with your family down Riverwalk, where you can view a special Father's Day mural by local chalk artist Haley Abrahamsz, on display all week (weather dependent). Food trucks will be in Canada 150 Square from 11 a.m.–to 7 p.m., providing outdoor dining choices in addition to the many food and beverage options already located in Capstone. The first 200 customers will also receive a complimentary soda coupon for Troubled Monk's delicious line of sodas. You may even see Spandy Andy dancing his way through Capstone.

"For the next several months, as restrictions ease, our team will be focused on creating events that showcase the many features and amenities that the Capstone community has to offer, in a way that feels comfortable and safe for Red Deerians to attend", says John Sennema, Manager of Land and Economic Development at The City of Red Deer. "This includes events that happen over a period of several weeks so that people can attend without encountering large crowds, and installations that are spread out over the community."
Future activities in 2021 include scavenger hunts, food truck festivals, outdoor recreation classes, and art installations. "Activating these spaces is a critical step in the adoption of the neighbourhood vision, especially as this master-planned community evolves into an active, modern community" explains Project Manager Cory Edinga.
Last year The City of Red Deer conducted extensive research on the wants and needs of the future resident of Capstone – dubbed the 'Cap-Citizen'. These future residents are curious, active types, who are social, and community minded. Events and activations will be planned with their needs and wants in mind.
For more information about the community and public spaces of Capstone or to view the 3D animation which depicts how the community might look and feel in 2040, visit liveincapstone.ca.
Get away from the city – Rock Lake Lodge seeks maintenance and caretaker
Wilderness Lodge Maintenance & Caretaker Needed
Click here to apply now.
Looking to get away from the city and experience the wilderness?
Rock Lake Lodge may have the perfect opportunity for you. WHO ARE WE? We are a lodge located in Rock Lake Provincial Park in Alberta, Canada.
Just a short distance away from a 90-foot deep lake with four species of fish, and the lodge is surrounded by wildlife and abounding nature.
Check out www.rocklakelodge.ca to have a look at the stunning surroundings, our lodge and cabins.
It's not all work and no play up at Rock Lake Lodge! Some of the activities provided on site will be hiking, fishing, canoeing. and wildlife watching. This is a seasonal live-in position from June 2021 -Sept 2021.
We are seeking someone with the following:
-general handyman experience (able to use basic tools and general maintenance of the lodge)
-generator experience
-plumbing & electrical (basic)
-construction experience
Above all, we want someone who loves fishing!
Do you have experience with diesel generators? Log buildings? Chainsaws or log splitters? Let us know in your application. Even if your job history doesn't reflect the above- your personal experiences may be exactly what we're looking for!
Wage to be negotiated. This is a fulltime-temporary contract position.
Experience:
maintenance: 1 year (preferred)
diesel generator: 1 year (preferred)
rural water systems: 1 year (preferred)
chainsaw: 1 year (preferred)
plumbing: 1 year (preferred)
electrical: 1 year (preferred)
Driver's License (MANDATORY)
Contract length: 3 months
Start date: Immediately
Click here to apply.