Todayville Travel: Turks and Caicos – The Road Less Travelled
I once had political aspirations. It was the early 1980s. A federal election was brewing. At the same time a tiny chain of British islands in the Caribbean – the Turks and Caicos – had expressed interest in forming an association with Canada.
What a great idea: Canada's own warm, winter destination. No more currency exchange swindles or fighting with hefty American tourists in a Cancun buffet line-up; just a happy bunch of Canucks soaking up the sun in our own polite corner of tropical paradise.
I would make political hay by running for office on this simple, single platform: promoting a union between Canada and the Turks and Caicos. It seemed a worthwhile diversion from Alberta's traditional campaign issues: complaining about Quebec and letting the eastern bastards freeze in the dark.
Alas, I didn't run and my nascent political ambitions, like the election, came and went. The Turks and Caicos dream faded into the blue yonder; our Prime Minister went back to exclaiming "fuddle duddle" in Parliament and the West returned to detesting the East over trivial issues such as who was going to get Alberta's gazillion petro dollars. And instead of milking the federal treasury I ended up in law school and eventually Red Deer where I practiced law for a quarter century before concluding that life was too short to spend behind a desk – even if it were in the corner office.
But some people follow through on that early opportunity to chart a different course. Bruce Twa, a law school buddy, had lawyered through a few cold Alberta winters when a chance phone call offered him the prospect of practicing warm-winter law – in the Turks and Caicos. Bruce jumped at the offer. He has now been resident in the "TCIs" for over twenty-five years, transacting real estate deals on behalf of wealthy, sophisticated, discreet clients – when he's not boating in the azure-coloured waters or snorkeling amongst parrotfish and turtles in the coral reef surrounding the islands.
I had promised (threatened?) to visit Bruce on numerous occasions over the years. Finally, arrangements were made. We'd see the tropical paradise Canada had snubbed and find out how my naïve 1980s political ambitions may have panned out.
My wife Florence and I learned even before clearing customs at Providenciales airport that the TCIs still maintain a quaint "small-island" feel. Bruce and his wife Darlene had graciously offered to host us during our stay but the border guard wouldn't allow us entry. We didn't have Bruce's home address. The officer shook his head many times, threatening us with expulsion, before calling in his superior.
She looked at our paperwork, "Oh, you staying with Bruce? I just give him a call and get his house number." She dialled and five minutes later we were standing on the curb, throwing our stuff into Bruce's pickup.
We had only four days in the TCIs; a wise use of time was paramount. I wanted to evaluate whether Canada had blundered or done right in spurning the wishes of this British Protectorate. A quick but thorough analysis of the culture, economy and history was in order. I'd keep a tally of the positives and negatives. We began our research in a calculated, scientific fashion: so we went for beer and seafood, stuffing ourselves with fresh conch and island brew. The conch fritters were fantastic but the local beer (Turk's Head) was awful. Score: one/one.
In the morning Bruce offered us the use of his beater truck so we could explore the island. I was a bit nervous about driving a standard stick shift in a strange country. "Don't worry," said Bruce, "Provo (that's what the locals call Providenciales) is small, you really can't get lost". I felt better until I turned out of his driveway onto the main highway and realized everyone was driving on the wrong side of the road. I geared down and careened into the steamy Caribbean chaos.
Our methodical investigation continued… with lunch by the sea at Grace Bay – named by Condé Nast as one of the top beaches in the world. The fish was delectable and the beer (Presidente, imported from the Dominican Republic) palatable. The score was starting to favour the unionists.
That afternoon Bruce abandoned his clients to take us on an insider's tour of his small island. The TCIs are a string of Cays ("Keys") located at the eastern end of the Bahamas chain. The capital is Grand Turk, an island 100 kilometers from Providenciales. There are numerous small Cays – mostly uninhabited – between these two major islands. Due largely to the influence of Canadian ex-pats, Provo has evolved to become both the commercial and tourism center of the TCIs.
Bruce drove us through the high-rent district. If you are in the market for a multi-million dollar beachside home, Provo has plenty to offer. And if you change your mind and decide to sell, there is no tax payable on any gain in value. In fact there's no tax of any kind in the TCIs: no tax on income or capital gains and no annual property tax on your house. But import duties and the cost of living are painfully high. Duty can be as much as 45% of a car's value. And when you buy your dream home in paradise there is a one-time stamp fee payable equal to 9.75% of the purchase price. On a $1,000,000 property the fee is almost $100,000! Ouch, that's a lot of postage.
These punishing import duties have led to some clever avoidance strategies. For example, the Turks and Caicos has many, many churches… all exempt from duty. Thus, even the humblest pastor usually drives a shiny new SUV.
We also toured the low-rent district, a stone's throw from where the millionaire's reside. The poor area, dubbed Five Cays, is where the immigrant workers – primarily Haitian – live.
The unmaintained road into Five Cays is almost impassable. This explains the abandoned vehicles we encountered – some converted into makeshift shelters; and many of the shanty houses here are a work-in-progress.
"We build piece-piece," the locals explain. Bruce often does free legal work for the poor of Five Cays. He should be careful. This kind of attitude could bring an end to lawyer jokes.
There are a number of different, confusing categories of residency in the TCIs. We arrived on a temporary (30 day) permit. Bruce and his wife are permanent residents. The Haitians rely on work permit residency.
Then there are the "Belongers". Only those persons born on the islands (with island ancestry) are true citizens, entitled to vote and hold office. Bruce and Darlene have been permanent residents of the TCIs for over two decades but can't vote. They'll never be Belongers.
This bizarre restriction on citizenship has led indirectly to a major challenge facing the Turks and Caicos: a legacy of nepotism and corruption. One afternoon Bruce took us snorkeling. We boated past the palatial home of ex-premier Michael Misick in the Leeward neighbourhood of Provo.
After building his mansion Mr. Misick leased it to the government. Then he moved in – as tenant – and collected $10,000 a month in rent from government coffers. The same day we cruised by the house, Interpol apprehended Mr. Misick in Rio de Janeiro on an international arrest warrant on charges of corruption and maladministration. Michael Misick apparently lacks neither cash nor gumption.
The tally was thickening. Would it really benefit Canada to get into bed with these types – even if the bed was a hammock swaying in a tropical breeze?
Time was running short. To judge matters objectively I needed more first-hand data… so I went bonefishing with "Bar", a local guide. Wow! The fight presented by these fish is absurd. If you are a fly-fisherman put this adventure on your bucket-list. One moment I was admiring a juvenile nurse shark hovering in the shallow waters beneath Bar's flat-bottomed boat and the next the line was spinning uncontrollably outward. It was ten minutes before I had that slippery little devil in my hands.
Motoring back to Provo we trolled past Bruce Willis' house on Parrot Cay but the place looked deserted. Perhaps he was over at Demi Moore's place having an ex-spouse, ex-pat spat.
I owed Bar $500 for the morning's fishing (I told you the TCIs are expensive). We agreed to meet at a bank up the road – but as we pulled in it was being robbed. "What happened?" I asked the security guard next door. "Sketchy… it happen piece-piece," he answered cryptically. Crime is not really an issue in the TCIs but, embarrassingly, the Provo Police Station had also recently been burgled. Thieves made off with guns, ammo and drugs held for pending court cases; adding insult to injury the police force's new uniforms ended up at a local pawnshop.
Then there's the "Potcakes" – Provo's stray dogs. Packs of barking Potcakes roam the streets of this little island at night, stealing sleep from rich and poor alike. Unfortunately, the government funding for a much-needed sterilization program came unleashed amid allegations of… corruption.
Bruce's dog Biana is a former Potcake, now fully civilized. During our boating afternoon Biana grew seasick but jumped overboard rather than vomit in her master's vessel. Bruce cut the motor, dove in and brought his AWOL canine back aboard; then she threw up.
The final tally? It's difficult to say. On our last night any negative karma evaporated when I stepped onto Bruce's deck, into the sultry Provo darkness, and smelled the air. Have you ever encountered night-blooming jasmine? The fragrance is difficult to describe but should I ever again detect its beauty floating on a tropical evening breeze, the recollection will return like scented déjà vu.
Perhaps it's best to let the Turks and Caicos dream drift away, unfulfilled. Like most things in life – politics included – things aren't so simple as may first appear. Still, it sure would be nice to see the Maple Leaf fluttering over a tropical sunset.
About the author:
Click below to read about some of Gerry's other great travel adventures.
Calgary man appeals conviction for drunk-driving crash that killed his daughter
CALGARY — A Calgary man who killed his daughter and seriously injured her best friend in a drunk-driving crash is appealing his conviction and sentence.
Michael Shaun Bomford was found guilty last January of dangerous driving causing death and bodily harm, as well as causing the 2016 crash while impaired.
He was sentenced to 5 1/2 years in prison.
Bomford has filed an appeal that claims the sentence was excessive and unreasonable in the circumstances.
He also suggests the trial judge erred by ruling hearsay text messages admissible at trial.
Bomford is serving his sentence at the Drumheller Institution in Alberta.
Court heard Bomford had three times the legal limit of alcohol in his system when he took his 17-year-old daughter, Meghan, and her friend, Kelsey Nelson, to get police checks so that they could become junior ringette coaches. 
His daughter did not survive the crash, while Nelson suffered a severe brain injury and has no recollection of it.
Bomford's trial heard that he lost control of his Jeep while driving 112 km/h in an 80 km/h zone. The Jeep rolled into the median and all three occupants were thrown out of the vehicle. (CTV Calgary)
This report by The Canadian Press was first published Jan. 21, 2020.
The Canadian Press
Premier Kenney Goes Ballistic on President Biden and PM Trudeau in defence of Keystone XL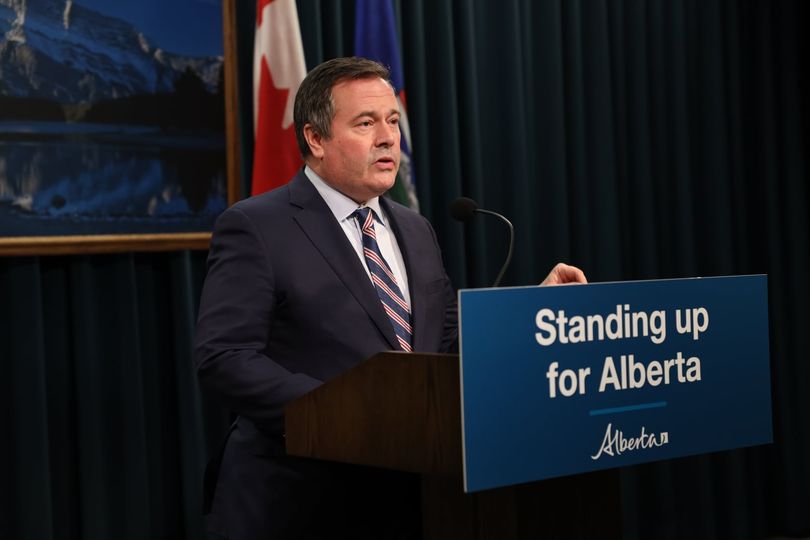 The day before President Biden's inauguration, the incoming government announced the President would rescind the Presidential permit for the Keystone XL Pipeline.  True to his word, one of the first actions of the new President was to retroactively cancel the pipeline which is partially owned by the Canadian Government.
Considering the massive investment by the Province of Alberta which would leave Alberta taxpayers also on the hook for about a billion dollars, Premier Jason Kenney has been speaking out loudly and aggressively.   Premier Kenney has used strong language including "This is not now you treat a friend and ally."
Regarding Canada's response (The federal government is a part owner of the pipeline) Kenney is also calling on Prime Minister Trudeau and the federal government to stand up and retaliate with statements such as. "When the former Trump administration slapped punitive tariffs on Ontario and Quebec steel and aluminum in 2018, the Trudeau government imposed $16 billion worth of countervailing tariffs on U.S. goods the very same day.  By contrast, when Alberta oil was attacked on Wednesday: nothing."
Here are statements Premier Kenney has released over the last three days in full:
January 19
"Canada should be President Biden's first priority in re-establishing U.S. energy security. Canada is the environmental, social and governance (ESG) leader among global energy powers.
Alberta's oilsands, once a source of carbon intensive barrels, has reduced carbon intensity by over 20 per cent in the past nine years. The average barrel produced in Canada is now cleaner than one produced in California.
Canada leads the world in key environmental categories like methane regulation, water use, and innovations like carbon capture and sequestration; and individual Canadian firms hold the top ESG scores in the industry.
TC Energy, the builder of KXL, has also committed to being net zero by 2030, ahead of its US peers, and hire a U.S. union workforce.
You won't get those commitments from Venezuelan shippers.
Canada's oil reserves are vast at 170 billion barrels, making Alberta's oilsands the third largest supply in the world, holding more oil than Russia, China and the USA combined. Keystone XL secures access to this strategic supply for purpose-built U.S. refining capacity in the Gulf.
On environmental and strategic grounds this should be far preferable to carbon-intensive rail transit — or alternate supply from Venezuelan tankers."
January 20
The United States is our most important ally and trading partner. Amongst all of the Canadian provinces, Alberta has the deepest economic ties to the United States with $100 billion worth of exports, and strong social connections that go back over a century.
As friends and allies of the United States, we are deeply disturbed that one of President Biden's first actions in office has been to rescind the Presidential permit for the Keystone XL Pipeline border crossing.
My thoughts are with the 2000 people who lost their jobs today, and all those who are coping with the devastating consequences of this decision.
The US State Department's own exhaustive analysis conducted under President Obama's administration concluded that Keystone XL would actually reduce emissions, as the alternative will be to move this energy by higher emitting and less secure rail transport.
The Government of Canada has more ambitious emissions goals than the new US Administration, and our provincial government is investing billions of dollars in the development of emissions reductions technology.
This means that Alberta, Canada, and the Keystone XL pipeline are part of the solution in the energy transition.
For months we've been told that the Biden transition team would not communicate with foreign governments on this or other issues. And now a decision has been made without even giving Canada a chance to communicate formally with the new administration.
That's not how you treat a friend and ally.
We will continue to fight for Alberta's responsible energy industry, and for the 59,000 jobs that this project would create.
Alberta's government calls for the federal government and Prime Minister Trudeau to immediately enter into talks with the Biden administration on their cancellation of the Keystone XL pipeline in the context of a broader agreement on energy supply and climate action.
Failing an agreement with the American government, we call on the Government of Canada to respond with consequences for this attack on Canada's largest industry. We are not asking for special treatment, simply the same response that Canada's government had when other areas of our national economy were under threat from the US government.
January 21
"He has been so anti-oil himself during his five-plus years in office (including not objecting loudly to the Obama administration's first cancellation of Keystone in 2015), that the incoming Biden administration must have known our Liberals wouldn't put up much of a stink if it killed Keystone.
When the former Trump administration slapped punitive tariffs on Ontario and Quebec steel and aluminum in 2018, the Trudeau government imposed $16 billion worth of countervailing tariffs on U.S. goods the very same day.
By contrast, when Alberta oil was attacked on Wednesday: nothing.
Also, Trudeau can be blamed for making the death of Keystone matter so much. Had Trudeau not killed two other all-Canadian pipelines — Energy East and Northern Gateway — the end of Keystone wouldn't be such a crippling blow."
From January 20