"Cook With Meg" creating community through online courses and camps for 3 years now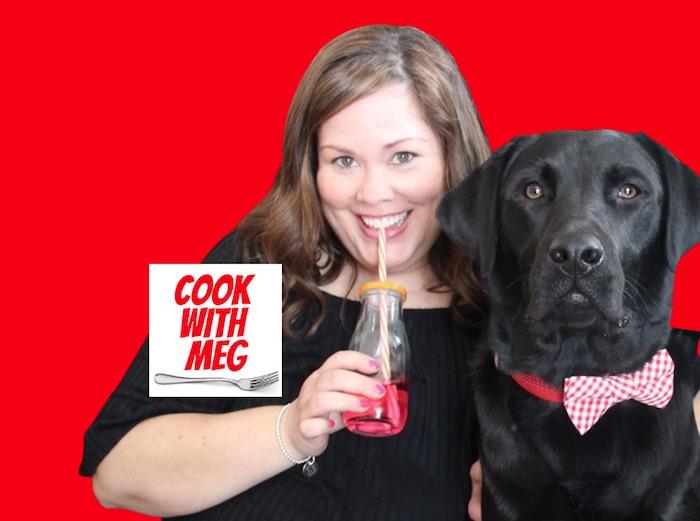 VIRTUAL COOKING SCHOOL THAT STARTED DURING PANDEMIC CELEBRATES 3 YEARS
On March 23, 2020, 27 families from across Canada connected via Zoom amidst the early days of lockdown to Cook with Meg. In this 4 day virtual cooking series, they made Picky Eater Sheet Pan Pancakes, Sticky Chicken Lo-Mein Noodle Bowls, Freaky Friday Fried Rice and That's A Lotsa Pizza D'oh using limited ingredients with former MasterChef Canada finalist Meg Tucker.
Many will remember when food products and ingredients were not readily available, so families used what they had, or what grocery stores click and collect services would provide. Through these daily cooking lessons, families not only cooked together, but formed friendships across the miles. Week after week, month after month, Cook with Meg grew to include families from Canada, USA, Mexico, Costa Rica, New Zealand and the United Kingdom.
Families became friends. We became a Cook with Meg Community.
Today, with over 6000 Zoom connections to thousands of families, the Red Deer and District Chamber of Commerce Small Business of the Year award and hundreds of five star reviews, Cook with Meg continues to thrive. Meg partners with the Egg Farmers of Alberta, Central Alberta Co-op, Alberta Pulse Growers, and Salton Canada to offer incredible experiences to families. She blends her years of experience and talents as a professional cook together by providing live and on-demand cooking classes and camps for families in six countries. Whether it's a class tackling some of the latest food trends, attending a virtual culinary summer camp, or an adult date night class, Meg's passion goes far beyond teaching people how to cook. It's building life skills, it's practicing patience, it's building kitchen confidence, strengthening family bonds and boosting self esteem.
No matter where you live, Meg says "everyone can connect through making and sharing food". To do that, Meg carefully designs her classes and camps in ways that help people to connect with their inner chef and the people around them.
A message from Meg: "To every person that has supported the Cook with Meg adventure. Whether you registered for a class, attended a class, liked a post on social, or shared us with your friends and family, THANK YOU. Thank you to all the families who continue to believe in the value of online learning, specifically in the kitchen. We often get asked if we will transition to "in person" classes, now that "life is getting back to normal". I have one simple answer. I always say we know that virtual and online learning was here before the pandemic, and it's definitely not going anywhere. I love it because for parents, you don't have to pack your kids in the car and drive them all over town. Your kids are getting to learn in YOUR kitchen, using your own appliances and tools. There is no learning curve, only a beautiful path to KITCHEN CONFIDENCE! So the answer is no. We are a virtual cooking school and will remain as such. This allows us to keep our costs low for you, to provide families with an amazing opportunity to learn and make friends all over the world, without boundaries!"
Head to cookwithmeg.com to register for one of our upcoming classes, and watch our social as Summer Camp registration officially opens May 1.
*******************
Meg Tucker has been creating shared experiences through media for over twenty years. Creator of the Shaw TV original kids cooking show Just One Bite, and a top twenty-five finalist on Masterchef Canada, Meg's catchy enthusiasm for life brings joy to everyone she meets in front of and behind her kitchen counter.
When the world shifted in March 2020, Meg made the ultimate pivot to build a food community called Cook with Meg..
Pay-Per-Chew: More restaurants trying subscription programs
Matt Baker, chef and owner of Gravitas, poses for a portrait inside the restaurant, Tuesday, Feb. 14, 2023, in Washington. Gravitas has a subscription service offering a monthly meal for two. (AP Photo/Jacquelyn Martin)
By Dee-ann Durbin
Consumers are willing to pay monthly subscription fees for streaming services, pet food and even toilet paper. And now some restaurants are betting they'll do the same for their favorite meals.
Large chains like Panera and P.F. Chang's as well as neighborhood hangouts are increasingly experimenting with the subscription model as a way to ensure steady revenue and customer visits. Some offer unlimited drinks or free delivery for a monthly fee; others will bring out your favorite appetizer each time you visit.
They're following a trend: The average American juggled 6.7 subscriptions in 2022, up from 4.2 in 2019, according to Rocket Money, a personal finance app.
"This is just another way for customers to provide a level of support and joy and love for our offerings," said Matt Baker, the chef at Gravitas, a Michelin-starred restaurant in Washington.
For $130 per month, Gravitas Supper Club subscribers get a three-course takeout meal for two. Baker said Gravitas shifted to takeout during the pandemic but saw demand fizzle once its dining room reopened. The Supper Club — which serves about 60 diners per month — keeps that revenue flowing.
The upscale Chinese chain P.F. Chang's also saw an opportunity to increase to-go orders with its subscription plan, which launched in September. For $6.99 per month, members get free delivery, among other perks.
Other restaurants are experimenting with memberships, which let diners pre-pay toward their visits.
El Lopo, a San Francisco bar, has 26 members in its Take-Care-Of-Me Club. They pay either $89 per month for $100 in dining credits or $175 per month for $200 in credits. When members come in, El Lopo starts bringing out their favorite dishes. Each visit, they can gift a free drink to anyone in the bar.
El Lopo owner Daniel Azarkman started the club in March 2021 to encourage patrons to return as the pandemic eased. Now, he's hearing from restaurants all over the country who are interested in starting similar programs.
"What it really achieves is getting them in more often," he said.
Rick Camac, executive director of Industry Relations at the Institute of Culinary Education, said he expects many more restaurants to offer subscriptions in the coming years. Consumers are accustomed to them, he said, and the regular monthly income helps restaurants manage their cash flow.
But not all subscription programs have had success. In 2021, On the Border Mexican Grill introduced its Queso Club, which offered free cheese dip for a year for $1. The program stopped taking new subscribers a year later.
Edithann Ramey, On the Border's chief marketing officer, said more than 150,000 people signed up for the Queso Club, and members visited seven times more often than the average guest. But the Dallas-based chain wasn't making enough to cover the cost of the dip.
On the Border is now retooling the program and expects to reintroduce it later this year. It may charge more or move to a monthly model, Ramey said, but the subscription element will remain.
"It's becoming kind of a hot trend and we want to stay as a leading brand," Ramey said.
Taco Bell is also tinkering with its $10 Taco Lover's Pass, which lets subscribers get a taco every day for a month. The pass was introduced in January 2022 and again in October; it generated buzz, but the chain is trying to think of ways to make it more valuable to consumers, said Dane Matthews, Taco Bell's Chief Digital Officer. A subscription could promise faster service, for example, or unlock unique menu items.
Other restaurants have dropped subscriptions, saying they have their hands full just running the kitchen.
In late 2020, SheWolf, an upscale Italian restaurant in Detroit, started sending subscribers a box of pasta, sauces and other treats for $80 per month. But when its dining room fully reopened six months later, it was too much work to put together hundreds of boxes.
Still, SheWolf is keeping one foot in the subscription space. Dan Reinisch, the restaurant's beverage director, sends Italian wines to about 80 subscribers who pay $60 or more each month.
Other businesses have had better luck. St. Louis-based Panera had nearly 40 million members in its loyalty program in early 2020, but it wanted to convince them to drop in more often. So it launched a subscription program that offered unlimited coffee and tea for $8.99 per month. Customers started coming in several times a week, and about one-third of the time they bought food.
Last year, Panera expanded the subscription. Now, members can pay $11.99 per month or $119.99 per year for unlimited hot and cold drinks. Annual subscribers also get free delivery.
Eduardo Luz, Panera's chief brand officer, won't share exact numbers but he said members now make up 25% of the chain's transactions.
"It's a huge traffic driver," Luz said.
The idea quickly spread overseas. Pret A Manger, a sandwich chain owned by the same private company as Panera, launched its own coffee subscription in the U.K. in 2020. As of November, it was being used 1.2 million times per week. Pret also offers subscriptions in France and the U.S.
Chris Hosford, a communications consultant in southern California, joined Panera's subscription plan a year ago. He passes four or five Paneras on his regular routes and often stops to grab a coffee and a bite to eat.
"It's not a huge amount of savings for me — probably $5-10 in the average month," Hosford said. "But I'm good with that."
Local brewery, Hawk Tail, releases new beer in honour of Alberta growers. Special release event Friday in Rimbey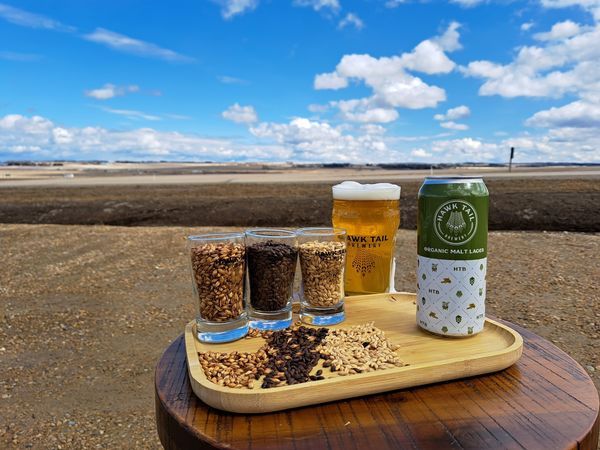 News Release from Hawk Tail Brewery
Small-batch brew meets soil health movement in Alberta. Nothing is more satisfying than ingredients that taste great and are good for the environment.
WHAT: In anticipation of its latest release, Hawk Tail Brewery announces a special tapping for its latest creation made from ingredients grown literally in their own backyard. Created with agriculture in mind, the lager is a great way to showcase unique Alberta products like grains, which form malt – a key ingredient in beer.
As the name suggests, Organic Malt Lager is brewed using quality, organic ingredients. However, the vision of this beer extends beyond ingredients and into the soil.
"As a locally owned and operated brewery, we strive to create traditional and refreshing beers as timeless as the agriculture that produces our grains and the environment it thrives in," explains Randall Vandenhoven, co-owner of Hawk Tail. "This marks an especially poignant stage in Canada's movement towards sustainability as more breweries work to reduce their ecological footprint."
Most traditional grain and hop farms use pesticides and chemical fertilizers, which can have negative environmental impacts. Instead, the company worked with two notable local companies focused on organic, wholesome food: Kettle Ridge Organics and Replenish Nutrients. With both companies certified organic and focused on soil health, Kettle Ridge Organics and Replenish Nutrients believe that only good barley can grow in good soil. Good beer is a bonus.
"Taste-wise, you wouldn't be able to tell the difference between an organic and a non-organic beer. However, as a proud Albertan, I wanted to enjoy a beer knowing it was as easy-drinking as it was easy on the environment," stated Chris Simeniuk, beer enthusiast and owner of Kettle Ridge Organics.
WHEN: May 13, 2022
WHERE: Organic Malt Lager release party starts at 5pm on Friday, May 13th at the Hawk Tail taproom at 6311 52nd St, Rimbey, AB T0C 2J0, Canada. 20 oz pints of Organic Malt Lager is on special $5.50 throughout the evening.
HOW: For more information, visit Hawk Tail's Facebook page: https://www.facebook.com/hawktailbrewery
If you happen to miss out on the event on May 13, Hawk Tail's taproom is serving limited quantities of Organic Malt Lager in both pints and growlers, and a small number of kegs are also available. Additionally, Hawk Tail's Organic Malt Lager is available at liquor stores across the province in 473ml cans.
ABOUT HAWK TAIL BREWERY
As a locally owned and operated brewery, we strive to create traditional and refreshing beers as timeless as the agriculture that produces our grains and the environment it thrives in. We pride ourselves on a local experience; quality local ingredients and small-batch production are our focus. Learn more about our beers and our taproom at hawktailbrewery.com.
ABOUT KETTLE RIDGE ORGANICS
Kettle Ridge Organics is a certified organic grain farm near Alix in Central Alberta, Canada. We are a family-owned and operated farming operation that plant and harvest our crops, fix our machinery, and perform almost every other task on a prairie grain farm. For more information, visit www.kettleridgeorganics.ca.
ABOUT REPLENISH NUTRIENTS
Replenish Nutrients delivers leading regenerative fertilizer solutions to support a farm system that puts healthy soils and grower profitability back on the table. We've developed a sustainable alternative to synthetic fertilizers that enhances overall soil function and biology by combining Canadian-sourced nutrients with our proprietary delivery system. To learn more about Replenish Nutrients products, visit www.replenishnutrients.com.