For the love of the game – a colleague's observations on the departure of an icon
John Hanson is a veteran news videographer and reporter at CTV Edmonton. He penned this thoughtful story shortly after Daryl McIntyre's departure from CTV this past Friday.
John's words sum up the thoughts of many who have had the good fortune to work with Daryl over the years. It's an inside view of the teamwork and mutual respect that is a hallmark of good television news gathering. I hope you enjoy this fitting tribute to a man who has been a daily fixture in the lives of literally hundreds of thousands of North Central Albertans.
"…Daryl would often joke that he had to "dry himself off behind the ears" before coming in for work in those days.."
by John Hanson
It's been 24 hours, at this writing, since I left the goodbye soiree for CTV's long-tenured anchorman, Daryl McIntyre. It was a fine party, hosted in the Edmonton studio's atrium, with many colleagues and friends on hand to raise a glass to our departing chum.
I and others made the melancholy observation that we will never see a "CFRN family" gathering like that at the station again. Too much water under the bridge. Too few geezers left from those early days, when it was known as Sunwapta Broadcasting, to warrant a party like this in the future.
Recent weeks have had me thinking about the times I worked with Daryl, and the era we both began our tenure at Mr. Rice's Broadcast House on Stony Plain Road.
I entered the old wagon wheel bedecked building on a student practicum from NAIT, late August of 1986. Daryl arrived in the newsroom as a reporter, late October of the same year.
I'm not exactly sure when I secured the casual gig shooting news later that fall, but it was by the good graces of my old friend Diet Velsink, interim photo supervisor at the time, who called me up wondering if I wanted a few shifts. That chance to earn my first pay cheque in TV news would turn into a full time job two years later, and continue to this day.
I was certainly the youngest photog in the newsroom at that time, and Daryl may well have been the youngest reporter. He's about a year older than me, but coming to CFRN with some small market news experience left him seeming more capable than any peers I knew from recent NAIT classes.
Daryl would often joke that he had to "dry himself off behind the ears" before coming in for work in those days. Though it never seemed to me he was on as steep a learning curve as I was.
Much has been said recently about his calm, decisive demeanour and solid on-air presence. From my earliest assignments with him, I found that to be his way of doing business. These were his factory settings. He may have gained experience in the years hence, but his intrinsic skills and capabilities were there from the start.
We worked together often in those years. At Edmonton's old city hall, in the Mayor Decore years, and on many general assignment stories.
The first big story we worked on together was the devastating 1987 tornado.
As a part-time news shooter, I had to use my own car for most assignments, believe it or not. A two-tone blue 1978 Oldsmobile Cutlass Supreme, with pillowy velour seats. Quite the news cruiser. With my news camera seat-belted in the rear, I filled the trunk with a tripod, light kit, 3/4 inch tapes and lots of batteries.
Dispatched to unknown carnage to the east, we decided that day, instead of my posh ride, we should take Daryl's black Toyota 4×4 pickup, in case ditches needed to be traversed or roads were otherwise impassable.
Other more senior crews were sent off to the Evergreen trailer park and other north Edmonton neighbourhoods, while Daryl and I went to Sherwood Park and the industrial areas of the county.
We met up with RCMP at the detachment, who were agreeable to showing us around some of the devastated areas. Semis and other massive pieces of metal, scattered and flattened as far as you could see. I recall an aluminum fishing boat wrapped around a telephone pole, appearing like a piece of tin foil folded around a pencil. The catastrophic events of that day were an extraordinary thing to witness.
I think we must have driven our story back for CFRN's 11th Hour newscast, as tape feeding options in those years were nonexistent.
After moving to the 6pm anchor desk, following Bob Chelmick's departure to CBC, working in the field with Daryl became less predictable. Special features and big events were the times he got out of the studio. Usually when the poo hit the turbine, you knew it would be time to work with Daryl again. Fires in Slave Lake and Ft. McMurray, are recent examples.
Having him on scene, you always knew the shoot would go as smooth as glass, no matter what curve balls came our way. His abilities raised the bar on every assignment. Daryl made everyone better by example and by your self motivation to keep pace with him as a professional, and not just because we were scared of his piercing glare. Good lord, he could cut glass with that look!
At one point, I shot a feature with Daryl inviting then mayor Bill Smith out to the McIntyre acreage to ride horses for a little informal polo fun. It may have been early in Smith's tenure, and this was a casual, disarming venue to chat with the mayor. The details are lost to the sands of time, in my mind. What sticks, is the passion Daryl had for his horses and that rural environment.
I also recall Daryl was quick to point out that the polo he enjoyed was not the champagne and caviar variety one thinks of with that regal sport. He and his polo friends were very much of the beer and potato salad crowd.
For the love of the game, not any pretentious motives, I think its fair to say. Quite similar to the way he approached the anchor desk.
I recall a comment he made some years ago, when someone asked if he had any advice for young people wanting to follow his career path. He said, if you're only getting into the job because you want to be on TV, that's the wrong reason.
I always thought Daryl was into the job for the love of the game.
For the love of telling a good story.
For good journalism.
His comments yesterday that he began his career with hope to one day be remembered as "a helluva newsman", bear this out.
He was in it for the right reasons, and he did the job exceptionally well for over three decades.
Now, I'll quit going on like I'm writing his eulogy. Because, in the the immortal words of The Pythons, he's not dead yet.
I certainly hope I have occasion to work with Daryl again. Unsure in what circumstance that will ever happen, but I value the time we had, and the era we worked in broadcasting.
For the love of the game.
Conservative MP Leslyn Lewis condemns MAiD in Parliament as targeting nation's most vulnerable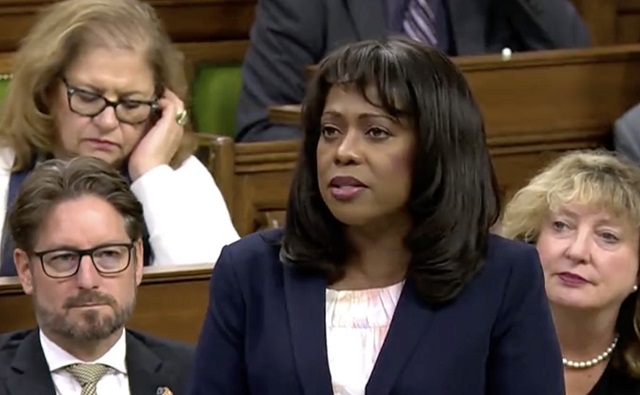 'I call upon with government to reverse its course and instead provide help and hope for Canadians suffering with mental health conditions'
Conservative MP Leslyn Lewis condemned the Trudeau government's treatment of Canada's most vulnerable, revealing that 36 Canadians are euthanized every day. 
On November 28, Dr. Leslyn Lewis, Conservative Member of Parliament (MP) for Haldimand-Norfolk, Ontario, addressed Parliament on the dangers of Medical Assistance in Dying (MAiD), the euphemistic name for Canada's euthanasia regime.
"The poor, homeless, the abused, veterans, seniors, youth, adults suffering with disabilities, those suffering with depressions, and mental health conditions," Lewis said. "These are among the most vulnerable in our society that are falling through the cracks of Canada's Medical Assistance in Dying regime."
The most vulnerable are falling through the cracks of Canada's Medical Assistance in Dying regime.

Every day 36 Canadians die by MAiD, the HIGHEST NUMBER in the world. Canadians suffering with mental illness need help and hope, not euthanasia. This gov't must reverse course. pic.twitter.com/tT8x5PBpxq

— Dr. Leslyn Lewis (@LeslynLewis) November 28, 2023
"They are the ones who will be at risk when the MAiD laws in Canada are expanded in March 2024," the pro-life MP added. "Last year, death by euthanasia increased by 30 percent from the year before. Every day in Canada, 36 people use MAiD to end their lives, which is the highest in the world."
"I call upon with government to reverse its course and instead provide help and hope for Canadians suffering with mental health conditions," Lewis appealed.
On March 9, 2024, MAiD is set to expand to include those suffering solely from mental illness. This is a result of the 2021 passage of Bill C-7, which also allowed the chronically ill – not just the terminally ill – to qualify for so-called doctor-assisted death.
The mental illness expansion was originally set to take effect in March of this year. However, after massive pushback from pro-life groups, conservative politicians and others, the Liberals under Trudeau delayed the introduction of the full effect of Bill C-7 until 2024 via Bill C-39.
The expansion comes despite warnings from top Canadian psychiatrists that the country is "not ready" for the coming expansion of euthanasia to those who are mentally ill, saying expanding the procedure is not something "society should be doing" as it could lead to deaths under a "false pretense."
Similarly, Angelina Ireland, the head of one of Canada's few pro-life hospice societies, recently warned that euthanasia has become a national "horror" show.
"Unfortunately, there is no reprieve in sight as think Medical Assistance in Dying (MAiD) becomes a national horror and the 'professionals' sharpen up their needles," Ireland told LifeSiteNews.
"We have reached the point where we must all protect each other from MAiD," she noted.
Euthanasia deaths have gone through the roof in Canada since it became legal in 2016.
According to Health Canada, in 2022, 13,241 Canadians died by MAiD lethal injection, which is 4.1 percent of all deaths in the country for that year, and a 31.2 percent increase from 2021.
The number of Canadians killed by lethal injection since 2016 now stands at 44,958.
MNP steps in to help youth "Move Your Mood" at the Sheldon Kennedy Centre of Excellence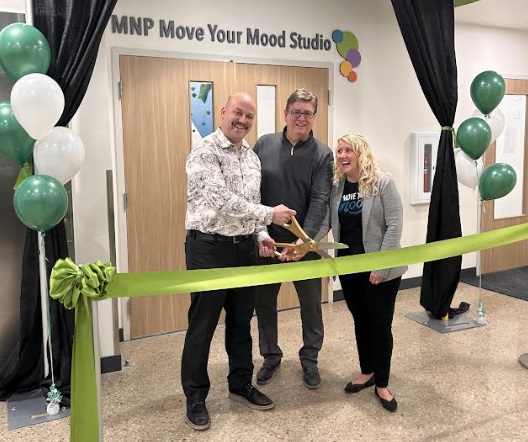 Ribbon Cut at the Newly Named MNP Move Your Mood Studio in the Sheldon Kennedy Centre of Excellence
The ribbon has been officially cut, and a new name announced for the MNP Move Your Mood Studio inside the Sheldon Kennedy Centre of Excellence.
The MNP Move Your Mood Studio held its naming ceremony and ribbon cutting on Tuesday, November 21st. Move Your Mood, an Alberta Health Services program, occupies a portion of Floor 2 inside the new Sheldon Kennedy Centre of Excellence on the main campus of Red Deer Polytechnic.
The new MNP Move Your Mood Studio has a large space for classes and physical activity, complete with a climbing wall, physical activity gaming wall, and kitchen.
A significant contribution was made on behalf of the partner group from MNP's Central Alberta region. This contribution reflects their commitment to investing in the communities that they are a part of.
"On behalf of the Central Alberta partner group and our entire team across the region, we are elated to celebrate the MNP Move Your Mood Studio," says Patrick Wigmore, Regional Managing Partner for MNP in Central Alberta. "At MNP we truly believe that making a positive difference in the communities where we live, work, and play is a fundamental part of who we are. Our partners throughout the region believe that pooling our efforts together to create a greater impact for organizations like Central Alberta Child Advocacy Centre and in turn, Move Your Mood, will leave a lasting legacy of positive impacts in Central Alberta. The decision to support the CACAC was unanimous."
Move Your Mood is a research-based program that promotes physical activity and healthy lifestyle practices to improve the mental and physical well-being of participants. The MYM program provides opportunities for participants to experience how to move their bodies, fuel their bodies, practice mindfulness, and build positive coping strategies.
"We would like to thank MNP for their generous donation to the Sheldon Kennedy Centre of Excellence and helping make this dream come true for children and youth in our community. We are grateful and honoured to share the name of the MNP Move Your Mood Studio and look forward to the opportunities this space will provide our entire community in the future. The space will be up and running in the New Year." – Denise Fredeen, Health Promotion Facilitator at Move Your Mood.
The MNP Move Your Mood Studio will be a shared space for all children and youth accessing services at the Sheldon Kennedy Centre of Excellence. The Studio will be a place where children and youth can learn positive coping strategies to improve their mental and physical wellness through interactive opportunities. There will be opportunities for them to play, practice mindfulness, be physically active, learn how to make healthy snacks and take part in creative activities.
The space will provide professionals in the building an opportunity to create positive connections and teach children and youth skills they can continue to be active and healthy for life. The space will also provide opportunities for prevention work with students in the community and a space for future training of RDP students and MYM Coaches.
To learn more about the MNP Move Your Mood Studio and its programming, please email
[email protected] or visit www.moveyourmood.ca.
About MNP: National in scope and local in focus, MNP is one of Canada's leading professional services firms — proudly serving individuals, businesses, and organizations since 1958. Through the development of strong relationships, we provide client-focused accounting, consulting, tax, and digital services. Our clients benefit from personalized strategies with a local perspective to fuel success wherever business takes them. For more information, visit www.mnp.ca
About CACAC: The Central Alberta Child Advocacy Centre is a not-for-profit organization rooted in the protection and recovery of today's most innocent and vulnerable – our children. The Centre is comprised of a collective that is driven by the courage to support children, youth, and their families affected by abuse, enabling them to build enduring strength and overcome adversity. We work in a collaborative partnership with the Alberta Children and Family Services, Alberta Health Services, Alberta Justice, Alberta Education, Red Deer Polytechnic, the Central Alberta Sexual Assault Support Centre and the RCMP. Together we harness our collective courage to provide children with
supported recovery. For more information on CACAC and the Sheldon Kennedy Centre of Excellence, please visit: centralalbertacac.ca