Youth and Volunteer Centre to celebrate opening of the Centre for Social Impact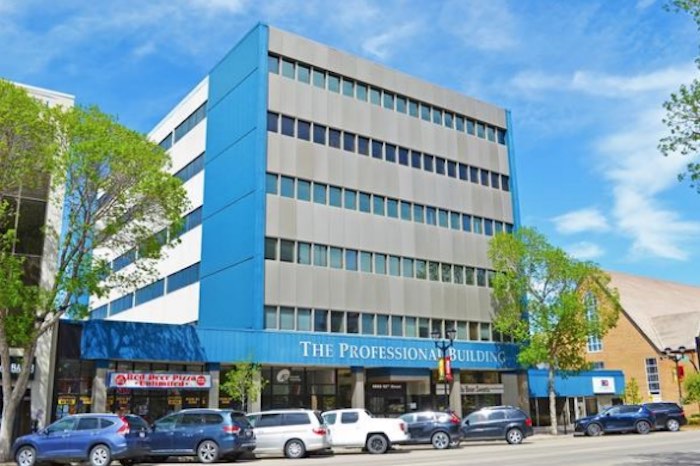 CENTRE FOR SOCIAL IMPACT GRAND OPENING AND OPEN HOUSE
Youth HQ is pleased to announce that the Professional Building located at 4808 50 th Street downtown is now the Centre for Social Impact. Supporters of the building share in the vison of providing charities and non-profit organizations access to a centrally located unique building that offers affordable office, program, and meeting space.
YouthHQ will be holding an Open House on Thursday, April 20, 2023 from noon to 5:00pm.
The Grand Opening and ribbon cutting will be taking place at 3:00pm.
Guest dignitaries for the official grand opening include Alberta Premiere Danielle Smith, Minister of Children Services Mickey Amery, MLA Red Deer North Adriana LaGrange, MLA Red Deer South Jason Stephan, and City of Red Deer Mayor Ken Johnston.
We invite charities and non-profits throughout Red Deer and area to visit the Open House to see and learn about the tremendous opportunities the Centre will provide for the community. Red Deer has long identified a need for a unique building dedicated exclusively to charitable activities, an inspiring place where charities and non-profit organizations collaborate. "Charities and non-profits are often subject to locations throughout the city based on affordability. With continuing rising operational and facility costs such as rent, utilities, and available space, charities and non-profits face challenges. The Centre for Social Impact will respond to these challenges so organizations can focus on what they do best – create impact in our community." states Rob Lewis, Executive Director, YouthHQ.
Tenants can look forward to affordable office space, shared meeting space and common areas, available reserved parking, affordable IT support on site, and exceptional ongoing building maintenance. Interested tenants are encouraged to contact Rob Lewis, Youth HQ for more information.
This is an exciting time for charities and non-profit organizations in Red Deer. The need for a location dedicated to social impact is finally a reality. Thank you to all our supporters for sharing in our vision and making the Centre for Social Impact a reality that will benefit Red Deer well into the future.
Summary
Red Deer has long identified a need for a unique building dedicated exclusively to charitable activities and maximizing social impact. The proposed Centre for Social Impact (CSI) would be an inspiring place where charities and non-profit organizations can collaborate; a place centrally located where families can readily access a variety of supports and services; a place where organizations can share resources and minimize rising operating costs; and a place with in-house maintenance and operational supports.
Charities and non-profits are facing numerous challenges that threaten their ability to fulfill their respective missions. Rising operational costs (rent, utilities, service supports, insurance, etc.) directly influence the impact of the public donated dollar. Combining these rising costs with an increased demand for services limits the capacity for these organizations to respond to those needs. The ever-increasing competition for a declining public dollar has never been greater than it is today. The post-pandemic reality for charities and non-profits that were able to weather the storm the past three years, combined with the present economy, has compounded these challenges. The need for a building dedicated to social impact has never been greater.
Youth HQ has recently acquired a building that will not only benefit the services within Youth HQ but will also directly benefit many charities and non-profits in Red Deer and Central Alberta. The Professional Building, located on Ross Street, will become the Centre for Social Impact for the purpose of supporting charities and non-profits. The building was acquired via a donation from Maclab Properties Group, a private real estate organization with a long history of strong support for Alberta's non-profit community.
IMPACT TO CHARITIES AND NON-PROFITS
 Centrally located with easy transportation access
 Readily accessible to numerous services and supports under one roof
 Low and affordable sq ft rental rates
 Small office space or large office spaces available
 Meeting rooms readily available
 Large workshop/training or meeting space in lower level
 Low cost on-site IT tech support
 Ample parking in the downtown core
 Building maintenance and security
 A building that has significant improvements and upgrades
 Shared common areas.
 Opportunities for organizations to collaborate readily as needed.
 Less dollars dedicated to operational expenses.
 More dollars dedicated to programs and direct services.
CLIENT IMPACT EXAMPLE
A Single parent mother with 3 children visits the Centre for Social Impact for services and supports. After receiving some counselling and being connected to a support group she discovers that there are other services which can offer support for her children. The 8-year-old girl is matched to a mentor in the Big Brothers Big Sisters program. Her two boys are put on a waiting list for a mentor, but are connected to BGC, and become registered in the community-based after school program in Fairview. The impact of this story is that the mother was able to walk into one door and get connected to four organizations offering supports for herself and her children. Agencies will also be able to collaborate more effectively with one another in support of the families and community we all serve.
LEASING INQUIRIES
Charities and non-profits are invited to tour the building. Lease rates are calculated based on the annual reported revenue of the tenant.
Simply contact Ryan Webb (Facility Manager) at [email protected] for more information.
SPONSORSHIP OPPORTUNITIES
The Centre for Social Impact has a variety of naming assets that may be of interest to perspective donors or supporters. Some of these assets include the name of the building itself, a training center in the lower level of the building, and a variety of areas throughout the building. For more information on sponsorship opportunities please contact John Johnston (Community Engagement Manager-Fund Development) at [email protected]
THE JACKPOT IS OVER $14000 AND THE WINNER WILL TAKE HALF!!!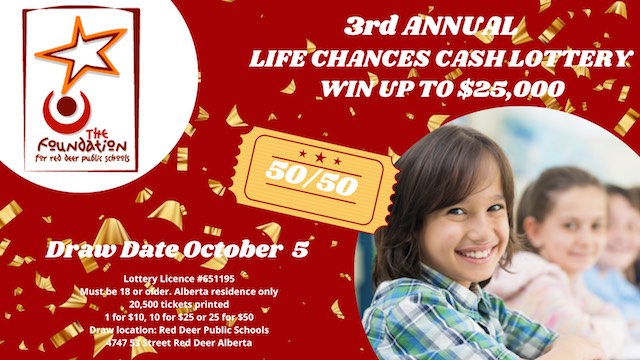 GET YOUR 50/50 TICKETSTODAY!!!! Winner could take home up to $25,000!!!
The Foundation for Red Deer Public Schools supports programs that have a significant impact on the LIFE CHANCES of students across the Division. By purchasing a ticket to support our 50/50 cash lottery you are giving students opportunities to have better life chances.
From giving kids a Bright Start to school to reconnecting with students so they graduate and cross the Finish Line, the Foundation helps students who face challenges in school and makes things better. We motivate struggling students and inspire them to read and write through Reading College. For students who come to school without basic needs, we give them that needed Step Up.
With the support from the Foundations 50/50 Life Chances Raffle, you are providing a student with opportunities that will improve their life. They can't always control the situations they're in but with your help students will continue to have these chances.
Don't miss your chance, CLICK HERE to buy your tickets today – Draw will be held on October 5! Good luck!
NOTE: This raffle is open to all community members in Alberta and over the age of 18.
Shelly Flint Appointed as New CEO of Westerner Park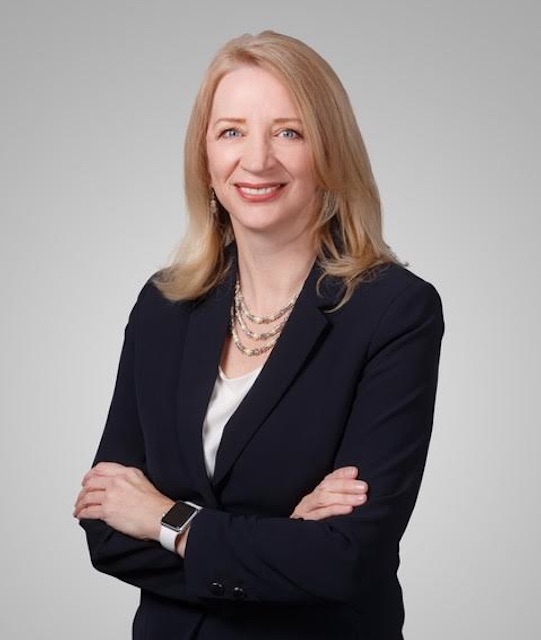 Westerner Park, a distinguished agricultural society and premier exhibition venue in the heart of Central Alberta, is pleased to announce Shelly Flint as its new Chief Executive Officer (CEO). This decision culminates a thorough and extensive search process, with the Board of Directors expressing their enthusiasm for the promising journey ahead under Shelly's leadership.
Tyler Nightingale, President of the Board of Directors, shared his excitement about the appointment, stating, "After a comprehensive search, we are thrilled to welcome Shelly. Her extensive experience, skill set, and knowledge align seamlessly with the strategic direction of Westerner Park, ensuring a positive and enduring impact on both the organization and the community at large."
Tara Lodewyk, Red Deer City Manager, added, "Shelly immediately connected with the mission of Westerner Park and the value it brings to the culture of our city and region. We are looking forward to working together and are confident in her leadership of Westerner Park."
For the past two decades, Shelly has served as a senior executive, spearheading diverse teams within Alberta's dynamic entertainment and finance sectors. Her tenure as the former CFO at the Calgary Stampede equips her with a distinctive insight into the intricacies of Westerner Park, enabling her to adeptly navigate its challenges and leverage its opportunities. Coupled with her roots in Central Alberta, Shelly is poised to steer the Park towards growth and long-term sustainability.
Shelly expressed her eagerness to join Westerner Park, saying, "I was thrilled at the opportunity to return to Central Alberta, where I grew up! Leading this purpose-driven organization will allow me to contribute to my community and affect meaningful change."
Shelly Flint's robust leadership, commitment to community, and extensive experience makes her an exceptional choice to lead Westerner Park into the future. The entire Westerner Park team eagerly anticipates the positive impact she will bring to this renowned institution.
About Westerner Park
Westerner Park is Central Alberta's largest tradeshow, agricultural, sports, entertainment, and convention facility. A not-for-profit organization and agricultural society, Westerner Park typically generates $150 million annually in economic activity, hosting over 1,500 events and 1.5 million visitors each year.