"You Have To Take The Emotion Out Of Investing" – Are You Considering Buying In?
Are you? You may not be the only one. We have seen stock markets like the Toronto Stock Exchange take major hits over the past two months due to the effects of Covid-19 taking its toll on almost every industry. With some recent rises in markets continuing to build investor confidence, we are still left in the unknown for why this is happening. Living through a historically unprecedented time uncovers a long list of questions and concerns for our livelihood as individuals, quality of life for the future, and how best to navigate through this time. I'm sure during the Irish potato famine in 1845-1849, there were many people asking – what's going on with all the potatoes? 
In a survey undertaken by the group "500 Startups" based in Silicon Valley, surveyed a group of investors to report on how they have been affected by the pandemic. The investor group consisted of venture capitalists, angel investors, corporate venture investors, and family office investors. The report showed 83% having their investment activity and plans be affected by Covid-19. As seen in the chart below, 62.6% of the group feel that startups and early-stage investors will be feeling the effects of the pandemic for 1-2 years. Their advice to startups during this time is to simply decrease costs and to increase their runway for how long they can stay in business. 
Data taken from 500 Startups report on The Impact of COVID-19 on the Early-Stage Investment Climate
We spoke with Kevin Skinner, an investment advisor for Servus Wealth Strategies, who gave us some insight and knowledge pertaining to open concerns for novice investors who may be seeking to enter the market or simply are in the dark for what to with their holdings. Kevin has been working in the financial services industry for over a decade and is a top investment advisor in their St. Abert branch. 
Considering what we have seen so far in stock markets, Is it a good time for new long term investors to buy now or continue to wait?
Striving away from the idea that fortune-tellers exist within trading, which is not true, a good education on markets is always a good pre-market investment of your own time. In regards to those looking to be a long term investor, he mentions:
"If you're a long term investor the adage is that it's always the best time…so question number one has to be, can you afford to invest the money right now…the second question is, what else can you do with this money. If you have $10,000 in the bank and $10,000 in credit card debt, always better to pay off the debt than you are investing that money."
We want our money working for us right? Having a solid grasp of how your money is working for you may allow you to make a better-educated investment without adding any financial risk. The idea that there are smoke signals in the market to tell you it is the right time to invest, he mentions:
"If it was that easy, I would be sitting on my private island somewhere enjoying the world…It really is about investing correctly and investing to your plan. If your plan is to have the money for the long term, You need to have an understanding of your risks and your comfort."
What if I have money to invest right now, should I wait for the bottom line? 
Kevin advised the dollar cost average tool to take the emotion out of investing. With so much volatility in the market, we revisit the concept that fortune-tellers exist to tell other investors when to buy; there is no way to fully identify the risks. To ensure you're getting good value for your money, Kevin offers an example of the dollar cost average approach:
"Take your pool of money, call it $12,000. You invest $1,000 a month in a particular fund. You catch the market as it wobbles, so you don't necessarily buy it all at the bottom, you're definitely not buying it all at the top. You're averaging your cost date and to get a good value for what you're buying."
Do you have an opinion on panic selling at a loss? 
Straight out of the gate, Kevin is a firm believer that anything that involves the word "panic" is never a good thing. Investopedia's definition of panic selling refers to the sudden, wide-scale selling of a security or securities by a large number of investors, causing a sharp decline in price. We have seen this as a result of the COVID-19 pandemic. Panic selling can be directly related to having an emotional connection to your investment, but to ensure the doom and gloom doesn't get the better of you, having an objective view allows you to stay logical and stick to your plan. Kevin mentions: 
"you have to do whatever you can to pull that emotion back out. Panic selling immediately is focused on the emotional side of it. You have to remove the emotion from investing."
Not as easy as it sounds right? We are going through an emotionally ramped up time during this pandemic, not to mention dealing with all the other unknown realities of how our economy will bounce back or when the non-essential business will be reopened. Kevin recommends choosing places to move your investments to take the panic out. 
"You don't call a realtor when your house is on fire. That's where we're at in the market right now, we know the house is on fire. We don't know how long it's going to last, how bad it's going to be, or what it's going to look like when it's put out."
Can you offer any comment on the fear of more lows, or what are the key indicators that we should be aware of?
We have seen stocks rise over the past week due to economic stimulus measures and the actions being taken to gradually reopen global economies. Experienced investors are forward-thinking individuals, they take into consideration the risk-reward for having objective optimism in certain industries. Kevin encourages to take the view that the rises we have seen are temporary for now, he mentions:
"Know that there's another drop coming. Know that we don't know how bad it's going to be. And we don't know how long the recovery is going to take. which is why we're saying it's going to be 2021 at least before the flooding of the market recovers"
We are expecting a long and slow road to recovery, but finding the bottom line can be almost impossible. Ask yourself, what happens to market optimism if a vaccine is made available tomorrow? Does that mean the market will become flooded with investors? It is impossible to know; by choosing a trusted investment advisor they can assist with taking the emotion out of your investments, and you can lean on their knowledge of markets to offer that objective optimism. For individual investors, it is useful to be aware of the activity in that sector to aid in growing your confidence, or the counter, it may give you key information to avoid a bad buy right now.
How have you been navigating through this time?
Kevin is one of many continuing to work from home during this period of self-isolation. With any new environment carries challenges. He is thankful for Servus Credit Union for the support he has received and the efforts put forward by the whole team. He has been spending some time in the welcomed sunshine playing sports with his 12-year-old son in his driveway.
What has Servus Credit Union been proactively doing to support its customers right now? 
Servus Credit Union released their response to COVID-19, issuing kind words to their members that they are here for them during this time. Their CEO, Garth Warner also released a personal letter to all of their members speaking on behalf of the team doing everything they can do to support their members. Kevin mentions:
"Our members are truly members, they're all owners. Everyone who deals with the credit union holds a piece of the credit union. Right now we're trying to keep our whole business, our owners, and our members afloat…so whatever we do, is what's best for us as an organization which means it's also what's best for our members"
What are you personally looking forward to after this period of self-isolation?
"I coach sports. Of course every kid's sport is canceled right now. We lost the end of our sports seasons for the winter, we're going to miss the beginning of our sports season for the spring. And that's what I miss most is getting outside with the kids and just having fun."
If you would like to learn more about Servus Credit Union, Servus Wealth Strategies or Kevin Skinner, visit their website or social links below.
Facebook       Twitter       LinkedIn       Instagram       YouTube
For more stories, visit Todayville Calgary
CP NewsAlert: Alberta eases some COVID-19 restrictions, hair salons can open
EDMONTON — Alberta is easing some of its public-health restrictions imposed in December to limit the spread of COVID-19.
Health Minister Tyler Shandro says personal and wellness services, including hair salons and tattoo parlours, can open by-appointment only.
Outdoor social gatherings, which were previously banned, will be allowed in groups of up to 10 people.
And the limit of people attending funerals is increasing to 20, although receptions are still prohibited.
The changes are to take effect Monday.
More coming …
The Canadian Press
From The Province of Alberta
Easing of restrictions for outdoor gatherings, personal services and funeral attendance will take effect Jan. 18.
While indoor gatherings remain prohibited, up to 10 people will be allowed at outdoor social gatherings. Personal and wellness services will be allowed to open by appointment only. Funeral ceremony attendance will be increased to 20 people, with mandatory masking and two metre physical distancing. Funeral receptions are still not allowed.
All Albertans, businesses, organizations and service providers must continue to follow all other existing health measures.
"This limited easing of restrictions is possible thanks to the efforts of Albertans over the past few weeks. But, we need to be careful that we don't reduce too early and risk the steady improvements we've made since November. We want to ensure the safety of Albertans, while balancing the uncertainty faced by Alberta businesses and service providers. We will be continually evaluating the public health data to make adjustments where possible."
"Albertans have done a good job of staying the course and abiding by public health measures, but we are still seeing high hospitalizations and case numbers, and this continues to put a serious strain on our health-care system. How much further we can ease restrictions depends on our collective efforts over the coming days and weeks to limit the spread of the virus."
"Although we've seen a decline in transmission, our health-care system is still at risk. We must remain diligent in our efforts to bring our numbers down even further. By easing some measures like outdoor gathering limits, we hope to support Albertans' mental health, while still following other restrictions that are helping us reduce case numbers."
Provincial and regional trends will continue to be monitored and assessed over the coming weeks to determine if further easing of restrictions may be considered.
Alberta's government is responding to the COVID-19 pandemic by protecting lives and livelihoods with precise measures to bend the curve, sustain small businesses and protect Alberta's health-care system.
Alberta production Pipe Nation seeking to tap musical talent for soundtrack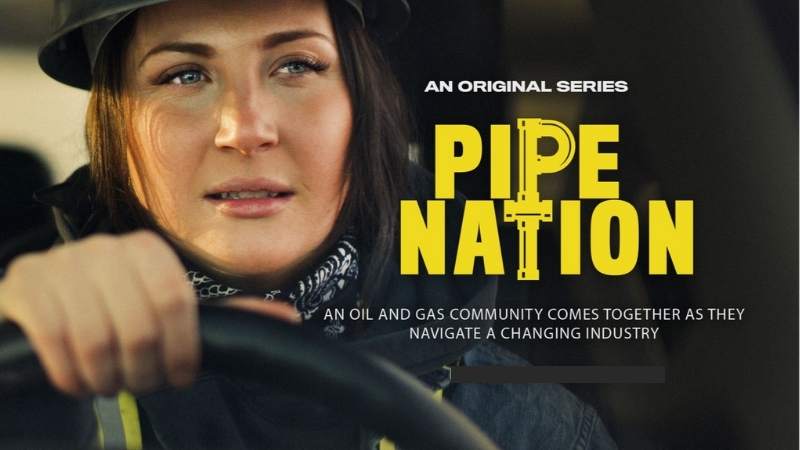 Here are the details.
January 13, 2021
Edmonton-AB, CANADA-​One of the largest independently funded tv-series in Canada, Pipe Nation, is seeking talented musicians to round out its soundtrack as the pilot episode nears completion.
The director, Raoul Bhatt, and executive producer, Dan Svedberg, are seeking submissions from Canadian and American artists to collaborate on the show's soundtrack.
The dramatic series is told through the experiences of a single mother working in the male-dominated, oil and energy industry. The pilot was filmed in August and September of 2020 in the picturesque mountains of Canada and the Edmonton area. 18 scenes and 180 takes were captured in Sundre, Alberta, which was transformed into the fictitious town of Hardwell. A great deal of effort has been put into this pilot including a $300,000 built for the show pipeline, a medical helicopter, and a long list of heavy equipment worth $180 million.
The scenes are now in editing, where the crucial process of pairing beautiful scenes with dramatic music is underway. Several genres of music including, rock, blues, country, electronic dance music, and classical will be used in the series. The show's soundtrack will be released on Apple Music, Amazon, Spotify and Google Play Music in the coming months. Director, Raoul Bhatt and his team have been in post-production for the last three months​. ​The pilot tv-series is expected to be complete by February 2021.
Musicians, labels, bands looking to collaborate or submit their work, please contact Executive Producer & Sound Designer, Daniel Svedberg, and Director, [email protected]
Read more on Todayville.