School Winding Down, Downtown Farmer's Market, Semis Crash!
3:11 pm – Lacombe City Council learned this week that the Lacombe Police Service saw increased calls for service for property crimes, family disputes and injury collisions over the past year. They also told council that there has been a decrease in drug charges, impaired driving and break and enter incidents. Read More.
3:04 pm – Lacombe City Council has approved new subdivision design guidelines moving forward. Read More.
For more local news, click here!
11:38 am – Brent Sutter, General Manager/Head Coach of the Red Deer Rebels Hockey Club, announced the selection of forward Kristian Reichel in today's Canadian Hockey League Import Draft. Read More.
10:33 am – Innisfail Town Council has approved a number of changes for 56th Street. Details Here.
10:21 am – The Town of Sylvan Lake is continuing to work with the Summer Village of Norglenwold in it's Annexation efforts. Read More.
For more local news, click here!
10:00 am – Your chance to improve your money managing skills happens at the Penhold Multi-Plex during a Financial Literacy Workshop starting at 7 pm tonight. Read More.
9:40 am – Downtown Red Deer will be pulsating today with live music on the Ross Street Patio from 4:30 – 6:30 pm today. Details Here.
9:35 am – Farm fresh produce from Central Alberta farms will be at Red Deer's ATB Financial Downtown Market from 3:30 – 6:30 today. Read more.
For more local news, click here!
9:26 am – Red Deer's annual Mayor's Garden Party has been relocated to the Collicutt Centre today as a result of the inclement weather conditions expected this afternoon. Read More.
8:55 am – Get through the mid-week hump by checking out some live music at the Alexander Way Parklet today from 11:30 – 1:00 pm. Details Here.
8:36 am – Blackfalds RCMP are asking for the public's help in finding 55 year old Gordon Denton, who was last seen on June 25th. Read More.
For more local news, click here!
8:27 am – Stettler RCMP responded to a report of 2 semi's involved in an MVC at the intersection of Hwy 11 and Hwy 21 around 12:30 pm on Tuesday, June 27th. Mounties say one semi was travelling Northbound on Hwy 21 with the other travelling Westbound on Hwy 11. One of the semi's failed to obey a stop sign, proceeding into the intersection causing the collision. Both drivers were taken to hospital with what is believed to be non-life threatening injuries. The investigation is ongoing and charges are pending.
8:15 am – The Downtown Farmer's Market means road closures in the city's core today. Details Here.
8:05 am – Thousands of Central Alberta students are wrapping up the school year with many fun activities planned for their last full day of school today. At École Mother Teresa School in Sylvan Lake, Grade 3-5 students will showcase their many talents at the Elementary Talent Show being held in the Fine Arts Room. At Maryview School in Red Deer, the school will recognize student accomplishments over the past month and entire school year at a special "Shining Stars" Year-end Awards Assembly. At St. Martin de Porres School in Red Deer, students will participate in the final CREATE (Children Regularly Engaged Actively to Excel) Session of the year. Students will choose 3 sessions to participate in which they will focus on active living. The school will also hold the final assembly of the year with fine arts presentations, SMART draws, a year-end slideshow and presentations made to staff who are leaving.
RCMP looking for stolen boat and trailer worth over $100,000.00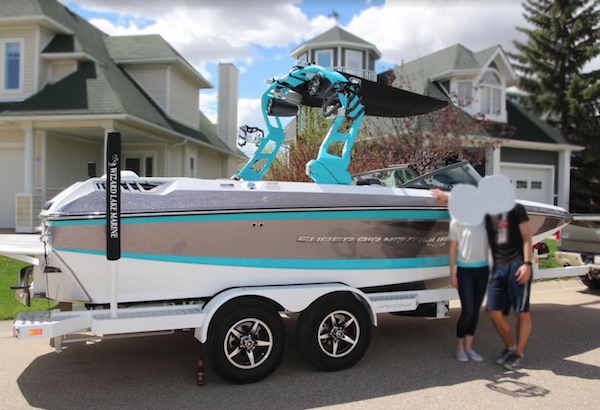 News Release from Sylvan Lake RCMP
Sylvan Lake RCMP request public's assistance in locating stolen boat
Sylvan Lake RCMP are investigating the theft of a boat and trailer that occurred between Sunday, May 30, 2021, and Tuesday June 1, 2021.  All attempts to locate the stolen property have been unsuccessful and the investigation is ongoing.
The boat is described as a 2017 Super Air Nautique 6522, teal and white in colour. The trailer is described as a 2017 white Boatmate. The value of the boat and trailer exceed $100,000.
If you have seen this boat and trailer or have any information in relation to this incident, please contact Sylvan Lake RCMP at 403-858-7200  or your local police. If you wish to remain anonymous, you can contact Crime Stoppers at 1-800-222-8477 (TIPS), online at www.P3Tips.com or by using the "P3 Tips" app available through the Apple App or Google Play Store.
Canada's Jessica Klimkait wins bronze in under-57 kg judo event
TOKYO — Canada's Jessica Klimkait has won bronze in the women's under-57 kilogram category at the Tokyo Olympics.
The reigning world champion from Whitby, Ont., defeated Kaja Kajzer of Slovenia by waza-ari in a bronze-medal match.
Klimkait missed a chance to add a gold medal to her world championship title when she lost to Sarah Leonie Cysique of France in the semifinals.
Klimkait was defeated by ippon when she was assessed a shido in the golden score period for a false attack. It was Klimkait's third penalty of the bout, giving Cysique a berth on the gold-medal match.
Klimkait was in fine form before her semifinal loss. She defeated Poland's Julia Kowalczyk in their quarterfinal bout at the Nippon Budokan.
The victory, her second straight via ippon, came after she beat Bulgaria's Ivelina Ilieva in the round of 16 earlier in the day
This report by The Canadian Press was first published July 26, 2021.
The Canadian Press