Why Canadians Should Care About Land Loss
Why Canadians Should Care About Land Loss
Developments are increasingly taking over Canadian farmland. Farms once took up much of Canadian land. However, that case is not true today. Only about 5% of Canada's land is considered prime farmland. This prime land borders one of Canada's fastest-growing regions, and once suburban development overtakes it, Canadian farmers will have a challenging time providing food for the cities.
Farmers in Canada make their livelihood by planting, growing, harvesting and distributing food to the Canadian populations. Without land, both farmers and the rest of those living in Canada will not get fresh, Canadian grown produce.
Here are some reasons why Canadian farmers should care about land loss:
Farmland Provides Food
While this is an apparent reason, it's an essential one. Prime farmland in Canada produces food for major Canadian cities. As farmers continue to lose land, they have to rely on a smaller acreage to make the same amount of food — if not more — for the growing population.
Over the past 10 years, almost 1 million hectares of agricultural land has diminished due to development and growing populations. Agriculture continues to adapt to land loss. However, further technological advancements must first take place to grow enough produce vertically rather than horizontally.
Land Preservation Will Help the Economy
Farmland preservations come with a wealth of economic benefits. Agriculture contributes to the economy through the following ways:
Sales: For the economy to survive, there needs to be consumer demands and sales. Almost everyone purchases produce, so there will always be a demand for those goods. Without land to grow agricultural products, no sales will be made, and the economy could suffer.
Job opportunities: Less than 2% of Canada's population works in the agriculture industry. While it's not much, that's still over 750,000 people. Preserving farmland shows a commitment to the industry. Land loss would create job loss. However, maintaining the farmland — and even reclaiming it, along with pastures — could boost the sector and, therefore, the economy. It would provide unemployed people with job security.
Secondary markets: Farmers are just one part of the food business. Because of farmers and farmland, secondary markets can thrive. These would include processing businesses, restaurants, schools, grocery stores and even waste management companies.
Canadian farmers should care about land loss because standing back and allowing companies to overtake the farmland could seriously affect the economy.
Farmland Benefits the Environment
Wildlife often depends upon farmland for both food and habitat. Various types of farmland create diverse habitats for many different species. Without land protection, these habitats and food sources would be destroyed, leaving many animals without a place to survive. Many would have difficulty finding a native habitat.
Additionally, growing crops helps eliminate some of the carbon dioxide released into the air. Air pollution could decrease for Canadian cities as long as no more farmland is used for development.
One major problem occurring with Canadian farmland is desertification. This happens when the soil loses nutrients and becomes barren. The urbanization of Canadian farmland is the primary contributor to desertification, which speeds up climate change and harms the environment. Keeping farmland as-is will slow down climate change.
Land Loss Affects Farmers' Jobs
Perhaps the main reason why Canadian farmers should care about land loss is because their livelihood could be taken away. If they don't have the means to keep up with technological advancements in the agricultural industry, they will not be able to continue their jobs if they experience land loss.
Agriculture is an essential industry. Not everyone can pick up the skills needed to grow their own food, and so many people depend upon farmers for nutrition and goods.
Take a Stand to Preserve Farmland
Farmland is a worthwhile and precious resource for many people. Reduction in farmland acreage will hurt Canadian farmers and the rest of the population, the economy and the environment. Taking steps to prevent more land loss can slow the rates of destruction and keep natural habitats thriving for both humans and animalls.
Click here read more stories by Emily Folk.
I'm Emily Folk, and I grew up in a small town in Pennsylvania. Growing up I had a love of animals, and after countless marathons of watching Animal Planet documentaries, I developed a passion for ecology and conservation.
USAID head urges crisis-hit Sri Lanka to tackle corruption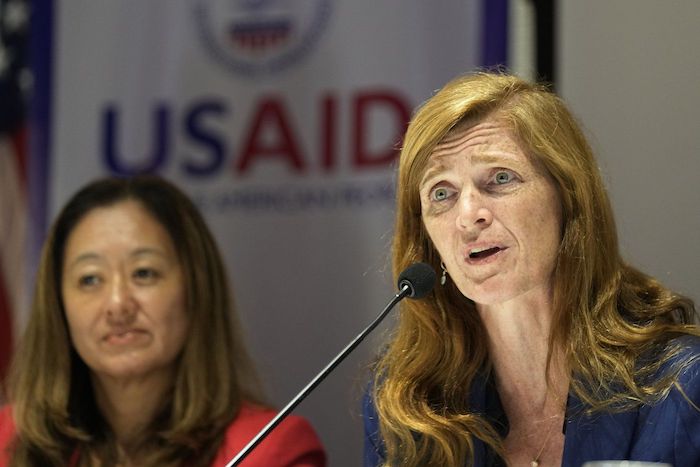 By Krishan Francis in Colombo
COLOMBO, Sri Lanka (AP) — A visiting U.S. diplomat on Sunday urged Sri Lankan authorities to tackle corruption and introduce governance reforms alongside efforts to uplift the country's economy as a way out of its worst crisis in recent memory.
USAID Administrator Samantha Power told reporters that such moves will increase international and local trust in the government's intentions.
"Assistance alone would not put an end to this country's woes," Power said. "I stressed to the Sri Lankan president in my meeting earlier today that political reforms and political accountability must go hand in hand with economic reforms and economic accountability."
She said that international investor confidence will increase as the government tackles corruption and proceeds with long sought governance reforms. "As citizens see the government visibly following through on the commitment to bring about meaningful change, that in turn increases societal support for the tough economic reforms ahead," she said.
During her two-day visit, Power announced a total of $60 million in aid to Sri Lanka. After meetings with farmers' representatives at a rice field in Ja-Ela, outside of the capital Colombo on Saturday, she announced $40 million to buy agrochemicals in time for the next cultivation season.
Agricultural yields dropped by more than half for the past two cultivation seasons because authorities had banned the imports of chemical fertilizers ostensibly to promote organic farming. She said that according to the World Food Program, more than 6 million people — nearly 30% of Sri Lanka's population — are currently facing food insecurity and require humanitarian assistance.
On Sunday, she said an additional $20 million will be given to provide emergency humanitarian assistance to vulnerable families.
Sri Lanka has faced its worst crisis after it defaulted on foreign loans, causing shortages of essentials like fuel, medicines and some food items.
It has reached a preliminary agreement with the International Monetary Fund for a $2.9 billion package to be disbursed over four years. However, the program hinges on Sri Lanka's international creditors giving assurances on loan restructuring. Sri Lanka's total foreign debt is more than $51 billion of which $28 billion must be repaid by 2027.
Power said that the U.S. stands ready to assist with debt restructuring and reiterated that it is imperative that China, one of the island nation's bigger creditors, cooperate in this endeavor.
Infrastructure like a seaport, airport and a network of highways built with Chinese funding did not earn revenue and are partly blamed for the country's woes.
Saskatchewan warns that federal employees testing farmers' dugouts for nitrogen levels could be arrested for trespassing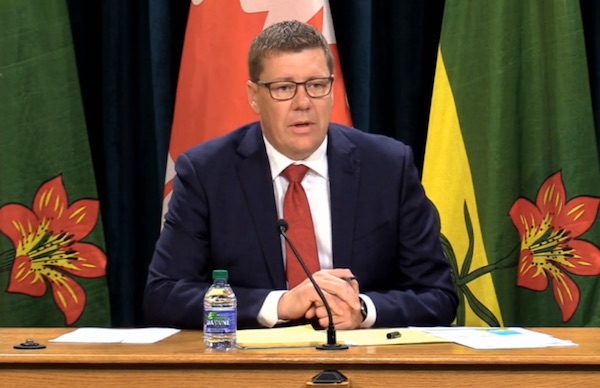 An escalating battle between Western Premiers and the federal government over restricting the use of nitrogen fertilizer has reached a new level of tension.
Premier Scott Moe
is demanding to know why federal employees of Environment Minister Steven Guilbeault are "trespassing" on private land in Saskatchewan. Moe signed a strongly worded letter (below) from Jeremy Cockrill, the Minister in charge of Saskatchewan's Water Security Agency.
The letter dated Sunday, August 21st states farmers from at least 3 different communities in southern Saskatchewan have reported Government of Canada employees in marked vehicles have been trespassing on their private land. When confronted, the agents have admitted to testing dugouts for nitrogen levels.
On his official Facebook page Moe says
"We are demanding an explanation from federal Minister Guilbeault on why his department is trespassing on private land without the owners' permission to take water samples from dugouts."
We are demanding an explanation from federal Minister
Steven Guilbeault
on why his department is trespassing on private land without the owners' permission to take water samples from dugouts. We have received reports of this occurring in several places throughout our province.
We have advised the federal government that this should cease immediately and if it does not, it will be considered a violation of the province's Trespass Act.
Violating this Act is serious, including a maximum penalty of $25,000 for repeat offenders, up to six months imprisonment following a conviction for a first or subsequent trespass offence, and a $200,000 maximum penalty for any corporation that counsels and/or aids in the commission of that offence.
Anyone wishing to report an incident of trespassing on private land can call 1-855-559-5502
Saskatchewan Premier Scott Moe has already
flatly said no thanks
to a federal initiative to restrict the use of fertilizer by up to 30%.
Premier Moe is not alone in this battle with Ottawa. Alberta's Premier Jason Kenney has already weighed in on the nitrogen restrictions in this strongly worded video shared two weeks ago.
Ottawa's planned attack on fertilizer will hurt our farmers.

It needs to stop.

Less fertilizer means less food.

Europe shut in about 50% of its fertilizer production.

Canada should not repeat the same mistake. pic.twitter.com/BztOiC1CPd

— Jason Kenney 🇺🇦 (@jkenney) July 27, 2022
The letter from Saskatchewan comes on the heals of another strongly worded letter from Manitoba's Agriculture Minister Heather Stefanson. In Stephanson's letter to Prime Minister Trudeau, she says this is no time to cut food supply and raise the price of groceries.