New mandatory province-wide measures to battle COVID will affect every business and family
From the Province of Alberta
New mandatory provincewide measures to protect lives
New mandatory health measures go into effect immediately to protect lives.
Expanded health measures will be in effect provincewide. All Albertans, businesses, organizations and service providers must follow all new health measures. These restrictions will be in place for a minimum of four weeks.
"Alberta has sought to protect both lives and livelihoods from the beginning of the pandemic. The recent surge in COVID-19 hospitalizations will threaten our health-care system and the lives of many vulnerable Albertans unless further action is taken now. With the promise of a vaccine early in 2021, we can see the end of this terrible time. But all Albertans must take this more seriously than ever by staying home whenever possible, and following these new measures."
"Alberta's case numbers and hospitalizations have reached a point where we must take stricter measures in order to protect capacity in our health system. These mandatory new health measures are some of the strictest we've implemented, but they are absolutely critical to the future of our province."
"These mandatory measures will help us slow the spread of COVID-19. This will require individual sacrifices that are necessary to protect our province. It's not just about one person, it's about doing what we can to protect and save our loved ones, colleagues, neighbours, and even strangers. Following these public health measures is how we as Albertans care for and protect each other."
New expanded mandatory measures come into effect Dec. 8 for social gatherings and mandatory masking. All others come into effect at 12:01 a.m., Dec. 13.
Social gatherings – immediate
All indoor and outdoor social gatherings – public and private – are prohibited.
Close contacts are limited to household members only.

Individuals who live alone will be allowed up to two close contacts for in-person visiting, with those two people remaining the same for the duration of the restriction period.

Festivals, parades, events, concerts, exhibitions, competitions, sport and performance remain prohibited.
Masking – immediate
The mandatory indoor public masking requirement will be extended provincewide.

Public spaces include locations where a business or entity operates and is applicable to employees, visitors and the general public.
Applies to all indoor workplaces and facilities outside the home.
Farm operations are excluded.
Rental accommodations used solely for the purposes of a private residence are excluded.
Places of worship – starting at 12:01 a.m., Dec. 13
All places of worship will be limited to 15 per cent of fire code occupancy for in-person attendance.

Virtual or online services are strongly encouraged.
Drive-in services where individuals do not leave their vehicles and adhere to guidance will be permissible and are not subject to capacity restrictions.
Mandatory mask mandate, physical distancing and other guidelines remain in place.
Retail – starting at 12:01 a.m., Dec. 13
Retail services must reduce customer capacity to 15 per cent of fire code occupancy, with a minimum of five customers permitted.

Curbside pickup, delivery and online services are encouraged.

Shopping malls will be limited to 15 per cent of fire code occupancy.
Closures – starting at 12:01 a.m., Dec. 13
Restaurants, pubs, bars, lounges and cafes will be closed to in-person service.

Only takeout, curbside pickup and delivery services are permitted.

Casinos, bingo halls, gaming entertainment centres, racing entertainment centres, horse tracks, raceways, bowling alleys, pool halls, legions, and private clubs will be closed.
Recreational facilities – fitness centres, recreation centres, pools, spas, gyms, studios, day and overnight camps, indoor rinks and arenas – will be closed.
Outdoor recreation is permitted, but facilities with indoor spaces except for washrooms will be closed.
Entertainment businesses and entities – libraries, science centres, interpretive centres, museums, galleries, amusement parks and water parks – will be closed.
Hotels may remain open but must follow restrictions – no spas, pools or in-person dining. Room services only.
Personal and wellness services, including hair salons, nail salons, massage, tattoos, and piercing, will be closed.
Health services, including physiotherapy or acupuncture, social or protective services, shelters for vulnerable persons, emergency services, child care, and not-for-profit community kitchens or charitable kitchens will remain open for in-person attendance.
Work from home – starting at 12:01 a.m., Dec. 13
Mandatory work from home measures will be implemented unless the employer determines that work requires a physical presence for operational effectiveness.
Closures – ongoing from Nov. 27
Entertainment businesses and entities – community halls and centres, indoor children's play centres and indoor playgrounds, theatres, auditoriums, concert halls, and community theatres, nightclubs, banquet halls and conference centres, indoor and outdoor festivals, concerts with the exception of drive-in events, tradeshows, and sporting events or competitions, remain closed.
Terrible day on the highways in Central Alberta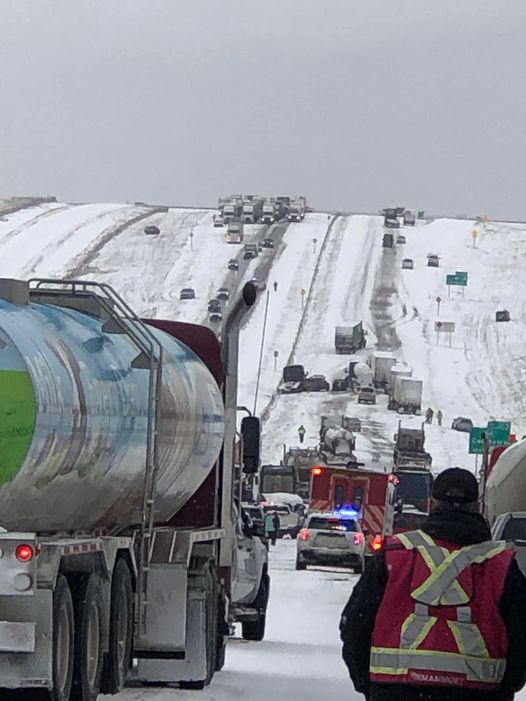 Photo by Melony Elle (Posted on Facebook)
Highways around Central Alberta have seen freezing rain followed by freezing temperatures and a covering of snow. Motorists are advised to use extreme caution and only drive on highways if it's absolutely necessary.
From Airdrie Rural and Disbury RCMP
Update at 2:28 PM Friday
Airdrie Rural RCMP and Didsbury RCMP investigating serious multi vehicle collision – Update
RCMP advise that 2 southbound lanes and 1 northbound lane is now open on Highway 2 at Highway 581. However, traffic is moving very slow at this time. It is estimated that emergency personnel will be on scene for another hour.
At this time, RCMP estimate that there were 25-30 vehicles involved. One driver was transported by ground ambulance with unknown injuries.
No further information is available at this time.
---
Background:
Airdrie Rural RCMP and Didsbury RCMP investigating serious multi vehicle collision
Airdrie Rural RCMP, and emergency medical services are currently on scene to a serious multi-vehicle collision. The collision occurred at approximately 11:25 a.m. on Hwy 2 at Hwy 581. Northbound lanes are currently closed. Southbound traffic has been reduced to one lane.
RCMP is encouraging motorists to avoid travel in this area.
---
Watch for updated news release.
U.S. senators call for trade crackdown on Canada over dairy quotas, digital policies
WASHINGTON — A pair of senior U.S. senators is urging the Biden administration to get tough with Canada for "flouting" obligations to its North American trade partners.
Democrat Sen. Ron Wyden of Oregon and Republican Sen. Mike Crapo lay out their concerns in a letter to U.S. Trade Representative Katherine Tai.
The letter says American dairy producers still aren't getting the access to the Canadian market they're entitled to under the U.S.-Mexico-Canada Agreement.
It also describes Canada's planned digital services tax as discriminatory and raises similar concerns about new legislation to regulate online streaming and news.
All three, the senators say, would give preferential treatment to Canadian content and deny U.S. tech companies fair access to the market north of the border.
The letter comes after meetings this week in San Diego between U.S., Canadian and Mexican trade emissaries, as well as the North American Leaders' Summit in Mexico City earlier this month.
The USMCA, referred to in Canada as CUSMA, has been at the centre of a number of bilateral and trilateral disputes since it went into effect in the summer of 2020.
"Three years later, it is disappointing that Canada and Mexico have failed to come into full compliance with the agreement — and, in some cases, have flouted their obligations," the senators write.
"USTR must take decisive action to ensure full compliance with the agreement and with dispute settlement panel findings. It is critical to ensure that every chapter of USMCA is fully and timely enforced."
Canada and Mexico have their own issues with how the U.S. is interpreting the deal, which was signed in 2018 after protracted trilateral efforts to replace NAFTA.
As the Mexico City summit wrapped up, a dispute panel ruled against the U.S. over how it interprets the rules that determine the origin of core automotive components.
It remains unclear whether the U.S. plans to comply with that decision.
This report by The Canadian Press was first published Jan. 27, 2023.
The Canadian Press