WATCH: A must see for guitar lovers and filmmakers
If you are a guitar player in Western Canada, then there's a pretty good chance you've heard of Central Alberta's Gilmore Guitars. A relentless promoter of live music and everything guitar, master luthier David Gilmore's beautiful instruments grace stages and studios with many well-known and many not so well-known musicians.
Gilmore builds beautiful looking, great sounding, and incredibly playable guitars. Pick one up, put your fingers on the fretboard, feel the playability, hit a string, and you instantly know you have a high-quality instrument in your hands.  And Matt Kooman creates beautiful video productions, in this case completely capturing David's passion for his craft.
So if you love beautiful things, and appreciate the time, energy and passion it takes to create them, then this video will check off a couple of boxes for you.
A couple of notes about this video.
Firstly, the music features Adam Dobres from Salt Spring Islands, and is performed on a Gilmore SJ very similar to the guitar in the video.  Born in Canada and currently living on Pender Island in British Columbia, Adam has toured all over the world with acts ranging from folk ensemble The Ruth Moody Band to pop rock singer Toni Childs. In 2016, he stepped into the spotlight with his self-titled debut album, earning him a nomination for instrumental artist of the year in the West Coast Music Awards.
Recently Adam toured with the Ruth Moody Band opening for renowned former Dire Straits guitarist Mark Knopfler, including 8 nights at the Royal Albert Hall in London.
Video was shot and produced by Matt Kooman at Makerhouse Studio in Red Deer. Matthew was born and raised in Red Deer, AB. He began his career directing the docudrama _E for Everyone: The Mouse and The Elephant (2007). He set out around the world with 5 film makers to ask a series of nine questions about happiness. The film took them to the US, UK, Kenya, India, Thailand and Malaysia, and was filmed over a 3 month period. Kooman has since worked on short films, music videos, documentaries and features both as an Editor and Director.
David Gilmore is originally from Radville, Saskatchewan, (Canada). After an upbringing that included 18 years on the family farm, David hi-tailed it to Saskatoon, Saskatchewan and enrolled at WABC radio school and started working as a radio announcer on January 11, 1981.  During that 30 year radio David spent in radio, he also toured relentlessly across the province, clearly addicted to guitar.
David started building guitars in 1995. Adrienne, his wife, graciously allowed him to attend a 10 week course at Timeless Instruments. There, under the tutelage of David Freeman he received his education and certificate in Lutherie. This course was only the beginning of a journey that is still happening.
"Gilmore Guitars" opened on a full time basis May 1st, 2011.
Here's a longer (7 minute) version of the above video.
"Winter Escape" Family Day Celebration will go on for 2 weeks!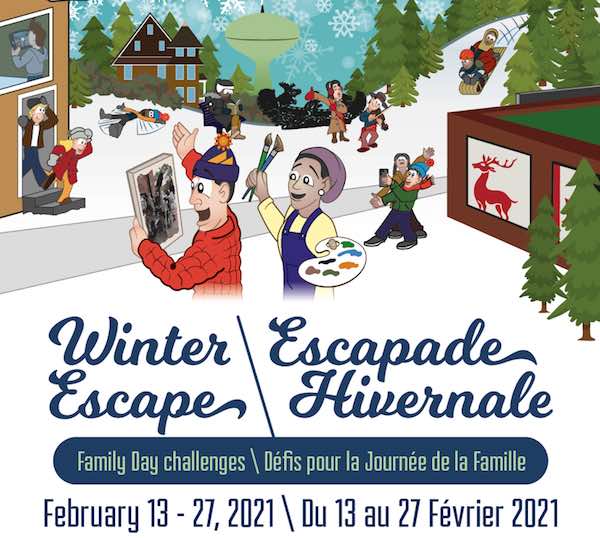 Submitted by Red Deer MAG (Museum and Art Gallery)
Extending Family Day: MAG to participate in 14-day cultural challenge
The Winter Escape Family Day Challenge arrives in Red Deer on February 13
Nine cultural organizations in the Red Deer Community are collaborating to create a Family Day celebration, Winter Escape/Escapade Hivernale, comprised of various activities, both outdoors and virtual, that participants can complete anytime between Feb. 13 and Feb. 27.  Despite the COVID-19 pandemic, local arts and cultural organizations are still finding ways to celebrate one of the most popular holidays: Family Day. Register yourself or a team at www.winterescapereddeer.ca  starting February 5th.
"We are trying to make the Winter Escape Challenge as family friendly, senior friendly, and accessible as possible," says Lynn LeCorre, Education Coordinator at the Red Deer Museum + Art Gallery (MAG). "We want people to explore culture and heritage in Red Deer, and recent circumstances have pushed us to think of new ways to make that happen."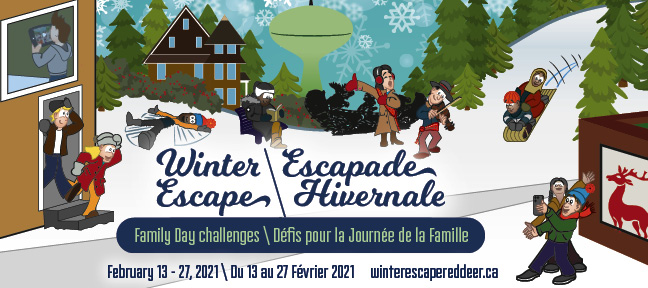 Challenge activities are designed to allow for safe social distancing while bringing participants together. Work individually or with a team to answer trivia questions and complete photo and video challenges. Activities include snapping a selfie in front of some of Red Deer's murals, learning simple powwow dance moves, and the MAG Virtual escape room. Teams can register online and join in on the challenge for free, and completion of challenges will allow participants to earn entries into a draw to win one of three gift baskets – one per team category. This event is offered in partnership by the Alberta Sports Hall of Fame & Museum, Association canadienne-française de l'Alberta, Norwegian Laft Hus, Red Deer Aboriginal Dance Troupe, Red Deer Arts Council, Red Deer Cultural Heritage Society, Red Deer Public Library, Red Deer Museum + Art Gallery (MAG), and Sunnybrook Farm Museum. In times of uncertainty, these organizations are excited to help bring culture to the people of Red Deer.
The Red Deer Museum + Art Gallery works to be Central Alberta's leading establishment for the research, collection and presentation of visual art and material culture that is related to this region. The MAG is a vibrant and inclusive gathering place for our community and its exhibitions and programs promote the enjoyment of art, culture and the history of Central Alberta.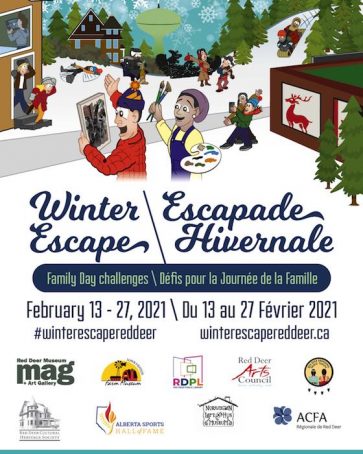 Alberta production Pipe Nation seeking to tap musical talent for soundtrack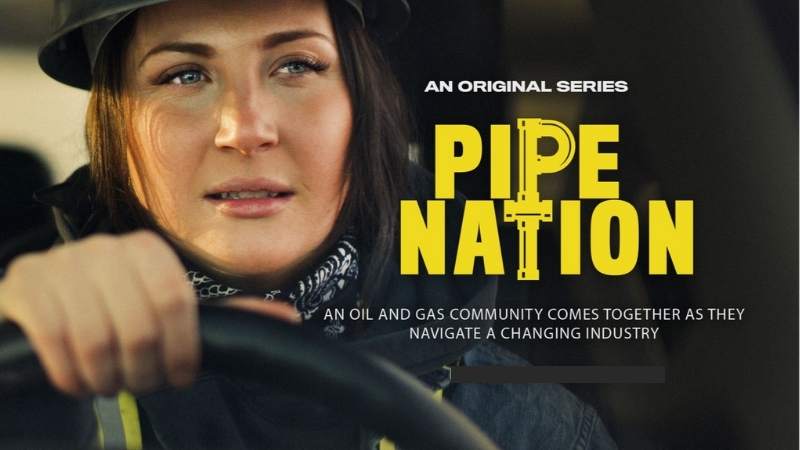 Here are the details.
January 13, 2021
Edmonton-AB, CANADA-​One of the largest independently funded tv-series in Canada, Pipe Nation, is seeking talented musicians to round out its soundtrack as the pilot episode nears completion.
The director, Raoul Bhatt, and executive producer, Dan Svedberg, are seeking submissions from Canadian and American artists to collaborate on the show's soundtrack.
The dramatic series is told through the experiences of a single mother working in the male-dominated, oil and energy industry. The pilot was filmed in August and September of 2020 in the picturesque mountains of Canada and the Edmonton area. 18 scenes and 180 takes were captured in Sundre, Alberta, which was transformed into the fictitious town of Hardwell. A great deal of effort has been put into this pilot including a $300,000 built for the show pipeline, a medical helicopter, and a long list of heavy equipment worth $180 million.
The scenes are now in editing, where the crucial process of pairing beautiful scenes with dramatic music is underway. Several genres of music including, rock, blues, country, electronic dance music, and classical will be used in the series. The show's soundtrack will be released on Apple Music, Amazon, Spotify and Google Play Music in the coming months. Director, Raoul Bhatt and his team have been in post-production for the last three months​. ​The pilot tv-series is expected to be complete by February 2021.
Musicians, labels, bands looking to collaborate or submit their work, please contact Executive Producer & Sound Designer, Daniel Svedberg, and Director, [email protected]
Read more on Todayville.