Todayville Top 5 features five facts about favourite fooderie… Earls
Todayville Top 5 is a sponsored segment produced by Jock Mackenzie (learn more about Jock below). In this feature we learn (you guessed it) 5 things about some really cool aspects of Red Deer that make this city, our home.
If our very first segment, Jock features a staple in Red Deer's dining scene since it opened in … well let's leave that up to Jock. Welcome to the Todayville Top 5 with Jock Mackenzie.
1 Heritage
Earls in Red Deer was the seventh-ever Earls in existence. Bill and Rhonda Olafson purchased the franchise and opened the current restaurant in 1984. Chef at the time, Andrew Lam, is still involved. Over the years, additions to the west and north have been added as has the covered, heated patio. The patio is unparalleled by other outdoor dining facilities for comfort and its Hawaii-like greenery. Today there are over 70 Earls restaurants across Canada and the United States. The founder, Leroy Earl "Bus" Fuller, brought A & W to Canada and is also the founder of the Fuller's and Corkscrew restaurant chains.
2 Community Support
Giving back to the community is a cornerstone of the Earls Red Deer philosophy. Those in need come first: rebuilding the youth camp at Camp Alexo, the Youth and Volunteer Centre, support for the Women's Shelter at their annual gala, title sponsorship for the last six years at Rotary's Black Tie Bingo, a 5-year ongoing plan to support the new Child Advocacy Centre, wine and wine service at the preview dinner for the Festival of Trees since the Festival's inception . . . and many more.
3 People
With over 80 people on staff, Earls has provided employment for high school and college students over its 35 year history. The Earls philosophy, the practical skill set, and menu knowledge make up the intensive training each support staff and server undergo. Consistency is a hallmark. Numerous staff members have made life careers at Earls–and that's one reason why you can count on a great meal every time.
4 Menu
Fresh ingredients are key! The kitchen deals with "just in time" orders so that produce and proteins (delivered three times per week) come fresh to each table. The menu is becoming more and more inclusive–it meets an ever-increasing variety of dietary needs: numerous gluten free and plant-based options are available.
5 Interesting tidbits
Beer? Earls brews its own Rhino beers (pale ale, lager and a seasonal beer) in Surrey, BC at Central City Brewery. There are also local products from Troubled Monk, Blindman and Snake Lake as well as a wide variety of domestic beer.
Four Earls "Test Kitchen" chefs travel the world looking for new ingredients and dishes. A "Test Kitchen" in Vancouver will roll out a new dish and tailor it to an appropriate market in the 70 locations across North America–the furthest away is Miami.
Want to know more? Click to go to https://earls.ca/locations/red-deer
Todayville Top 5 features the freelance writings of Jock Mackenzie.
Jock is an original Red Deerian! Educated at Lindsay Thurber and Red Deer College (with a stint at the U of A), he became an educator himself, spending 31 years with the Red Deer Public school system.
It's safe to say Jock knows Red Deer about as well as anyone (OK.. maybe not Michael Dawe). As a confirmed life-long learner, Jock never tires of getting to know his surroundings even better. That's where the Todayville Top 5 comes in. In each feature, Jock shares a few ingredients that go into the mix that makes this delicacy called Red Deer the place we want to call home. As a well organized person who knows you're busy, he's choosing just 5 juicy tidbits to share each time.
If you'd like to be featured by Jock Mackenzie on the Todayville Top 5, just contact us at [email protected].
"Cook With Meg" creating community through online courses and camps for 3 years now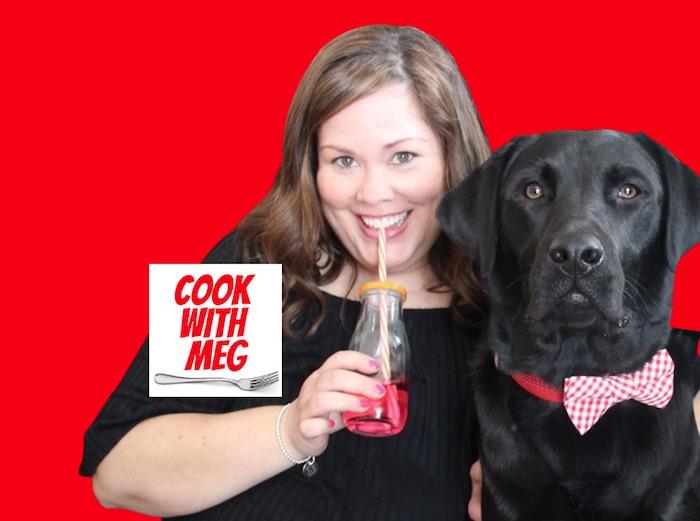 VIRTUAL COOKING SCHOOL THAT STARTED DURING PANDEMIC CELEBRATES 3 YEARS
On March 23, 2020, 27 families from across Canada connected via Zoom amidst the early days of lockdown to Cook with Meg. In this 4 day virtual cooking series, they made Picky Eater Sheet Pan Pancakes, Sticky Chicken Lo-Mein Noodle Bowls, Freaky Friday Fried Rice and That's A Lotsa Pizza D'oh using limited ingredients with former MasterChef Canada finalist Meg Tucker.
Many will remember when food products and ingredients were not readily available, so families used what they had, or what grocery stores click and collect services would provide. Through these daily cooking lessons, families not only cooked together, but formed friendships across the miles. Week after week, month after month, Cook with Meg grew to include families from Canada, USA, Mexico, Costa Rica, New Zealand and the United Kingdom.
Families became friends. We became a Cook with Meg Community.
Today, with over 6000 Zoom connections to thousands of families, the Red Deer and District Chamber of Commerce Small Business of the Year award and hundreds of five star reviews, Cook with Meg continues to thrive. Meg partners with the Egg Farmers of Alberta, Central Alberta Co-op, Alberta Pulse Growers, and Salton Canada to offer incredible experiences to families. She blends her years of experience and talents as a professional cook together by providing live and on-demand cooking classes and camps for families in six countries. Whether it's a class tackling some of the latest food trends, attending a virtual culinary summer camp, or an adult date night class, Meg's passion goes far beyond teaching people how to cook. It's building life skills, it's practicing patience, it's building kitchen confidence, strengthening family bonds and boosting self esteem.
No matter where you live, Meg says "everyone can connect through making and sharing food". To do that, Meg carefully designs her classes and camps in ways that help people to connect with their inner chef and the people around them.
A message from Meg: "To every person that has supported the Cook with Meg adventure. Whether you registered for a class, attended a class, liked a post on social, or shared us with your friends and family, THANK YOU. Thank you to all the families who continue to believe in the value of online learning, specifically in the kitchen. We often get asked if we will transition to "in person" classes, now that "life is getting back to normal". I have one simple answer. I always say we know that virtual and online learning was here before the pandemic, and it's definitely not going anywhere. I love it because for parents, you don't have to pack your kids in the car and drive them all over town. Your kids are getting to learn in YOUR kitchen, using your own appliances and tools. There is no learning curve, only a beautiful path to KITCHEN CONFIDENCE! So the answer is no. We are a virtual cooking school and will remain as such. This allows us to keep our costs low for you, to provide families with an amazing opportunity to learn and make friends all over the world, without boundaries!"
Head to cookwithmeg.com to register for one of our upcoming classes, and watch our social as Summer Camp registration officially opens May 1.
*******************
Meg Tucker has been creating shared experiences through media for over twenty years. Creator of the Shaw TV original kids cooking show Just One Bite, and a top twenty-five finalist on Masterchef Canada, Meg's catchy enthusiasm for life brings joy to everyone she meets in front of and behind her kitchen counter.
When the world shifted in March 2020, Meg made the ultimate pivot to build a food community called Cook with Meg..
Local brewery, Hawk Tail, releases new beer in honour of Alberta growers. Special release event Friday in Rimbey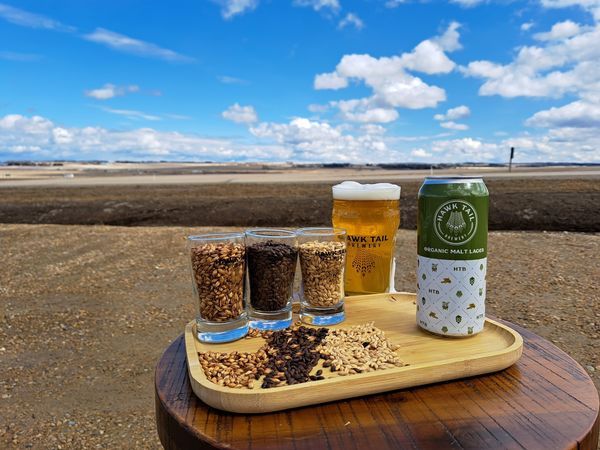 News Release from Hawk Tail Brewery
Small-batch brew meets soil health movement in Alberta. Nothing is more satisfying than ingredients that taste great and are good for the environment.
WHAT: In anticipation of its latest release, Hawk Tail Brewery announces a special tapping for its latest creation made from ingredients grown literally in their own backyard. Created with agriculture in mind, the lager is a great way to showcase unique Alberta products like grains, which form malt – a key ingredient in beer.
As the name suggests, Organic Malt Lager is brewed using quality, organic ingredients. However, the vision of this beer extends beyond ingredients and into the soil.
"As a locally owned and operated brewery, we strive to create traditional and refreshing beers as timeless as the agriculture that produces our grains and the environment it thrives in," explains Randall Vandenhoven, co-owner of Hawk Tail. "This marks an especially poignant stage in Canada's movement towards sustainability as more breweries work to reduce their ecological footprint."
Most traditional grain and hop farms use pesticides and chemical fertilizers, which can have negative environmental impacts. Instead, the company worked with two notable local companies focused on organic, wholesome food: Kettle Ridge Organics and Replenish Nutrients. With both companies certified organic and focused on soil health, Kettle Ridge Organics and Replenish Nutrients believe that only good barley can grow in good soil. Good beer is a bonus.
"Taste-wise, you wouldn't be able to tell the difference between an organic and a non-organic beer. However, as a proud Albertan, I wanted to enjoy a beer knowing it was as easy-drinking as it was easy on the environment," stated Chris Simeniuk, beer enthusiast and owner of Kettle Ridge Organics.
WHEN: May 13, 2022
WHERE: Organic Malt Lager release party starts at 5pm on Friday, May 13th at the Hawk Tail taproom at 6311 52nd St, Rimbey, AB T0C 2J0, Canada. 20 oz pints of Organic Malt Lager is on special $5.50 throughout the evening.
HOW: For more information, visit Hawk Tail's Facebook page: https://www.facebook.com/hawktailbrewery
If you happen to miss out on the event on May 13, Hawk Tail's taproom is serving limited quantities of Organic Malt Lager in both pints and growlers, and a small number of kegs are also available. Additionally, Hawk Tail's Organic Malt Lager is available at liquor stores across the province in 473ml cans.
ABOUT HAWK TAIL BREWERY
As a locally owned and operated brewery, we strive to create traditional and refreshing beers as timeless as the agriculture that produces our grains and the environment it thrives in. We pride ourselves on a local experience; quality local ingredients and small-batch production are our focus. Learn more about our beers and our taproom at hawktailbrewery.com.
ABOUT KETTLE RIDGE ORGANICS
Kettle Ridge Organics is a certified organic grain farm near Alix in Central Alberta, Canada. We are a family-owned and operated farming operation that plant and harvest our crops, fix our machinery, and perform almost every other task on a prairie grain farm. For more information, visit www.kettleridgeorganics.ca.
ABOUT REPLENISH NUTRIENTS
Replenish Nutrients delivers leading regenerative fertilizer solutions to support a farm system that puts healthy soils and grower profitability back on the table. We've developed a sustainable alternative to synthetic fertilizers that enhances overall soil function and biology by combining Canadian-sourced nutrients with our proprietary delivery system. To learn more about Replenish Nutrients products, visit www.replenishnutrients.com.