The Lending Cupboard is filling up and staffers are seeking to sell surplus medical equipment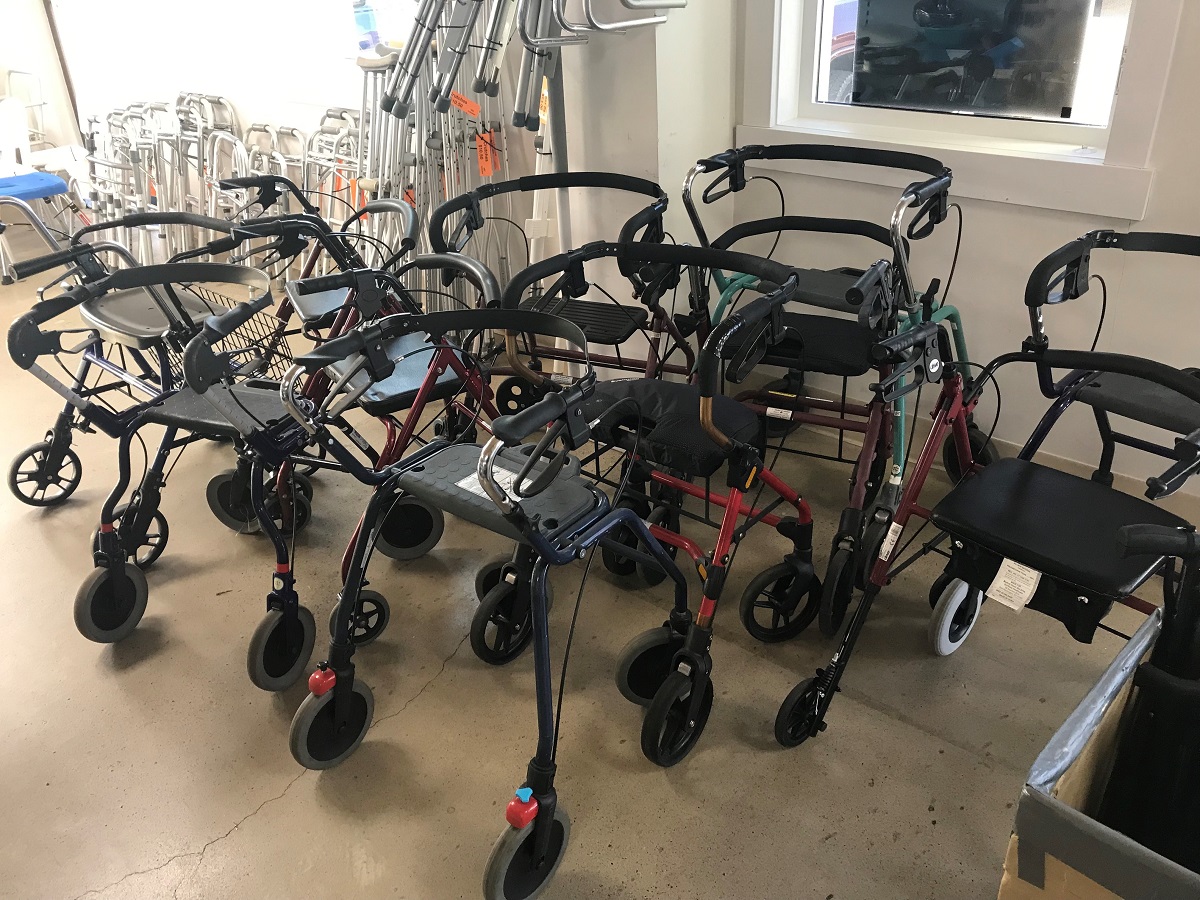 We at the Lending Cupboard are always very grateful for the tremendous community support we receive from residents across the Central Alberta region.
That support has led to an unusual situation – we actually have too much stock at our facility these days. To that end, we are featuring several valuable pieces of medical equipment for sale.
The purpose is two-fold – to decrease our current inventory and make way for all kinds of items that our community truly needs, but also to provide important and much-needed devices at extremely reasonable rates.
Examples of items for sale run the gamut from bath stools ($29.50 including GST), bath transfer benches ($84 including GST) and various walkers/rollators ($36.75 including GST).
"First of all, we always want the community to know that loans of equipment will always continue – people will always be able to borrow equipment when they need it," explained Dawna Morey, executive director of The Lending Cupboard. "Our primary goal is to remove barriers to receiving that equipment.
"In the meantime, we have also found ourselves overstocked – as a result of excess equipment that has come back to us through either generous donations from the community or perhaps because of loved ones who have passed on.
"We also understand that there are people who need equipment over the longer term. They may need it for more than six months, or for more than a year. So we would like to make that equipment available to them on a permanent basis by offering them the ability to purchase it at a reduced cost," she said.
"Prices have been set at a fair market value, and information about that can be obtained through our office."
For inquiries, please feel free to reach out to us.
Dawna Morey – Executive Director
Phone: 403-356-1678 ext. 202
Email: [email protected]
Mark Weber – Marketing/Communications Coordinator
Phone: 403-356-1678 ext. 206
Email: [email protected]
Click to experience 2021 Festival of Trees online!
Red Deer Festival of Trees 2021 is dedicated to providing funding for critical operating room equipment. Having access to new and replacement equipment for the OR will improve the patient experience and reduce wait times for life-saving surgeries, allowing our friends and family to remain close to home during their procedures.
REBELS ANNOUNCE 'FESTIVAL WEEKEND' IN SUPPORT OF 2021 FESTIVAL OF TREES
News Release from The Red Deer Rebels
The Red Deer Rebels are proud to announce "Festival Weekend" on November 26 and 27, in support of the 2021 Festival of Trees!
Festival of Trees, hosted by the Red Deer Regional Health Foundation, will support critically needed equipment in the operating room at Red Deer Regional Hospital to help provide a higher level of service to Central Albertans.
Beginning Wednesday November 24 at 9 a.m., a five-day progressive 50/50 inclusive of both weekend Rebels home games, will support the 2021 Festival of Trees and RDRHF, Rebels Foundation for Education and Wellness, and the Rotary Club of Red Deer. Sales close at 9:30 p.m. on Sunday, November 28. Tickets can be purchased at Rebels5050.com.
Help support the 2021 Festival of Trees by using promo code "TREES21" to purchase your tickets via Tickets Alberta, for either the November 26 or 27 Rebels games. The Rebels will donate $7 from every adult ticket and $4 from every youth ticket back to the Festival of Trees. The promo code is available for online purchases only.
Fans can visit the Festival of Trees during the intermission of both weekend games and view all trees available for auction. Fans can also show their ticket for free entry to the Festival all weekend.