More than 100 years of history at Sylvan Lake's Hazzard County
Here's some history from the Sylvan Lake and District Archives about one of Sylvan Lake's oldest buildings, what is now the Hazzard County Bar and Grill.  Continuously operated since being built over a century ago, this building on 46th Avenue started out as Dingwall's Boarding House.
Enjoy this local history story and stop by for a cool drink next time you're at Sylvan Lake. 
James Dingwall Family
By Alex Dingwall and Lillian Duffield
James Alexander Dingwall and Catherine Ann McCrimmon were married in 1908 in Glengarry County, Ontario. They had two children, a son, Alexander, born March 27, 1909 and a daughter, Helen, born April 24, 1911.
The family moved west to Red Deer in 1913. Mr. Dingwall worked for Great West Lumber Co., which firm operated a saw mill on the Red Deer River.
On April 17, 1917, the family moved to Sylvan Lake where they operated the first Dingwall Boarding House. Mr. Joe Rosse had a store in the front part of the building. This building was destroyed by fire on January 21, 1921, when a gasoline lamp exploded. It was rebuilt in 1921 and this building still stands. At present (1984), the P&F Offshore Grocery occupies part of the premises.
The Dingwalls catered to CNR freight train crews hauling coal from Nordegg Mines. There were 14 to 16 trains a day at that time. Many boarders enjoyed the sumptuous meals served by the Dignwalls. Some of these were Dr. E.K. Wright, who organized the first Sunday School in Sylvan Lake; school teachers, Miss Spicer, Miss Baker, Miss Buzzard, Mr. Les Matheson and others. Also, the late Jack Penley, who operated Varsity Dance Hall for many years, and members of his orchestra boarded at the Dingwalls. Many free meals were handed out to those in need during the depression years. Mr. Dingwall's beautiful big garden helped supply food for the table.
Both Mr. and Mrs. Dingwall were faithful church workers. Mr. Dingwall looked after the heating of the church and hall for many years. When the basement flooded and caved in, Mr. Dingwall built the new foundation. Mrs. Dingwall was a member of the Ladies' Aid and worked hard for the turkey suppers sponsored by that group. She was on the committee in the early days that acquired the church bell and this bell still hangs in the new church belfry. Mrs. Dingwall was also responsible for obtaining a building, donated to her by Mr. Z. Mederis, which was moved in beside the church to be used as a Sunday School Hall for many years. Ladies' Aid meetings, teas, and turkey suppers were held in this hall as well as many other functions.
Mrs. Dingwall was also a faithful member and worker for the Women's Institute and served as president for a number of years.
The Dingwall's son, Alexander (Alex) Edgar Dingwall, married Evaline Mina Byers of Sylvan Lake on August 31, 1940. He served five years with the Canadian Forces in the Second World War and saw service in England and Italy. On his return in 1945, he and wife Eve made their home in Red Deer where he was employed for 30 years at Red Deer Motors. They obtained a home through the V.L.A. at 3511-44 Avenue in 1949 and still reside there. Alex and Eve have two daughters.
Susan Catherine, born April 15, 1948, married Syd Nichols of the Willowdale District and they now farm four miles east of Rocky Mountain House. They have two daughters, Janet and Laurie.
Mary Louise was born August 28, 1949. She married Gordon Dolling (son of a former Sylvan Lake councilor) and they live in Fort McMurray. They have two sons, Jimmy and Darin.
The Dingwall's daughter, Helen Barbara Dingwall, married Robert Thompson of Calgary on September 12, 1945. They moved to Vancouver, Washington, where Helen still resides. Robert passed away in January, 1982. They have one daughter, Shirley Ann, who is married and has two sons. They live 20 miles from Helen.
Another early Sylvan Lake family was Mr. and Mrs. F.D. McCrimmon, who were doubly related to the Dingwalls. Mrs. McCrimmon was Mr. Jim Dingwall's sister and Mr. F.D. McCrimmon was Mrs. Jim Dingwall's brother.
They also had a sister, Mrs. Mary Bell (McCrimmon) Falkner, who resided in Sylvan Lake for many years.
Mr. Jim Dingwall passed away on July 27, 1954 at the Red Deer Hospital. Mrs. Dingwall passed away in the Rimbey Nursing Home on February 28, 1960. They are both buried in the Sylvan Lake Cemetery.
from:  Reflections of Sylvan Lake, pp. 178-179 — Copyright Sylvan Lake Historical Society 1984
Trevor's Story: I Have Anxiety and Depression. Where Can I Get Help?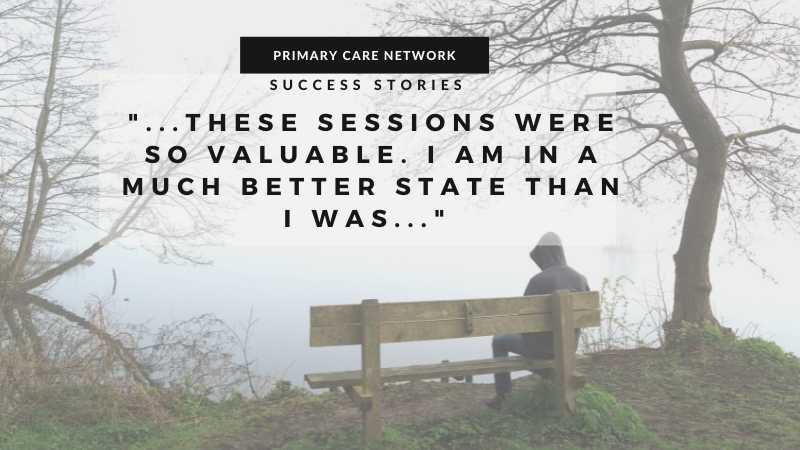 Trevor has suffered from anxiety and depression for a while. He had no idea where or how to get help with this. In discussing this with his doctor, he was referred to a Mental Health Counselor at Red Deer Primary Care Network.
Trevor says, "I, the skeptic, didn't expect that I would get much help but did decide to work with the counselor. I needed to do something. We had 6 sessions together. The counselor provided me with insight on things that should have been so obvious to me but they weren't. You don't know what you don't know. The counselor provided me with very practical and valuable tools. I came away with a different, more positive way to think about things. And it was just great to have a non-judgmental person to listen to me. It is a relief to just be able to tell someone who was really listening about my struggles.
These sessions were so valuable. I am in a much better state than I was. My struggles are not over but I manage to get through each day using the tools and improved mindset that I learned.
If anyone else is struggling like me I recommend no matter if they think it won't help  just go, go in with an open mind. Even if you just feel you need someone to talk to you will get valuable tools to help manage your situation."
To learn more about the RDPCN programs, visit www.reddeerpcn.com
Read more Success Stories from the Red Deer Primary Care Network.
Kinsmen Dream Home Lottery Tickets Now Available – Click Here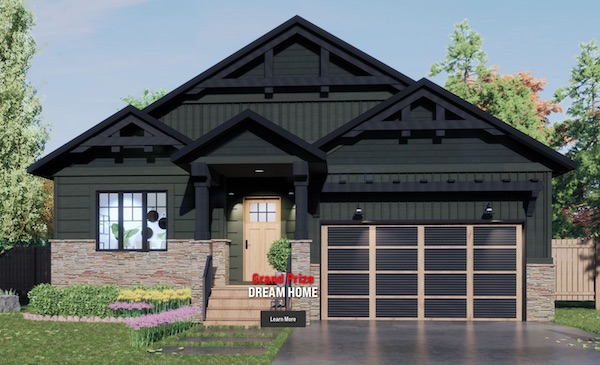 The Red Deer Kinsmen Dream Home Lottery is back for 2021
For the past 40 years, the Dream Home Lottery has been the cornerstone of the Red Deer Kinsmen's contribution to the community's greatest needs. Many of
the new playgrounds and sporting facilities you see are funded completely or partially with funds raised by the Red Deer Kinsmen. This year, you can once again help the Red Deer Kinsmen make a local impact in your community by supporting the Dream Home Lottery.
The 2021 Lottery is a little different from previous years with more prizes and chances to win. This year's lottery offers 104 prizes valued at over $864,700;
including the Grand Prize, fully landscaped show home in the new community of Timberlands. The $744,000, 2,368 sq. ft. dream home, built by True-Line
Homes features 3 bedrooms, 3 bathrooms plus den, a fully upgraded kitchen with premium appliances, Quartz Island, and walk-in pantry.
For supporters who buy their tickets early, there are TWO Early Bird cash prizes. Deadline for Early Bird #1 – $10,000 cash is 11:59pm November 11th. Deadline for Early Bird #2 – $25,000 cash is 11:59pm December 2nd.
Other prizes include vacations, home renovation packages, exercise equipment, tech, electronics, cash and much more. Tickets are $100 each, 5 for $150, 15
for $250 or our best package 50 for $350. They can be purchased online at reddeerkinsmenlottery.com or by calling 1.833.511.3863 and leaving a message. The lottery is presented by Kinsmen Club of Red Deer.
Back again is the 50/50 Cash Raffle where one lucky ticket holder will take home half of the total ticket sales. Tickets are $10 each, 10 for $25, 25 for $50
or 50 for $75.
Red Deer Kinsmen Dream Home Lottery License #575571 / 50/50 Cash Raffle License #575572
The final ticket deadline is 11:59 pm December 23, 2021. The final draws will be held January 5, 2022.
2021 Dream Home
Since 1981 the Kinsmen Club of Red Deer has run their annual Dream Home Lottery from October to December.  Using local home builders and trades, this project is the club's largest fundraiser.  Lives continue to change as we make that magical phone call letting the winner know they have just won a new home while the funds raised continue to support our local initiatives.  In 2020, the club had to make the difficult decision to forgo the dream home portion of its lottery due to the unknown brought on by COVID, however, in 2021 we are coming back with an even bigger and better lotto!
With the ongoing support of heroes like you, we are able to support some incredible agencies that truly make our community better.
The money raised from the lottery stays within our community. Whether it's one of the many playgrounds, arenas, Discovery Canyon, Library Link or the new Family Link Centre in Parkland Mall, the Kinsmen have been able to construct numerous community structures from our fundraising efforts. However, those are only a very small part of what we are able to do.
These charities are an important part of the City of Red Deer, and it is crucial that we as a community always do what we can to support them. By being able to help provide funding for these and other groups help them make incredible changes in people's lives that would otherwise be impossible. We are so fortunate to live in a community of such caring, giving people. It is because of you that we are able to do what we do.
Prizes
EARLY BIRD PRIZES
2 Early Bird Cash prizes
• #1 – $10,000 CASH – Deadline: November 11, 2021
Draw will take place on November 23, 2021, at Stride Management Corp. (12:00 pm)
**Only tickets purchased before 11:59 pm on Nov 11, 2021, will be eligible for the Early Bird#1
• #2 – $25,000 CASH – Deadline December 2, 2021
Draw will take place on December 14, 2021, at Stride Management Corp. (12:00 pm)
**Only tickets purchased before 11:59 pm on Dec 2, 2021, will be eligible for the Early Bird#2
GRAND PRIZE DREAM HOME
The Forest by True-Line – 26 Tillier Street, community of Timberlands Red Deer, AB T4N 5E7
• Valued at $744,000!
• 2,368 sq. Ft. of developed living space, 3 Bedrooms, 3 Bathrooms plus Den, Finished basement & Landscaping
ADDITIONAL PRIZES
• 104 prizes worth over $864,700 to be won!
• Prizes include vacations, home renovations, epic experiences, exercise equipment, tech, cash,
and so much more!
THE 50/50 CASH RAFFLE
• Win half of an ever-increasing jackpot!
• Tickets are easy to buy – 1 for $10, 10 for $25, 25 for $50 or 50 for $75. Purchasers are not
required to purchase a ticket in the Red Deer Kinsmen Dream Home Lottery to purchase
tickets in the 50/50 Cash Raffle lottery.
• For a list of charities that benefit from the 50/50 Cash Raffle, please visit reddeerkinsmen.com
Red Deer Kinsmen Dream Home Lottery Licence #575571 / 50/50 Cash Lottery Licence #575572
Final Draw
• Ticket Cut-off is December 23, 2021 (11:59 pm)
• Final Draws will take place January 5, 2022 at Stride Management Corp. (11:00 am)
TICKET PRICES
1 for $100 • 5 for $150 • 15 for $250 and our best value 50 for $350
**Minimum prize value is $100**
Cause
The Red Deer Kinsmen have served the City of Red Deer since 1937 through fundraising and support of its many groups, community projects, and the people who make it an amazing place to live. This year is even more important as we were unable to run the Dream Home Lottery in 2020 due to the Covid pandemic.
Please go https://reddeerkinsmenlottery.com/cause/ for a full list of organizations the Red Deer Kinsmen have supported in the past.
Call Toll Free 1-833-511-3863
Order Online: reddeerkinsmenlottery.com

We are proud to have been associated with some truly outstanding organizations, including the:
Red Deer Food Bank
Cystic Fibrosis
Red Cross
Youth and Volunteer Centre
Central Alberta Women's Emergency Shelter
Red Deer Pond Hockey
Minor Hockey
Red Deer Public School Board Foundation – Bright Start Program
Hospice Society
Red Deer Royals
Red Deer College
Paediatric Ward
Blackfalds Field House
Penhold Multi Plex
and many more!