More than 100 years of history at Sylvan Lake's Hazzard County
Here's some history from the Sylvan Lake and District Archives about one of Sylvan Lake's oldest buildings, what is now the Hazzard County Bar and Grill. Continuously operated since being built over a century ago, this building on 46th Avenue started out as Dingwall's Boarding House.
Enjoy this local history story and stop by for a cool drink next time you're at Sylvan Lake.
James Dingwall Family
By Alex Dingwall and Lillian Duffield
James Alexander Dingwall and Catherine Ann McCrimmon were married in 1908 in Glengarry County, Ontario. They had two children, a son, Alexander, born March 27, 1909 and a daughter, Helen, born April 24, 1911.
The family moved west to Red Deer in 1913. Mr. Dingwall worked for Great West Lumber Co., which firm operated a saw mill on the Red Deer River.
On April 17, 1917, the family moved to Sylvan Lake where they operated the first Dingwall Boarding House. Mr. Joe Rosse had a store in the front part of the building. This building was destroyed by fire on January 21, 1921, when a gasoline lamp exploded. It was rebuilt in 1921 and this building still stands. At present (1984), the P&F Offshore Grocery occupies part of the premises.
The Dingwalls catered to CNR freight train crews hauling coal from Nordegg Mines. There were 14 to 16 trains a day at that time. Many boarders enjoyed the sumptuous meals served by the Dignwalls. Some of these were Dr. E.K. Wright, who organized the first Sunday School in Sylvan Lake; school teachers, Miss Spicer, Miss Baker, Miss Buzzard, Mr. Les Matheson and others. Also, the late Jack Penley, who operated Varsity Dance Hall for many years, and members of his orchestra boarded at the Dingwalls. Many free meals were handed out to those in need during the depression years. Mr. Dingwall's beautiful big garden helped supply food for the table.
Both Mr. and Mrs. Dingwall were faithful church workers. Mr. Dingwall looked after the heating of the church and hall for many years. When the basement flooded and caved in, Mr. Dingwall built the new foundation. Mrs. Dingwall was a member of the Ladies' Aid and worked hard for the turkey suppers sponsored by that group. She was on the committee in the early days that acquired the church bell and this bell still hangs in the new church belfry. Mrs. Dingwall was also responsible for obtaining a building, donated to her by Mr. Z. Mederis, which was moved in beside the church to be used as a Sunday School Hall for many years. Ladies' Aid meetings, teas, and turkey suppers were held in this hall as well as many other functions.
Mrs. Dingwall was also a faithful member and worker for the Women's Institute and served as president for a number of years.
The Dingwall's son, Alexander (Alex) Edgar Dingwall, married Evaline Mina Byers of Sylvan Lake on August 31, 1940. He served five years with the Canadian Forces in the Second World War and saw service in England and Italy. On his return in 1945, he and wife Eve made their home in Red Deer where he was employed for 30 years at Red Deer Motors. They obtained a home through the V.L.A. at 3511-44 Avenue in 1949 and still reside there. Alex and Eve have two daughters.
Susan Catherine, born April 15, 1948, married Syd Nichols of the Willowdale District and they now farm four miles east of Rocky Mountain House. They have two daughters, Janet and Laurie.
Mary Louise was born August 28, 1949. She married Gordon Dolling (son of a former Sylvan Lake councilor) and they live in Fort McMurray. They have two sons, Jimmy and Darin.
The Dingwall's daughter, Helen Barbara Dingwall, married Robert Thompson of Calgary on September 12, 1945. They moved to Vancouver, Washington, where Helen still resides. Robert passed away in January, 1982. They have one daughter, Shirley Ann, who is married and has two sons. They live 20 miles from Helen.
Another early Sylvan Lake family was Mr. and Mrs. F.D. McCrimmon, who were doubly related to the Dingwalls. Mrs. McCrimmon was Mr. Jim Dingwall's sister and Mr. F.D. McCrimmon was Mrs. Jim Dingwall's brother.
They also had a sister, Mrs. Mary Bell (McCrimmon) Falkner, who resided in Sylvan Lake for many years.
Mr. Jim Dingwall passed away on July 27, 1954 at the Red Deer Hospital. Mrs. Dingwall passed away in the Rimbey Nursing Home on February 28, 1960. They are both buried in the Sylvan Lake Cemetery.
from: Reflections of Sylvan Lake, pp. 178-179 — Copyright Sylvan Lake Historical Society 1984
Empowered, Happy and Healthy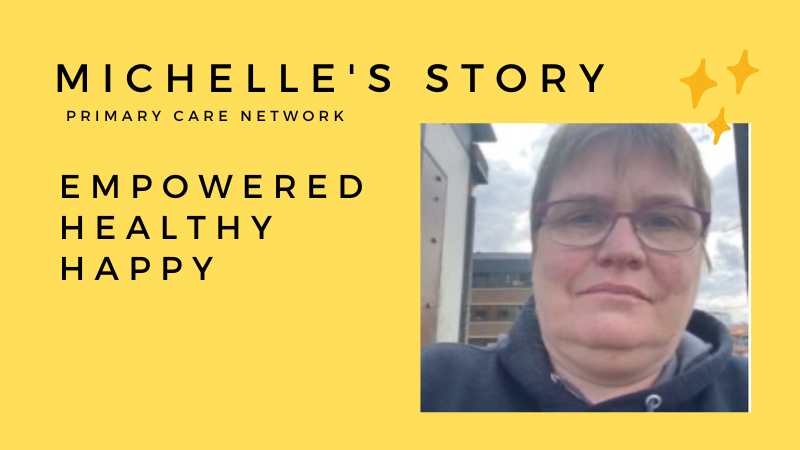 Michelle lost a kidney to cancer 20 years ago. Her blood pressure has been challenging to keep in a healthy range since. A busy life with little focus on healthy got her in trouble. In late December 2020, she ended up in emergency with extremely high blood pressure in the 200/150 range and a blood sugar of 25. She was very sick. She had a second similar episode in January. At that time, she was let go from her job. This turned out to be the best thing that happened as she now had time to focus on her health.
The RDPCN family nurse recommended she attend Diabetes the Basics as well as providing her with ongoing one-to-one support for several months. She also got connected to a weight management program, supervised exercise and Heartwise.
Fast forward to 18 months, she has decreased her clothing size from 20 to 14. Her blood sugar is now 7 and her blood pressure is in the range of 138/95. Great improvements!
She is back to work. She walks about an hour per day and she feels amazing! She has used the portion control plate to help improve her eating habits. She is eating way better and enjoying it. One thing she could not give up was Pepsi. She used to have at least 3 cans per day. Now she uses Diet Pepsi in much smaller volumes, but she cannot get by without some Pepsi. Long-lasting insulin and using the Libre sensor have been great tools to help her live healthily. She feels very empowered, happy and healthy!!
Learn more about the Red Deer Primary Care Network. Click here.
Red Deer Recovery Community will offer hope for residents from Central Alberta and around the world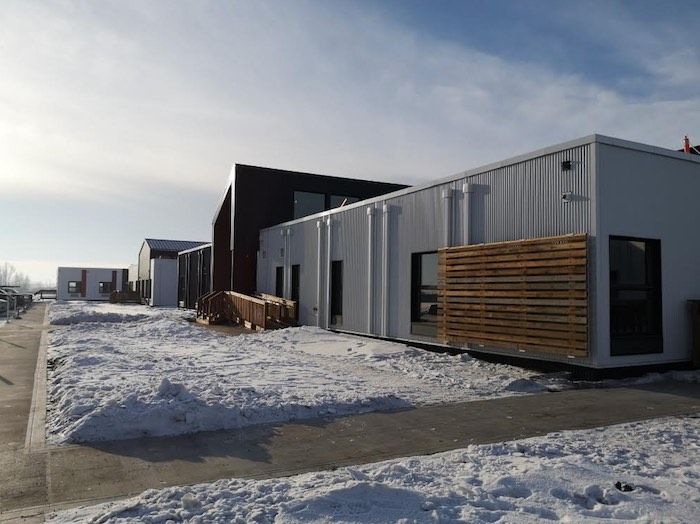 Central Albertans won't be the only ones paying close attention to the official opening of the Red Deer Recovery Community next month. According to Marshall Smith, Chief of Staff to Premier Danielle Smith, jurisdictions from across North America will be looking to the Red Deer Recovery Community for potential answers to their own issues. Red Deer Recovery Community will be the first of 11 the province is opening over the coming months.
Cities across North America and beyond have been battling an addictions crisis, and losing. As the number of homeless people and the number of fatal overdoses continues to rise, cities are looking for new solutions. After years of slipping further behind, Alberta has decided on a new approach to recovery and Marshall Smith has been leading the charge.
Smith is a recovering addict himself. A political organizer from BC, he once worked for former Premier Gordon Campbell. His own crisis started with alcohol, then moved to cocaine dependency before he eventually succumbed to methamphetamine use. The successful political operative found himself without work and living on the street for over four years. Eventually he benefited from a 35 day stay in a publicly funded recovery centre in BC.
Former Alberta Premier Jason Kenney brought Smith to Alberta to head up the UCP's addictions and recovery file. His personal experiences and incredible comeback story are at the heart of Alberta's new approach.
While the success of recovery programs vary, Marshall Smith and Dr. Christina Basedow of the Edgewood Health Network (operators of Red Deer Recovery Community) say with the right treatment and the right amount of time, they expect a very high rate of successful recoveries. Smith says the province won't give up on patients, even if some have to go through more than once.
The Recovery Community is central to this new approach, but patients who will be able to stay for up to a year, will need somewhere to go when they leave. This week the province also announced the Bridge Healing Transitional Accommodation Program in Edmonton. This "second stage" housing will ensure former addicts have a place to stay upon leaving addiction treatment centres. This will be their home in the critical days following treatment when they need to reestablish their lives by finding work or educational opportunities.
Red Deer Mayor Ken Johnston feels the 75 bed Recovery Community will be transformation for Central Alberta. Mayor Johnston says all Central Albertans will play an important role in helping former addicts when they leave the Recovery Community.
Construction of the Red Deer Recovery Community is all but complete.
Thursday, municipal and provincial politicians toured the facility and were introduced to the operators of the new facility. Dr Christina Basedow, Western VP of Edgewood Health Network teamed up with Nicholas Milliken, Alberta's Mental Health and Addiction Minister, to take questions about operations.
Premier Danielle Smith made the trip to Central Alberta to offer support for the project and see the facility first hand.
Red Deer Mayor Ken Johnston and Premier Danielle Smith listen to Chief of Staff Marshall Smith
Marshall Smith explains aspects of the Recovery Community to Premier Danielle Smith, Red Deer Mayor Ken Johnston and Red Deer MLA's Adriana LaGrange and Jason Stephan
In the days leading up to an official opening expected in February, Edgewood Health Network is finalizing the admission process which will see the first batch of up to 75 people suffering addictions moving into single and double occupied rooms.
The new 75-bed facility, will begin accepting residents battling addictions in February. Those residents will stay for up to a full year accessing medications, programming and developing life skills.
In the meantime the province expects a recovery industry will be developing in Red Deer including second stage housing opportunities and counselling.