More than 100 years of history at Sylvan Lake's Hazzard County
Here's some history from the Sylvan Lake and District Archives about one of Sylvan Lake's oldest buildings, what is now the Hazzard County Bar and Grill. Continuously operated since being built over a century ago, this building on 46th Avenue started out as Dingwall's Boarding House.
Enjoy this local history story and stop by for a cool drink next time you're at Sylvan Lake.
James Dingwall Family
By Alex Dingwall and Lillian Duffield
James Alexander Dingwall and Catherine Ann McCrimmon were married in 1908 in Glengarry County, Ontario. They had two children, a son, Alexander, born March 27, 1909 and a daughter, Helen, born April 24, 1911.
The family moved west to Red Deer in 1913. Mr. Dingwall worked for Great West Lumber Co., which firm operated a saw mill on the Red Deer River.
On April 17, 1917, the family moved to Sylvan Lake where they operated the first Dingwall Boarding House. Mr. Joe Rosse had a store in the front part of the building. This building was destroyed by fire on January 21, 1921, when a gasoline lamp exploded. It was rebuilt in 1921 and this building still stands. At present (1984), the P&F Offshore Grocery occupies part of the premises.
The Dingwalls catered to CNR freight train crews hauling coal from Nordegg Mines. There were 14 to 16 trains a day at that time. Many boarders enjoyed the sumptuous meals served by the Dignwalls. Some of these were Dr. E.K. Wright, who organized the first Sunday School in Sylvan Lake; school teachers, Miss Spicer, Miss Baker, Miss Buzzard, Mr. Les Matheson and others. Also, the late Jack Penley, who operated Varsity Dance Hall for many years, and members of his orchestra boarded at the Dingwalls. Many free meals were handed out to those in need during the depression years. Mr. Dingwall's beautiful big garden helped supply food for the table.
Both Mr. and Mrs. Dingwall were faithful church workers. Mr. Dingwall looked after the heating of the church and hall for many years. When the basement flooded and caved in, Mr. Dingwall built the new foundation. Mrs. Dingwall was a member of the Ladies' Aid and worked hard for the turkey suppers sponsored by that group. She was on the committee in the early days that acquired the church bell and this bell still hangs in the new church belfry. Mrs. Dingwall was also responsible for obtaining a building, donated to her by Mr. Z. Mederis, which was moved in beside the church to be used as a Sunday School Hall for many years. Ladies' Aid meetings, teas, and turkey suppers were held in this hall as well as many other functions.
Mrs. Dingwall was also a faithful member and worker for the Women's Institute and served as president for a number of years.
The Dingwall's son, Alexander (Alex) Edgar Dingwall, married Evaline Mina Byers of Sylvan Lake on August 31, 1940. He served five years with the Canadian Forces in the Second World War and saw service in England and Italy. On his return in 1945, he and wife Eve made their home in Red Deer where he was employed for 30 years at Red Deer Motors. They obtained a home through the V.L.A. at 3511-44 Avenue in 1949 and still reside there. Alex and Eve have two daughters.
Susan Catherine, born April 15, 1948, married Syd Nichols of the Willowdale District and they now farm four miles east of Rocky Mountain House. They have two daughters, Janet and Laurie.
Mary Louise was born August 28, 1949. She married Gordon Dolling (son of a former Sylvan Lake councilor) and they live in Fort McMurray. They have two sons, Jimmy and Darin.
The Dingwall's daughter, Helen Barbara Dingwall, married Robert Thompson of Calgary on September 12, 1945. They moved to Vancouver, Washington, where Helen still resides. Robert passed away in January, 1982. They have one daughter, Shirley Ann, who is married and has two sons. They live 20 miles from Helen.
Another early Sylvan Lake family was Mr. and Mrs. F.D. McCrimmon, who were doubly related to the Dingwalls. Mrs. McCrimmon was Mr. Jim Dingwall's sister and Mr. F.D. McCrimmon was Mrs. Jim Dingwall's brother.
They also had a sister, Mrs. Mary Bell (McCrimmon) Falkner, who resided in Sylvan Lake for many years.
Mr. Jim Dingwall passed away on July 27, 1954 at the Red Deer Hospital. Mrs. Dingwall passed away in the Rimbey Nursing Home on February 28, 1960. They are both buried in the Sylvan Lake Cemetery.
from: Reflections of Sylvan Lake, pp. 178-179 — Copyright Sylvan Lake Historical Society 1984
Conservative MP Leslyn Lewis condemns MAiD in Parliament as targeting nation's most vulnerable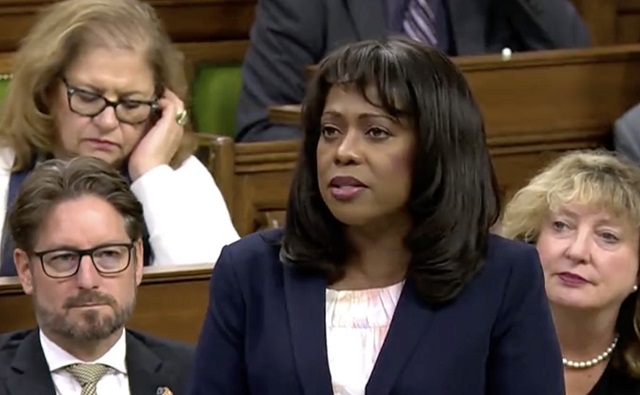 'I call upon with government to reverse its course and instead provide help and hope for Canadians suffering with mental health conditions'
Conservative MP Leslyn Lewis condemned the Trudeau government's treatment of Canada's most vulnerable, revealing that 36 Canadians are euthanized every day. 
On November 28, Dr. Leslyn Lewis, Conservative Member of Parliament (MP) for Haldimand-Norfolk, Ontario, addressed Parliament on the dangers of Medical Assistance in Dying (MAiD), the euphemistic name for Canada's euthanasia regime.
"The poor, homeless, the abused, veterans, seniors, youth, adults suffering with disabilities, those suffering with depressions, and mental health conditions," Lewis said. "These are among the most vulnerable in our society that are falling through the cracks of Canada's Medical Assistance in Dying regime."
The most vulnerable are falling through the cracks of Canada's Medical Assistance in Dying regime.

Every day 36 Canadians die by MAiD, the HIGHEST NUMBER in the world. Canadians suffering with mental illness need help and hope, not euthanasia. This gov't must reverse course. pic.twitter.com/tT8x5PBpxq

— Dr. Leslyn Lewis (@LeslynLewis) November 28, 2023
"They are the ones who will be at risk when the MAiD laws in Canada are expanded in March 2024," the pro-life MP added. "Last year, death by euthanasia increased by 30 percent from the year before. Every day in Canada, 36 people use MAiD to end their lives, which is the highest in the world."
"I call upon with government to reverse its course and instead provide help and hope for Canadians suffering with mental health conditions," Lewis appealed.
On March 9, 2024, MAiD is set to expand to include those suffering solely from mental illness. This is a result of the 2021 passage of Bill C-7, which also allowed the chronically ill – not just the terminally ill – to qualify for so-called doctor-assisted death.
The mental illness expansion was originally set to take effect in March of this year. However, after massive pushback from pro-life groups, conservative politicians and others, the Liberals under Trudeau delayed the introduction of the full effect of Bill C-7 until 2024 via Bill C-39.
The expansion comes despite warnings from top Canadian psychiatrists that the country is "not ready" for the coming expansion of euthanasia to those who are mentally ill, saying expanding the procedure is not something "society should be doing" as it could lead to deaths under a "false pretense."
Similarly, Angelina Ireland, the head of one of Canada's few pro-life hospice societies, recently warned that euthanasia has become a national "horror" show.
"Unfortunately, there is no reprieve in sight as think Medical Assistance in Dying (MAiD) becomes a national horror and the 'professionals' sharpen up their needles," Ireland told LifeSiteNews.
"We have reached the point where we must all protect each other from MAiD," she noted.
Euthanasia deaths have gone through the roof in Canada since it became legal in 2016.
According to Health Canada, in 2022, 13,241 Canadians died by MAiD lethal injection, which is 4.1 percent of all deaths in the country for that year, and a 31.2 percent increase from 2021.
The number of Canadians killed by lethal injection since 2016 now stands at 44,958.
MNP steps in to help youth "Move Your Mood" at the Sheldon Kennedy Centre of Excellence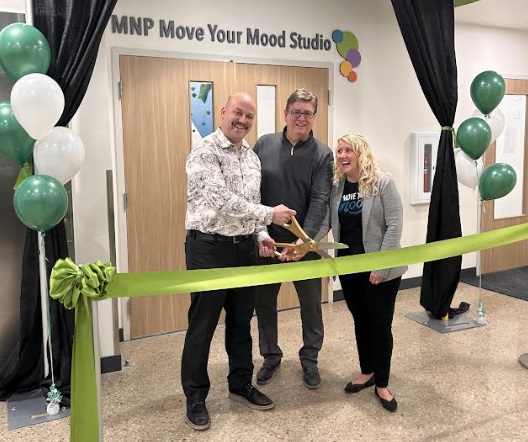 Ribbon Cut at the Newly Named MNP Move Your Mood Studio in the Sheldon Kennedy Centre of Excellence
The ribbon has been officially cut, and a new name announced for the MNP Move Your Mood Studio inside the Sheldon Kennedy Centre of Excellence.
The MNP Move Your Mood Studio held its naming ceremony and ribbon cutting on Tuesday, November 21st. Move Your Mood, an Alberta Health Services program, occupies a portion of Floor 2 inside the new Sheldon Kennedy Centre of Excellence on the main campus of Red Deer Polytechnic.
The new MNP Move Your Mood Studio has a large space for classes and physical activity, complete with a climbing wall, physical activity gaming wall, and kitchen.
A significant contribution was made on behalf of the partner group from MNP's Central Alberta region. This contribution reflects their commitment to investing in the communities that they are a part of.
"On behalf of the Central Alberta partner group and our entire team across the region, we are elated to celebrate the MNP Move Your Mood Studio," says Patrick Wigmore, Regional Managing Partner for MNP in Central Alberta. "At MNP we truly believe that making a positive difference in the communities where we live, work, and play is a fundamental part of who we are. Our partners throughout the region believe that pooling our efforts together to create a greater impact for organizations like Central Alberta Child Advocacy Centre and in turn, Move Your Mood, will leave a lasting legacy of positive impacts in Central Alberta. The decision to support the CACAC was unanimous."
Move Your Mood is a research-based program that promotes physical activity and healthy lifestyle practices to improve the mental and physical well-being of participants. The MYM program provides opportunities for participants to experience how to move their bodies, fuel their bodies, practice mindfulness, and build positive coping strategies.
"We would like to thank MNP for their generous donation to the Sheldon Kennedy Centre of Excellence and helping make this dream come true for children and youth in our community. We are grateful and honoured to share the name of the MNP Move Your Mood Studio and look forward to the opportunities this space will provide our entire community in the future. The space will be up and running in the New Year." – Denise Fredeen, Health Promotion Facilitator at Move Your Mood.
The MNP Move Your Mood Studio will be a shared space for all children and youth accessing services at the Sheldon Kennedy Centre of Excellence. The Studio will be a place where children and youth can learn positive coping strategies to improve their mental and physical wellness through interactive opportunities. There will be opportunities for them to play, practice mindfulness, be physically active, learn how to make healthy snacks and take part in creative activities.
The space will provide professionals in the building an opportunity to create positive connections and teach children and youth skills they can continue to be active and healthy for life. The space will also provide opportunities for prevention work with students in the community and a space for future training of RDP students and MYM Coaches.
To learn more about the MNP Move Your Mood Studio and its programming, please email
[email protected] or visit www.moveyourmood.ca.
About MNP: National in scope and local in focus, MNP is one of Canada's leading professional services firms — proudly serving individuals, businesses, and organizations since 1958. Through the development of strong relationships, we provide client-focused accounting, consulting, tax, and digital services. Our clients benefit from personalized strategies with a local perspective to fuel success wherever business takes them. For more information, visit www.mnp.ca
About CACAC: The Central Alberta Child Advocacy Centre is a not-for-profit organization rooted in the protection and recovery of today's most innocent and vulnerable – our children. The Centre is comprised of a collective that is driven by the courage to support children, youth, and their families affected by abuse, enabling them to build enduring strength and overcome adversity. We work in a collaborative partnership with the Alberta Children and Family Services, Alberta Health Services, Alberta Justice, Alberta Education, Red Deer Polytechnic, the Central Alberta Sexual Assault Support Centre and the RCMP. Together we harness our collective courage to provide children with
supported recovery. For more information on CACAC and the Sheldon Kennedy Centre of Excellence, please visit: centralalbertacac.ca