More than 100 years of history at Sylvan Lake's Hazzard County
Here's some history from the Sylvan Lake and District Archives about one of Sylvan Lake's oldest buildings, what is now the Hazzard County Bar and Grill.  Continuously operated since being built over a century ago, this building on 46th Avenue started out as Dingwall's Boarding House.
Enjoy this local history story and stop by for a cool drink next time you're at Sylvan Lake. 
James Dingwall Family
By Alex Dingwall and Lillian Duffield
James Alexander Dingwall and Catherine Ann McCrimmon were married in 1908 in Glengarry County, Ontario. They had two children, a son, Alexander, born March 27, 1909 and a daughter, Helen, born April 24, 1911.
The family moved west to Red Deer in 1913. Mr. Dingwall worked for Great West Lumber Co., which firm operated a saw mill on the Red Deer River.
On April 17, 1917, the family moved to Sylvan Lake where they operated the first Dingwall Boarding House. Mr. Joe Rosse had a store in the front part of the building. This building was destroyed by fire on January 21, 1921, when a gasoline lamp exploded. It was rebuilt in 1921 and this building still stands. At present (1984), the P&F Offshore Grocery occupies part of the premises.
The Dingwalls catered to CNR freight train crews hauling coal from Nordegg Mines. There were 14 to 16 trains a day at that time. Many boarders enjoyed the sumptuous meals served by the Dignwalls. Some of these were Dr. E.K. Wright, who organized the first Sunday School in Sylvan Lake; school teachers, Miss Spicer, Miss Baker, Miss Buzzard, Mr. Les Matheson and others. Also, the late Jack Penley, who operated Varsity Dance Hall for many years, and members of his orchestra boarded at the Dingwalls. Many free meals were handed out to those in need during the depression years. Mr. Dingwall's beautiful big garden helped supply food for the table.
Both Mr. and Mrs. Dingwall were faithful church workers. Mr. Dingwall looked after the heating of the church and hall for many years. When the basement flooded and caved in, Mr. Dingwall built the new foundation. Mrs. Dingwall was a member of the Ladies' Aid and worked hard for the turkey suppers sponsored by that group. She was on the committee in the early days that acquired the church bell and this bell still hangs in the new church belfry. Mrs. Dingwall was also responsible for obtaining a building, donated to her by Mr. Z. Mederis, which was moved in beside the church to be used as a Sunday School Hall for many years. Ladies' Aid meetings, teas, and turkey suppers were held in this hall as well as many other functions.
Mrs. Dingwall was also a faithful member and worker for the Women's Institute and served as president for a number of years.

The Dingwall's son, Alexander (Alex) Edgar Dingwall, married Evaline Mina Byers of Sylvan Lake on August 31, 1940. He served five years with the Canadian Forces in the Second World War and saw service in England and Italy. On his return in 1945, he and wife Eve made their home in Red Deer where he was employed for 30 years at Red Deer Motors. They obtained a home through the V.L.A. at 3511-44 Avenue in 1949 and still reside there. Alex and Eve have two daughters.
Susan Catherine, born April 15, 1948, married Syd Nichols of the Willowdale District and they now farm four miles east of Rocky Mountain House. They have two daughters, Janet and Laurie.
Mary Louise was born August 28, 1949. She married Gordon Dolling (son of a former Sylvan Lake councilor) and they live in Fort McMurray. They have two sons, Jimmy and Darin.
The Dingwall's daughter, Helen Barbara Dingwall, married Robert Thompson of Calgary on September 12, 1945. They moved to Vancouver, Washington, where Helen still resides. Robert passed away in January, 1982. They have one daughter, Shirley Ann, who is married and has two sons. They live 20 miles from Helen.
Another early Sylvan Lake family was Mr. and Mrs. F.D. McCrimmon, who were doubly related to the Dingwalls. Mrs. McCrimmon was Mr. Jim Dingwall's sister and Mr. F.D. McCrimmon was Mrs. Jim Dingwall's brother.
They also had a sister, Mrs. Mary Bell (McCrimmon) Falkner, who resided in Sylvan Lake for many years.
Mr. Jim Dingwall passed away on July 27, 1954 at the Red Deer Hospital. Mrs. Dingwall passed away in the Rimbey Nursing Home on February 28, 1960. They are both buried in the Sylvan Lake Cemetery.
from:  Reflections of Sylvan Lake, pp. 178-179 — Copyright Sylvan Lake Historical Society 1984
Read more stories about Sylvan Lake, Alberta.  Click here.
How the Railroads Shaped Red Deer
Rivers, creeks and streams have shaped the land for eons, slowly carving away earth to reveal the terrain we know today. Much of the same can be said for the impact and influence that railways had in shaping the size and shape and even the very location of what is now the City of Red Deer. 
Prior to the construction of the Calgary and Edmonton railway, which started heading north from Calgary in 1890, what we now recognize as the bustling city of Red Deer was unbroken and forested land. The nearest significant settlement was the crossing for the C&E Trail of the Red Deer River, very close to where the historic Fort Normandeau replica stands today. 
Navigating how to handle crossing the Red Deer River would be a significant challenge for construction of the railway route. Initially, the route was planned to take the tried-and-true path that had served animals, first nations people and fur traders for centuries, past the Red Deer River settlement. Yet just as the mighty river powerfully shaped the contours and dimensions of the land, the future site of Red Deer would be singlehandedly determined by Reverend Leonard Gaetz.
Rev. Gaetz offered James Ross, President of the Calgary and Edmonton Railway company,  land from his personal farmlands for the river crossing and the townsite for Red Deer.  Ross accepted and history was forever shaped by the decision, as what is now home to more than 100,000 people grew steadily outward starting at the C&E Railway train station. 
The rails finally reached the Red Deer area in November of 1890 and trains soon began running south to Calgary. By 1891, the Calgary and Edmonton railway was completed north to Strathcona. Alberta gained one of its most vital transportation corridors and the province would thrive from this ribbon of steel rails.
Over time, the C&E railyards grew and expanded to accommodate the demand for moving more and more commodities like grain, coal, lumber and business and household items along with passengers. Those passengers were the pioneer settlers who would make Red Deer the commercial hub that it remains to this day.
For nearly 100 years, the downtown was intimately connected with the railway in the form of hotels built to welcome travelers, grain elevators, warehouses, factories and the facilities required to service the locomotives and equipment that operated the trains. Tracks and spurs dominated the downtown area, especially after the advent of the Alberta Central Railway and the arrival of the Canadian Northern Western Railway (later absorbed into Canadian National railways).
By the 1980s, the ever-present tracks and downtown railyard were seen as an industrial blight in the heart of the city that the railway created so funding was sought and plans were made to relocate the now Canadian Pacific rails from their historical home to a new modern yard northwest of the city. 
This was actually the second relocation of tracks from downtown as the Canadian National railway tracks were removed in 1960 which permitted the development along 47th Avenue south of the Red Deer River.
This massive project opened up the Riverlands district downtown to new developments which included condominiums, grocery stores, restaurants and professional buildings. Taylor Drive was built following the old rail line corridor and removal of the tracks in Lower Fairview meant residents wouldn't hear the rumble of trains in their community anymore. 
Just as the waters gradually shaped the places we know now, the railways definitely forged Red Deer into the vibrant economic hub of central Alberta that it remains today. 
We hope you enjoyed this story about our local history.  Click here to read more history stories on Todayville.
Service Dog program looking for volunteer "Puppy Raisers" and boarding homes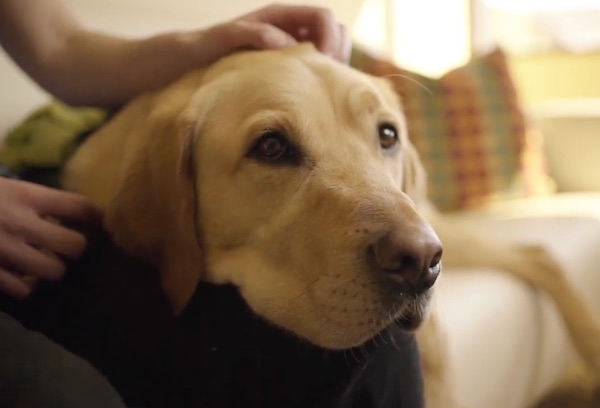 Red Deer Puppy Raising Program Announcement                                                                      
Dogs with Wings (DWW) is launching a new volunteer puppy raising program in Red Deer, AB this Spring! The Red Deer puppy raising program is a satellite puppy raising program where volunteers raise, train, and foster puppies from 8 weeks old to 14 – 16 months old and prepare them to become Service Dogs when they grow up. The Red Deer program will need full time puppy raisers and boarding homes, to puppy sit when puppy raisers are away. This program will join our three other locations in Edmonton, Calgary, and Grande Prairie and it's an exciting time for us!
We have partnered with the Central Alberta Child Advocacy Centre (CACAC) in Red Deer for this special announcement. In October 2020, we placed our Facility Dog DWW Quinn at the CACAC to assist them in the important work that they do in their community.
"Having Quinn as a part of our Child & Family Advocacy program provides a huge amount of comfort not only to the children and youth coming through our doors, but to their families and our entire staff as well. We're excited for Central Alberta to have the opportunity to be a part of a program that has such a great impact in our community – these puppies are going to make a huge difference in many lives, starting with their foster families'." Mark Jones, CEO, CACAC
Quinn is our 5th Assistance Dog to live in Red Deer, alongside Facility Dog DWW Harley at the Red Deer City Victim Services, two Companion Dogs, and one Autism Service Dog.
Dogs with Wings relies heavily on the assistance of our volunteer puppy raisers to be able to have our dogs earn their wings and graduate with a client! Our dogs help individuals with a wide range of tasks, ranging from assisting individuals who use wheelchairs, to providing safety and support to children with Autism, to assisting children and adults with disabilities at home and in their communities, and working with organizations to assist them in their community work. We need your help to become a puppy raiser! We are looking for 5 volunteer Puppy Raisers and 3 volunteer Boarding Homes to welcome puppies into their home this spring.
"Puppy Raisers are the cornerstone of our training program at Dogs with Wings.  At the heart of every successful assistance dog team is a puppy raiser who embraced the opportunity to raise a special puppy, teach them to feel safe in the world, and help them learn the skills necessary to have a solid foundation for their working career. We look forward to expanding this program to the Red Deer community." – Doreen Slessor, Executive Director, Dogs with Wings.
As a Puppy Raiser, you become part of our team that works toward fulfilling our mission, which is to enrich the lives of people with disabilities by providing them with highly skilled Assistance Dogs that increase their mobility, foster independence, and further their contributions to the community. The position of Puppy Raiser is the most demanding and rewarding. By accepting the care and education of a DWW puppy, you become one of our most valuable team players. A Puppy Raiser is a 24-hour, 7 days per week volunteer position.
The role of the Puppy Raiser is to socialize a puppy to as many environments and situations as possible. The puppy must be exposed to various situations, on a regular basis, such as: offices, malls, restaurants, downtown areas, elevators, and public transportation. The ultimate goal of a Puppy Raiser is to help the puppy develop sufficient social skills to behave in such a manner that its presence will be acceptable in all circumstances. DWW provides care for your dog when you are on vacation and covers the cost of all dog food, gear and equipment, training equipment, food bowls, service dog in training jacket, and covers the cost of all veterinary expenses. All you need to do is provide a name tag, toys, a bed, and treats! To become a Puppy Raiser, all that we ask is that one adult must be home during the day (or able to bring the puppy to work with you) and that you attend weekly training classes. For more information on our criteria and expectations, please contact us!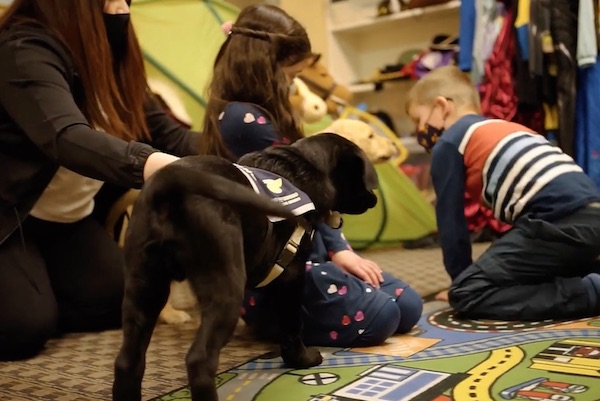 "Dogs with Wings is excited to open a new puppy raising program in Red Deer and expand our puppy raising program. This will allow us the opportunity to raise and train more dogs to help our clients. It has been an absolute privileged to work with the clients in the Red Deer and Central Alberta community and to see our dogs make such an incredible difference in their lives." – Veronica Fraser, Dogs with Wings Instructor & Training Manager.
If you are interested in being a Puppy Raiser, please complete and send this application form: http://dogswithwings.ca/volunteer-application/. If you have any questions or concerns, feel free to contact our office at (780) 944-8011 or via e-mail at [email protected].
More information about our organization and the programs we offer can also be found on our website (https://dogswithwings.ca/helping-us/volunteering-edmonton-calgary/_ at www.dogswithwings.ca. Thank you for your interest in being a Puppy Raiser that will help a dog earn its wings and give the gift of independence to someone in your community!
About DWW: Dogs with Wings Assistance Dog Society's (DWW) mission is to foster integration and independence for individuals with disabilities by providing them with highly trained Assistance Dogs and aftercare. They are a registered Non-Profit Society with a volunteer Board of Directors. Dogs with Wings Assistance Dog Society is an internationally accredited organization through Assistance Dogs International (ADI). Dogs with Wings specializes in the following areas: Service Dogs, Autism Service Dogs, Facility Dogs, and Companion Dogs. Service Dogs assist people with physical disabilities who use wheelchairs to enhance their quality of life and achieve greater independence. Autism Service Dogs provide greater safety and independence for children with Autism. Facility Dogs are part of a specially trained team that provides goal directed interventions, which promote improvement in physical, social, emotional, or cognitive abilities. Companion Dogs assist those who would benefit from having a well-trained service dog, but do not require public access. For more information, visit www.dogswithwings.ca
Central Alberta Child Advocacy Centre (CACAC): The Central Alberta Child Advocacy Centre is a not-for-profit organization rooted in the protection and recovery of today's most innocent and vulnerable – our children. The Centre is comprised of a collective that is driven by the courage to support children, youth, and their families affected by abuse, enabling them to build enduring strength and overcome adversity.
We work in a collaborative partnership with the Central Region Children's Services, Alberta Health Services, Alberta Justice, Alberta Education, the Central Alberta Sexual Assault Support Centre and the RCMP. Together we harness our collective courage to provide children with supported recovery. For more information on CACAC, please visit: centralalbertacac.ca