A slice of 1930's Sylvan Lake heaven
Hey local history buffs, the above video is a great snapshot of a place and time, in this case, 1930's Sylvan Lake, AB.
Lake Cottages have always prompted whimsical names. Sylvan Lake is no different. This story showcases some great photos from the 1930's and also includes a Directory from the 1960's. Names like "Seldom Inn" and "Turkey Teepee" stand out.
Below is a photo of the Webster cabin, known as the LA-ZE-LOT. George Webster (second generation) with grand-daughters Kari-Lynn Shiells and Susan Marie Shiells.
The above photo shows the "Robin Nest" home on 41st Street and 50th Avenue in the early 1930s. The people are unnamed except as "Grandma and Ed". Ed was the maker of the wooden figurines in the picture.
Two very interesting accessions have come to us out of the blue from two very interesting contributors. The first one came through registered mail from a lady by the name of Gertrude Lambert in Edmonton whose father, Mr. Elliott, had been a teacher at the Olds Agricultural College and, later, Vermilion College. They built a cabin at Sylvan Lake about 1921 where the whole family spent the next 18 or 19 summers (until 1939). She and her daughter had been down to hunt up their old cabin which is still standing and while they were in town, picked up the current Sylvan Lake News with a write-up about our then new Archives. So, without so much as a phone call, she sent a collection of beautiful old photos and an accompanying registered letter. She was later down for a visit and brought additional pictures. Another interesting side of this story is that we also have met the present owner of the same cabin whose father, Dr. Charles from Calgary, purchased the cabin from the Elliott family and they have been coming here every summer since 1943. We also have pictures from this family.
Here's what we do know. The Elliott family built their cabin at Sylvan Lake about 1921 and came every summer until 1939 when WWII broke out. William taught at Olds, later Vermilion Agricultural Cottage; children Gertrude (Edna) and Bill, Jr.
Elliott Family Cabin (Grey Glen), circa 1930
Above is a picture of the Elliott family and their guests gathered on the porch of their Sylvan Lake cottage (circa 1930). From left to right: Mrs. (Edna) Elliott; Dr. Jack Elliott (guest); Mr. William Elliott; Jack Elliott (guest); and Bill Elliott. In front is 5-year old Gertrude. On the back is written: Originally Grey Glen / address 13 Street, 2nd road from (corner) road from Red Deer which went along the waterfront. Built approximately 1920-24 by my father W.J. Elliott and son William S. Elliott (Site: 33rd Street East)
Above, the Davey Cottage, circa 1930's
This is the cottage belonging to the Davey family, next door to the Grey Glen, Elliott's Cottage at 13th Street in Sylvan Lake, circa 1920-38. An older woman and two children are standing by a screened-in porch and a man is sitting and reading a newspaper inside.
Above, the Davey Family, circa 1930s
The Davey Family owned the cottage next door to the Elliott's cottage at 13th Street in Sylvan Lake, circa 1920-38.
Above, Washing Clothes, circa 1930s
Jean Phillips, Gertrude's friend from Edmonton, bringing in the washing at Grey Glen Cottage.
Above, Sawing Wood in May, 1941
William Elliott sawing wood with a buck saw at Buck Saw
Above, Jean Phillips, Gertrude Elliott's friend from Edmonton, polishing her shoes on the deck of Grey Glen, Elliott's Cottage.
Edna & William Elliott [1930]
Mr. and Mrs. William Elliott are standing by their cottage, Grey Glen.
Above, Gertrude Elliott (Edna), 1938
This is a picture of Gertrude Elliott taken in 1938 when she was a Grade Twelve student (later, Edna Lambert – donor of these pictures). Her full name was Edna Gertrude Elliott.
Taken at Grey Glen Cottage
Above, The (Former) Elliott Cottage in 1996
In March of 1996, Mrs. Lambert's daughter drove her mother to Sylvan Lake to see if they could find the old cottage on 13th Street built by Mrs. Lambert's parents, the William Elliotts. They were successful, despite the fact that the name of the street had been changed to 34th Street. Mrs. Lambert, in her letter which accompanied the pictures stated that it appeared "in excellent condition, well cared for and very familiar". It had been renamed Sherwood Lodge (formerly, Grey Glen) This picture was taken by Mrs. Lambert and her daughter that day and sent to the Archives with the historical pictures.
Above, Mr. William Elliott Sawing Wood with a Buck Saw – May, 1941
Bill Elliott at Grey Glen Cottage [1938]
The name Grey Glen is on the fence as well as the roof of the cottage.
Above, Sylvan Lake Life Guards, circa 1937-38
Gertrude and Bill Elliott worked as life guards on Sylvan Lake for two summers just before the outbreak of World War II, then the family sold the cottage, Grey Glen.
Jean Phillips – Chore Girl, circa 1930s
Jean Phillips was a friend of Gertrude Elliott's who was visiting at Grey Glen Cottage. She is holding a water pail in her left hand, a bottle in her right hand, and has a blanket or towel over her right arm.
Below you'll find a directory from the 1960's. Collectively they form a portrait of a much simpler time.
For other Todayville stories from the Sylvan Lake Archives, CLICK HERE.
If you have a unique and interesting stories you would like to see on todayville, you can do one of two things. Either register for free (except for business) or send us an email with details to [email protected]. Learn more about the Sylvan Lake Archives.
Run/Hike for Red Deer Hospice Takes Place This Sunday at Bower Ponds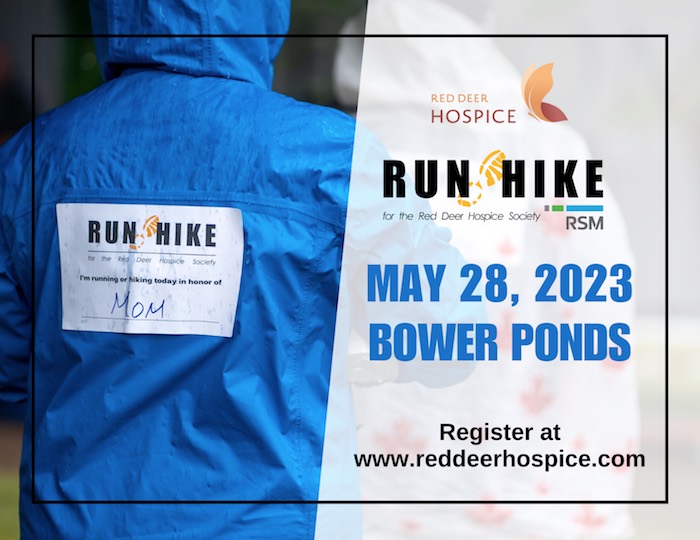 News release from Red Deer Hospice
Red Deer Hospice's 16th Annual Run/Hike event, presented by RSM Red Deer, will take place at Bower Ponds this Sunday.
Registration will open at 9:00am and those wishing to run, walk or stroll the 1km, 3kms or 5 kms will start at 10:00am. A light breakfast and hot, post-race lunch, provided by Mr. Mikes, will be available to participants and live entertainment will be provided by the band Fun House in the amphitheater.
"This will be a day to remember and reflect, while taking in the natural beauty of the trails in and around Bower Ponds," said Jerri Taylor, Executive Director of Red Deer Hospice. "As our main fundraiser for the year, our goal is to raise $38,000." Proceeds and donations will go towards Red Deer Hospice's mission of supporting a peaceful and compassionate end-of-life journey.
Online registration on the Red Deer Hospice website will close at 3:00pm on Friday, May 26, 2023. Those interested in participating in this year's Run/Hike event who have not registered can do so in person on Sunday morning at Bower Ponds.
For more information, visit www.reddeerhospice.com.
Glendale Skatepark now includes on-site mentors from the YMCA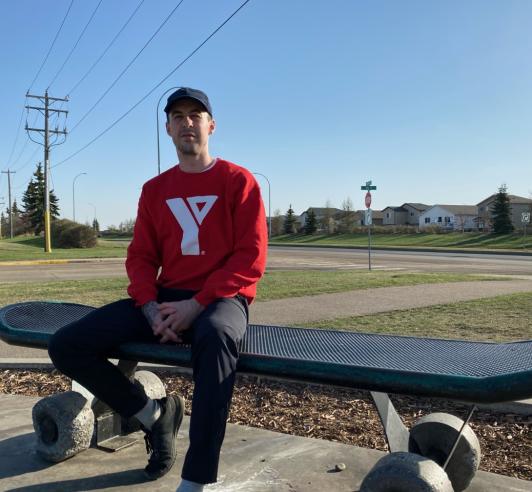 With consistent fair weather and summer right around the corner, skateboarders, BMXers and scooter-riders are excited to return to Red Deer's skateparks. Glendale Skatepark in Red Deer's north side is a popular choice, and has the added benefit of being staffed by Northside Community Centre YMCA's skatepark mentors.
The Y's skatepark mentors are experienced skaters and BMX bikers who want to help make sure the skatepark remains a safe and inclusive space for kids and youth of all skill levels and backgrounds to enjoy. They hang out at the park every day after school and on weekends, offering encouragement, teaching skills and providing water and snacks to anyone who wants it.
"The biggest part [for me] is just creating community engagement and connections," one skatepark mentor explained in a video on the YMCA's social media channels, adding, "engaging with the kids, teaching what you love to do… just being a positive influence on everyone and trying to make this place a better community."
The YMCA Skatepark Mentorship program was piloted in 2021, and after a successful season Border Paving Ltd. stepped up with a generous donation to make it possible for the Y to staff the park all summer long in 2022 and 2023. The Y has since expanded the program, and will have skatepark mentors and youth workers at the Red Deer Skatepark downtown in addition to Glendale, starting in July.
Youth can find YMCA skatepark mentors at the Glendale Skatepark Monday to Friday from 2:30 to 7:30pm, and noon–4pm on Saturdays and Sundays until the end of June. Starting in July, their weekday hours will expand to 12:30 to 8:30pm and they can be found at the Red Deer Skatepark downtown from 10am to 1pm every Tuesday, Wednesday and Thursday.
Visit ymcanab.ca/skatepark to meet Northside Community Centre YMCA's skatepark mentors for 2023 and learn more about youth programs at the Y.