St. Joseph High School student awarded scholarship worth $80,000.00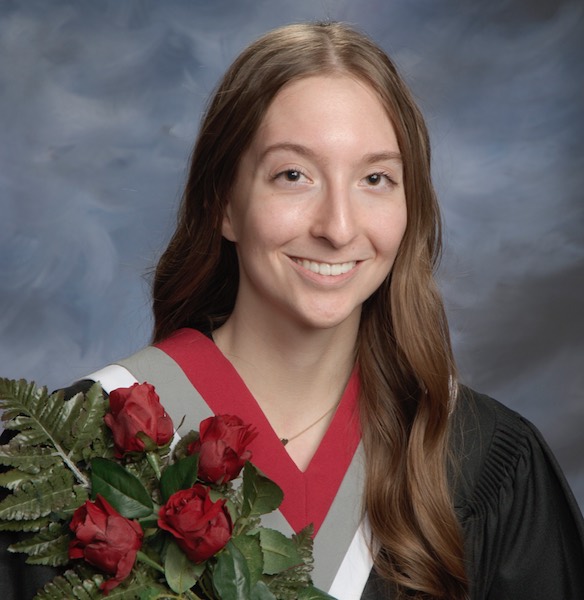 Article submitted by Red Deer Catholic Regional Schools
High school student wins a Schulich Leader Scholarship worth $80,000
Denaisha Kraft, a Grade 12 student from St. Joseph High School has been granted a Schulich Leader Scholarship, Creating the Next Generation of Technology Innovators, from the University of Victoria. The scholarship is in the amount of $80,000.
This is Canada's most coveted undergraduate STEM (Science, Technology, Engineering, and Math) scholarship. Kraft won in the science and math category.
"I never would have imagined that I would win this scholarship. It is truly life-changing. I honestly can't thank my teachers enough for everything they have done. They have always been so supportive, and they are always willing to provide assistance. They have undeniably inspired me to work towards my goals. St. Joseph High School has given me so many opportunities to grow as an individual, and the school does an amazing job of creating an inclusive environment to grow in both athletics and academics. My parents have motivated me throughout my entire life; none of this would be possible without their constant support. They have allowed me to pursue my interests and work towards my goals, and I can't thank them enough. I have also been fortunate to grow up alongside my twin sister, Jessica, and she has always been there to provide constant encouragement. Winning this scholarship gives me the ability to focus on my interests without having to worry about any financial limitations. I'm excited to connect with other like-minded individuals at the University of Victoria who share similar interests and passions, and I can't wait to get involved with the learning opportunities that the University of Victoria has to offer. I couldn't be more excited to start the next part of my journey," said Denaisha Kraft, Grade 12 student at St. Joseph High School.
"Denaisha is a remarkable member of our school community. Not only is she a strong academic student, Denaisha is also a gifted athlete who is part of our varsity volleyball and badminton teams. As a Schulich Leader Scholarship recipient, Denaisha is humble and passionate for learning, which is an element essential for mentorship to be effective. Denaisha has a bright future ahead of her and we couldn't be more pleased for her and her family," said Principal Graeme Daniel at St. Joseph High School.
"Denaisha is one of the top female students I have ever taught. She is modest and genuine but always seeks to understand more. Denaisha is a great ambassador academically and athletically," said Sherry Schulzke, a retired teacher from St. Joseph High School.
We've got THOUSANDS of reasons to SMILE!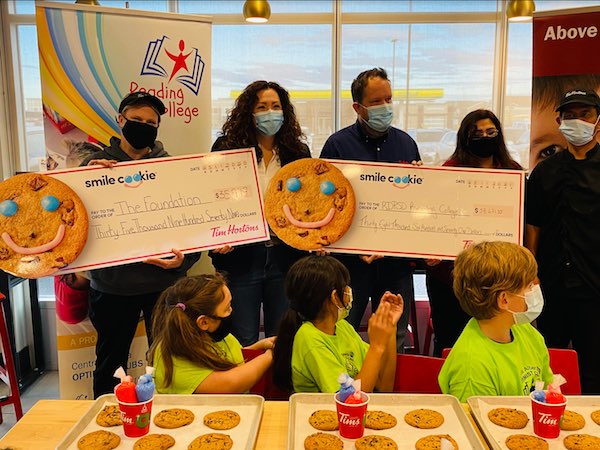 It took us a while to count ALL the money raised from the Tim Hortons Smile Cookie Campaign…and it's very impressive!
Today, we celebrated the presentation of two cheques – one from the 2020 Smile Cookie campaign, and one from this year's campaign. Due to the COVID-19 pandemic, we were unable to hold last year's cheque presentation.
Over the last two years, Red Deerians ate 74,650 cookies, which means $35,979 was raised in 2020 and $38,671 was raised in 2021 to help struggling readers become readers of potential through Reading College, a project of the Foundation for Red Deer Public Schools.
Reading College, held in the month of July, provides students who already have reading gaps, an amazing summer experience that will not only develop their reading skills but more importantly, their interest and motivation in reading. Students leave the program with increased reading and writing abilities, and a solid foundation for future success in school and life.
"The Smile Cookie Campaign is a great opportunity to raise awareness on the importance of literacy, it really does create life chances for students. Reading College is made possible through great support from our community and Tim Hortons – we could not operate it without this support," said Kristine Plastow, Foundation Board Chair. "We are so grateful to the community for buying Smile Cookies and supporting this fantastic program."
From September 13 – 19, Tim Hortons restaurant owners in Red Deer generously donated all proceeds from sales of a special smiling chocolate chunk cookie to support the Reading College program through The Foundation for Red Deer Public Schools. The $1 treat helps community programs across Canada in the cities where they are sold.
"On behalf of all restaurant owners and team members in Red Deer, I would like to thank our loyal guests for their generosity and support of the Smile Cookie campaign," said Tanya Doucette, Tim Hortons Restaurant Owner in Red Deer. "Tim Hortons is thrilled to support The Foundation for Red Deer Public Schools and Reading College with the funds raised and bring smiles to so many people's faces."
The King's University receives $20-million donation for new state-of-the-art Science Centre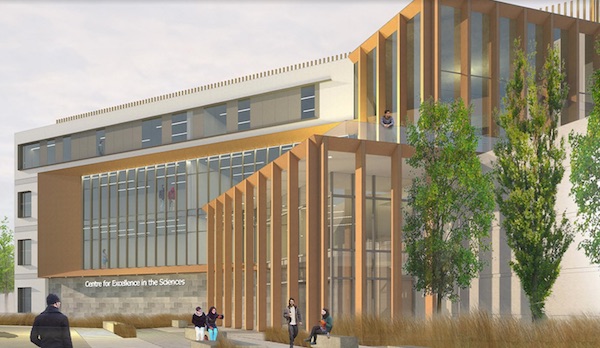 Construction of a new 40,000 square foot Centre for Excellence in the Sciences at The King's University will move forward thanks to a gift of $20-million from an anonymous donor. The landmark donation, the largest gift in King's 42-year history, allows the institution to build on its strong academic reputation in the natural, health and social sciences.
The Centre will include beautiful common spaces, purpose-built teaching facilities, leading technology and laboratories that enable the university to further place student research at the heart of its academic programming.
"I have always been proud of our legacy of research and education," King's President Dr. Melanie Humphreys says. "It's really quite impressive—especially for a university of our size. This incredible, humbling gift is going to propel these programs forward in a significant way and provide new opportunities to branch out into the health sciences."
Student-faculty research teams at The King's University are currently involved in projects such as antibiotic resistance, animal-assisted therapy in mental health, endangered trees in Canada's mountains and foothills, and diseases that devastate honeybee populations. King's Community Engaged Research program collaborates with local non-profits to help provide data-driven solutions for their organizations.
The Centre for Excellence in the Sciences will be a hub for sustainability research. With a newly granted Transitions to Sustainability Canada Research Chair, the Centre will enhance support and coordination for sustainability work happening across disciplines and at King's Centre for Visualization in Science (KCVS).
KCVS alone has partnered with more than 40 organizations worldwide, such as UNESCO, and has contributed important resources to three United Nations International Years: Chemistry (2011), Periodic Table (2019), and the upcoming International Year of Basic Sciences for Sustainable Development (2022–23). Another KCVS resource contributed to the education and outreach work of the Organization for the Prohibition of Chemical Weapons, which won the Nobel Peace Prize in 2013.
"Building a more humane, just and sustainable world is right there in our vision statement," says Dr. Peter Mahaffy, professor of chemistry and co-founder of KCVS. "These words continue to move off the page of aspirational statements to shape and ground what happens here each day."
ABOUT KING'S
The King's University has been building a more humane, just and sustainable world for more than 40 years. King's offers fully accredited programs in the humanities, sciences, business, and education, and ranks at the top of national surveys for quality of teaching, sense of belonging, and intellectual engagement. Award-winning faculty mentor students in their studies and publish leading research in their fields. As Edmonton's Christian University, King's empowers graduates to bring renewal to every walk of life.