Alberta's Next Frontier: Space Resources
The United States is aiming to return people to the Moon with the Artemis program. In addition to the rockets, astronauts, space stations, and robotic arms, the mission will also place a permanent base on the lunar surface.
For this program to work, there will have to be industrial equipment on the Moon. It will contribute to the sourcing of raw materials for the operation of the facility and rocket flights between the Moon and Earth. Water is an extremely valuable resource in space. Right now it costs about $2,700 USD to get a litre of water into orbit. That's $430k a barrel for water in space if you want to compare to oil prices on Earth. It's much cheaper to get the water in space than to bring it up from Earth.
This is where Alberta comes in.
We have extensive knowledge in the extraction, processing, and storage of liquids. We also have the best engineers, technicians, and trades in the world when it comes to modular construction and process equipment. Alberta is perfectly positioned to supply equipment to the space resource industry that's about to take off in the US.
On April 6th, the White House signed an executive order allowing US corporations to mine the Moon. This announcement is in line with the 2015 law that the US Congress passed that allowed American companies to use resources from the Moon and asteroids. President Trump is very clear in his intentions, as the order states "Americans should have the right to engage in commercial exploration, recovery, and use of resources in outer space."
In short, the US is preparing to open up space for business and they are looking for international partners.
This is an opportunity for Alberta manufacturing to do what we do best: build. US aerospace firms are starting to look at how they are going to design, build, install, and operate industrial equipment on the Moon. The first commodity they are going to be looking to harvest from the lunar surface is water.
There is plenty of water on the moon that can be harvested for rocket fuel. It is frozen in ice and buried in the Lunar regolith. To convert it to usable fuel, it needs to be collected, transported to a central processing facility, treated, and stored. Then it will be sold to companies like SpaceX and Blue Origin where they will split it into oxygen and hydrogen for rocket fuel.
If you work in the Alberta oil sands, this is all a familiar song and dance. Fueling the new space race requires much of the same technology that was developed to extract bitumen from sand in Western Canada. And with oil prices at historic lows, there are thousands of idle engineers and millions of dollars of equipment with nothing to build.
This is an astronomical opportunity for Western Canada.
We have been building module processing equipment for remote facilities for decades. The same skills that built our economic engine in fossil fuels can be re-tooled to supply machinery and process equipment to build fueling stations on the Moon.
Canada is world-famous for the Canadarm. It's a symbol of national pride and is printed on our $5 bill. Our astronauts are recognized everywhere they go. Western Canada now has an opportunity to show the world what we are capable of.
It's Alberta's time to shine.
More to come…
For more stories, visit Todayville Calgary
Image sources
"With success comes challenge." Premier Smith to Alberta Municipalities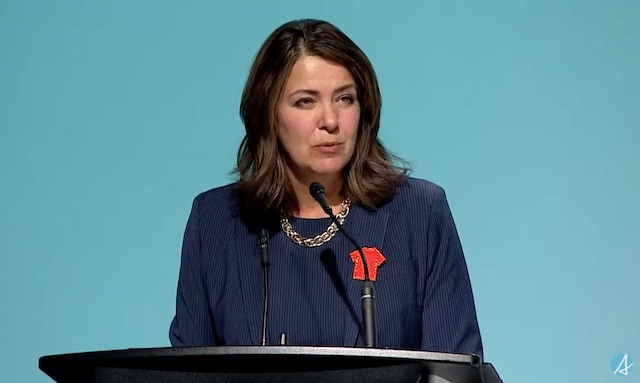 Premier Danielle Smith delivered a keynote address at the 2023 Alberta Municipalities Convention in Edmonton.
Aurora Cannabis to raise $33.8M in share offering, plans to repay convertible debt
EDMONTON — Shares of Aurora Cannabis Inc. were down more than 10 per cent after the cannabis company announced plans to raise $33.8 million in a share offering.
The company says Canaccord Genuity has agreed to buy, on a bought deal basis, 46,250,000 shares of the company at a price of 73 cents per share.
It has also granted Canaccord Genuity an over-allotment option for up to an additional 6,937,500 shares on the same terms. If the over-allotment option is exercised in full, the offering will total $38.8 million.
Aurora says it plans to use the money raised to repay the remainder of its outstanding convertible senior notes at or prior to maturity.
The company says the remainder, if any, will be used for strategic purposes, including potential acquisitions.
Aurora's stock price was down 13 per cent at 79 cents per share in early trading on the Toronto Stock Exchange.
This report by The Canadian Press was first published Sept. 28, 2023.
Companies in this story: (TSX:ACB)
The Canadian Press