Scott: Healthier weight while taking anti-psychotic meds
This story was originally published on the PCN website in May 2018.
Scott: Healthier weight while taking anti-psychotic meds
My health issue is schizophrenia and the side effects associated with the anti-psychotic medication I take. I had a conversation with my family doctor about the bariatrics clinic at the hospital and he assessed my obesity and referred me to the Health Basics course. I had hoped to get control of my body weight because I have had chronic pain, injuries, and intense frustration with my physical abilities.
A major barrier to my mental concentration was the lack of structure regarding my knowledge around health. I had been advised to control my eating by family and friends but I felt that my weight would naturally sort itself out if I could just get my medications decreased. I had previously connected with a dietitian through AHS however I could not keep a food journal or make adjustments that she recommended.
In the Health Basics program, I committed to the group therapy process and began journaling for the first time. I increased the proportion of fruits and vegetables in my diet. I now plan snacks and focus on "in-control" eating. Further, I practice the 80/20 rule regarding the Healthy Road vs. Easy Street and this keeps my spirits up when I slack off. I simply remind myself that I can make a better choice in any moment to "save the day".
The last I weighed myself, I had dropped fourteen pounds and my waist was quite a bit smaller. I am getting comments about my physique. I am working through the side effects of my medication with gratitude for the treatment team that helps me, and I am overall noticing less symptoms of depression. In addition, I am maintaining my active lifestyle and achieving the high level of performance that I demand from myself.
I recommend anyone needing weight loss and a healthier lifestyle to take the Health Basics course and attend and participate for yourself AND the others in the group. Make your nutrition a priority because I believe "you are what you eat". Find a career that forces you to exercise at a high intensity. One big motivator to me is that I need to start a family and I believe that I can have more fun in life with a body that I am happy with.
I am on track to continue to be healthy. I eat enough fruits and vegetables. I continue to journal my food intake. I drink water as my main beverage. I stretch daily. I make my soccer referee job the priority in my career. I am currently participating in the sleep course at the PCN to make sure that I am improving other areas of my health as well.
Here are some other stories from Primary Care Network:
About the Red Deer Primary Care Network:
We (RDPCN) are a partnership between Family Doctors and Alberta Health Services. Health professionals such as psychologists, social workers, nurses and pharmacist work in clinics alongside family doctors.
In addition, programs and groups are offered at the RDPCN central location. This improves access to care, health promotion, chronic disease management and coordination of care. RDPCN is proud of the patient care offered, the effective programs it has designed and the work it does with partners in health care and the community.
Gateway Christian students experience life changing trip to Dominican
Students from Gateway Christian School recently returned from a life changing trip to the Dominican Republic as part of their Intercultural Studies program.
Gateway's 2023 Co-Impact Team, which included 13 students, two staff and an additional chaperone, spent 10 days on the ground over Spring Break connecting with other students and families to help to build a basketball court and physical education area at the Pena de Horeb school via Edudeo Ministries. Pena de Horeb is primarily a Haitian school, serving the students and families amidst a very poor Haitian neighbourhood. In the months leading up to the trip, Gateway students raised funds to help assist with the build. Gateway also spent a significant amount of time building relationships with and learning from students and staff at their partner school, El Colegio Cristiano Reformado Los Guandules.
"Service is an important part of the culture at Gateway, and this experience was the culmination of that. The Co-Impact Team fundraised not only for their trip, but also for funds to go towards the school we worked on in the Dominican Republic," said Geannette Lehman, Principal at Gateway Christian School. "The trip was part of their Intercultural Students class, which they receive credit for. We met weekly at 7:15 a.m. to complete aspects of the Intercultural Studies course, bond as a team, and prepare craft lessons and activities to teach students at the school in the Dominican. It was not only a great experience in the Dominican, but in preparing for the trip as a team as well."Alexa Huska, Gabe Gillies, and Kate Stober were three students who were part of the Co-Impact Team.
"It was really neat to connect with my fellow Grade 12 students," said Alexa. "We've gone to school together since we were kids, so to have an experience like this together was really special. We were able to connect on a deeper level."
Gabe added it was humbling to see how grateful those in the Dominican Republic were, even for the smallest things. "They have little compared to us, and they are just so happy," he said. "They are grateful for the things they have and they don't stress about the small stuff."
Kate agreed. "They have so much joy, and nothing mattered other than just being with one another," she said.
Ultimately, it was a great experience for all involved.
"The kids were greatly impacted by seeing the world through another lens. Our lens is so different from those around the world," said Geannette, adding she is proud of her students. "They gave up their Spring Break, immersed themselves in another culture, and represented Gateway and Red Deer Public so well."
To read Gateway's Co-Impact Team's blog of their experiences, click here.
Run/Hike for Red Deer Hospice Takes Place This Sunday at Bower Ponds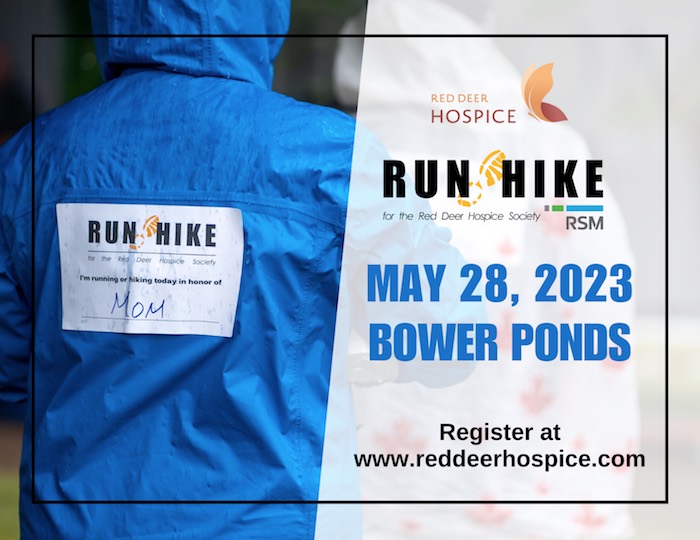 News release from Red Deer Hospice
Red Deer Hospice's 16th Annual Run/Hike event, presented by RSM Red Deer, will take place at Bower Ponds this Sunday.
Registration will open at 9:00am and those wishing to run, walk or stroll the 1km, 3kms or 5 kms will start at 10:00am. A light breakfast and hot, post-race lunch, provided by Mr. Mikes, will be available to participants and live entertainment will be provided by the band Fun House in the amphitheater.
"This will be a day to remember and reflect, while taking in the natural beauty of the trails in and around Bower Ponds," said Jerri Taylor, Executive Director of Red Deer Hospice. "As our main fundraiser for the year, our goal is to raise $38,000." Proceeds and donations will go towards Red Deer Hospice's mission of supporting a peaceful and compassionate end-of-life journey.
Online registration on the Red Deer Hospice website will close at 3:00pm on Friday, May 26, 2023. Those interested in participating in this year's Run/Hike event who have not registered can do so in person on Sunday morning at Bower Ponds.
For more information, visit www.reddeerhospice.com.