#RedDeerStrong – Reduce your pain, improve your movement, function your best with Pursuit Physiotherapy
What does your business do?
Pursuit Physiotherapy helps people in Central Alberta to feel their best, move their best, and recover from injuries.
Our compassionate, highly skilled therapists help you to pursue the activities that you want to do. Reduce your pain, improve your movement, function at your best!
Some of the things that we can help with:
Chronic neck/back pain or injuries
Sports injuries
Joint sprains and Muscle strains
Vertigo
Pelvic Health issues like incontinence or pain
Motor Vehicle Accident recovery
Pain and Stiffness that prevents you from doing the things that you love
How has COVID-19 affected you?
The clinic was closed for about 7 weeks because of the pandemic. It is now open at a reduced capacity to ensure the environment is safe for all of our clients. We are pleased that all of our staff are now back working and have availability to treat you. We appreciate your referrals as we rebuild!
What are you doing to adapt?
At Pursuit Physiotherapy, we have always treated patients on a "one-on-one" basis and minimized wait times. This has allowed us to transition into the "new normal" without disrupting your care plan. We have treatment zones and safety measures in place, including masking, to minimize the potential for virus spread. Also, we continue to offer Video Treatments, also known as Telehealth or Virtual Health. This allows our clients that need to stay home to access treatment. Physiotherapists provide a lot of education and exercise so you'd be surprised how much can be accomplished virtually!
What kind of help do you need?
Help us spread the word: We are open and we want to serve our community. We can see you for in-person treatment or via video. Do not hesitate to reach out to us with questions to determine your best plan for physiotherapy.
What do you want the community to know?
Being unable to treat patients for almost 2 months really spelled it out for us:
We missed our patients!
Helping you is what we do. We love to offer help to make you feel better, do better, and pursue your goals. This has been a stressful time for our entire community. Do not suffer unnecessarily because of muscle tension, changes to your workplace environment, or new injuries – We would love the opportunity to help you!
110, 2840 Bremner Avenue
Red Deer, Alberta T4R 1M9
(403) 356-9789
Hours 8:00 AM – 6:30 PM
Southside Dodge donates new van to Ronald McDonald House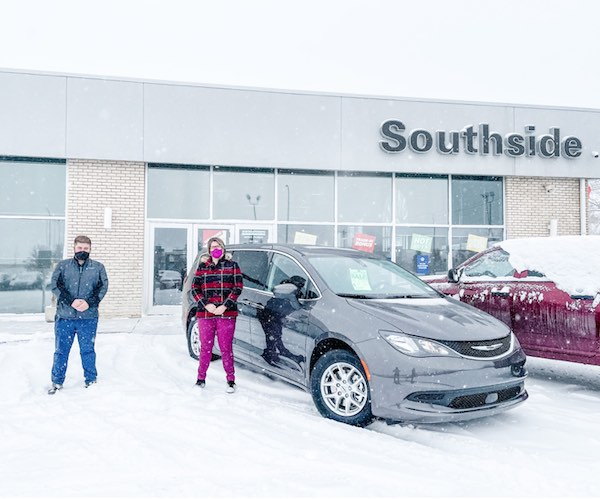 Matt Swainson (Vice President & General Manager, Southside Dodge Chrysler Jeep Ram) -left , Lori Rechlo (General Manager, Ronald McDonald House Charities Alberta – Red Deer House) – right
Submitted by

Sarah Heibein,

Stakeholder Relations Manager, Central Alberta Ronald McDonald House

We've received a donation of use of a Dodge Caravan from Southside Dodge- they've been an incredible support of us over the years. Attached is the photo we took at the dealership when we picked up the keys on Friday.
Ronald McDonald House Charities Alberta, Red Deer House is truly grateful to Matt Swainson and his entire team at Southside Dodge for their steadfast support of our work to keep families together during the unimaginable hardship of the need to travel for medical treatment for their sick or injured child. Our House is not a nice to have, but a need to have, and we are honoured to work with such an amazing community partner in Southside. The use of the 2021 Dodge Caravan will help us to keep our operating costs down so that we can focus on our work to keep families close.
We have operated in the city for over 8 years, ensuring there is a safe and comfortable place for families to rest while they focus on the recovery of their child(ren).
We are grateful to everyone in Red Deer who supports us! 😊
Smiles Thru Lindsey reaching out with a new video message and urging Albertans to look out for each other at this challenging time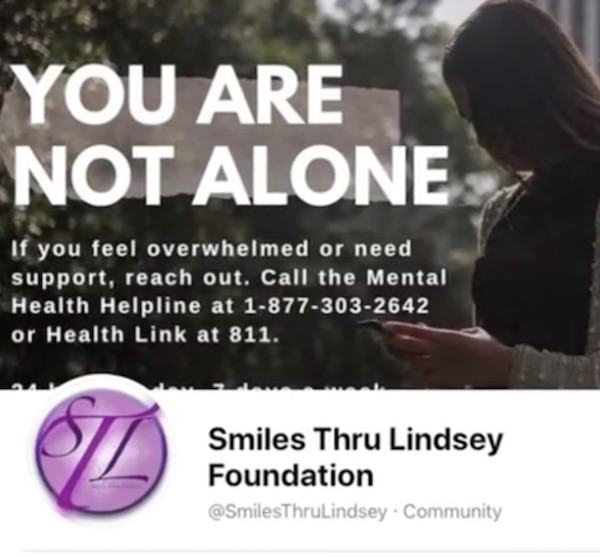 The holiday season is well behind us, we're heading into the coldest part of the winter, and although the days are starting to grow longer there's still a definite lack of daylight in our lives. The winter blues are a real thing and this year we have COVID, a whole new serious problem to add to our mental health issues.
COVID is also the reason the Smiles Thru Lindsey team has not been able do public events for many months. Unable to reach out physically through school visits and fund raisers, Smiles Thru Lindsey is reminding Central Albertans to check in on each other. Also, please follow the Smiles Thru Lindsey Facebook page . They'll lead you to the resources you or your loved ones need right away.
Meet Lindsey and the Smiles Thru Lindsey team in this powerful video. …And remember to check in on the people in your life.
If you'd like to help Smiles Thru Lindsey with a donation please click here.