#RedDeerStrong – Tacoloft – Unique food, Unique setting, Unique experiences

What does your business do?
We sell tacos and taco accessories such as margaritas, beer and wonderful and fulfilling guacamole.
How has COVID-19 affected you?
My business partner has a compromised immune system so he has been isolated since the day after we opened. We were really looking forward to creating a new experience for Red Deer, affordable, locally sourced food that was packed full of flavour. Our motto is "who doesn't like tacos and beer?" We brought in a fantastic artist, spent much time and effort in design. We had planned to start going heavy on take out and delivery down the line but had to adapt at a ferocious pace to survive.
We depend on the public because we can not access grants. The CRA is so backed up it does not know we exist, it's been two months and constant phone calls and they are so short staffed they tell us to hurry up and wait. We have fantastic landlords and they have been much help, shout out to Tribe restaurant.
I have had some great help from some fantastic staff and we have been working with other businesses too like Heritage Ranch and Sweet Capones to market great "Netflix and Chill Packs".
We also sell a lot of our different DIY kits that people have been saying amazing things about. We have been doing a Thursday run to deliver the kits to outlying communities like Blackfalds, Lacombe and Sylvan Lake which has helped in keeping us afloat.
The support from the public is essential and has kept us going and hopefully this all ends soon because we have a fantastic Margarita menu with 15 different flavours to roll out.
What are you doing to adapt?
Take out!! Delivery!! We also try to be hilarious because everyone needs to laugh right now.
What kind of help do you need?
Public support, government grants and free advertising. (glad we can help)
This is taco cam. From time to time you'll see short videos of taco cam on the Tacoloft facebook page.
What do you want the community to know?
All matter is merely energy condensed to a slow vibration. That we are all one consciousness experiencing itself subjectively. There is no such thing as death, life is only a dream, and we are the imagination of ourselves.
Don't forget to have fun in whatever capacity you can, support local and to remember that this to shall pass.
(403) 396-7437
#RedDeerStrong – Former refugee expressing gratefulness to Canada through donation to front line health care workers
#RedDeerStrong – Can't go to see art? Enjoy Red Deer's 2020 Online Arts Festival!
Southside Dodge donates new van to Ronald McDonald House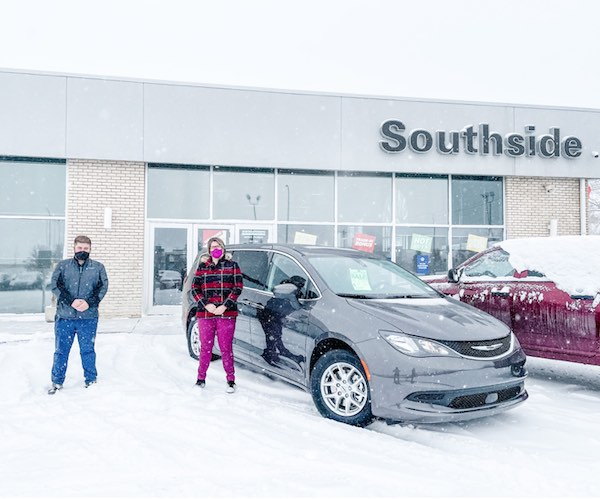 Matt Swainson (Vice President & General Manager, Southside Dodge Chrysler Jeep Ram) -left , Lori Rechlo (General Manager, Ronald McDonald House Charities Alberta – Red Deer House) – right
Submitted by

Sarah Heibein,

Stakeholder Relations Manager, Central Alberta Ronald McDonald House

We've received a donation of use of a Dodge Caravan from Southside Dodge- they've been an incredible support of us over the years. Attached is the photo we took at the dealership when we picked up the keys on Friday.
Ronald McDonald House Charities Alberta, Red Deer House is truly grateful to Matt Swainson and his entire team at Southside Dodge for their steadfast support of our work to keep families together during the unimaginable hardship of the need to travel for medical treatment for their sick or injured child. Our House is not a nice to have, but a need to have, and we are honoured to work with such an amazing community partner in Southside. The use of the 2021 Dodge Caravan will help us to keep our operating costs down so that we can focus on our work to keep families close.
We have operated in the city for over 8 years, ensuring there is a safe and comfortable place for families to rest while they focus on the recovery of their child(ren).
We are grateful to everyone in Red Deer who supports us! 😊
Smiles Thru Lindsey reaching out with a new video message and urging Albertans to look out for each other at this challenging time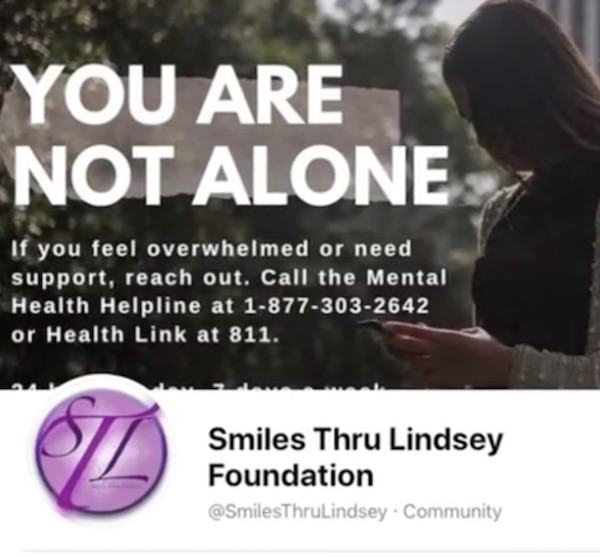 The holiday season is well behind us, we're heading into the coldest part of the winter, and although the days are starting to grow longer there's still a definite lack of daylight in our lives. The winter blues are a real thing and this year we have COVID, a whole new serious problem to add to our mental health issues.
COVID is also the reason the Smiles Thru Lindsey team has not been able do public events for many months. Unable to reach out physically through school visits and fund raisers, Smiles Thru Lindsey is reminding Central Albertans to check in on each other. Also, please follow the Smiles Thru Lindsey Facebook page . They'll lead you to the resources you or your loved ones need right away.
Meet Lindsey and the Smiles Thru Lindsey team in this powerful video. …And remember to check in on the people in your life.
If you'd like to help Smiles Thru Lindsey with a donation please click here.