#RedDeerStrong – Fetal Alcohol Spectrum Disorder Network. Another not-for-profit battling through the COVID / Energy Crisis

What does your business do?
The Central Alberta FASD Network is a non-profit organization offering community-based, cost-free services to persons living with Fetal Alcohol Spectrum Disorder (FASD) across the lifespan, and their caregivers. With offices in Red Deer and Rocky Mountain House, we are part of a system wide FASD Network model that has made Alberta a leader in service delivery, both in Canada and internationally. We offer education and training, outreach and prevention, and assessment and diagnosis services.
How has COVID-19 affected you?
For the safety of our clients, employees and the community the Network have moved to a "Working Remotely Protocol" meaning we are unable to meet with our clients and their caregivers in person to provide support, counselling and education. Our monthly support groups for caregivers and clients with FASD have had to be cancelled. We have had to place our diagnostic clinic on hold and will re-evaluate daily/weekly as to when we will be permitted to re-open. Unfortunately, we have had to cancel all face to face education, training sessions and events.
The Network board of director's, staff and clinic staff are definitely taking this very seriously. The health and safety of all of our staff, office guests and clients served are of the utmost importance.
What are you doing to adapt?
We continue to provide support to clients and caregivers on a full-time basis via telephone, Zoom and other social media avenues. Our intake line has specific instructions on what we have put in place as a Business Continuance plan, and how to get in touch with a staff person for support.
We are providing fact sheets regarding precautions all staff and clients should take regarding COVID-19. We have also created a "Client Information Handbook" that we have passed on to our clients and would be happy to share with anyone who is interested. We are posting live video and print information on our website and facebook page and will be offering a free online training, FASD 101, in the coming weeks.
What kind of help do you need?
We welcome any questions or feedback that our clients or community members have.
We are a registered charity and are always accepting donations that assist in enhancing our programming and increasing our ability to continue to provide free assessment and diagnosis to those suspected of FASD. A single assessment costs between $4500 and $5000.
What do you want the community to know?
Although our offices throughout Central Alberta are closed, our intake line remains open and our Outreach Staff are available to offer support via phone call, facebook or video chat. Please contact the main office line at 403-342-7399 and please leave a voice mail; your call will be returned within two business days.
Please visit our website at http://www.centralfasd.org and our facebook page.

#RedDeerStrong – Group focussed fitness studio F45 offers fitness opportunities for isolated athletes
#RedDeerStrong – Protecting your vehicle investment is more important than ever. Line-X is here to help!
#RedDeerStrong – If you're struggling and you need to consolidate debt through a mortgage refinance, Kristen is here for you.
Southside Dodge donates new van to Ronald McDonald House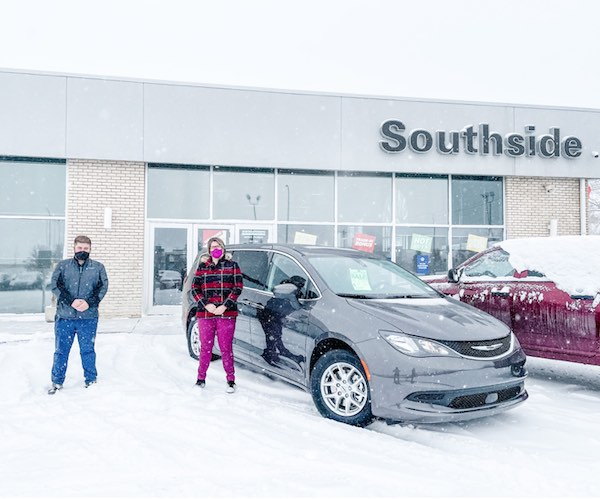 Matt Swainson (Vice President & General Manager, Southside Dodge Chrysler Jeep Ram) -left , Lori Rechlo (General Manager, Ronald McDonald House Charities Alberta – Red Deer House) – right
Submitted by

Sarah Heibein,

Stakeholder Relations Manager, Central Alberta Ronald McDonald House

We've received a donation of use of a Dodge Caravan from Southside Dodge- they've been an incredible support of us over the years. Attached is the photo we took at the dealership when we picked up the keys on Friday.
Ronald McDonald House Charities Alberta, Red Deer House is truly grateful to Matt Swainson and his entire team at Southside Dodge for their steadfast support of our work to keep families together during the unimaginable hardship of the need to travel for medical treatment for their sick or injured child. Our House is not a nice to have, but a need to have, and we are honoured to work with such an amazing community partner in Southside. The use of the 2021 Dodge Caravan will help us to keep our operating costs down so that we can focus on our work to keep families close.
We have operated in the city for over 8 years, ensuring there is a safe and comfortable place for families to rest while they focus on the recovery of their child(ren).
We are grateful to everyone in Red Deer who supports us! 😊
Smiles Thru Lindsey reaching out with a new video message and urging Albertans to look out for each other at this challenging time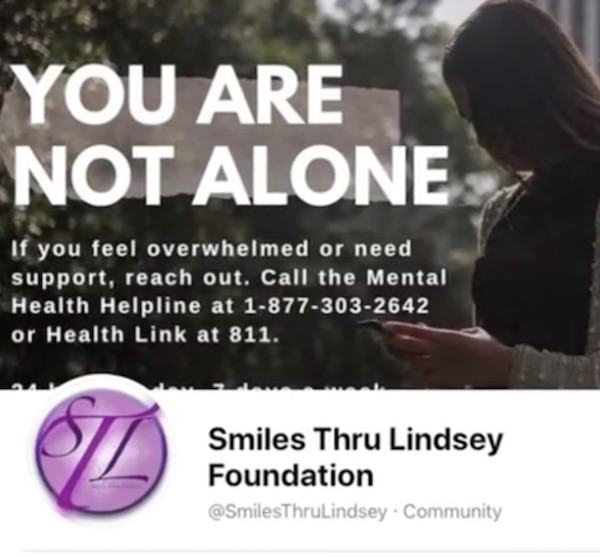 The holiday season is well behind us, we're heading into the coldest part of the winter, and although the days are starting to grow longer there's still a definite lack of daylight in our lives. The winter blues are a real thing and this year we have COVID, a whole new serious problem to add to our mental health issues.
COVID is also the reason the Smiles Thru Lindsey team has not been able do public events for many months. Unable to reach out physically through school visits and fund raisers, Smiles Thru Lindsey is reminding Central Albertans to check in on each other. Also, please follow the Smiles Thru Lindsey Facebook page . They'll lead you to the resources you or your loved ones need right away.
Meet Lindsey and the Smiles Thru Lindsey team in this powerful video. …And remember to check in on the people in your life.
If you'd like to help Smiles Thru Lindsey with a donation please click here.