#RedDeerStrong – Dance academy students hoping to show the whole community their homework

What does your business do?
Strive Dance Academy Society is a parent-run, not-for-profit organization that provides dance excellence in a disciplined community environment for students in Central Alberta who are seeking the highest level of competitive dance instruction. Strive is owned by the collective membership and operated / administered by a Board of Directors.
How has COVID-19 affected you?
Prior to the Government's mandated closure of all non-essential services, Strive made the difficult decision to close the studio which in turn has led to the cancellation of all classes – competitive, pre-competitive, acrobatics, as well as preschool and adult programming. Competitive dance is a big part of these children's lives, as many of them dance 5 or 6 days a week in addition to their regular schooling. Our dancers have been unable to visit with their dance family, continue their preparation for and participate in competitions, this has left our dance family mourning what could have been. Our Season 11 graduates have been denied their final season of dance before moving on to the next phase of their lives. Despite all this, they have been working hard to stay connected through virtual meets and dance sessions.
What are you doing to adapt?
Strive Dance Academy is unique in that it is an organization run almost wholly on a volunteer basis. Strive was founded by a small group of families who set the precedent for the success of our studio. Through hard work, perseverance, and a dedication to our Organizational Values, Strive Dance Academy has had ten very successful seasons of dance. Season 11 has brought new challenges, requiring our studio to design virtual programming in order to continue reaching for dance excellence. Like the rest of the country, our studio has experienced temporary lay-offs and a decrease in salary for many of our staff. Our dance family has been asked to put any committee planning on hold which may affect the studio's ability to reach this season's fundraising goals.
What kind of help do you need?
It is our sincere hope that we will be able to provide our dancers with the opportunity to present their hard work at our annual year end production. We would love to see community members attend the performance and show their support for the Arts, and youth in our community. It is, afterall, the Performing Arts that continues to provide us entertainment while in isolation. Please consider following us on social media for entertainment, but also so we may continue our efforts towards teaching our dancers hard work, commitment, determination, integrity, and citizenship through the Art of Dance.
Here's an example of how many of our dancers are staying sharp at home.
What do you want the community to know?
Our studio embraces the maxim, "Dig Deep, Reach High," so with that as our guiding principle we know that we will persevere and we will survive this pandemic. We are fortunate that we have the gift of dance to share with one another and our community, even if that is virtually. We are currently looking into how our dancers may share their joy and passion with the most vulnerable, and for those who have limited access to the outside world.
#RedDeerStrong – Troubled Monk produced hand cleanser is available to the general public
#RedDeerStrong – Uncertainty and Stress can lead to deadlock. Brown Resolutions may be just what you need right now.
Southside Dodge donates new van to Ronald McDonald House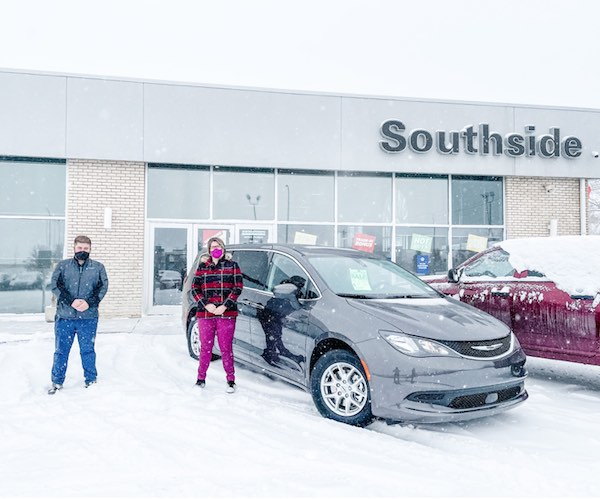 Matt Swainson (Vice President & General Manager, Southside Dodge Chrysler Jeep Ram) -left , Lori Rechlo (General Manager, Ronald McDonald House Charities Alberta – Red Deer House) – right
Submitted by

Sarah Heibein,

Stakeholder Relations Manager, Central Alberta Ronald McDonald House

We've received a donation of use of a Dodge Caravan from Southside Dodge- they've been an incredible support of us over the years. Attached is the photo we took at the dealership when we picked up the keys on Friday.
Ronald McDonald House Charities Alberta, Red Deer House is truly grateful to Matt Swainson and his entire team at Southside Dodge for their steadfast support of our work to keep families together during the unimaginable hardship of the need to travel for medical treatment for their sick or injured child. Our House is not a nice to have, but a need to have, and we are honoured to work with such an amazing community partner in Southside. The use of the 2021 Dodge Caravan will help us to keep our operating costs down so that we can focus on our work to keep families close.
We have operated in the city for over 8 years, ensuring there is a safe and comfortable place for families to rest while they focus on the recovery of their child(ren).
We are grateful to everyone in Red Deer who supports us! 😊
Smiles Thru Lindsey reaching out with a new video message and urging Albertans to look out for each other at this challenging time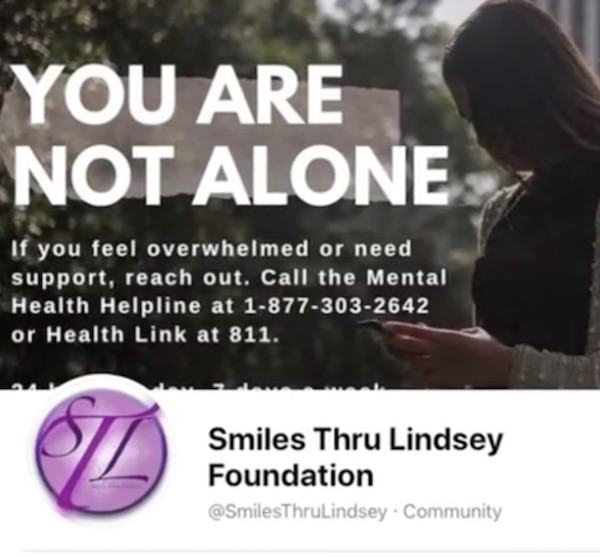 The holiday season is well behind us, we're heading into the coldest part of the winter, and although the days are starting to grow longer there's still a definite lack of daylight in our lives. The winter blues are a real thing and this year we have COVID, a whole new serious problem to add to our mental health issues.
COVID is also the reason the Smiles Thru Lindsey team has not been able do public events for many months. Unable to reach out physically through school visits and fund raisers, Smiles Thru Lindsey is reminding Central Albertans to check in on each other. Also, please follow the Smiles Thru Lindsey Facebook page . They'll lead you to the resources you or your loved ones need right away.
Meet Lindsey and the Smiles Thru Lindsey team in this powerful video. …And remember to check in on the people in your life.
If you'd like to help Smiles Thru Lindsey with a donation please click here.