#RedDeerStrong – Uncertainty and Stress can lead to deadlock. Brown Resolutions may be just what you need right now.

What does your business do?
Brown Resolutions provides mediation and arbitration services to resolve legal conflicts by the most flexible, affordable and efficient means possible. We provide skilled facilitators and decision-makers who have experience assisting individuals in dispute to reach a resolution outside of the courtroom.
Both mediation and arbitration are tailored to meet the needs of the clients and give participants control of the process. Our services focus on helping parties get from dispute to resolution efficiently, effectively and economically.
How has COVID-19 affected you?
As a mediation and arbitration service that helps people resolve disputes outside the court process, we have had to modify our typical business practices as a result of Covid-19. Normally, alternative dispute resolution (ADR) processes occur in a face-to-face, in-person session. People have been, and continue to be, understandably nervous about interacting with others even in small groups. Initially, most clients were postponing matters as everyone waited to see how the virus would spread and what changes that might bring to their everyday lives.
What are you doing to adapt?
While we were forced to delay some matters as everyone learned what the new normal would be, at Brown Resolutions we have been able to accommodate our clients with new methods. To practice consistent with ongoing social distancing, we have installed high-quality video conferencing technologies in the office to facilitate mediation and arbitration sessions for clients. We have tailored many of the usual processes to encourage clients to provide as much information through documents and written statements to further reduce and eliminate in-person contact. We currently take all meetings by telephone or video conference. At Brown Resolutions we are doing everything we can to consider the clients' thoughts and concerns about Covid-19 and still provide the effective, efficient and economic ADR services people need.
What kind of help do you need?
The uncertainty facing both our local and global society right now causes stress for many individuals. When faced with legal issues that are not being resolved, this can exacerbate the problem. While all of us are doing our best and working within a new framework, the most important thing we need from those we deal with is patience. It may take more time to accommodate your needs, some creative thinking might be necessary to find the best path forward, and the process may have to be modified, but with patience it can be done.
What do you want the community to know?
With the lifestyle limitations all of us are following as a result of Covid-19, assistance for individuals embroiled in legal disputes has been dramatically curtailed. Both the Provincial Court and Court of Queen's Bench have limited the matters they will hear to those that are emergent, such as restraining orders, bail hearings and child welfare issues. As result, at Brown Resolutions we have started offering mini-ADR sessions that resolve only one or two elements of an overall issue to provide interim relief while people already engaged in traditional litigation wait to see when they can again participate in the Court process. We have been told that the Court of Queen's Bench is very supportive of people using mini-ADR's in the meantime and is encouraging people to look to that route to help reduce the backlog of matters facing the Court when it eventually returns.
Our economy and therefore most individuals in our community have been impacted by Covid-19. With most people facing negative impacts to their finances, it becomes more important to look for the most economical way to meet their ongoing needs. The services at Brown Resolutions can help reduce legal costs for those involved in legal disputes by tailoring a process which fits their budget and still focuses on getting a result. We can help make the best use of more limited financial resources.
Eventually our society will start functioning more fully. While some things will understandably have to be postponed, everything we can do to continue moving our lives forward, including resolving outstanding disputes, will help relieve the backlog and inevitable delay that results from the loss of weeks or months of productivity in service sectors. At Brown Resolutions, we want to encourage people to consider new methods and processes to resolve their disputes.
You can reach Monica direclty by email [email protected] and by phone 403-346-0933.
Southside Dodge donates new van to Ronald McDonald House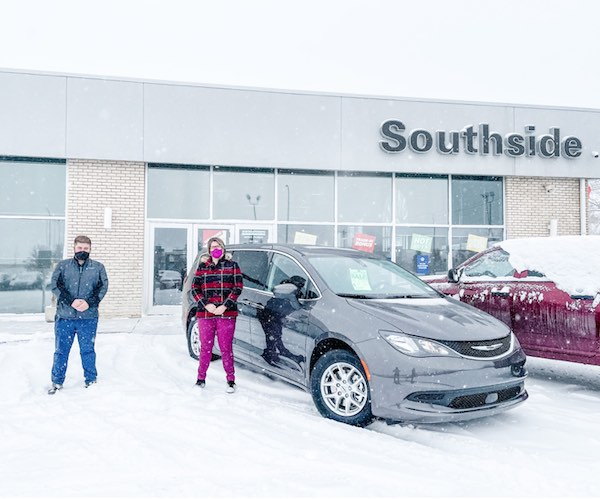 Matt Swainson (Vice President & General Manager, Southside Dodge Chrysler Jeep Ram) -left , Lori Rechlo (General Manager, Ronald McDonald House Charities Alberta – Red Deer House) – right
Submitted by

Sarah Heibein,

Stakeholder Relations Manager, Central Alberta Ronald McDonald House

We've received a donation of use of a Dodge Caravan from Southside Dodge- they've been an incredible support of us over the years. Attached is the photo we took at the dealership when we picked up the keys on Friday.
Ronald McDonald House Charities Alberta, Red Deer House is truly grateful to Matt Swainson and his entire team at Southside Dodge for their steadfast support of our work to keep families together during the unimaginable hardship of the need to travel for medical treatment for their sick or injured child. Our House is not a nice to have, but a need to have, and we are honoured to work with such an amazing community partner in Southside. The use of the 2021 Dodge Caravan will help us to keep our operating costs down so that we can focus on our work to keep families close.
We have operated in the city for over 8 years, ensuring there is a safe and comfortable place for families to rest while they focus on the recovery of their child(ren).
We are grateful to everyone in Red Deer who supports us! 😊
Smiles Thru Lindsey reaching out with a new video message and urging Albertans to look out for each other at this challenging time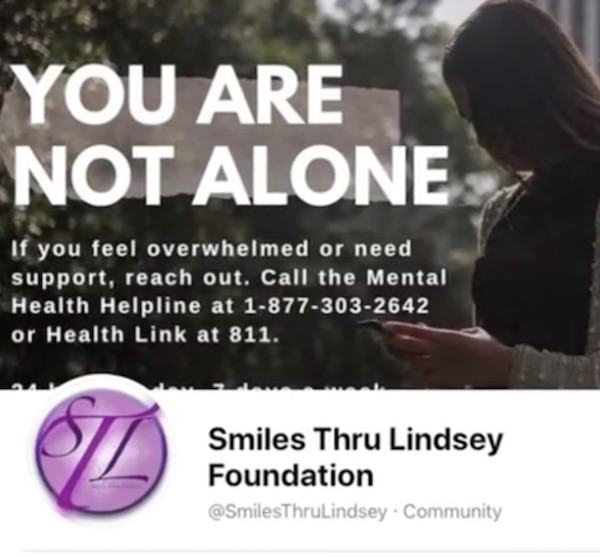 The holiday season is well behind us, we're heading into the coldest part of the winter, and although the days are starting to grow longer there's still a definite lack of daylight in our lives. The winter blues are a real thing and this year we have COVID, a whole new serious problem to add to our mental health issues.
COVID is also the reason the Smiles Thru Lindsey team has not been able do public events for many months. Unable to reach out physically through school visits and fund raisers, Smiles Thru Lindsey is reminding Central Albertans to check in on each other. Also, please follow the Smiles Thru Lindsey Facebook page . They'll lead you to the resources you or your loved ones need right away.
Meet Lindsey and the Smiles Thru Lindsey team in this powerful video. …And remember to check in on the people in your life.
If you'd like to help Smiles Thru Lindsey with a donation please click here.