Red Deer RCMP announce interim Officer in Charge
Feb. 4, 2019
Red Deer, Alta. – Chief Superintendent Shahin Mehdizadeh, District Commander of the Central Alberta RCMP, has announced Inspector Gerald Grobmeier as Interim Officer in Charge of the Red Deer RCMP detachment.
Inspector Grobmeier assumes these duties from Superintendent Foster, who has taken a temporary assignment outside of the detachment.
"I would like to thank Superintendent Foster for his dedicated service during his time in Red Deer," said C/Supt. Mehdizadeh. "He has made a lasting impact on the community and the detachment, having achieved significant outcomes with regards to crime reduction and prevention. I wish him luck in his future endeavours and know that he will be missed."
Superintendent Foster has over 25 years of service with RCMP, and joined the Red Deer RCMP as Officer in Charge of Red Deer in August 2016.
A permanent Officer in Charge will be named in the future.
from Red Deer RCMP
Convoy Lawyer details how trucks were moving BEFORE PM Trudeau invoked Emergency Measures Act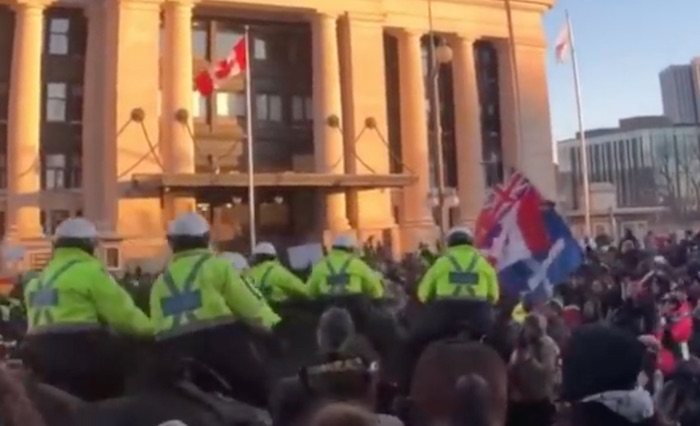 CBC news is reporting that court documents indicate "On the night before Justin Trudeau took the historic step of invoking the Emergencies Act during last February's Freedom Convoy occupation of Ottawa, the prime minister's national security and intelligence adviser told cabinet there was "potential for a breakthrough," "
This has come to light thanks to court challenges from civil liberties groups who claim the federal government went too far by invoking the Emergencies Measures Act.
Various media outlets are reporting it was unclear whether the truckers would hold up their end of the deal negotiated with the City of Ottawa. However an interview by commentator Viva Frei with Keith Wilson, lead lawyer for the Freedom Convoy makes it clear, trucks were already moving before the act was invoked.
The link above will take you to the youtube page of Viva Frei for a fascinating full length interview with Keith Wilson who talks about his 19 days in downtown Ottawa during the Freedom Convoy where he lead a team of lawyers representing the leaders of the trucker convoy in their dealings with the police, and the City of Ottawa.
Below is an 18 minute segment of that interview which focusses on the days immediately prior to the invocation of the Emergencies Measures Act. Wilson details how when tensions were building, he tapped former Newfoundland Premier Brian Peckford who helped to make a critical link to the office of the Mayor of Ottawa. He goes on to share how the early meetings lead to an agreement to move all the trucks out of the downtown core to Wellington (in front of Parliament Hill), another road nearby, or a couple of areas on the outskirts of Ottawa. The truckers would then have been bussed daily to Parliament Hill where they could join the ongoing demonstration.
As you'll see in this video, the trucks were already moving before PM Justin Trudeau invoked the Emergency Measures Act.
Canadian Joey Votto appears in record 1,989th career major-league game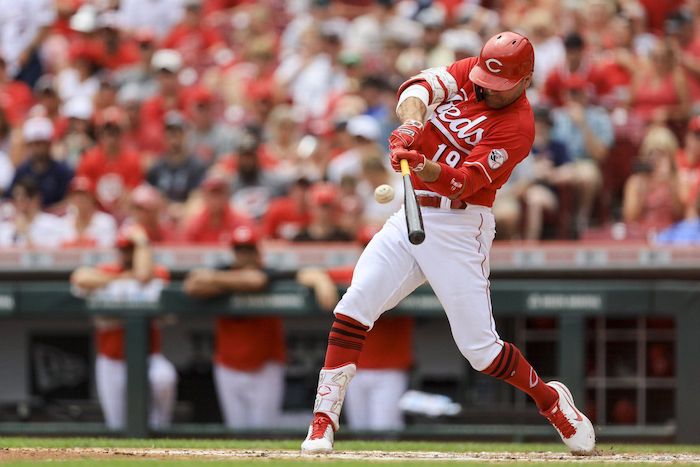 CINCINNATI — No Canadian has played in more Major League Baseball games than Joey Votto.
The Cincinnati Reds first baseman appeared in his 1,989th major-league game Sunday, an 8-5 win over the Chicago Cubs. That broke the previous mark, which had been held by Larry Walker of Maple Ridge, B.C.
Officials from the Canadian Baseball Hall of Fame presented Votto, 38, of Toronto, with a plaque to commemorate the accomplishment following the contest.
"To break Larry Walker's all-time games record is a testament to Joey Votto's determination, resiliency and enduring skills" Jeremy Diamond, chair of the Canadian Baseball Hall of Fame''s board of directors, said in a statement. "Best of all, Joey has carried himself with dignity and class throughout his career and he continues to be a role model and inspiration for players in Canada.
"Congratulations to him on this tremendous accomplishment."
It's the latest career accomplishment for Votto. who is the all-time leading Canadian in at bats, plate appearances, walks and all-star game selections (six).
Votto remains under contract for next season (with a team option for 2024). That would seemingly leave Votto within striking distance of Walker's all-time Canadian records for doubles (471) and hits (2,160).
Votto has currently accumulated 453 doubles and 2,093 hits.
Votto is in his 16th season with Cincinnati. He has topped the National League in on-base percentage seven times, walks five times and has batted over .300 in eight full seasons.
In 2021, he had 36 homers and reached three career milestones when registered his 2,000th hit, 300th home run and 1,000th run-batted in.
"We are proud to honour Joey's tremendous accomplishment, but we hope to make more of these presentations in the future as he continues his record-breaking career," said Diamond.
This report by The Canadian Press was first published Aug. 14, 2022.
The Canadian Press