Registration for Summer Day Camps and all summer programming begins on Tuesday, May 9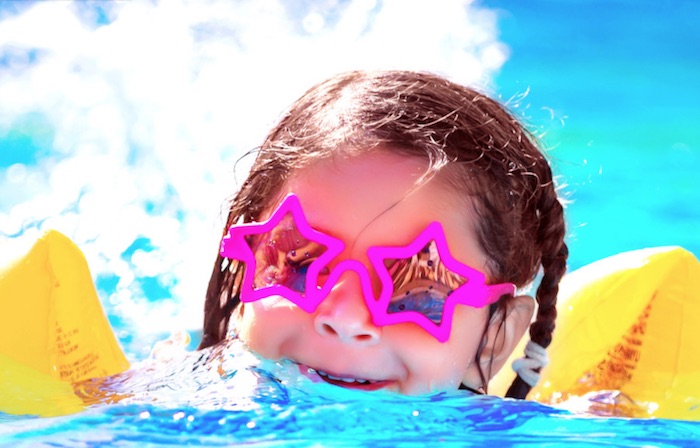 Red Deerians can prepare to sign up for Summer Day Camps, summer swim lessons and more starting Tuesday, May 9.
New program options are viewable on My Activity Guide on Thursday, May 4, and registration will begin on Tuesday, May 9 at 12:00 noon.

Is your little swimmer ready to sail off to the not-so-salty seas of the G.H. Dawe Community Centre for Shipwrecked? Does your creative kid want to explore the colourful world of visual and performing arts at the Intermediate School? Or perhaps your sporty sprout is ready to take on Sports Extravaganza at the Collicutt Centre. All these camps, and so many more, are included in the summer registration session. Families are encouraged to register their children early to guarantee a spot. Day Camps aim to provide children with an opportunity to play, explore, create friendships and experience time in the pool and outdoors while providing families with quality childcare during summer break.

Summer Day Camps run from July 4 – August 30, 2023 and are available in week-long full or half day options. Additionally, 2-hour teen sport camps are new to the selection this summer. Red Deerians can review camp options now by visiting www.reddeer.ca/DayCamps or by picking up a paper copy of the guide at City arts & recreation facilities.

All other summer programs will also be available for registration beginning on Tuesday, May 9. Red Deerians can create their own custom Activity Guide to review all summer program options at www.reddeer.ca/MyActivityGuide. Programs are viewable in the same fashion as they were in the previously produced paper guide. Customers can create their own custom guide and select categories, age groups and locations relevant to them and their families.

Red Deerians are encouraged to visit their Look' n Book accounts prior to registration day to ensure access is up to date. For any questions regarding account access please contact Recreation
at 403-309-8411.

Registration for summer programs begins at 12:00 p.m. on Tuesday, May 9. There are three ways to register for City of Red Deer programs:
Online through My Activity Guide at reddeer.ca/MyActivityGuide
By phone: 403-309-8411
In person at Collicutt Centre, G.H. Dawe Community Centre, Recreation Centre or
Michener Centre
To note, we have updated our system to serve our online registrants more efficiently. Confirmation emails will be sent within 24 hours in an effort to reduce the immediate load on our online systems.
City negotiating with owner of property under consideration for new homeless shelter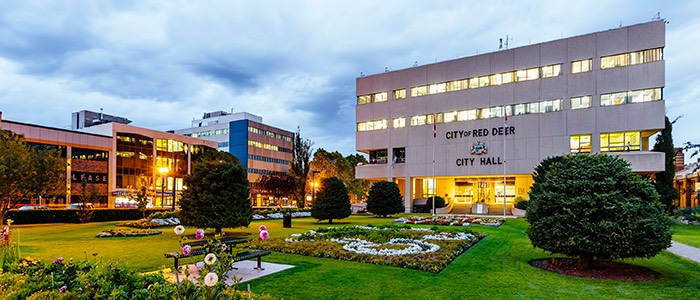 The following information is provided as an update related to the potential location for a future permanent shelter in Red Deer.
As you are likely already aware, The City of Red Deer continues to work with the Province of Alberta to site and plan for the development of a purpose-built integrated shelter in our community. This important work has been underway for many years, and our community is understandably frustrated that a location has not yet been identified, despite City Council's commitment and focused efforts.
RECENT MILESTONES:
May 9, 2023: A site was approved by Red Deer City Council to recommend to the Province of Alberta.
June 26, 2023: The Province provided formal support for the City Council recommended site.
September 2023: A Letter of Intent was signed between The City of Red Deer and property owner. This enables The City to negotiate and work with the landowner to determine the viability of the potential site. The letter also requires that confidentiality of the potential location be upheld.
After receiving support from the Province, City administration began exploring the provincially-supported site in more detail; this exploration is very preliminary as we work with the landowner to determine potential viability. With it being in the early in this process, The City is not prepared to disclose the location to protect the land negotiation process, any rezoning processes that might arise, and associated confidentiality per its agreement with a private landowner.
Selecting a future shelter site has been a difficult process in that we, at times, have had limited ability to share information with our community because of the nuances related to provincial and municipal roles and responsibilities for this project, private versus public land availability and negotiation, and our desire to engage the community and be as transparent as possible as we seek to find the right place for a shelter in our city.
While we know there is no one site that will alleviate concerns for those in the vicinity of a shelter, The City is working closely with the province to ensure a purpose-built space that will not only look different from what we have now but will meet the needs of everyone in our community, including businesses, citizens, and shelter users. This is a Province of Alberta project; however, The City of Red Deer is deeply invested in this work as we recognize the impact and importance for our community.
While we are not able to share specific information about the site currently being explored, we want people to know there are many steps in the process to build and develop a shelter site, which includes rezoning. A rezoning will require a public hearing component, giving the community further opportunities to have input if the currently recommended site proceeds.
Last week, City Council met to discuss next steps as they continue to work with the Province to find the right site. We want residents and citizens to know we are listening. We hear their concerns, and we will continue to listen, adjust, and share information that ensures we site a shelter that meets the needs of everyone in our community.
"HotSpot" – How to use the City of Red Deer's new downtown parking app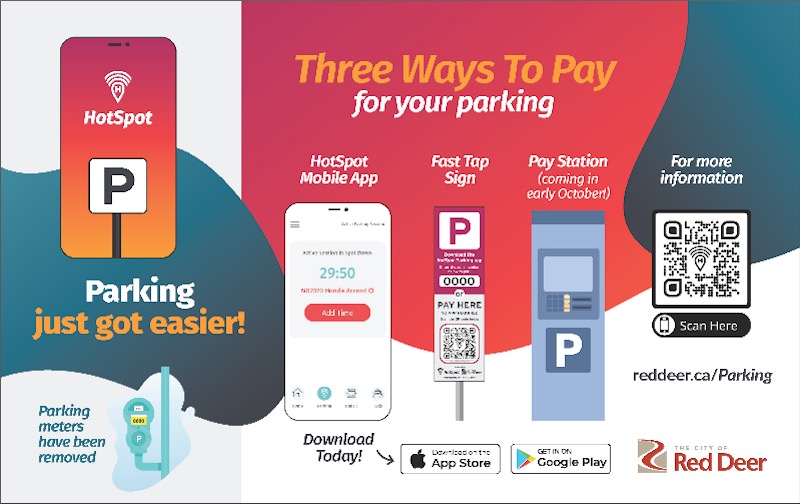 HotSpot has launched in Red Deer! If you're visiting our downtown for work, attending an event, or supporting a downtown business, you'll use HotSpot to pay for your parking.
Three ways to pay!
HotSpot mobile app
A free download for iPhone and Android users, the HotSpot app is the easiest way to manage daily parking sessions and monthly permits.
Download HotSpot:
Fast tap signs
Located throughout the downtown parking areas, fast tap signs allow payment through the HotSpot website with a quick scan code. You don't need a HotSpot account to use the fast tap signs.
Pay stations
If you prefer not to use an app or website, 21 new pay stations will be available throughout downtown and hospital zones. Pay stations offer several payment options, including coins, credit cards, Interac tap, Apple Pay and Google Pay. SmartCard parking cards will also be accepted at the pay stations, but are no longer able to be reloaded and are no longer being sold. Pay stations are expected to be up and running in early October. Until they arrive, customers are encouraged to use the app and fast tap signs to pay for parking.
Pay Station and Parking Zone Map (pdf)
HotSpot app features By using the HotSpot mobile app to manage your parking, you can:
Pay for parking
Extend parking sessions
Avoid tickets with auto-alerts
Refund unused time
Manage your monthly parking permit
More information
Review The City of Red Deer Parking Management Strategy (pdf).
Questions about downtown parking may be directed to The City's Inspections & Licensing department at 403-342-8185 or [email protected].
The City of Red Deer thanks the Government of Alberta for supporting the Parking Infrastructure Improvement Project through Municipal Sustainability Initiative (MSI) funding.