RDP Queens to face Olds College Broncos in ACAC Championship series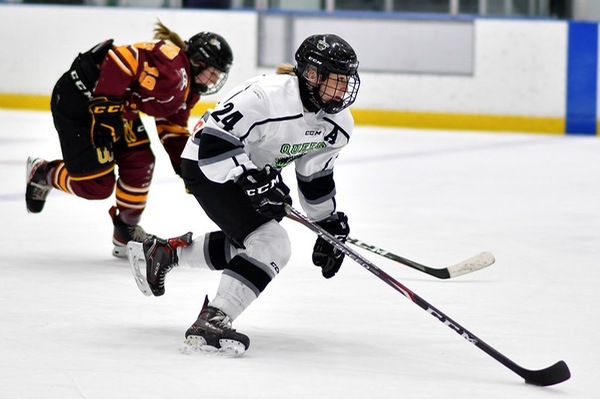 RDP Queens Hockey ACAC Championship Preview
Brent Forster – Red Deer Polytechnic Athletics
Red Deer, AB – With the Alberta Colleges Athletic Conference (ACAC) Women's Hockey Championship approaching on Friday, the Red Deer Polytechnic Queens have been diligently preparing for their best-of-five final.
"We all have the same goal and same mindset of what we want to achieve," said Mary Hirsch, a veteran forward. "[Coach] Kelly [Coulter] holds us accountable for what we need to get done and it benefits us in the long run."
Hirsch (24)
The RDP Queens (11-2-2) solidified first in the standings with a 2-1 victory over the Olds College Broncos on March 4. With that accomplishment, the Queens received a bye to the championship final. Their opponent was undetermined until March 13 when the third seed Broncos (6-8-1) dropped the second place NAIT Ooks (11-4-0) in the best-of-three semi-final.
"The first week we made sure we skated and had intense practices because we didn't know who we would face," said Kelly Coulter, Red Deer Polytechnic Queens Hockey Head Coach.
Madison Fox (1): 0.83 goals against average & 0.965 save percentage
With the Olds College Broncos' victory, Coulter and the Queens began strategizing specifically for their opponent.
"This week of preparation is more geared towards how we want to play against Olds," explained Coulter, who led the Queens to their last ACAC gold medal in 2016. "We play them a little different compared to how we would play against NAIT. This week is about refining some of things we do."
The Queens won all five regular season meetings against the Broncos. It was evident that the Olds College Broncos' focus was on a specific style of defence.
"The Broncos are a hard team to get a lot of shots on net. They do a good job of collapsing to the net front," added Coulter, an ACAC Women's Hockey Coach of the Year recipient. "They defend well. It will be a good matchup for us – a good challenge and we're looking forward to it."
Hirsch noted a few areas that the RDP Queens will concentrate on in the offensive zone.
"Moving the puck fast and possession behind the net will be huge, along with isolating players so we can work on a two-on-one or some kind of attacking strategy where we get a better scoring chance," explained Hirsch, a Bachelor of Science Nursing student from Calgary. "In practice, we have worked on a lot of tipping, battling in front of the net, getting open, so those will be huge."
Making fast and calculated decisions will be crucial.
"That's something that we want to be aware of, looking for passing lanes and getting shots off quickly," said Coulter. "Putting pucks on net always results in good things."
While the Queens were the best defensive team this season, allowing only 0.91 goals against, Hirsch identified the importance of finding ways to score in the series.
"With Olds, you can't let them hang around. They work really hard and have a good core," said Hirsch, who led the Queens during the regular season with 12 points. "The games have all been really close and have all come down to the third period, so we need a goal scoring mentality."
During the regular season, the RDP Queens' offence ranked second with 2.4 goals per game. The Broncos had the third best offence (2.33 goals for) and third best defence (2.73 goals against).
The extra week off has allowed the Queens to recover from the intense 15 game regular season.
"Everyone is healthy," added Coulter. "We have a really good bill of health, so we're happy that it's at the right time."
The coaches and student-athletes have expanded their preparation to off the ice, as well.
"We did a team builder before the start of the postseason to go over our habits that we've talked about all year," said Coulter. "Then we had some systematic and team discussions about making sure that everyone is pulling the rope the same way."
First-year defender Alex Black (12)
The student-athletes have made decisions and conducted themselves for the betterment of the Red Deer Polytechnic Queens.
"We have been going to the gym and working out, including team workouts Sunday mornings," added Hirsch. "We are constantly putting the team first, so the big thing this year is sacrifice. We have a team first mentality to get us all the way to the end."
Despite a hectic academic program, Hirsch is concentrating on being a supportive and productive member of the Queens.
"I'm full-time in my clinical placement right now, so I've been really busy, but when I get to practice, I'm focusing on what's ahead of me and just trying to encourage my teammates," said Hirsch, who is planning to graduate from the RDP Queens at the end of the season. "Just having that mindset is really huge and knowing that I've prepared the last four years for this, so I'm ready to go."
The cancelation of the 2019/2020 championship and 2020/2021 ACAC season due to COVID-19 makes the ability to compete this season even more special.
"We are looking forward to getting started. The girls have worked hard all year, so it'll be nice to get to the end and have a final this season," said Coulter. "Last year was a tough year for everyone, so I think everyone will be excited to play for a championship."
The Red Deer Polytechnic Queens will host the Olds College Broncos in game one of the best-of-five championship final on Friday, March 18 at 7 pm. Then game two will shift to Olds on Sunday at 7 pm. The remainder of the series will be completed the following week.
Tickets are available online.
From Cafe Owner to Political Activist at the heart of the Alberta Prosperity Project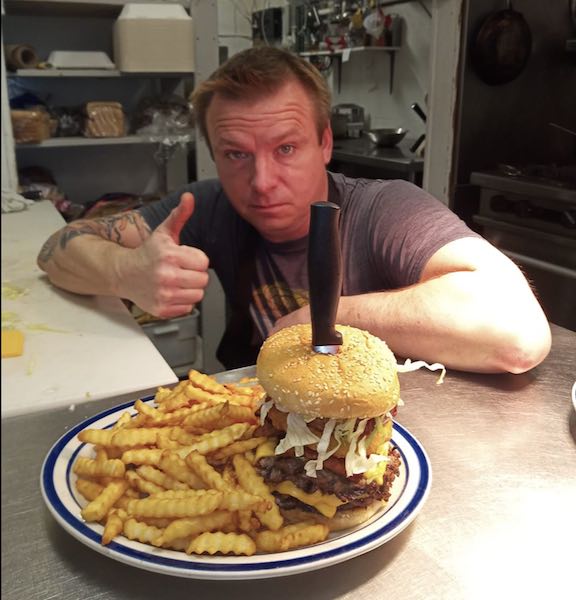 The COVID pandemic has turned Central Alberta Cafe Owner Chris Scott into nothing short of a lightning rod.
Many business owners grumbled and suffered through a couple years of mayhem due to wave after wave of COVID and the various restrictions affecting day to day operations. Where most business owners zigged, Scott, as they say… zagged.
Chances are you know something about his story as he's been in the news and seemingly on a never ending speaking tour ever since this all started.
You likely won't be surprised to know Chis Scott is still operating his cafe, still facing court charges, and heavily involved in trying to influence Alberta politicians.
No matter what side of this discussion you fall on, no matter what you think of the business owners, doctors, and religious leaders who stood in defiance of covid restrictions, this conversation will help you understand where those who have emerged as leaders of those who stood up to the health restrictions are putting their attention in the summer of 2022.
If you're interesting in learning more about the Alberta Prosperity Project.
If you're interested in WS Full Steam Ahead
Voting deadline looms in race to replace Jason Kenney as Alberta UCP leader, premier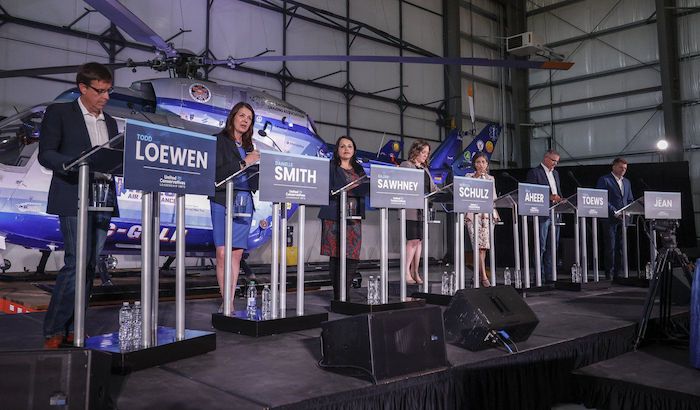 EDMONTON – It's deadline day to buy $10 Alberta United Conservative Party memberships to vote for the next leader and premier.
The party is accepting drop offs by 5 p.m. and online memberships until midnight.
The party will then go through the memberships and confirm information and expects to have the final tally ready in two weeks or so.
Seven candidates are on the ballot seeking to replace Premier Jason Kenney in the party's top job.
Kenney announced in May he was quitting after receiving a lukewarm 51 per cent support in a party leadership review.
The next key date in the race is the second debate, slated for Aug. 30 in Edmonton.
The candidates have been proposing a range of policy ideas from health care to education reform, but the focus of debate has been on how to leverage Alberta's relationship with the federal government to get a better deal in areas such as equalization.
This report by The Canadian Press was first published Aug. 12, 2022.