RDP Queens take their 20th ACAC title at home. Off to National Championships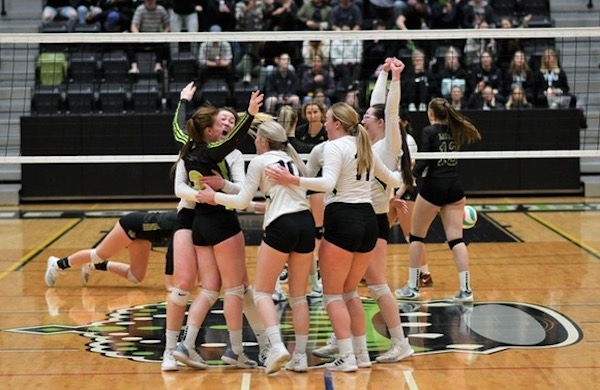 Queens drop Rustlers in four, earn ACAC gold and trip to nationals
Brent Forster – Red Deer Polytechnic Athletics
Red Deer, AB – For the first time since 2014/2015, the Red Deer Polytechnic Queens Volleyball team has won Alberta Colleges Athletic Conference (ACAC) gold.
"I've always wanted to win a provincial title," said Tess Pearman, a Bachelor of Education Elementary student. "The last regular season we had, we came so close. Coming into this year, that was our goal the whole season."
In 2019/2020, the Queens earned ACAC silver and Canadian Collegiate Athletic Association (CCAA) national bronze. Then COVID-19 shutdown the 2020/2021 season.
In front of an energetic home crowd, the Queens were even with the Lakeland College Rustlers after two sets, but found an extra gear to win the next two sets and match (25-23, 23-25, 25-14 and 25-20).
"When you get down to the last match of the year between two first place teams in the league, it's going to be a battle," said Chris Wandler, Red Deer Polytechnic Queens Volleyball Interim Head Coach. "From the end of our last regular season match when we went five [sets] against Lethbridge and they battled us in the quarter-final, and again last night, that prepared us for this atmosphere."
Pearman (8)
In a close first set, a stuff block from outside hitter Pearman bumped the RDP Queens ahead 11-10. Lakeland's Jenay Varga kept her team close. With her fifth kill, the outside hitter had the Rustlers even 22-22. Ultimately, a dump ball from RDP setter Emma Letkeman sealed a 25-23 decision.
Lakeland outside hitter Mackenzie Yole's third kill knotted up the second set 7-7. The teams traded points to 18-18. Rustlers setter Jana Laing continued the strong connection with Varga, who rattled off three consecutive kills to solidify a 25-23 win.
With a trio of serves from middle Sydney Rix, the RDP Queens captured a 9-4 edge in the third set. RDP's Vanessa Loos entered the match and had an ace, which pushed the Queens ahead by nine (18-9).
"In a tough situation, we executed at a high level when we needed to and that was the key piece," added Wandler. "It shows the experience and tenacity that this group has."
The home team maintained that momentum and a late kill by Jaiden Ferguson, her ninth, helped the Polytechnic pick up a 25-14 victory.
Ferguson (9)
"Fergie had a hot hand last match, so she deserved the start," said Wandler. "She got off to a little rocky start, but she persevered through that. She just needed to chip in where she could."
Lakeland's Avery Bates lifted her team to an early 5-3 margin in the fourth set with her seventh kill. The Queens started to climb back into the frame. RDP went up 14-10 off Pearman's 12th kill from the left. The Polytechnic continued to push and solidified a 25-20 win, earning ACAC gold.
"To win this championship and to win it at home … I couldn't ask for anything better," said Pearman.
The Lakeland College Rustlers picked up silver.
Ferguson contributed 13 kills for the Queens.
North Star Sports Queens Player of the Game Pearman totaled 13 kills, 10 digs, one block, one assist and one of the team's 10 service aces.
"When we needed a big kill, Tess got it," said Wandler. "That just gave everyone a spark."
Domoney (3)
When Pearman went up to accept her top player award, she insisted that Domoney join her.
"Kaylee, player of the game, for sure," added Pearman. "She saves our butt every game and she holds our team together. She is an amazing player and deserves the recognition."
Libero Kaylee Domoney was outstanding and picked up 17 digs.
"We haven't played defence like that all year, mainly because we executed offensively so well. When you match up in championship time versus three defending teams, you have to match them dig for dig," explained Wandler. "Our back row did a phenomenal job. Kaylee is our rock and everything we do is based upon her."
Anna Carlson had 12 kills (0.455 hitting percentage) and five of the Queens' 10 aces.
Rustlers Player of the Match Laing accumulated 35 assists and four digs. Teammate Varga had 18 kills, 10 digs and three of the Rustlers' six aces. Yole added nine kills and Bates chipped in with eight.
The RDP Queens have won 20 ACAC gold medals.
"We had to earn this spot and that gives us a sense of pride to represent our conference – the best conference in the country," said Wandler of the team's trip to nationals. "It means a lot to represent those other 13 colleges in Charlottetown."
The Red Deer Polytechnic Queens will compete at the CCAA Women's Volleyball National Championship from March 25-27 in Prince Edward Island. Holland College will host the prestigious event.
"Our game against TKU really helped us. That was probably the hardest game I've ever played in my entire life – mentally draining and being down and able to come back set us up well for today," said Pearman. "No more easy games. We have to fight for every point."
Police arrest two more people following killing of eight-year-old girl in Alberta
An Edmonton Police Service logo is shown at a press conference in Edmonton, Oct. 2, 2017. Police in Edmonton have charged two more people following the killing of an eight-year-old girl whose remains were found on a First Nation south of the provincial capital in April. THE CANADIAN PRESS/Jason Franson
Edmonton
Police in Edmonton have charged two more people following the killing of an eight-year-old girl whose remains were found on a First Nation south of the provincial capital.
Officers responded on April 24 to a welfare call about the girl at an Edmonton home but were unable to locate her.
Her remains were discovered five days later on the Samson Cree Nation in Maskwacis.
Shayden Lightning, who is 21, and Raighne Stoney, who is 36, have been charged with being an accessory to murder and causing an indignity to a body.
Three others were initially charged in the case.
Police are not releasing the names of two of the accused in order to protect the identities of other children related to the victim, whose identity is under a publication ban.
A 27-year-old woman faces a charge of first-degree murder and a 25-year-old man faces charges of being an accessory to murder and causing an indignity to a body.
Edward Nievera, 67, was charged with being an accessory to murder and causing an indignity to a body.
Edmonton police Staff Sgt. Colin Leathem said in a release Friday that the recent arrests will be the last in the case and that the investigation has concluded.
"We want to thank the RCMP in Maskwacis and Wetaskiwin for their assistance with this investigation," he said. "Needless to say, this was an exceptionally distressing investigation to work on, and they went above and beyond in helping to facilitate these final arrests and bring this file to conclusion.
"While nothing can change the horror of what occurred, we hope (the arrests) can provide some measure of justice to those who knew and loved this little girl."
This report by The Canadian Press was first published Sept. 22, 2023.
Smith says despite difficulty with Ottawa, Alberta has allies in Trudeau cabinet
Alberta Premier Danielle Smith speaks to business leaders at the Global Business Forum in Banff, Alta., Friday, Sept. 22, 2023. Smith told the conference that despite her concerns with the federal Liberal government there was some cabinet ministers she can work with. THE CANADIAN PRESS/Jeff McIntosh
By Bill Graveland in Banff
Alberta Premier Danielle Smith told a business conference on Friday that despite her concerns with the federal Liberal government, there are some cabinet ministers she can work with.
Smith has been at odds with federal Environment Minister Steven Guilbeault and Natural Resources Minister Jonathan Wilkinson amid concerns over Ottawa's climate-change policies and transition plan for a net-zero emissions economy.
Guilbeault intends to publish draft regulations this fall to cap emissions from oil and gas, then force them downward overtime. Ottawa has also set a target to have the electricity grid be net-zero by 2035, but Alberta says it's unrealistic.
Smith says Alberta won't implement the emissions cap, nor will it follow the 2035 target.
The premier told delegates at the Global Business Forum in Banff, Alta., that Wilkinson needs to answer for comments he made earlier this week at the World Petroleum Congress in Calgary.
Wilkinson's call for the industry to work aggressively to get to net-zero was basically telling them to "pack it up, because the oil and gas industry is winding down," said Smith.
"You could just feel the energy leave the room and you could just feel the investment dollars leave the room."
Smith said energy producing provinces such as Alberta, Saskatchewan and Newfoundland and Labrador, can't trust the Trudeau government to look out for their interests at international conferences.
"After hearing how the natural resources minister talks about our industry, after hearing how the federal environment minister talks about our industry, we can't afford to let them carry our message," Smith said.
"We can't afford not to be there."
Smith said she has been in discussions with Saskatchewan Premier Scott Moe and intends to talk to Newfoundland and Labrador Premier Andrew Furey about joint presentations at conferences in the future.
Despite her disappointment with Wilkinson and Guilbeault, Smith said it's not all bad.
Finance Minister Chrystia Freeland among the top allies, she said.
"Let's give her credit for shepherding through all of the constant need to give more debt financing to Trans Mountain pipeline to get that to the finish line. That has not been easy," Smith said.
She also praised Innovation Minister Francois-Philippe Champagne, Public Safety Minister Dominic LeBlanc, Labour Minister Seamus O'Regan and Employment Minister Randy Boissonnault.
"I would say it's not uniformly negative in the Liberal caucus. But for some reason they're allowing Stephen Guilbeault to be a maverick and a renegade and quite offensive to those of who are trying to be reasonable and adult about this," Smith said.
Smith said it's time for the federal government to back away from setting "aggressive targets" in dealing with the provinces.
"Aggressive targets are not helpful. They're not helpful to us. They're not helpful to investors."
This report by The Canadian Press was first published Sept. 22, 2023.