RDP Queens Soccer squad back on track with win at National Championships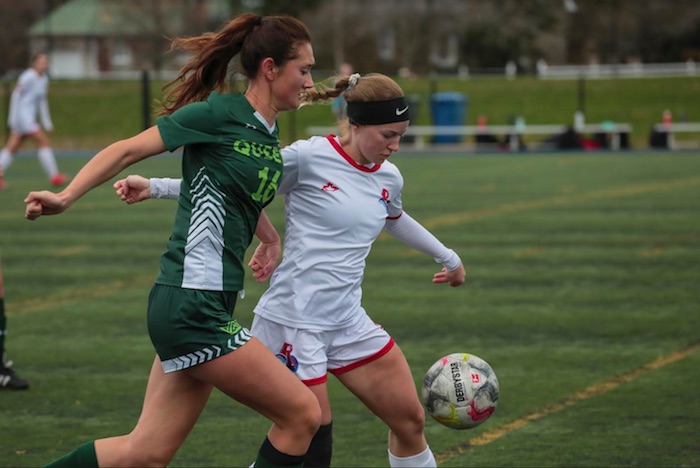 The Queens bounce back with a win against the Manitoba Champions
Saint-Lambert, QC – After suffering a tough loss yesterday afternoon in Quebec, the Red Deer Polytechnic Queens soccer team had to regroup for the bronze quarterfinals match vs Les Rouges de Saint-Boniface, who are the champions out of Manitoba.
Les Rouges had an impressive season similar to the Queens with an 11-1 record during conference play on their way to winning the Manitoba Colleges Athletic Conference (MCAC) Championships.
The Queens came into this match after being shutout for the first time this season by the Champlain College Cavaliers yesterday afternoon.
It was a quick start for Red Deer in their second match at the 2022 Canadian Collegiate Athletic Association (CCAA) Soccer Championships with a goal just over a minute into the match.
A ball was sent from Red Deer's back line from Kayla Yeo (Practical Nursing Diploma) over top of the Les Rouges defender onto the foot of captain Alisha Coules (Bachelor of Science Nursing), who would take it into the corner of the box. She would strike it over top of the diving Saint-Boniface's goalkeeper to give the Queens an early 1-0 lead and score the first-ever nationals goal in the program's history.
In the late stages of the first half, Coules was looking for her second of the match but was robbed by the fingertips of the Les Rouges goaltender after she one-timed a pass from winger Paige Kalbfleisch (Bachelor of Science Nursing). She fooled the goaltender as the ball came off the striker's foot funny, but the keeper was able to get enough of it to steer it away.
Nearing the end of the first 45 minutes, Les Rouges were awarded a free kick and would strike it with some power, but Queens goaltender Danyelle Bouvier (Bachelor of Science Nursing) kept it out of the net. This would maintain Red Deer's 1-0 lead as they enter the halftime break.
Just like the first half, the Queens would score an early goal in the second half to increase their lead to two. A through ball was sent by midfielder Estel Quinteros (Bachelor of Science Nursing) to the speedy striker Jaeden Swartz (Bachelor of Science Pre-Med). As the Saint-Boniface goaltender came out to challenge Swartz, she would strike it past the keeper and into the back of the net.
The Manitoba team was given a prime scoring opportunity with a free kick just outside of the 18-yard box but was shot up and over the Red Deer net.
After the Queen's second goal, it was smooth sailing for the team from Alberta as they came away with a 2-0 victory over Les Rouges.
The players of the game went to Queens defender Jaiden Humphrey (Bachelor of Education Elementary) and defender Kalyna Demare of Saint-Boniface. Humphrey had yet another solid game at centre-back, running down all the balls and defending the Les Rouges attacking line.
The Queens will now move on to the bronze semi-final match where they will await the loser of the match between the Seneca Sting and the Aigles d'Ahuntsic. The Aigles were the number one nationally ranked team heading into the championships.
The bronze semi-final match will take place at 1:00 pm MST tomorrow at Seaway 3 Park in Saint-Lambert, Quebec.
Notre Dame Fine Arts Department invites you to see Roald Dahl's Matilda, the Musical!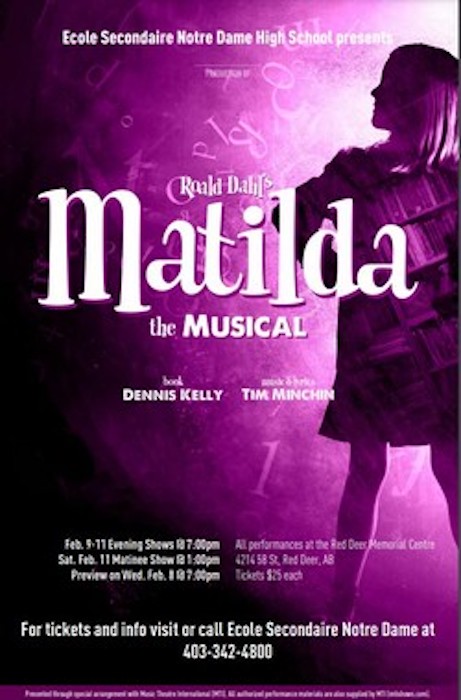 From Red Deer Catholic Regional Schools
Roald Dahl's Matilda, the Musical!
Co-Directed by Jennifer Cocolicchio and Stephanie Layden starring Addy Penney, Jordana Woroniuk, Coryn Tardif, David Jones, and Mikayla Beever.
Please join the Notre Dame Fine Arts students for their interpretation of Matilda.
Inspired by the twisted genius of Roald Dahl, the Tony Award-winning Roald Dahl's Matilda The Musical, from the Royal Shakespeare Company, revels in the anarchy of childhood, the power of imagination and the inspiring story of a girl who dreams of a better life. Book by Dennis Kelly and original songs by Tim Minchin.
Matilda is a little girl with astonishing wit, intelligence and psychokinetic powers. She's unloved by her cruel parents but impresses her schoolteacher, the highly loveable Miss Honey. Over the course of her first term at school, Matilda and Miss Honey have a profound effect on each other's lives, as Miss Honey begins not only to recognize but also appreciate Matilda's extraordinary personality. Matilda's school life isn't completely smooth sailing, however – the school's mean headmistress, Miss Trunchbull, hates children and just loves thinking up new punishments for those who don't abide by her rules. But Matilda has courage and cleverness in equal amounts, and could be the school pupils' saving grace!
Packed with high-energy dance numbers, catchy songs and quick wit, Matilda is a joyous girl power romp. Children and adults alike will be thrilled and delighted by the story of the special little girl with an extraordinary imagination.
The shows take place at Red Deer's Memorial Centre on February 9, 10, & 11 at 7:00pm. There is also a Matinee on February 11 at 1:00pm.
TICKETS ARE $25.00
TICKETS AVAILABLE in advance at Notre Dame's front office, online at https://www.notredamehigh.ca/programs/fine-arts or on the date at the theatre door.
SPECIAL PREVIEW NIGHT on February 8 at 7:00pm – Free for all press representatives and pay what you can for the general public.
Project Radar nets meth seizure in Red Deer, Lloydminster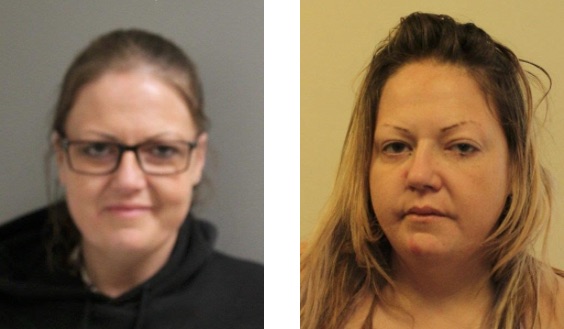 Suspect Katie Gowanlock still at large
From the Alberta Law Enforcement Response Team (ALERT)
A major methamphetamine and fentanyl seizure in Red Deer and Lloydminster has led to charges against three suspected drug dealers. ALERT's Project Radar resulted in the seizure of $335,000 worth of drugs.
Project Radar was a year and a half-long investigation by ALERT Red Deer's organized crime team, focused on disrupting drug trafficking activity in central Alberta. Nearly four kilograms of meth was seized along with more than 500 grams of fentanyl powder.
The following items were seized during the course of Project Radar:
3,751 grams of methamphetamine;
523 grams of fentanyl;
$1,500 cash.
Project Radar began in June 2021 in Red Deer and eventually expanded in scope as the group demonstrated ties to the Lloydminster drug market.
Two Red Deer homes were searched and two suspects were arrested, while one remains wanted on warrants. The most recent arrest took place on January 17, 2023, and ALERT received help from Red Deer RCMP and B.C.'s Combined Forces Special Enforcement Unit (CFSEU) Prince George.
Jaydon Harrison, 24 of Prince George, and Nikita Robertson, 24 of Edmonton, are each charged with multiple counts of drug trafficking.
Meanwhile, a warrant has been issued for Katie Gowanlock, as pictured above. The 40-year-old is charged with 10 counts of drug trafficking and is believed to be in the Central Alberta area.
Members of the public who suspect drug or gang activity in their community can call local police, or contact Crime Stoppers at 1-800-222-TIPS (8477). Crime Stoppers is always anonymous.
ALERT was established and is funded by the Alberta Government and is a compilation of the province's most sophisticated law enforcement resources committed to tackling serious and organized crime.