RDC to offer new Bachelor of Science Degree – First baccalaureate degree outside of applied programming.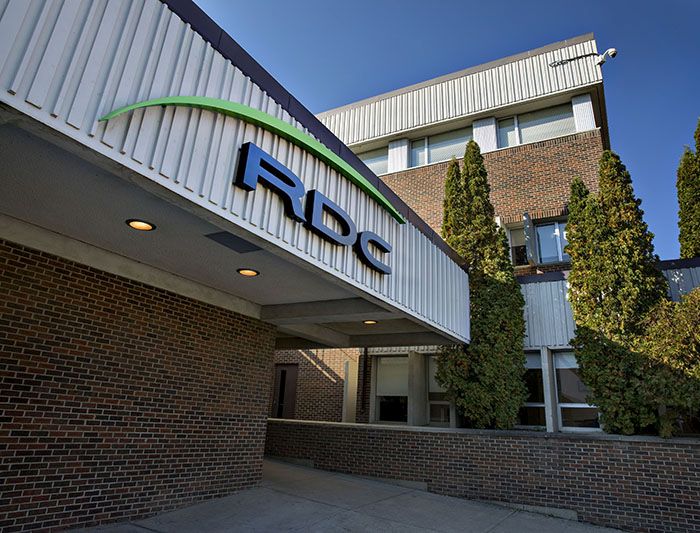 From RDC Communications
RDC celebrates new learning opportunities for central Alberta students with approval of Bachelor of Science in Biological Sciences
RDC is celebrating the approval to offer a new Bachelor of Science in Biological Sciences degree. Alberta's Minister of Advanced Education, Demitrios Nicolaides, has approved RDC to offer this new degree, providing students with more opportunities to complete their post-secondary education in central Alberta. This achievement marks a major milestone in theinstitution's history as it is the first baccalaureate degree outside of applied programming.
Starting in September 2021, students can begin their education in this new degree at RDC.
"We are excited to be able to offer more students with degree-completion opportunities through this new Bachelor of Science in Biological Sciences," says Dr. Peter Nunoda, RDC President.
Students in RDC's new degree will study various aspects of biological sciences to prepare them for a diverse set of careers in this field. Areas of study include animal physiology, molecular genetics and heredity, botany and ecology.
One area of pride for RDC within all its programs is the hands-on learning experiences in which students participate. Students in the College's new Bachelor of Science program will engage in learning activities that will help provide them with project management experience, research skills, presentation skills and critical thinking. The program also includes an applied study course in which learners will receive credit for discipline-specific education through volunteer or work experiences.
"This degree has been carefully and thoughtfully developed to provide students with learning opportunities in the sciences discipline. Learners in this BSc. degree will engage in research as well as practical and experiential learning activities to equip them for future careers and educational pursuits," says Kylie Thomas, RDC's Vice President Academic and Research. "RDC's knowledgeable and talented faculty now have further opportunity to share their expertise and position learners for success at RDC and beyond. We look forward to welcoming our first students to the Bachelor of Science in Biological Sciences degree program."
RDC appreciates the support it has received from the Campus Alberta Quality Council (CAQC) and the Minister of Advanced Education in providing his endorsement of this new high-quality, well- planned degree. Additionally, local and regional MLAs have played a huge role in advocating for RDC's positive future to grow its programming.
"The support that RDC has received from our students, employees, alumni, stakeholders and community members has been an essential aspect in the success we are realizing now with the ability to grant this new degree," Nunoda says. "This has truly been a community effort, for the benefit of the community, as more learners will be able to study, graduate and work in the region, thanks tothe enhanced program opportunities at RDC."
As a degree-granting institution, RDC continues to serve its learners by expanding degree opportunities as well as delivering existing and new programing in apprenticeships, certificates, diplomas, micro-credentials, applied degrees, and collaborative degrees in collaboration with Alberta universities.
The institution will also continue to offer the same variety of programming in diverse subject areas as it does currently, including humanities and social sciences, health sciences, creative and performing arts, business, education, and sciences.
"We are so pleased to now offer a degree developed and granted by RDC in addition to our already strong program mix," says Guy Pelletier, Chair of RDC's Board of Governors. "Looking ahead, we look forward to continuing our work with the Ministry on our remaining proposals for a Bachelor of Arts and Bachelor of Science in Psychology, along with a Bachelor of Business Administration and a Bachelor of Education. By expanding our degree offerings, we will be able to better serve central Albertans, now and in the future."
Students who wish to receive more information about RDC's new Bachelor of Science in Biological Sciences can email [email protected] or call 403.342.3400 (toll-free: 1.888.732.4630). Students will be able to apply for this program starting in the coming weeks by visiting rdc.ab.ca/apply.
CPNewsAlert: Quebec to lift COVID-19 curfew Monday, extend vaccine passport to retail
MONTREAL — Quebec Premier François Legault says the COVID-19 curfew he imposed across the province in December will be lifted on Monday.
He told reporters today the health order can be ended because the number of COVID-19 infections seems to have peaked.
Legault says health officials estimate that COVID-19-related hospitalizations are expected to peak in the coming days.
The curfew was imposed on Dec. 31 after having been used for almost five months earlier in the year, between January and May 2021.
Legault also announced that the province's vaccine passport will be extended to big box retail stores, except for grocery stores and pharmacies.
Earlier today, Quebec reported 45 more deaths attributed to the novel coronavirus and a rise of 117 COVID-19-related hospitalizations.
More coming.
The Canadian Press
We've got THOUSANDS of reasons to SMILE!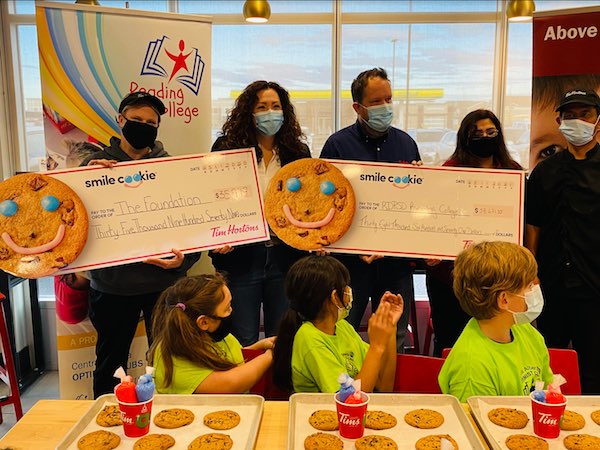 It took us a while to count ALL the money raised from the Tim Hortons Smile Cookie Campaign…and it's very impressive!
Today, we celebrated the presentation of two cheques – one from the 2020 Smile Cookie campaign, and one from this year's campaign. Due to the COVID-19 pandemic, we were unable to hold last year's cheque presentation.
Over the last two years, Red Deerians ate 74,650 cookies, which means $35,979 was raised in 2020 and $38,671 was raised in 2021 to help struggling readers become readers of potential through Reading College, a project of the Foundation for Red Deer Public Schools.
Reading College, held in the month of July, provides students who already have reading gaps, an amazing summer experience that will not only develop their reading skills but more importantly, their interest and motivation in reading. Students leave the program with increased reading and writing abilities, and a solid foundation for future success in school and life.
"The Smile Cookie Campaign is a great opportunity to raise awareness on the importance of literacy, it really does create life chances for students. Reading College is made possible through great support from our community and Tim Hortons – we could not operate it without this support," said Kristine Plastow, Foundation Board Chair. "We are so grateful to the community for buying Smile Cookies and supporting this fantastic program."
From September 13 – 19, Tim Hortons restaurant owners in Red Deer generously donated all proceeds from sales of a special smiling chocolate chunk cookie to support the Reading College program through The Foundation for Red Deer Public Schools. The $1 treat helps community programs across Canada in the cities where they are sold.
"On behalf of all restaurant owners and team members in Red Deer, I would like to thank our loyal guests for their generosity and support of the Smile Cookie campaign," said Tanya Doucette, Tim Hortons Restaurant Owner in Red Deer. "Tim Hortons is thrilled to support The Foundation for Red Deer Public Schools and Reading College with the funds raised and bring smiles to so many people's faces."